Charitable Connections - RHS
MOORCROFT AND THE ROYAL HORTICULTURAL SOCIETY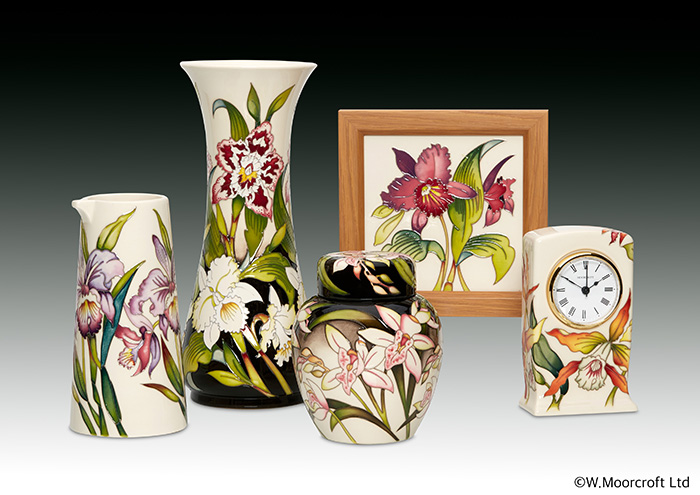 View For the Love of Orchids RHS Collection
Moorcroft, an Arts and Crafts pottery, evolved from the ground-breaking 19th Century designs of William Moorcroft. William, whose own father, Thomas Moorcroft, was a botanical artist, is renowned for his Florian Ware, which, as the name suggests, was based around designs of British wild flowers like daffodils and cornflowers. Over a century later, Moorcroft has harnessed the vitality and beauty of the natural world into a hot house of ceramic design, collected and housed in museums worldwide. The Royal Horticultural Society (RHS) is the UK's largest gardening charity and is committed to transforming lives and our world through gardening. It is also, not unlike Moorcroft, a key part of the UK's distinguished horticultural heritage.
For 2023, an extensive collection of early nineteenth-century watercolours of flowers from the RHS Lindley Collections, by Caroline Maria Applebee (c. 1787 – 16 September 1854), the eldest daughter of the Rev. John Applebee, have been adapted into a Moorcroft Collection of seven pieces by Moorcroft designer, Nicola Slaney.
With reverence, Nicola noted that each Applebee watercolour was superbly executed and composed while representing some of the most fashionable plants of the early nineteenth century. The RHS Applebee Collection is historically exciting as well as enchanting in its own right as the Moorcroft designer takes Applebee's watercolours into multi-faceted forms under glaze.
Cathy Snow, RHS Licensing Manager, says: "These beautiful pieces of art pottery bring together the design skills of Moorcroft and the artistic inspiration from the RHS Lindley Collections of botanical art to wonderful effect. Moorcroft's latest collaboration with the RHS has resulted in an outstanding collection that will be a stunning addition to any home."
**********
In 2022, the unique collaboration between Moorcroft and our licensing partner, the RHS, opened the gates of design and artistry par excellence, transforming precious RHS watercolours from acclaimed RHS orchid illustrator, Nelly Roberts, into five exotic orchid designs of sophistication and wonder. Each piece of art pottery is made entirely by hand in the Arts and Crafts tradition and designed by Moorcroft designer, Nicola Slaney. If this was not enough, the collection was launched on the joint 150th anniversary of Moorcroft's founding father, William Moorcroft, and Nelly Roberts herself – both born in 1872.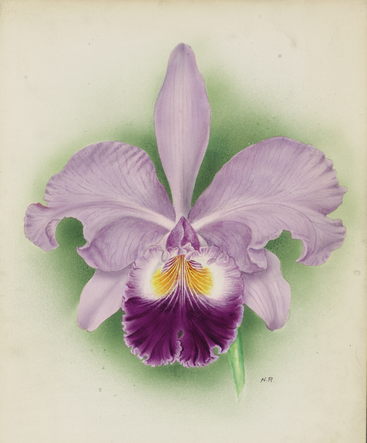 Cattleya Dupreana gx 'The Dell' © RHS. Credit: RHS Lindley Collections / Nelly Roberts.
In April 2022 a simple memorial plaque was placed at the burial site of Nelly Roberts, the first orchid artist for the RHS Orchid Committee and a bunch of orchids was laid beside it by the current RHS orchid artist Deborah Lambkin. The sheer beauty that this watercolourist's brush captured during her 56-year career as an illustrator for the RHS Orchid Committee is incalculable, diffusing her talent on generations to come in much the same way as the forefather of Moorcroft pottery, William Moorcroft, left a legacy of cultural heritage in the ceramic idiom. Nelly's illustrations received no global fame outside of the horticultural world and yet are the most exquisite illustrations you are ever likely to observe – it is almost as if the orchids are unfurling before your very eyes to create a piece of heaven. This year, five Moorcroft designs, each holding a different orchid cultivar or hybrids inspired by Nelly's work, and even an orchid holding her own name, will blossom in fired earth as a worldwide testament to the genius of Nelly Roberts.
ABOUT NELLY ROBERTS
The first and, to date, longest serving RHS orchid artist, Nelly was employed to paint life-sized illustrations of award-winning orchids. These built a reference collection of images of cultivars and hybrids for the Society that are held within the RHS Lindley Collections. Nelly left behind over 4,500 studies of orchids, which have been lovingly commemorated by Moorcroft designer, Nicola Slaney, in For The Love of Orchids RHS Collection to mark the 150th Anniversary of her birth in October this year.
Nelly lived and worked in a room above the family shop at 72 Loughborough Road in Brixton. 'Very shy & retiring,' she painted away in a 'small, neat but rather cold room', according to The Orchid Review. With sheer determination, notwithstanding rheumatoid arthritis and chilblains, the celebrated RHS illustrator worked tirelessly for the RHS until 1953, Coronation year.
Nelly's world-class orchid illustrations were first recognised by the charity with an RHS Gold medal in 1900 and the Silver Veitch Memorial Medal on her retirement in 1953.
MOORCROFT AND THE RHS
Moorcroft have had a strong association with the RHS in recent years, notably through exhibition gardens at RHS shows, and other collaborations, including: the 2021 Fiori Bottan Collection which sought inspiration from a collection of 45 original watercolours on vellum from an album entitled 'Fiori Bottan' also from the RHS Lindley Collections; the 2020 RHS Chelsea Plant of the Year Collection inspired by celebrated 'horticultural royalty', the winners and shortlisted breeders and nurseries who produced exciting and ground-breaking new plants for the RHS Chelsea Plant of the Year Awards in 2019. Prior to that, Moorcroft recognised the horticultural icon, Lady Beatrix Stanley, in designs based on her own floral watercolour studies, as well as a Rose Collection inspired by illustrations from the likes of Mary Lawrence's (1794 -1830) Selection of Roses From Nature, which was one of the first books solely dedicated to roses and one single copy of which can reach £120,000 on the secondary market, and Pierre Joseph Redoute, who painted most of the roses from Empress Josephine's garden at Malmaison from 1817 to 1824.
To find out more about Moorcroft's historical RHS designs click here.
Discover remaining stock of our previous RHS designs
All Moorcroft designs for the RHS hold the charity's backstamp to show its official seal of approval.
For more information about joining the RHS and the benefits of membership visit:
https://www.rhs.org.uk/join#join-individual
For details of the wide range of our work carried out by the RHS in the community visit: https://www.rhs.org.uk/get-involved
---

® The Royal Horticultural Society. The Royal Horticultural Society, and its logo, are trade marks of The Royal Horticultural Society (Registered Charity No 222879/SC038262) and used under licence from RHS Enterprises Limited.