Historical Collaborations with the RHS
Moorcroft and the RHS have celebrated horticulture through the Applied Arts through Moorcroft show gardens (RHS Flower Show Tatton Park in 2008, and the RHS Chelsea Flower Show, in 2017) and as licensing partners through the RHS Rose Bouquet Collection launched in 2017 – a collection of six designs, based on famous roses, appearing on vases, coasters and plaques. Such was the acclaim for the collection that three limited edition designs were added in February 2018 followed in 2019 by The RHS Beatrix Stanley Collection, with designs based on the floral watercolour studies of the gardener and painter Lady Beatrix Stanley.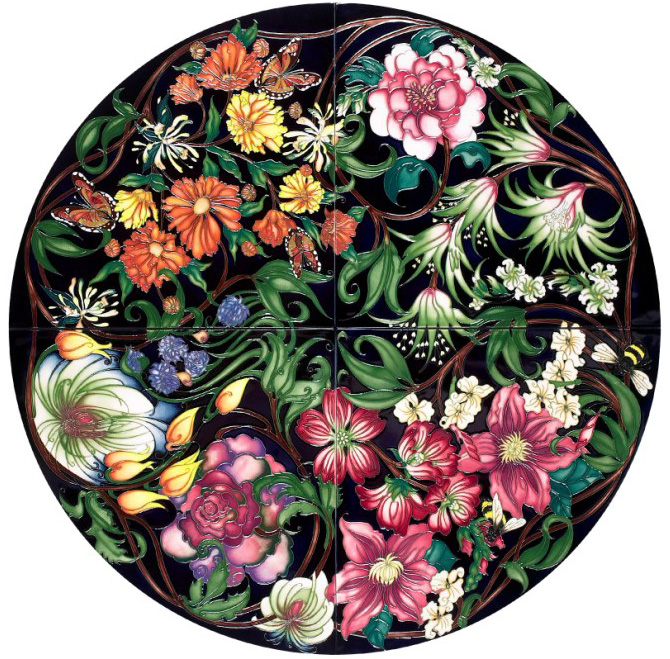 Large round plaque in four sections sunk into Moorcroft Garden at RHS Tatton Park in 2008
The following year witnessed the arrival of something special - The RHS Chelsea Plant of the Year Collection 2020 featuring four vases, a jug, a plaque and a coaster, designed by Nicola Slaney and Emma Bossons, and inspired by the annual RHS Chelsea Plant of the Year Award. Today, many of these historic pieces can be found in the Moorcroft Museum. To find out more about these pieces please email enquiries@moorcroft.com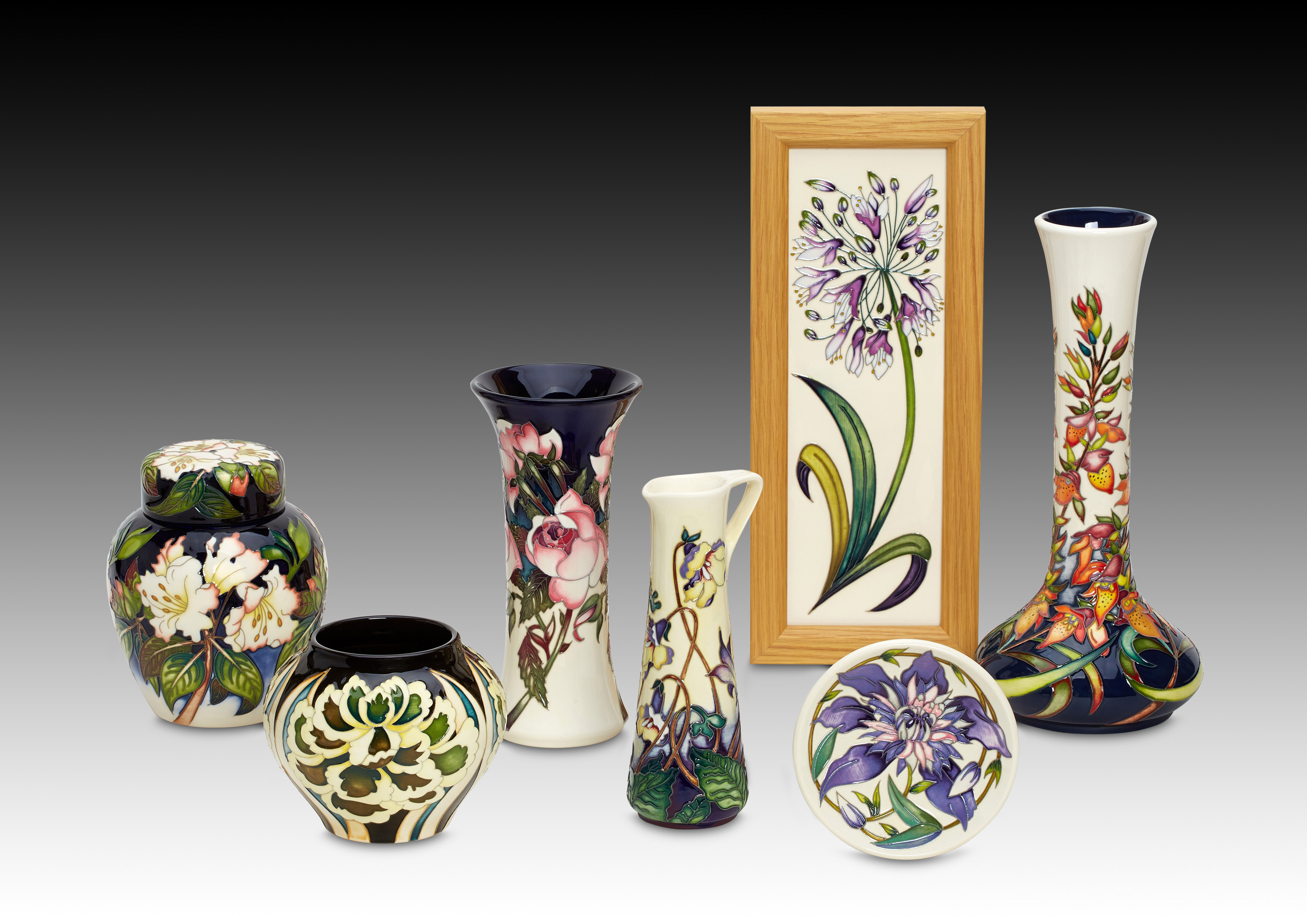 The RHS Chelsea Plant of the Year Collection 2020
---
MOORCROFT'S 2021 RHS DESIGNS
Moorcroft's 2021 designs were inspired by a collection of original watercolours on vellum from an album entitled 'Fiori Bottan' depicting cultivated plants including daffodils, anemones irises, tulips and lilies. 'Fiori Bottan' dates from the 17th century. Sadly, the artist is unknown.
View Fiori Bottan Collection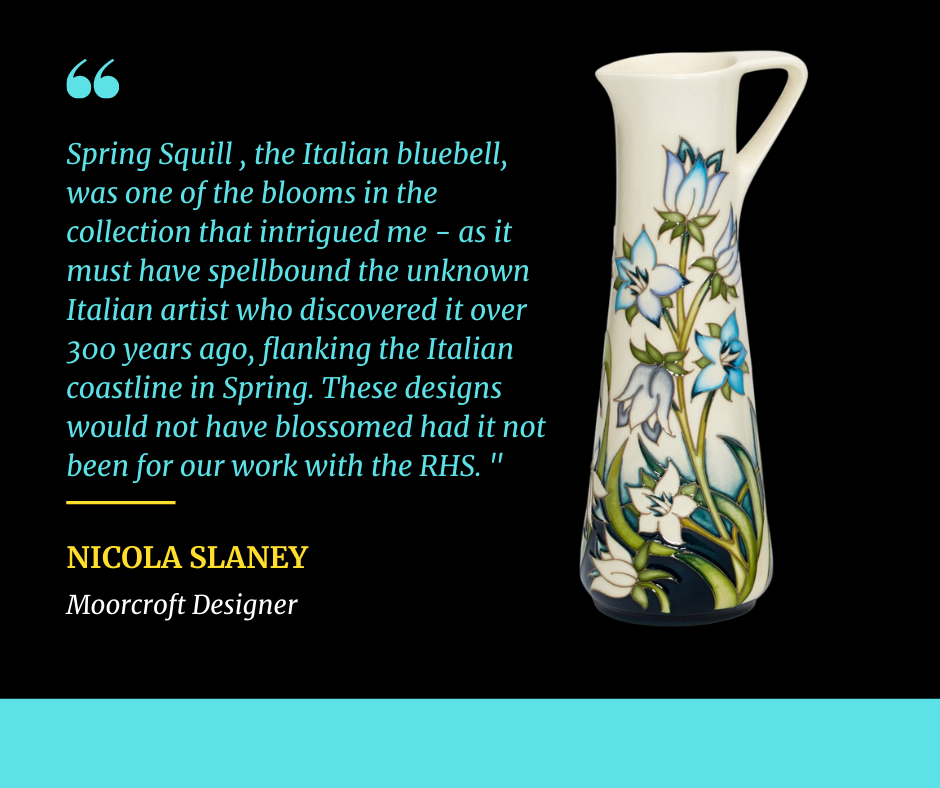 During May 2021 at the Moorcroft Heritage Visitor Centre, there was a design exhibition of Fiori Bottan, which included original Moorcroft watercolours, drawn on vases and reproductions of the original vellums, which many of our enthusiasts found highly interesting.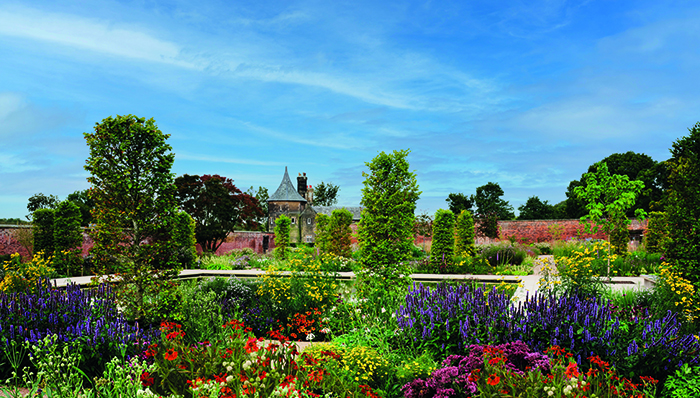 ©RHS Credit: RHS/Neil Hepworth
To celebrate the opening of the RHS' 5th and newest garden, RHS Garden Bridgewater in Salford, on the 18th May 2021, Moorcroft also created two new vases.
The Bridgewater's Bounty and the Nerines editions quickly sold out. These were landmark designs with Nerines holding the very best of Moorcroft glaze alchemy and form. The Nerine flower, is not a familiar flower to many Moorcroft connoisseurs, but the rich brilliance of each elegant petal was there to charm all those who set eyes on it. RHS Garden Bridgewater holds an abundance of nerines in all their colourful grace to delight visitors for years to come. The site is now famed for having over 90 different varieties of the cultivar – an astonishing botanical achievement.
With designs like Nerines, Moorcroft is so proud to be able to partner with the RHS to take our enthusiasts on a journey into the exotic through the vessel of the Applied Arts.
---

® The Royal Horticultural Society. The Royal Horticultural Society, and its logo, are trade marks of The Royal Horticultural Society (Registered Charity No 222879/SC038262) and used under licence from RHS Enterprises Limited.