Retailer Exclusive designs
From time to time Moorcroft will creates exclusive designs that are only available from specific retailers. Below are some of our most recent collaborations.
Ashwood NurseriesASHWOOD HELLEBORE - VASE 198/5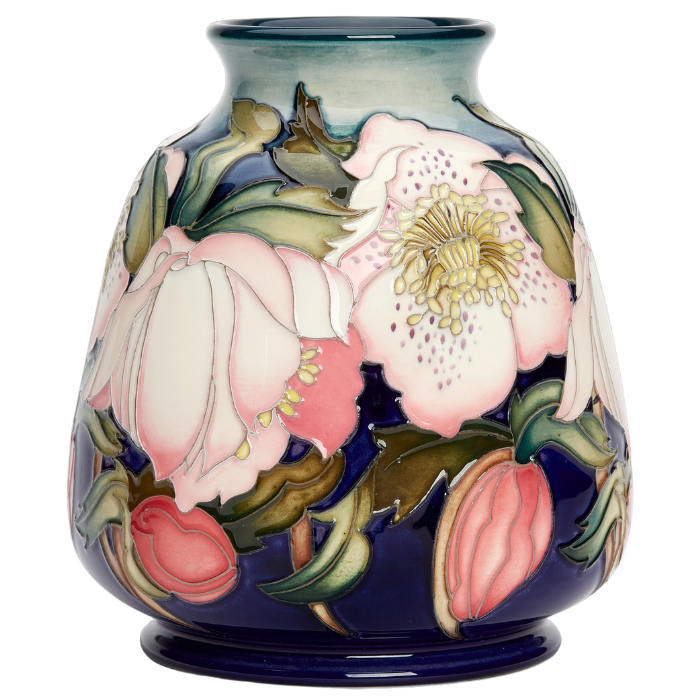 Designer: Emma Bossons FRSA
Shape: 198/5
Limited Edition: 25
RRP: £695
If the truth were told, John Massey, owner of Ashwood Nurseries in Kingswinford, would probably admit to placing hellebores among his selection of favourite flowers, coming, as they do, in more than twenty different varieties and multiple colourways. Designer, Emma Bossons FRSA decided to use a variety of hellebore markedly different from most of the other familiar guardians of the species. The base is dark, but fades and becomes lighter at the rim. The pink, speckled flowers of the Helleborus x hybridus (an Ashwood Garden hybrid) have pleasing, pink-coloured buds and moss coloured leaves. Simple but effective, John would say with a twinkle in his eye. Just like the flower itself.
The Gift Shop
Ashwood Nurseries
Greensforge
Kingswinford
West Midlands
DY6 0AE
Tel: 01384 401996
E: giftshop@ashwoodnurseries.com
---
Goviers of SidmouthWOODLAND CANOPY - VASE & PLAQUE: 95/10 & PLQ16
A unique Moorcroft design, inspired by The Queen's Green Canopy project, has been designed exclusively for Goviers of Sidmouth, a leading Royal commemorative specialist retailer.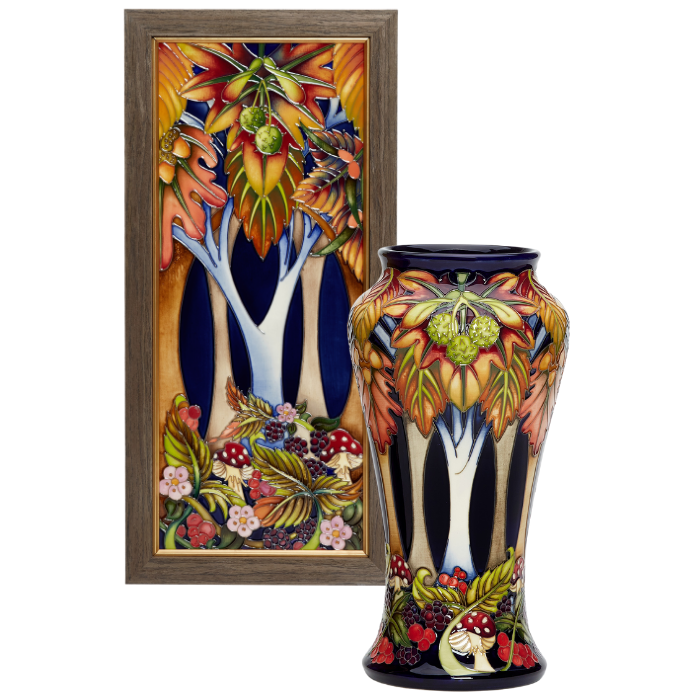 The Queen's Green Canopy (QGC) is a unique tree planting initiative created to mark Her Majesty's Platinum Jubilee in 2022 which invites people from across the United Kingdom to 'Plant a Tree for the Jubilee.' Everyone from individuals to Scout and Girlguiding groups, village communities, city councils, schools and companies will be encouraged to play their part to enhance our environment by planting trees from October, when the tree planting season begins, through to the end of the Jubilee year in 2022.
With a focus on planting sustainably, the QGC will encourage planting of trees to create a legacy in honour of The Queen's leadership of the Nation, which will benefit future generations. As well as inviting the planting of new trees, The Queen's Green Canopy will dedicate a network of 70 Ancient Woodlands across the United Kingdom and identify 70 Ancient Trees to celebrate Her Majesty's 70 years of service.
Moorcroft's design was inspired by native trees and the intention of creating a woodland canopy throughout the seasons. The base of the design features autumnal flowers, berries and toadstools, whilst the top fans out to create a stunning display of leaves, branches, acorns and sycamore seeds. Our Ancient Woodlands are quintessential features of the UK's much-loved landscapes – irreplaceable, living historic monuments which inspire us and provide us with a sense of place and history in an increasingly busy world. Rachel Bishop's design fully reflects this notion with the richest colours and memorising linework.
Designer: Rachel Bishop BA(Hons)
Shape: 95/10 - SOLD OUT
Limited Edition: 7
RRP: £995
Designer: Rachel Bishop BA(Hons)
Shape: PLQ16
Limited Edition: 7
RRP: £965
Contact Simon or Janet at:
Goviers of Sidmouth Ltd
6 Nightingale Close
Lower Tean
Staffordshire
ST10 4LX
Tel: 01538 807419
---
W Hamond, WhitbyWhitby Moon - VASE: 95/7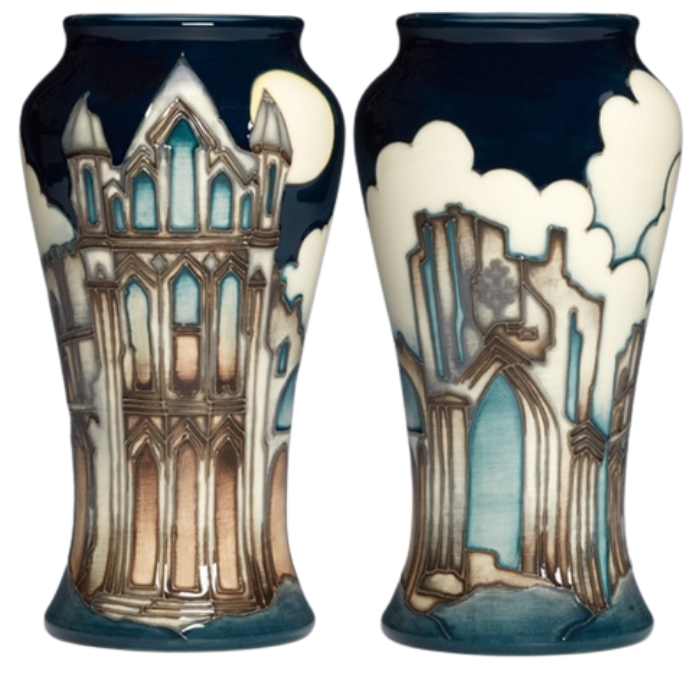 Whitby Abbey has been inspiring visitors for nearly 1500 years – and Kerry Goodwin is no exception. Following in the footsteps of artists, writers and religious leaders, Kerry explores the hunting ruins which inspired Caedmon, the first named English poet, and Bram Stoker, the author of 'Dracula'.
On the inaugural use of this vase shape, Kerry has aligned the soaring gothic ruins of the abbey with tall lines of the vase. Her backdrop is a dusky blue sky crowed with the most exceptional full moon. The combined effect of ruins, nature and landscape makes for a powerful design, steeped in history.
Designer: Kerry Goodwin
Shape: 95/7
Limited Edition: 20
RRP: £469
W Hamond, The Original Whitby Jet Shop
Boutique & Workshop
112 Church Street
Whitby
North Yorkshire
YO22 4DE
Email: whitby@whamond.com
Tel: 01947 603330
---
Clifton CeramicsSS Great Britain - VASE: 162/5
SS Great Britain is one of the most important historic ships in the world. When she was launched, she was called 'the greatest experiment since the creation'. No one had ever designed so vast a ship, nor had the vision to build it of iron. In 1852 Gibbs, Bright & Co. purchased the SS Great Britain. The ship was to rely more on sail power than on her steam engine as this would save money and an extra upper deck was built, so that the ship could carry up to 700 passengers.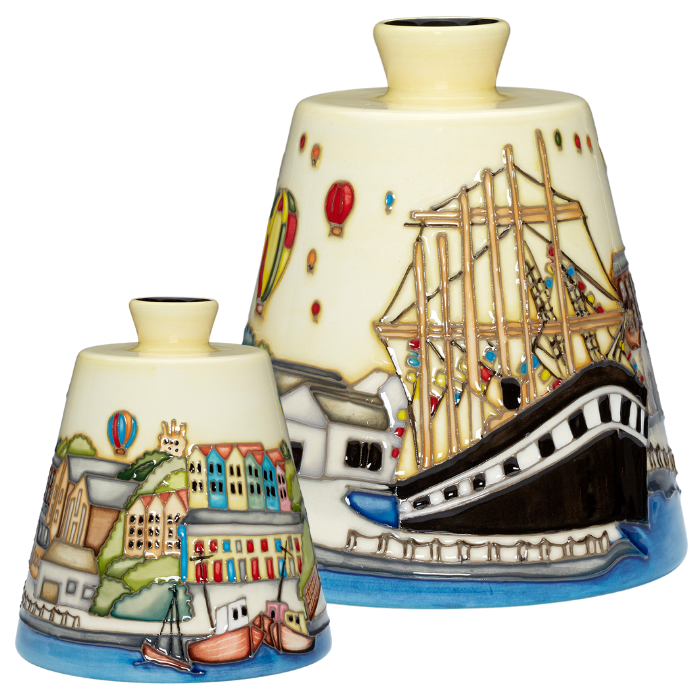 The SS Great Britain was a remarkably adaptable ship. After 30 years as a passenger ship, she was converted to carry cargo. Between 1882 and 1886 the SS Great Britain carried a variety of exports such as coal and wheat between England and the west coast of America.
Due to the extraordinary distance, the ship was confronted by the wildest sea conditions in the world. In 1886, storms off Cape Horn badly damaged the SS Great Britain and forced her Capitan, Henry Stap, to seek shelter in the Falkland Islands, the first port of refuge. The ship's owners decided the cost of repairs was far too high and eventually, their insurers sold the SS Great Britain to the Falkand Islands Company.
Today, Isambard Kingdom Brunel's SS Great Britain dominates Bristol's historic waterfront. Dressed with flags and ready for departure, just as she looked at her launch in 1843, she welcomes visitors to come aboard and explore. The ship has been painstakingly restored to recreate life on the world's first great luxury liner.
Designer: Kerry Goodwin
Shape: 162/5
Limited Edition: 30
RRP: £450
Clifton CeramicsJourney on the Avon - VASE: 393/10
Today, gently swaying in the waters of the 'Floating Harbour' of Bristol, and lovingly cared for by a team of dedicated volunteers, resides The Matthew - a full size replica of John Cabot's ship which charted North America in 1497. She retraced the famous journey of her namesake in 1997 for the 500th anniversary of the voyage carrying the same number of crew and taking the same amount of time to reach Newfoundland.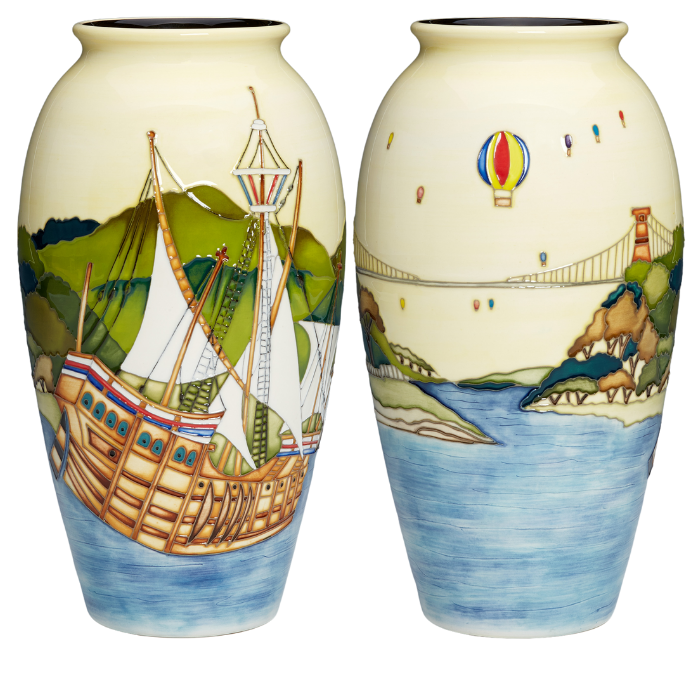 A thrilling insight into The Matthew's structure is brought to us by Kerry Goodwin who has painted the ship as it approaches the Avon Gorge and world-famous Clifton Suspension Bridge designed by Isambard Kingdom Brunel. Kerry has carefully maintained the impressive grandeur of the ship with its intricate sails, towering masts and complex rigging. Overhead, the annual Clifton hot air balloon festival is in full flight, silently floating about The Matthew as it gracefully cuts through the River Avon.
Designer: Kerry Goodwin
Shape: 393/10
Limited Edition: 10
RRP: £850
---
Ocean's StudioPyra's cove - Vase: 76/5 & plaque: plq5
Polperro is an idyllic picture postcard village in Cornwall, but for the artist with an ability to think and to dream, the Cornish fishing village and harbour is much, much more. Its picturesque and colourful cottages hint at antiquity as they drift daintily down to the village harbour. The earliest known Royal document relating to Polperro is dated 1303 and antiquity and beauty are not in doubt and consequently the village was an inevitable attraction to visiting Moorcroft designer, Kerry Goodwin.
Before her arrival, Kerry had established that Polperro was the contemporary name for a village once called Pyra's Cove, a name translated from the Cornish word 'Porthpyra'. So much detail and beauty was there for the designer to absorb that Kerry found herself designing both a vase and a plaque, with an almost endless supply of material to feed her imagination. You will find yourself searching for fishermen's lobster pots, the prettiest cottage or shop whilst simultaneously breathing in the salty air and the unmistakable smell of fresh seaweed, whether it be by visiting Polperro or experiencing all it has to offer in Moorcroft's Pyra's Cove.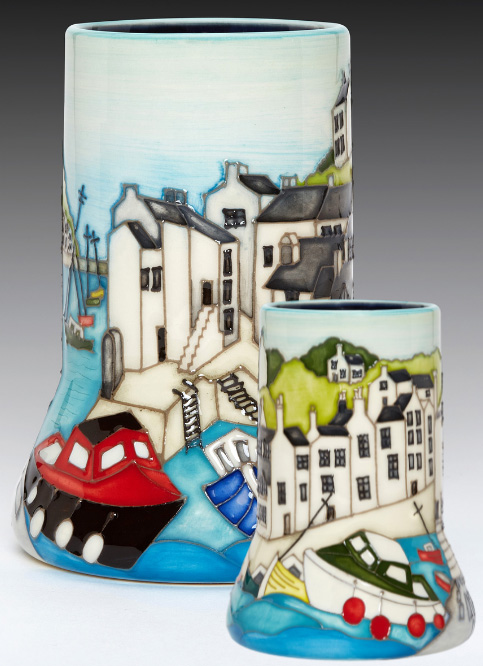 ---
ExclusiveSPLENDID FAIRYWREN - VASE: 3/5
Very much symbolic of family, one of Australia's favourite birds now makes its second appearance on Moorcroft clay. Known as the Blue Wren in Western Australia, and over the rest of the continent as the Splendid Wren or the Splendid Fairy Wren, this most likeable of all birds prefers to live in an arid or semi-arid grassland wilderness.
As is often the case across our planet, it is the male of the species which prefers to preen itself, display its vibrant bright blue and black plumage, and offer a curious courtship dance after plucking pink or purple flower petals for a captivating display for females. Sadly, females cannot reciprocate. They are born with feathers which settle down into a dull grey-brown colour as do non-breeding males. Coming from an old art pottery which is predominantly female in structure, this may be seen as a trifle quirky!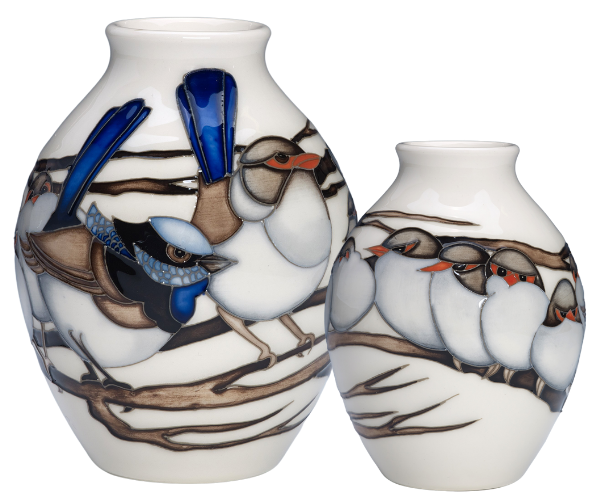 To order your very own Splendid Fairywren vase please contact one of the Australian retailers listed below. If you are a UK Club member and wish to acquire this vase, if you place your order via an Australian retailer, once they send us confirmation of your order, we are able to send you your vase from our factory in Stoke-on-Trent, rather than from Australia. A much less tiring journey for these small birds!
Drakesbrook Antiques, 0061 8 97331240, antique9@bigpond.net.au
Faulconbridge Antiques,0061 2 47517626, faulconbridgeantiques@bigpond.com
Fyans Cottage, 0061 3 52297006, fyanscottage@bigpond.com
Old Technology, 0061 4 27499150, info@oldtechnology.com.au
Roundabout Antiques, 0061 7 46154537, sales@roundaboutantiques.com.au
---
William Sissons Gallery ExclusiveDiana's favourite - Vase: 80/6
Helmsley's parish church, dedicated to All Saints, dates back a thousand years and more and was a favourite snowdrop destination for Moorcroft retailer, Diana Sissons. For many years, Diana and her husband William would wave the flag for Moorcroft in their delightful shop in Helmsley, one of North Yorkshire's most popular and picturesque market towns. Sadly, Diana passed away but both Moorcroft and Diana's family, friends and colleagues know that in the retail world she was among the best of the best and will always be fondly remembered and highly-thought of.
There is something beguiling about carpets of snowdrops scattered across the ground. As the world awakens, the white frost on the ground is replaced with a snow-white covering of snowdrops instead. In Diana's memory, Senior Designer, Rachel, carefully places a flurry of snowdrops, one of her favourite flowers onto a bramble blue and ivory backdrop. Rachel's snowdrops carry a glamour of yesteryear, and offer a nod of upended hearts. No wonder they were one of Diana's favourites.
Diana's Favourite is an Open Edition, by Rachel Bishop BA(Hons), RRP: £260
23 Market Place, Helmsley, York, YO62 5B
Tel: +44 (0)1439 771385
Email: sales@sissonsgallery.co.uk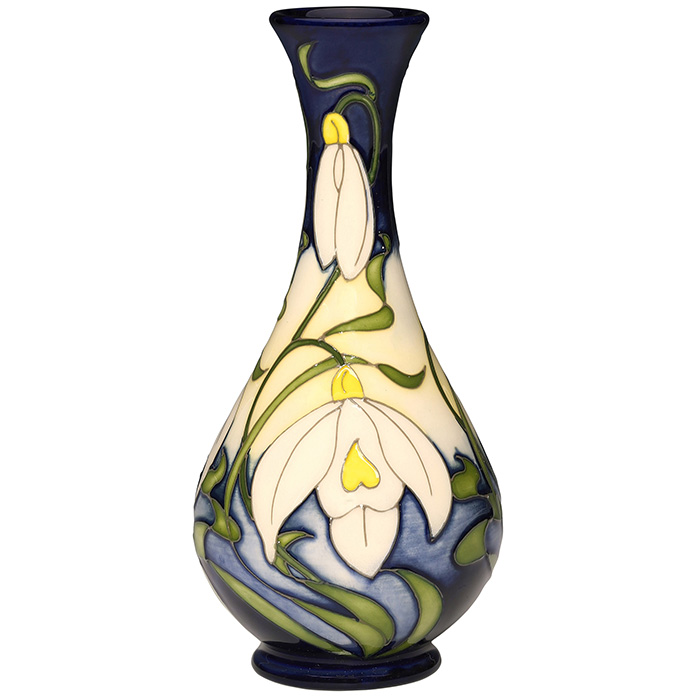 ---
The Cotswold Shop Exclusivebourton-on-the-water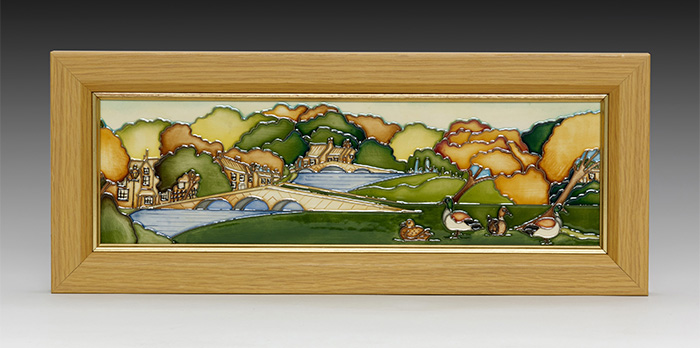 The Cotswolds, set in the heart of England, is famous for its honey-coloured stone architecture and quaint village scenes. Nestled within this historic idyll, sits one of the prettiest villages in England, Bourton-on-the-Water with is tranquil river, the Windrush, which meanders through. Where the river enters the village centre, over the rapids next to the Old Mill, its clear waters flow under a miscellany of arched stone bridges past the green with its banks of Cotswold stone.
Moorcroft designer, Kerry, has been inspired by this beauty spot in years gone by. This time she returns to offer a vision of the banks of Windrush where nesting mallards gather. The leaves of antique trees ebb between deep summer green and the golden sand which echoes the stone bridges.
Bourton-on-the-Water is exclusive to The Cotswold Shop, as a limited edition of 50 priced at £315.

The Cotswold Shop
High Street, Bourton-on-the-Water
Gloucestershire GL54 2AN
Phone: +44 (0)1451 820 547
Email: nina@thecotswoldshop.co.uk
---
Treeby & BoltonAShness bridge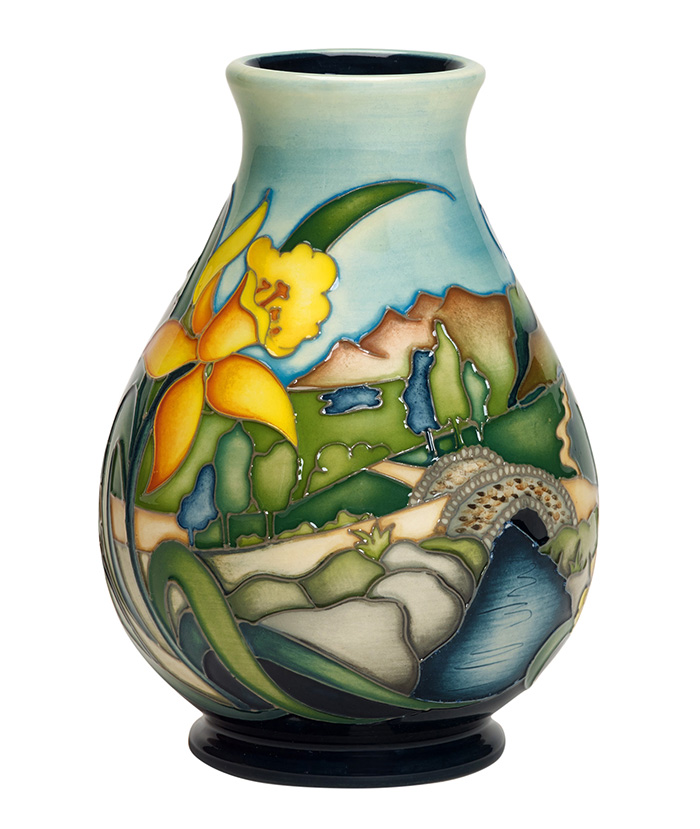 Situated in the picturesque market town of Keswick in the heart of the English Lake District, Moorcroft retailer, Treeby and Bolton has been a very special china shop for over 100 years. In this time, the store has expanded and now also houses a fabulous selection of contemporary art and glass, unique bronzes and design-led interiors across the three floors of its beautiful building. With a varied and up-to-date selection of Moorcroft, the shop is an unavoidable destination for any collector visiting the Lake District.
Ashness Bridge is perhaps the most photographed packhorse bridge in the Lake District. From this traditional stone-built bridge, visitors can enjoy breathtaking scenes of Derwentwater with Bassenthwaite Lake behind and Skiddaw rising above the town of Keswick.
With the majestic Lakeland peaks in the background, Nicola focuses on this special viewpoint through clusters of ancient trees and stones worn down and smooth from the thousands of people whom have stood admiring the views before them. Ashness Bridge sits central to the design with each stone painted individually and the cool flow of Barrow Beck running underneath.
Of course, an Ode to the Lake District would not be complete without a daffodil, and so vibrant yellow petals leap from the foreground as if heralding the next person to cross Ashness Bridge.
Designed by Nicola Slaney, Ashness Bridge on the 7/5 shape, is a numbered edition featuring a special 'Treeby and Bolton' backstamp. RRP £395.
TREEBY & BOLTON
12 Lake Road
Keswick
Cumbria
CA12 5BX‎
Tel: +44 (0)17687 72443
email: info@treebybolton.co.uk
---