Retailer Exclusive designs
From time to time Moorcroft will creates exclusive designs that are only available from specific retailers. Below are some of our most recent collaborations.
Ocean's StudioPyra's cove - Vase: 76/5 & plaque: plq5
Polperro is an idyllic picture postcard village in Cornwall, but for the artist with an ability to think and to dream, the Cornish fishing village and harbour is much, much more. Its picturesque and colourful cottages hint at antiquity as they drift daintily down to the village harbour. The earliest known Royal document relating to Polperro is dated 1303 and antiquity and beauty are not in doubt and consequently the village was an inevitable attraction to visiting Moorcroft designer, Kerry Goodwin.
Before her arrival, Kerry had established that Polperro was the contemporary name for a village once called Pyra's Cove, a name translated from the Cornish word 'Porthpyra'. So much detail and beauty was there for the designer to absorb that Kerry found herself designing both a vase and a plaque, with an almost endless supply of material to feed her imagination. You will find yourself searching for fishermen's lobster pots, the prettiest cottage or shop whilst simultaneously breathing in the salty air and the unmistakable smell of fresh seaweed, whether it be by visiting Polperro or experiencing all it has to offer in Moorcroft's Pyra's Cove.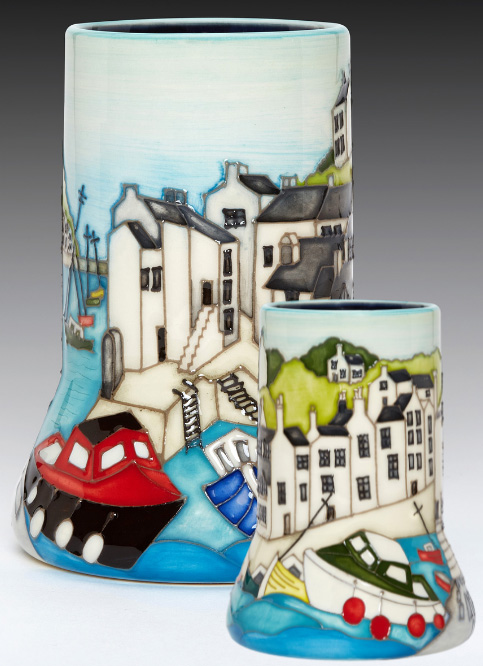 ExclusiveSPLENDID FAIRYWREN - VASE: 3/5
Very much symbolic of family, one of Australia's favourite birds now makes its second appearance on Moorcroft clay. Known as the Blue Wren in Western Australia, and over the rest of the continent as the Splendid Wren or the Splendid Fairy Wren, this most likeable of all birds prefers to live in an arid or semi-arid grassland wilderness.
As is often the case across our planet, it is the male of the species which prefers to preen itself, display its vibrant bright blue and black plumage, and offer a curious courtship dance after plucking pink or purple flower petals for a captivating display for females. Sadly, females cannot reciprocate. They are born with feathers which settle down into a dull grey-brown colour as do non-breeding males. Coming from an old art pottery which is predominantly female in structure, this may be seen as a trifle quirky!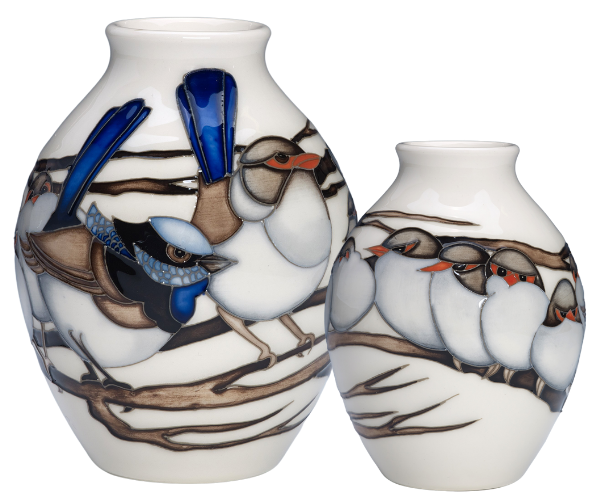 To order your very own Splendid Fairywren vase please contact one of the Australian retailers listed below. If you are a UK Club member and wish to acquire this vase, if you place your order via an Australian retailer, once they send us confirmation of your order, we are able to send you your vase from our factory in Stoke-on-Trent, rather than from Australia. A much less tiring journey for these small birds!
Drakesbrook Antiques, 0061 8 97331240, antique9@bigpond.net.au
Faulconbridge Antiques,0061 2 47517626, faulconbridgeantiques@bigpond.com
Fyans Cottage, 0061 3 52297006, fyanscottage@bigpond.com
Old Technology, 0061 4 27499150, info@oldtechnology.com.au
Roundabout Antiques, 0061 7 46154537, sales@roundaboutantiques.com.au
William Sissons Gallery ExclusiveDiana's favourite - Vase: 80/6
Helmsley's parish church, dedicated to All Saints, dates back a thousand years and more and was a favourite snowdrop destination for Moorcroft retailer, Diana Sissons. For many years, Diana and her husband William would wave the flag for Moorcroft in their delightful shop in Helmsley, one of North Yorkshire's most popular and picturesque market towns. Sadly, Diana passed away but both Moorcroft and Diana's family, friends and colleagues know that in the retail world she was among the best of the best and will always be fondly remembered and highly-thought of.
There is something beguiling about carpets of snowdrops scattered across the ground. As the world awakens, the white frost on the ground is replaced with a snow-white covering of snowdrops instead. In Diana's memory, Senior Designer, Rachel, carefully places a flurry of snowdrops, one of her favourite flowers onto a bramble blue and ivory backdrop. Rachel's snowdrops carry a glamour of yesteryear, and offer a nod of upended hearts. No wonder they were one of Diana's favourites.
Diana's Favourite is an Open Edition, by Rachel Bishop BA(Hons), RRP: £260
23 Market Place, Helmsley, York, YO62 5B
Tel: +44 (0)1439 771385
Email: sales@sissonsgallery.co.uk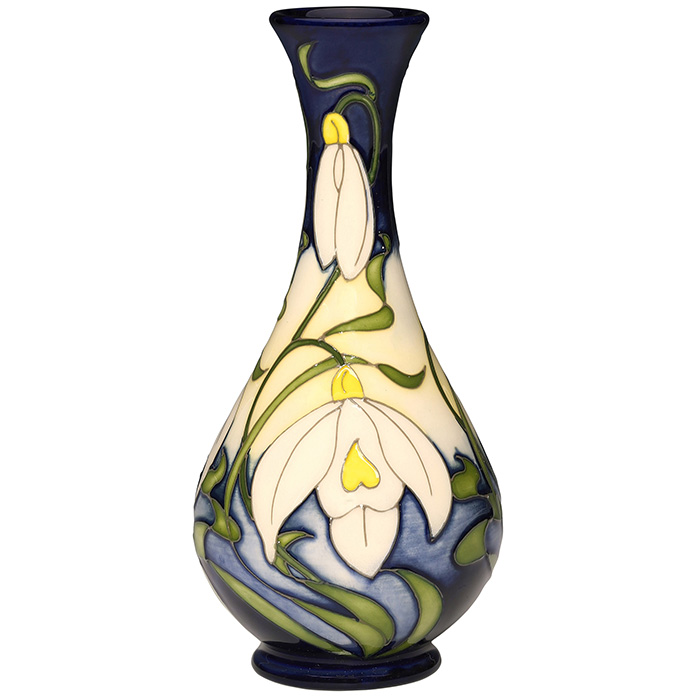 ---
The Cotswold Shop Exclusivebourton-on-the-water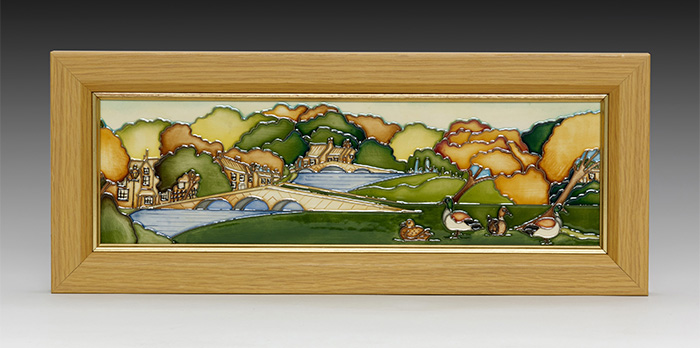 The Cotswolds, set in the heart of England, is famous for its honey-coloured stone architecture and quaint village scenes. Nestled within this historic idyll, sits one of the prettiest villages in England, Bourton-on-the-Water with is tranquil river, the Windrush, which meanders through. Where the river enters the village centre, over the rapids next to the Old Mill, its clear waters flow under a miscellany of arched stone bridges past the green with its banks of Cotswold stone.
Moorcroft designer, Kerry, has been inspired by this beauty spot in years gone by. This time she returns to offer a vision of the banks of Windrush where nesting mallards gather. The leaves of antique trees ebb between deep summer green and the golden sand which echoes the stone bridges.
Bourton-on-the-Water is exclusive to The Cotswold Shop, as a limited edition of 50 priced at £315.

The Cotswold Shop
High Street, Bourton-on-the-Water
Gloucestershire GL54 2AN
Phone: +44 (0)1451 820 547
Email: nina@thecotswoldshop.co.uk
---
Deacon & Son ExclusiveCELEBRATING 170 YEARS
It was in 1848 that a clever, ambitious and entrepreneurial young man, George Deacon, founded a watch, clock and jewellery business in Swindon. In those early days, it was not easy to source diamonds and other precious stones, gold, silver and rare metals which are central to a fine jeweller's business. The opening of the Great Western Railway between Paddington and Swansea from the early 1880s to 1893 would have featured very much in George's thinking, and it was that instinctive commercial inspiration which set him apart from most of the new retailers who appeared at the same time across the country and yet who seldom made it to a second let alone third generation.
In the early 1890's, the Deacon family, and George's cousin Hubert in particular, were heavily involved in the design of the civic structure of Swindon. Projects included new town gardens, landscaped across an ancient quarry, rounded off with a fine, iron Victorian bandstand. Built in the late 19th century, it was made by Elmbank Foundry, Glasgow, out of cast iron with an aluminium sheet and lead roof. Octagonal in shape and raised on a podium with four steps, it included, perhaps not surprisingly, a square clock tower with a ball finial. Today, the bandstand is not only a Grade II listed building at the heart of Swindon gardens, but also the theme of a special design from Kerry Goodwin called simply Swindon Bandstand.
Limited Edition - 20, RRP - £415
swindon bandstand - VASE 159/8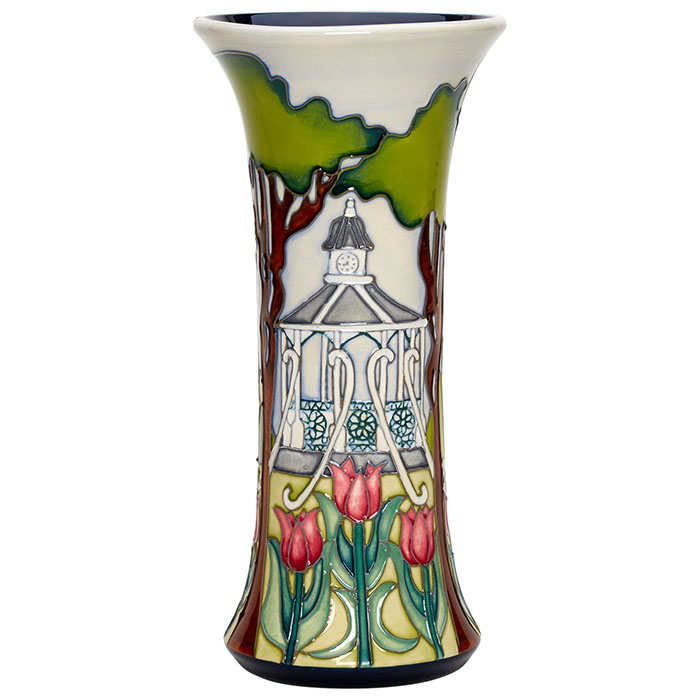 bandstand gardens - vase 72/6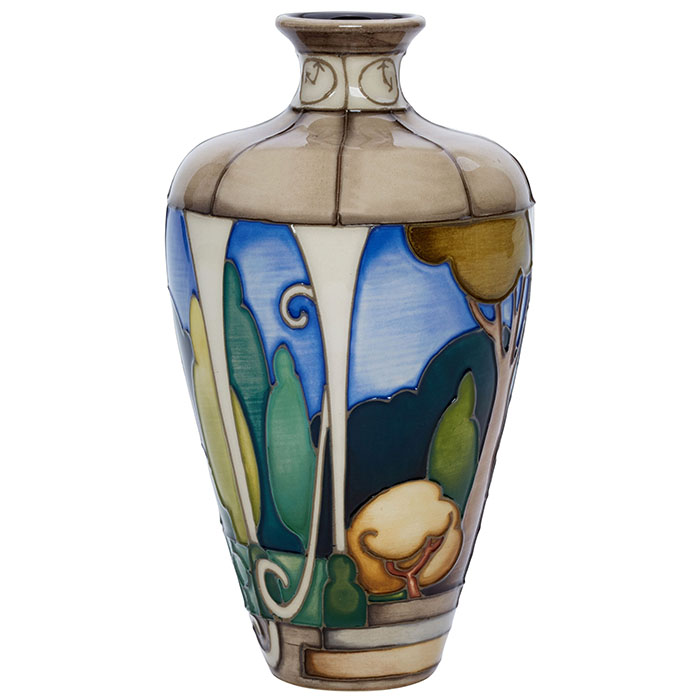 To keep the spectacular, Swindon Bandstand limited edition of 20 company, Moorcroft has taken the unusual step of presenting a second design, also featuring the famous Swindon Bandstand. Designer, Emma Bossons FRSA, offers Bandstand Gardens, to become the second bandstand design, as a limited edition of 25 pieces. Emma tempts the Moorcroft connoisseur with a stylized image, in which the bandstand is actually the pot itself and from inside the building the gardens, complete with familiar Moorcroft trees dating back to the early years of the last century, enrich the landscape of the gardens. The iron top of the bandstand is actually the shoulder of the classic 72/6 vase itself, neatly divided into sections and capped off on the rim with a Deacons' clock!
Limited Edition - 25, RRP - £345
In contrast, Moorcroft artist and designer, Paul Hilditch, has stepped in with The Deacons Legend, on the 393/10 shape as a limited edition of 15. This is an historical look at Deacons actual shop premises in Swindon and celebrated Moorcroft retailers for almost 20 years.
Limited Edition - 15, RRP £1815
Deacon & Son (Swindon) Ltd
11 – 15 Wood Street
Old Town
Swindon
SN1 4AN
Tel: 01793 522072
Email: shop@deacons-jewellers.com
the deacons legend - vase 393/10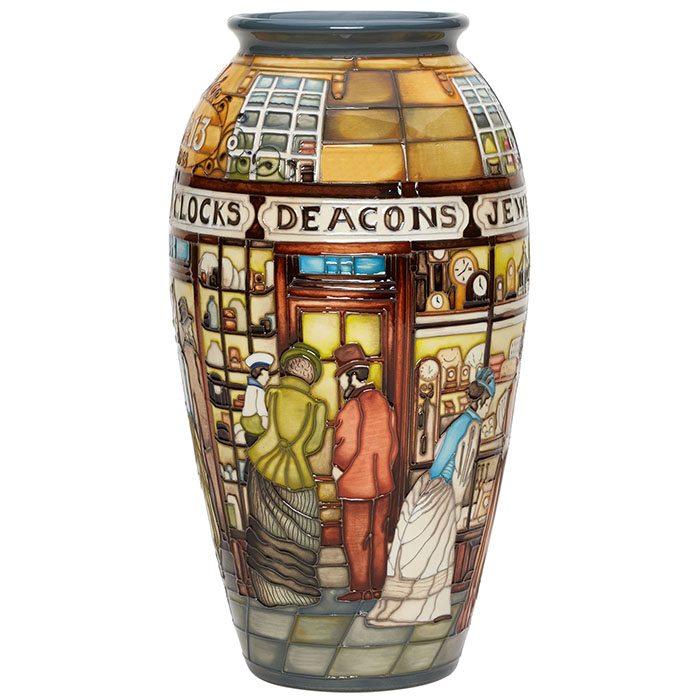 ---
Liberty & Cothe orchard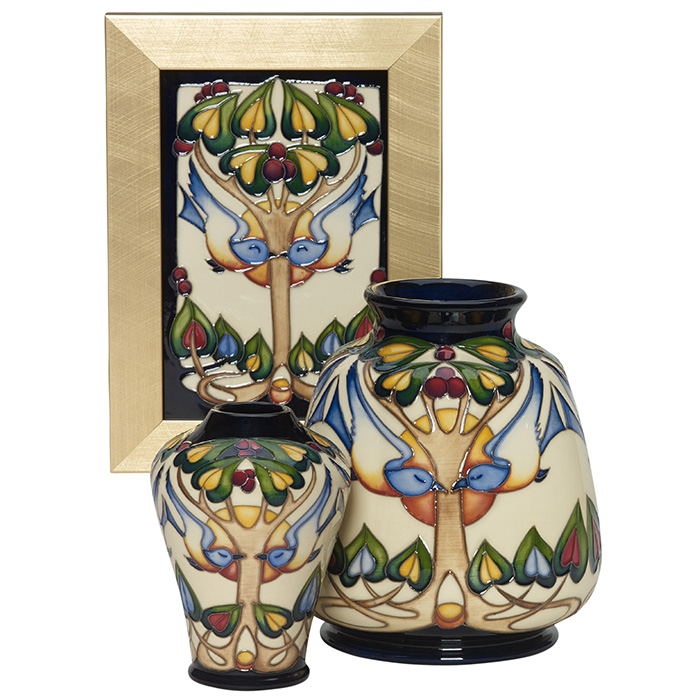 Charles Voysey (1857-1941), an adventurous designer of decorative arts who embraced the notion of actually bringing the garden into the house, seeing birds and trees, favoured motifs, as symbols of an 'unspoilt nature'. In 1899 Voysey created one of his most famous designs, 'Tree and Swallows' for a woollen textile to be manufactured by A. Morton & Co. and more than likely to be sold by Liberty & Co. The woven cloth shows the influence of William Morris's principles of pattern design and use of plant forms and animals as standard motifs. In a very similar way, Rachel's designs are dominated by flowing patterns incorporating birds, deer, hearts, flowers and trees in silhouette. Rachel manipulated Voysey's patterns of yesteryear into immaculate ceramic artworks for modern homes. The Orchard is a quaint testament to this talent and is also the namesake of the home which Voysey built for himself and his wife at Chorleywood in Hertfordshire.
The Orchard, on the 576/4 (4" in height, RRP £265), 198/5 (12.5" in height, RRP £380) and PLQ5 (13cm x 18cm, RRP £150) shapes, is available exclusively from Liberty.
Liberty & Co
Regent St
Carnaby
London
W1B 5AH
Tel. +44 (0)20 7734 1234
---
Treeby & BoltonAShness bridge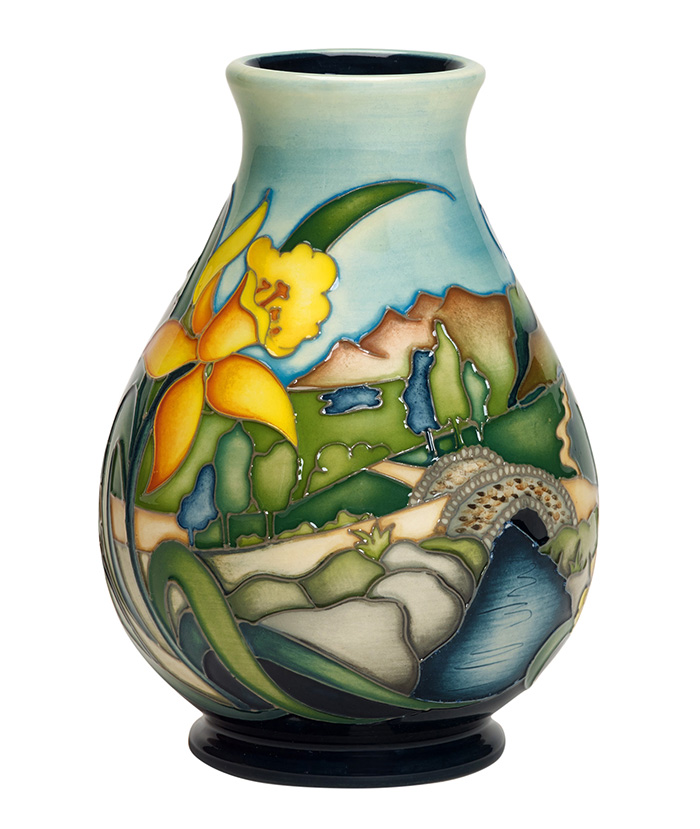 Situated in the picturesque market town of Keswick in the heart of the English Lake District, Moorcroft retailer, Treeby and Bolton has been a very special china shop for over 100 years. In this time, the store has expanded and now also houses a fabulous selection of contemporary art and glass, unique bronzes and design-led interiors across the three floors of its beautiful building. With a varied and up-to-date selection of Moorcroft, the shop is an unavoidable destination for any collector visiting the Lake District.
Ashness Bridge is perhaps the most photographed packhorse bridge in the Lake District. From this traditional stone-built bridge, visitors can enjoy breathtaking scenes of Derwentwater with Bassenthwaite Lake behind and Skiddaw rising above the town of Keswick.
With the majestic Lakeland peaks in the background, Nicola focuses on this special viewpoint through clusters of ancient trees and stones worn down and smooth from the thousands of people whom have stood admiring the views before them. Ashness Bridge sits central to the design with each stone painted individually and the cool flow of Barrow Beck running underneath.
Of course, an Ode to the Lake District would not be complete without a daffodil, and so vibrant yellow petals leap from the foreground as if heralding the next person to cross Ashness Bridge.
Designed by Nicola Slaney, Ashness Bridge on the 7/5 shape, is a numbered edition featuring a special 'Treeby and Bolton' backstamp. RRP £395.
TREEBY & BOLTON
12 Lake Road
Keswick
Cumbria
CA12 5BX‎
Tel: +44 (0)17687 72443
email: info@treebybolton.co.uk
---