Retailer Exclusive designs
From time to time Moorcroft will creates exclusive designs that are only available from specific retailers. Below are some of our most recent collaborations.
New Zealand ExclusiveCHRISTCHURCH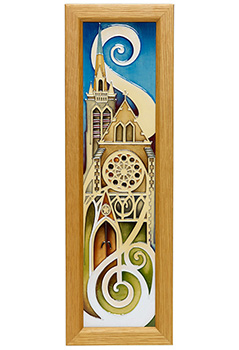 When Vicky Lovatt visited Christchurch, New Zealand in 2014, she was overcome. A city devastated by natural disaster had begun to regrow like saplings after a forest fire. Within the shells of former buildings, and from the debris of fallen bricks, new life was emerging. The city was transitional.
After the earthquakes of 2010 and 2011, Christchurch coped through creativity. With the Re Start container mall, the Cardboard Cathedral and some of the many pop up restaurants, contemporary art galleries and shops- the 'Garden City' spoke to Vicky and she was instantly enamoured. Her design tribute to Christchurch features ChristChurch Cathedral, the cathedral seat of the Bishop of Christchurch.
Repeated earthquakes damaged the building (mostly the spire) in the course of its history but the 2011 earthquake destroyed the spire and part of the tower, and severely damaged the structure of the remaining building. The remainder of the tower was demolished in March 2012. In Vicky's design the stunning Gothic revival architecture is entwined with Korus. Koru, the Maori word for 'loop', refers to new shoots of the silver fern. Perfect for Vicky's design, the Korus display a circular movement towards an inner coil, and in this they represent 'going back to the beginning'. The unfurling frond itself is symbolic for new life, new beginnings, hope, perfection, rebirth, a new start, nurturing, a new phase (in life), the spirit of rejuvenation, and peace.
Moorcroft are donating one of these entirely handmade plaques to the Cathedral to sit with the congregation. Moorcroft sincerely believe that it is people that matter, and would not like the plaque to sit in a vault or box. If we can raise a smile with this artwork as our clay cathedral soars up into the heavens we have played our part.
Christchurch PLQ is a Limited Edition of 30 pieces, with a RRP of $775 NZD available from New Zealand retailers:
Blakeleys

117-119 Williams Street

Kaiapoi

Christchurch

7630

Tel. (03) 327 8161

Contact: Suzanne

The China Shop

The Arcade

174 Burnett Street

Ashburton

7700

Tel. (03) 208 2757

Contact: Barbara

The Porcelain Lounge

29 Hunter Street

Wellington

6011

Tel. (04) 473 1262

Contact: Martin

(Store Opening

1st August 2017)

The Porcelain Lounge

Shop 2, 319 Remuera Road

Remeura

Auckland

1050

Tel. (09) 524 4973

Contact: Tia Feng

(Store Opening

14th August 2017)
---
Canadian Exclusiveconfederation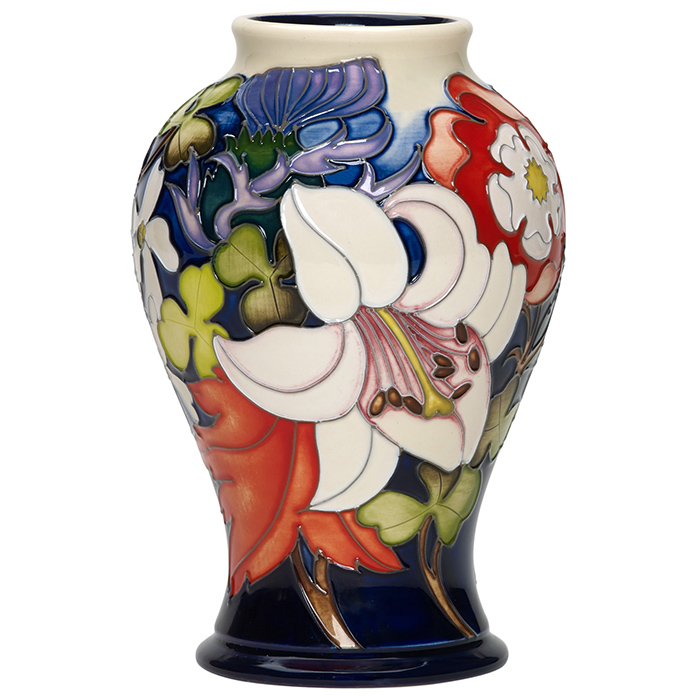 2017 is a special year for Canadians as it brings with it the 150th anniversary of their Confederation. This is a celebration of the official recognition of the initial Confederation, which was an early version of what was to become Canada, as we know it today. Queen Elizabeth II, Canada's sovereign, offered her best wishes and congratulations on the 150th anniversary of Confederation in December 2016 whilst Prince Charles, and his wife, the Duchess of Cornwall, are set to tour Ontario and Nunavut before attending the national celebration in Ottawa in July. As ever, Moorcroft speaks in flowers and through the medium of ceramic art.
To pay tribute to this special anniversary, Emma found meaning through the floral emblems which are found on the heraldic device of the Canadian Coat of Arms. Her design therefore is a bouquet of beauty, filled with significance, with Tudor Roses, shamrocks, thistles, Fleur de Lis and maple leaves. All the flowers tie wonderfully together, in the same way that Canada's diverse ancestral heritage does too.
Confederation is designed by Emma Bossons FRSA on the 65/6 shape as a limited edition of 25 pieces, RRP $673 CAD, exclusively available from Moorcroft retailers in Canada.
A W Hockridge

638 Yonge Street

Toronto

Ontario

M4Y 1Z8

Tel. 416 922 1668

Contact: Barbara

IBON Antiques

10423 79 Avenue NW

Edmonton

Alberta

T6E 1R7

Tel. 780 757 6777

Contact: Debra

Players

308 Main Street North

Moose Jaw

Saskatchewan

S6H 3J9

Tel. 306 693 7111

Contact: Dale
---
James Macintyre & Co LtdTAWNY TALES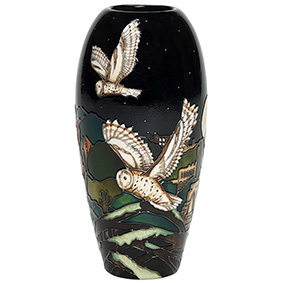 Silently gliding above an eerie landscape, scattered with buildings of a bygone time, three tawny owls rule the midnight sky, with a giant speckled moon as their guardian.
This magical conjuring may well have originated in the imagination of Moorcroft designer, Paul Hilditch, yet each fragment of the design actually tells tales of different corners of Yorkshire. Derelict ruins echo the haunting archways of Fountains Abbey; the sandstone mills on the horizon could almost be that palace of industry, Saltaire Mill; the red-bricks of a building dotted with tiny windows may belong to Middlethorpe Hall and the trees could be those which have grown so beautifully in Dalby Forest. The truth is that only Paul himself knows the origins of this fascinating design, but with its delicate, star-sprinkled sky and meticulously-painted owl feathers, it is an alluring and clever work of art filled with mystery and intrigue.
Tawny Tales is on the 101/7 shape and is a limited edition of 30, exclusively available from James Macintyre & Co Ltd, priced at £625.
James Macintyre & Co Ltd
23 Country Arcade
Leeds
LS1 6BW
email: macintyres@moorcroft.com
Tel: +44 (0)113 2346363
---
Liberty & CoASCension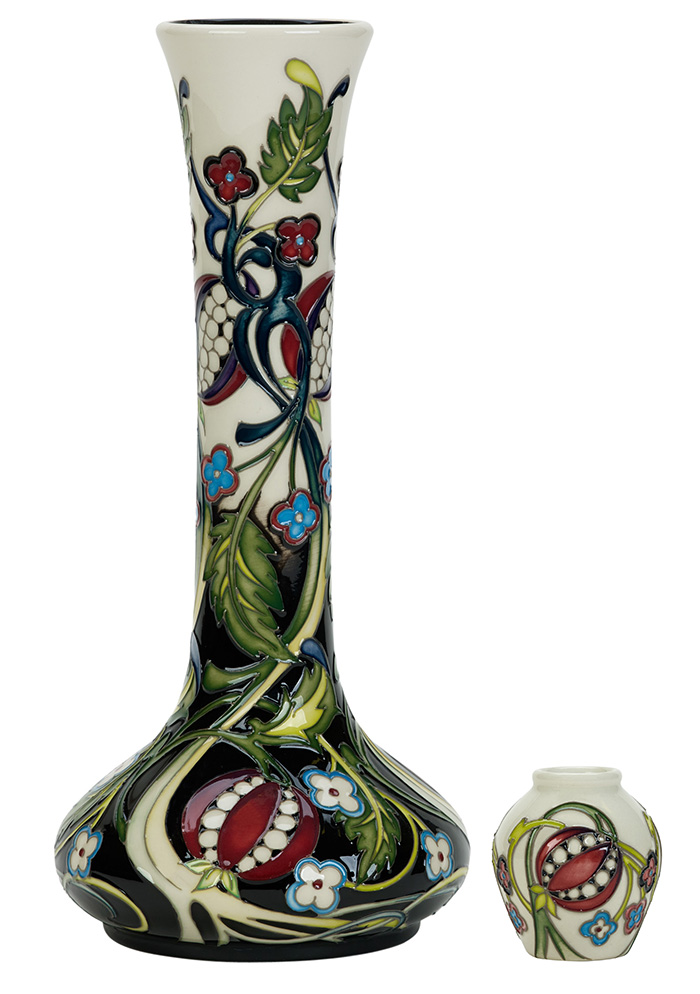 The relationship between two original Arts and Crafts forerunners, Moorcroft and Liberty & Co, has been entwined for decades, much like the threads running through an oriental tapestry in the London store's wonderful carpet department.
It was Sir Arthur Lasenby Liberty who founded the world-famous fabric, decorative furnishing and ornament Emporium, Liberty & Co., and who went on to become a stockholder of W. Moorcroft Ltd back in 1913. Much has happened since, and the story has been told through many Moorcroft designs as that familiar Grade-II-Listed Liberty & Co. building will always remain a great source of inspiration to Moorcroft designers.
Nicola Slaney, was invited to create an exclusive vase for Liberty & Co. for 2017. With its Tudor-revival frontage and beautiful wood-carved interior, the building inspired Nicola who immediately took pen to paper. Drawing upon the intricate blossom and pomegranate detail of the wood-carved staircase, Nicola wrapped the luscious fruits, with inviting seeds, around an elegant Edwardian-style vase. Scattered with delicate four-leaved flowers and tendrils of foliage, Ascension plays testimony to an Aladdin's cave of treasures, riches, artworks and creations which visitors enjoy every time they ascend to the lofty heights of the Decorative Arts department on Liberty's third floor.
A complementary miniature vase is offered with every 99/11 vase. These pieces are only available from Liberty & Co in London, RRP £640.
Liberty & Co
Regent St
Carnaby
London
W1B 5AH
Tel. +44 (0)20 7734 1234
---
Goviers of Sidmouthswan upping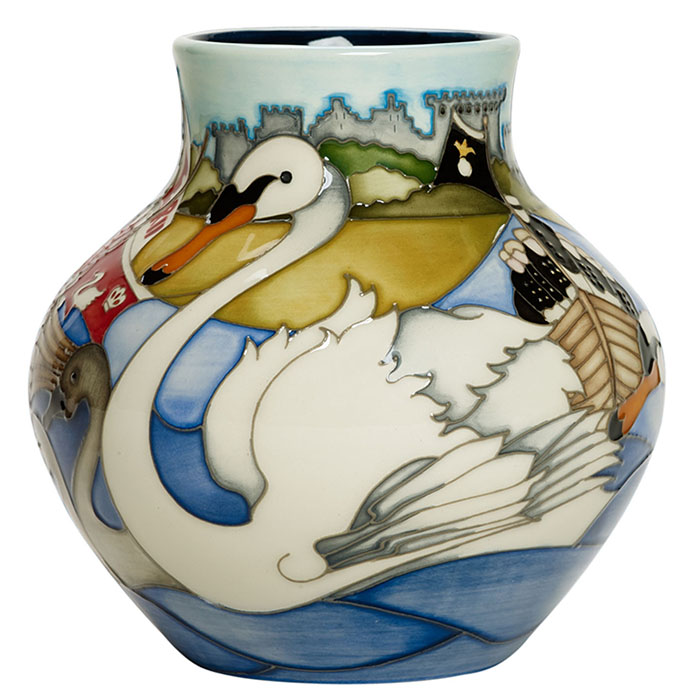 Technically, all unmarked swans in open water belong to the Queen, although the Crown only exercises ownership on certain stretches of the River Thames. Today, this tradition is observed during the annual 'Swan Upping,' in which swans in the Thames are caught, ringed, and set free again as part of census of the swan population. It is a highly ceremonial affair, taking place over five days. 'Swan uppers' wear traditional uniforms and row upriver in six skiffs accompanied by the Queen's Swan Marker. In Kerry's design, the upping is well underway as the skiffs approach the swans. A family of the majestic birds bob along peacefully, wholly unaware of their impending health check and ringing!
Swan Upping is a Limited Edition of 30 pieces, available exclusively from Goviers of Sidmouth, RRP £495.
Goviers of Sidmouth
55, High Street
Sidmouth
Devon
EX10 8LN
Telephone: 01395 513419
Website: www.goviers.co.uk
Email: info@goviers.co.uk
---
Goviers of Sidmouththe florian butterfly Ballet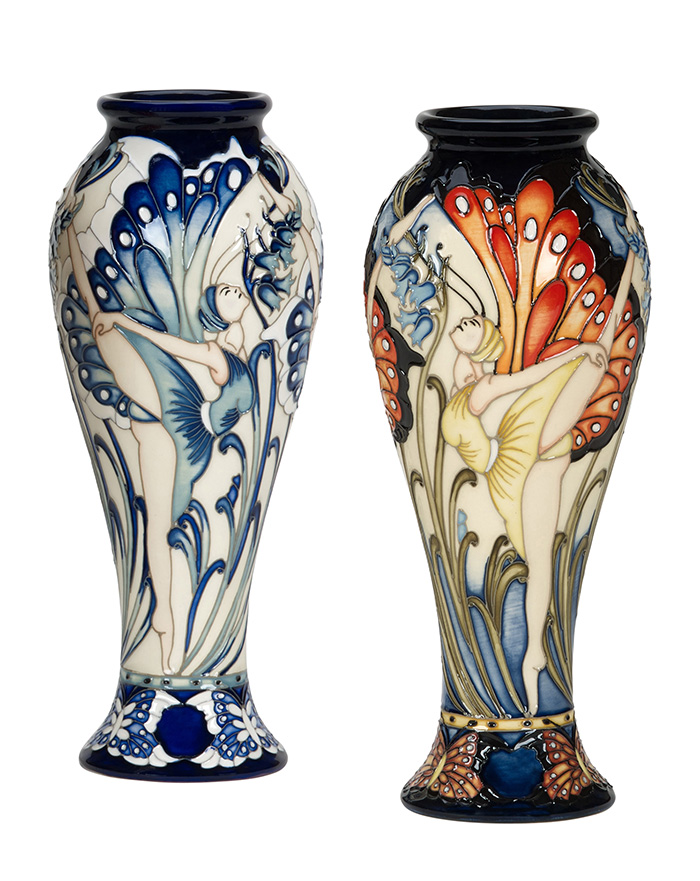 The Florian Butterfly Ballet, (shape 75/8") by Kerry Goodwin comes in a choice of two colourways, either deep lagoon blue or brighter colours of burnished orange and lemon. Both have been exclusively commissioned by official Moorcroft Retailer, Goviers of Sidmouth and are intended to sit together well as pair, or to be enjoyed individually.
Kerry has taken her inspiration from William Moorcroft's Florian Ware and the English ballet dancer, Adeline Genée, who was born in 1878 and played the lead in the ballet 'A Dream of Butterflies and Roses.' Genée did much to raise the status of ballet by reviving earlier productions and creating an audience for more elaborate works. She was versatile enough to dance light musical hall roles as well as more challenging classical roles. Slender and elegant, Adeline was often described as like 'Dresden china'. In one respect however, she was very backward-looking, preferring a style of costume that belonged to the 1830s.
Both vases are Limited Editions of just 25, RRP £625.
Goviers of Sidmouth
55, High Street
Sidmouth
Devon
EX10 8LN
Telephone: 01395 513419
Website: www.goviers.co.uk
Email: info@goviers.co.uk
---
Knole HouseKnole Collection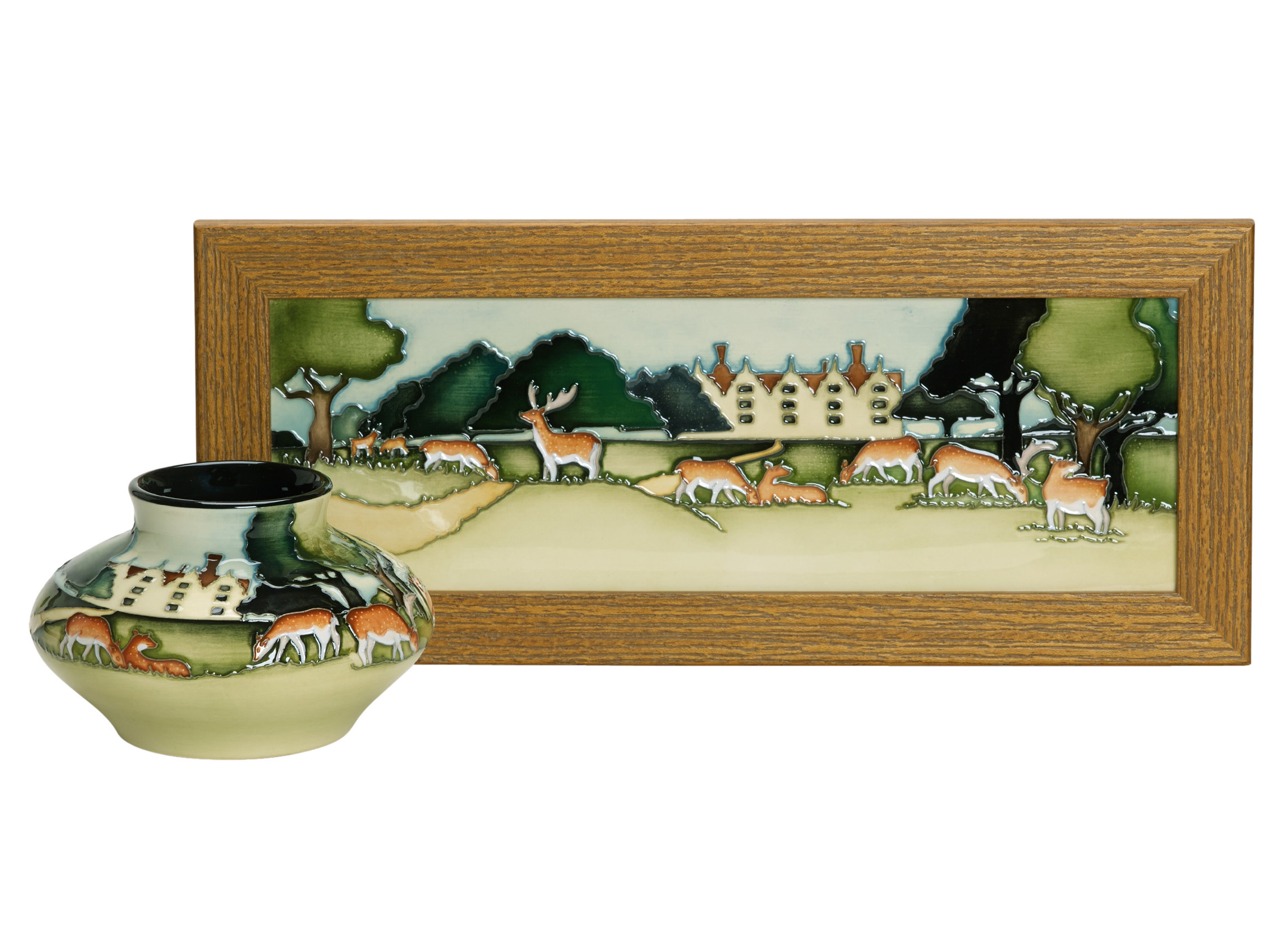 Vase RRP £395, Plaque RRP £415
Nestled in a medieval deer-park, Knole is vast, complex and full of hidden treasures. Originally an Archbishop's palace, the house passed through royal hands to the Sackville family - inhabitants from 1603 to today. The ancient structure feels almost weighed down by its own history - six centuries of it. Visitors are impressed by the enormous size and completeness of Knole, but those who really connect with this special place love its quiet dignity and its almost melancholy feel. The grandeur has passed but its old, glinting beauty remains.
Vicky Lovatt pays regular visits to Knole when she visits her family in Kent. Vicky's designs, The Sackville Leopards, The Wildflower Window and The Knole Guardians (pictured) all visit elements of the unusual architecture and sheer beauty of the surrounding grounds.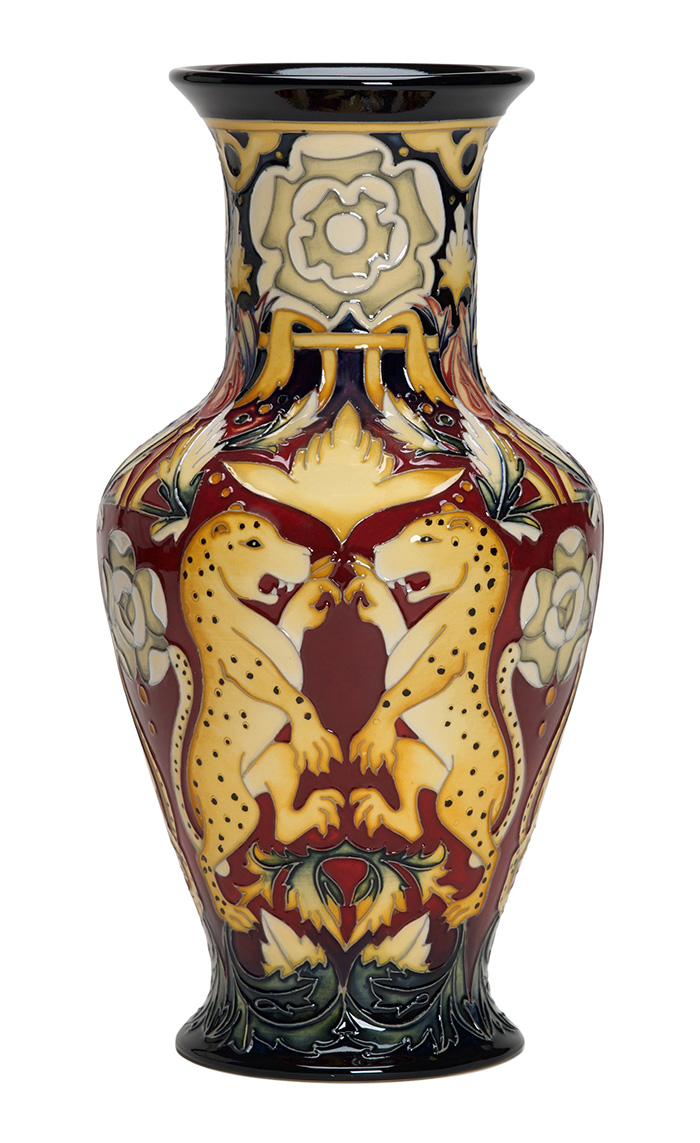 Sackville Leopard RRP £890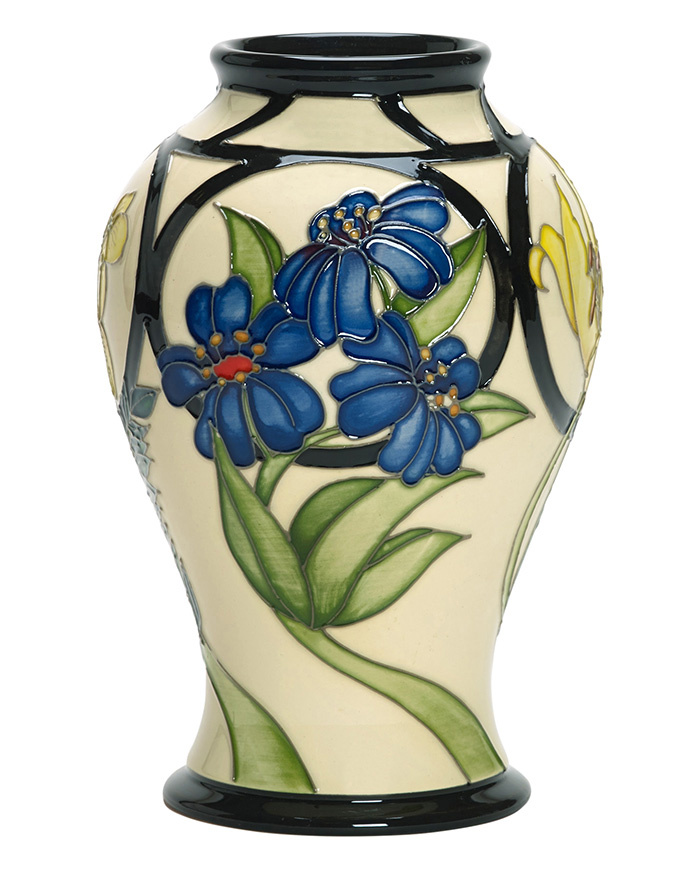 Wildflower Window RRP £340
Knole Bookshop
Sevenoaks
Kent
TN15 0RP
Telephone: +44 (0)1732462100
Email: knole@nationaltrust.org.uk
https://www.nationaltrust.org.uk/knole
---
Located at Somerset House, The Courtauld is a vibrant international institute for the teaching of art, from antiquity to the contemporary. It is also houses one of Britain's best-loved collections, including famous Impressionists and Post-Impressionist masterpieces, and offers an acclaimed program of exhibitions.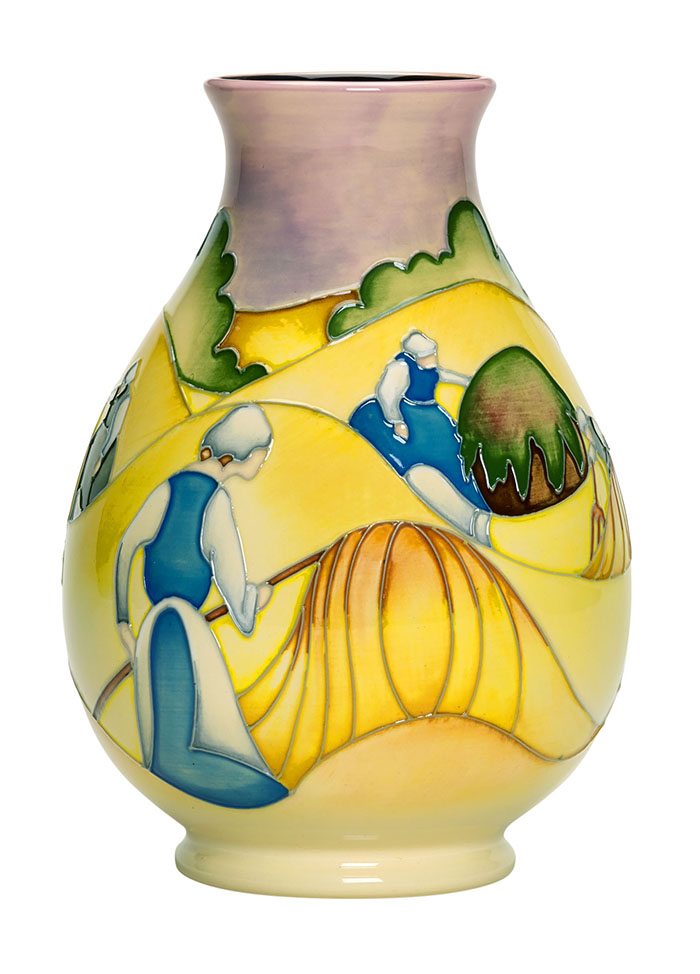 The Courtauld has provided a source of historical inspiration to Moorcroft designers over the years. In 2015, Emma Bossons FRSA launched Folies-Bergère and Degas Dancers; both designs were inspired by original artworks in The Courtauld. After visiting The Courtauld and enjoying a private tour of the most prominent works, designer Kerry Goodwin found numerous ideas unfolding in her mind as she toyed with some of the most famous paintings in the world. With a firm appreciation of the delicacy and painterly texture of these masterpieces, Kerry avoided imitation, but instead put her own spin on two famous artworks by Paul Gauguin and Paul Cézanne. Her idea was not to copy and recreate but to pull elements of what she saw for a modern interpretation. In her tribute duo we see awesome use of colour and clever construction all transformed into calculated designs upon the surface of clay.
By the time Gauguin visited Brittany in 1886, the simpler and quaint way of life led by inhabitants was rapidly gathering a tourist attraction. Fascinated by the primitive agricultural techniques and clothing, Gauguin decided to also simplify his art. In 'The Haystacks' blocks of colour meet hunched forms while an abstract arrangement of people hints that all is not spatially correct. All the same, the painting became famous particularly for its golden harvest glow and today we thank Kerry for bringing this radiance and luminosity to Moorcroft's art pottery. Kerry's interpretation also captures the hard-at-work harvesters, in their crisp blue pinafores raking away at fruitful fields of Brittany. RRP £535.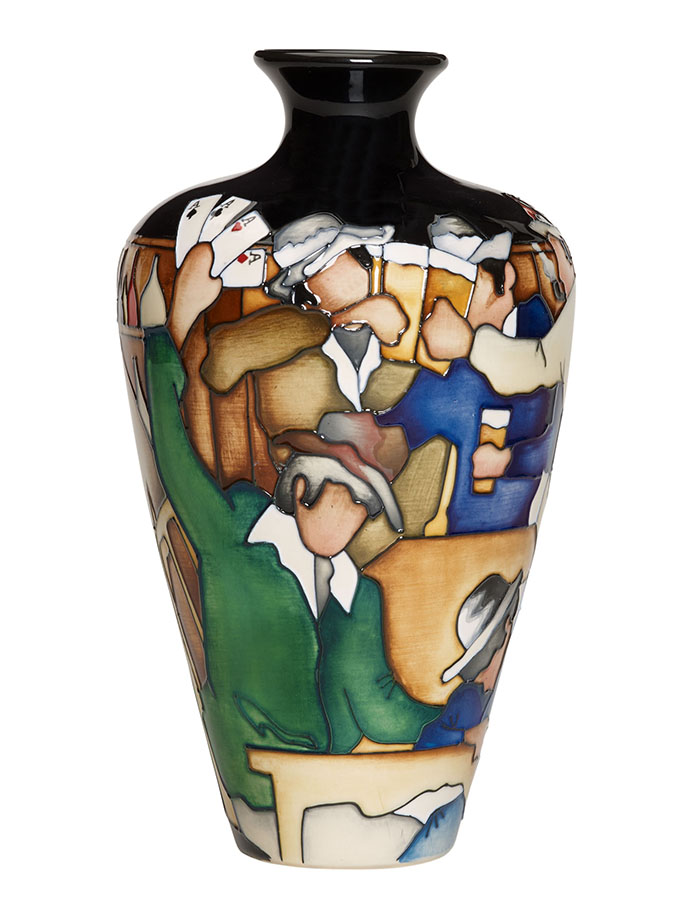 A cacophony of movement, people and action collide around this design inspired by 'The Card Players' by Cézanne. Kerry chose to assemble many of the men at a working-class bar and paint them in the dark earthy tones that Cézanne used himself when creating this series of oil paintings. Blue, greens and browns unite in the jackets of men exchanging 'cheers' with their beers after a day of toil. Concentrating hard are the focused faces of card players and quite amusingly we see one man hold up his hand of Aces. Less serious than the original, with an injection of Kerry's own humour, but maintaining that succession of warm accents, this design is a very fetching way to re-visit a classic painting. RRP £610.
The Courtauld Shop
Somerset House
Strand
London
WC2R 0RN
Tel. +44 (0)20 7872 0220
---
Liberty & Cothe orchard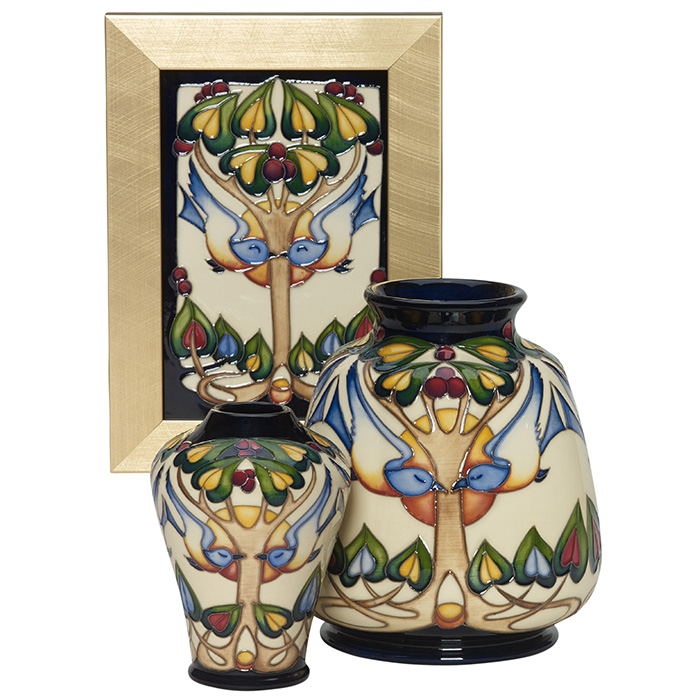 Charles Voysey (1857-1941), an adventurous designer of decorative arts who embraced the notion of actually bringing the garden into the house, seeing birds and trees, favoured motifs, as symbols of an 'unspoilt nature'. In 1899 Voysey created one of his most famous designs, 'Tree and Swallows' for a woollen textile to be manufactured by A. Morton & Co. and more than likely to be sold by Liberty & Co. The woven cloth shows the influence of William Morris's principles of pattern design and use of plant forms and animals as standard motifs. In a very similar way, Rachel's designs are dominated by flowing patterns incorporating birds, deer, hearts, flowers and trees in silhouette. Rachel manipulated Voysey's patterns of yesteryear into immaculate ceramic artworks for modern homes. The Orchard is a quaint testament to this talent and is also the namesake of the home which Voysey built for himself and his wife at Chorleywood in Hertfordshire.
The Orchard, on the 576/4 (4" in height, RRP £265), 198/5 (12.5" in height, RRP £380) and PLQ5 (13cm x 18cm, RRP £150) shapes, is available exclusively from Liberty.
Liberty & Co
Regent St
Carnaby
London
W1B 5AH
Tel. +44 (0)20 7734 1234
---
The Sissons GalleryFlorian revisited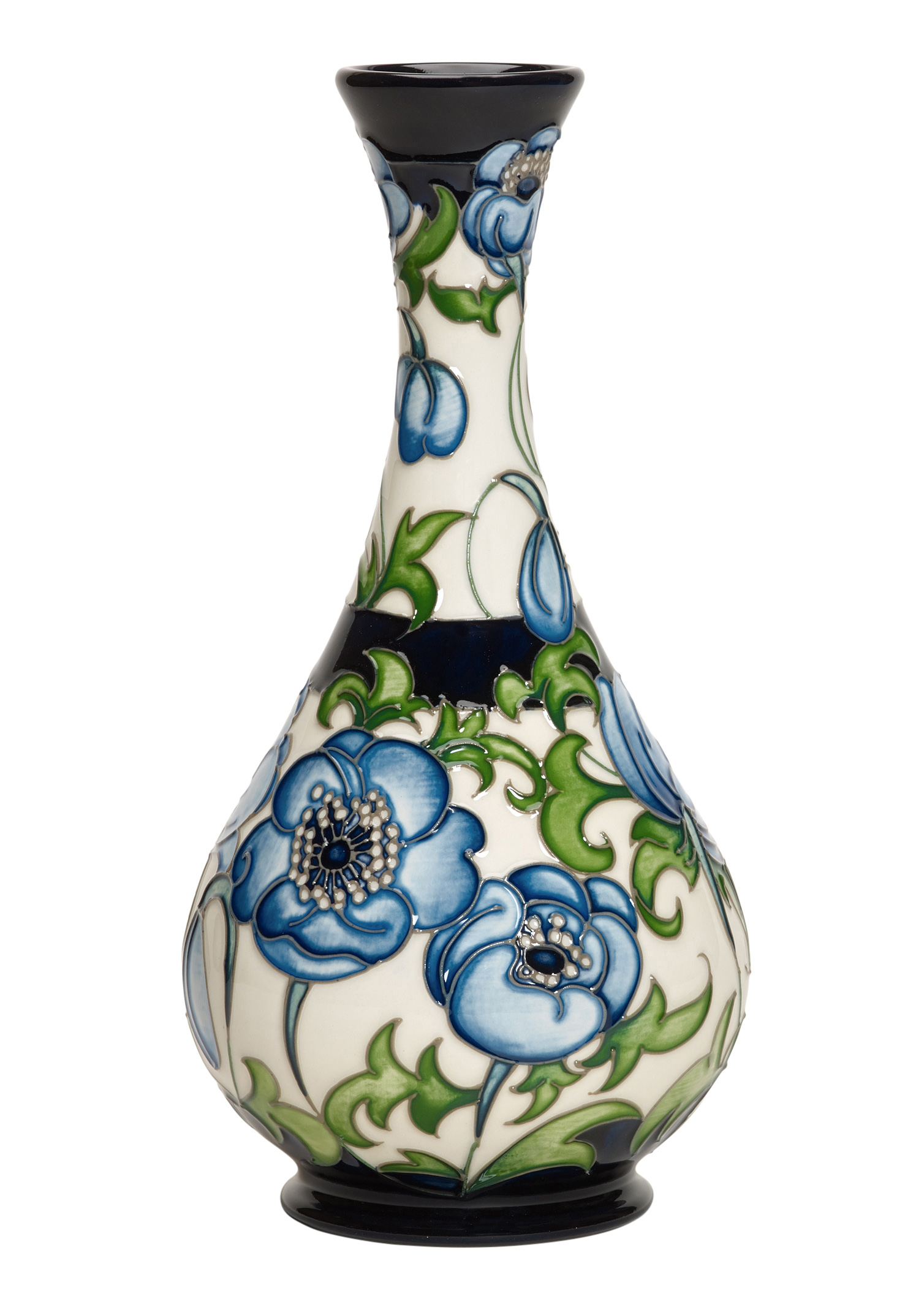 Almost 120 years have now passed since a fresh-faced and ambitious young man named William Moorcroft was offered a job as a designer by the industrial china and earthenware manufacturers, James Macintyre & Company of the Washington Works, Burslem. His work would impact the world of ceramic art. His designs still inspire people a hundred years later. His influence still resonates throughout the humble red bricks on Sandbach Road in Burslem, a short walk from the place where his career first began.
William's vases from the Moorcroft Museum and photographs in the numerous Moorcroft books, still beckon the current Moorcroft Design Studio. Senior Designer, Rachel Bishop, is more than acquainted with the Florian style William strived to perfect in those early years. In this design, Florian Revisited, created especially for the William Sissons Gallery in Yorkshire, Rachel recalled one of her favourite Florian designs, decorated with blue poppies.
There can be no doubt that the design is distantly related to its ancient ancestors, but of course Rachel has reworked the design in her own, inimitable way. Florian Revisited takes the almost translucent petals of this enigmatic flower to glorious heights, back-dropped by strands of cobalt blue and crisp ivory clay. It pays homage to the past but is a brilliant portrayal of the colour, clarity and precision employed by every single artist and craftsperson at Moorcroft today.
The Sissons Gallery can now offer Florian Revisited as a 80/9 vase (RRP £395) along with two stunning new lamps on shapes L46/10 and L65/6 (RRP £495 and £405 respectively).
Please contact the gallery direct on +44 (0)1439 771385
The Sissons Gallery
23 Market Place
Helmsley
North Yorkshire
YO62 5BJ

Email: sales@sissonsgallery.co.uk
Opening Times: Mon - Sat: 10:00 - 17:30
---
Treeby & BoltonAShness bridge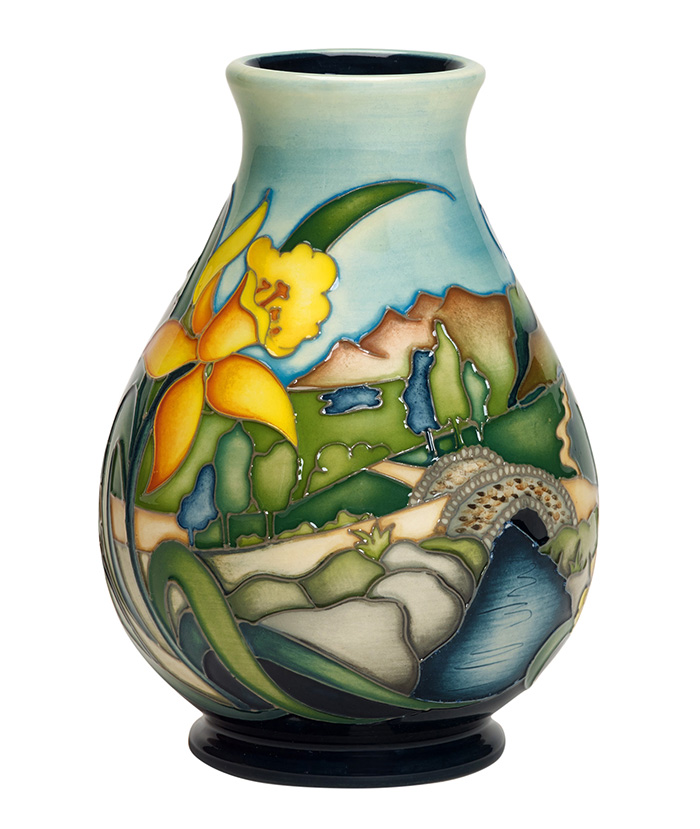 Situated in the picturesque market town of Keswick in the heart of the English Lake District, Moorcroft retailer, Treeby and Bolton has been a very special china shop for over 100 years. In this time, the store has expanded and now also houses a fabulous selection of contemporary art and glass, unique bronzes and design-led interiors across the three floors of its beautiful building. With a varied and up-to-date selection of Moorcroft, the shop is an unavoidable destination for any collector visiting the Lake District.
Ashness Bridge is perhaps the most photographed packhorse bridge in the Lake District. From this traditional stone-built bridge, visitors can enjoy breathtaking scenes of Derwentwater with Bassenthwaite Lake behind and Skiddaw rising above the town of Keswick.
With the majestic Lakeland peaks in the background, Nicola focuses on this special viewpoint through clusters of ancient trees and stones worn down and smooth from the thousands of people whom have stood admiring the views before them. Ashness Bridge sits central to the design with each stone painted individually and the cool flow of Barrow Beck running underneath.
Of course, an Ode to the Lake District would not be complete without a daffodil, and so vibrant yellow petals leap from the foreground as if heralding the next person to cross Ashness Bridge.
Designed by Nicola Slaney, Ashness Bridge on the 7/5 shape, is a numbered edition featuring a special 'Treeby and Bolton' backstamp. RRP £395.
TREEBY & BOLTON
12 Lake Road
Keswick
Cumbria
CA12 5BX‎
Tel: +44 (0)17687 72443
email: info@treebybolton.co.uk
---