Moorcroft Club
Moorcroft Club
Making Friends Since 1987
Moorcroft pottery has enriched homes with colour and craftsmanship for more than one hundred years. With a history built on superb artistry, Moorcroft is as strong and lively today as it has ever been.
The Moorcroft Club was founded in 1987 and over the years has developed its own tidal wave of enthusiasm, not only in the United Kingdom but also reaching out to Australia, New Zealand, South Africa, America and Canada.
The Club has grown into a wonderful community of knowledgeable and enthusiastic members who are offered a wide variety of exclusive benefits. Whether you become a member to learn more about Moorcroft or whether it is a desire to take part in our annual events or simply because you wish to further your appreciation of the beauty of handmade art pottery, we have no doubt that you will thoroughly enjoy your membership.
THE BENEFITS
Enjoy some unmissable benefits with Moorcroft Club membership:
• Quarterly Moorcroft Club Journals – circa 48 pages of news, historic articles, auction reports, interviews and articles of interest as well as details about new collections, our third party partners/collaborators (such as the RHS, NSPCC, RSPB) and retailers and their own Moorcroft events/products, Moorcroft tours worldwide, exhibitions, external events of interest.
• Invitations/Offers/Incentives/Coupons for events and exhibitions held at the original 1913 factory in Stoke-on-Trent, our Collectors Shop or at specially-selected third party locations worldwide, including but not limited to Moorcroft Retailer Events, Moorcroft at various shows and places of interest.
• Access to special discount codes for the Moorcroft website/Moorcroft Heritage Visitor Centre/Collectors Shop and advance notice of flash sales/other offers & vouchers.
• Complimentary £50 Gift Voucher
• Free of Charge Factory Tours (must be booked in advance)
• Moorcroft Pottery Identification services and other services from time to time introduced.
• Club Card which provides 10% off selected Moorcroft Pottery sold by W Moorcroft Ltd only at various Moorcroft events/shops/Heritage Visitor Centre.
• Exclusive Club designs and reward Schemes/offers/competitions
• All Moorcroft catalogues flyers, advanced notices of new launches/exhibitions/events and sales notifications.
• General Sales and Marketing Information about Moorcroft products; associated products produced by third parties, in whole or in part (for example, Moorcroft folders, jewellery, horticultural products named after Moorcroft/Moorcroft designs), that may be of interest to Moorcroft collectors due to brand/Name/Design/Event associations; services and events.
If you are already a member of the Moorcroft Club, please click the 'Register' button, which can be found within the blue banner at the top of this page. From here you will be asked to enter a few simple details, including your membership number, so please have this to hand. Once registered you will instantly receive your 10% Members Discount on purchases on this website, but it may take up to 48 hours for Club exclusive designs to become available to you.
You can join the Club by phone or email, or on line by selecting the relevant Membership category below, or by returning a completed application form, supplied by a member of staff.
* E-Membership still entitles you to a 10% discount Club card, £50 Club Voucher and invitations to events in the post, but printed catalogues, flyers and new launch brochures will only be available online via the website and not delivered to your doorstep. The quarterly journals will be sent to you via email. We feel this approach helps us to be mindful of environmental concerns about printed matter.
Digital copies of our catalogues and flyers can be found here.
Keep your catalogues and journals in pristine condition with our especially designed binders. Click here to purchase.
Full Membership - Special Half Price Offer until 17th December.
Plus, customers who purchase a half price membership during this time will automatically be entered into a prize draw to win the annual Club vase, Memoire (pictured).
For extra entries:
Like the Moorcroft Facebook page
Share the Facebook post
Tag a special someone in Facebook
Prize draw available only to those who purchase a half price membership.
The winner of the prize draw will be announced on Tuesday 18th December on Facebook and Instagram.
Good luck! You don't want to miss out!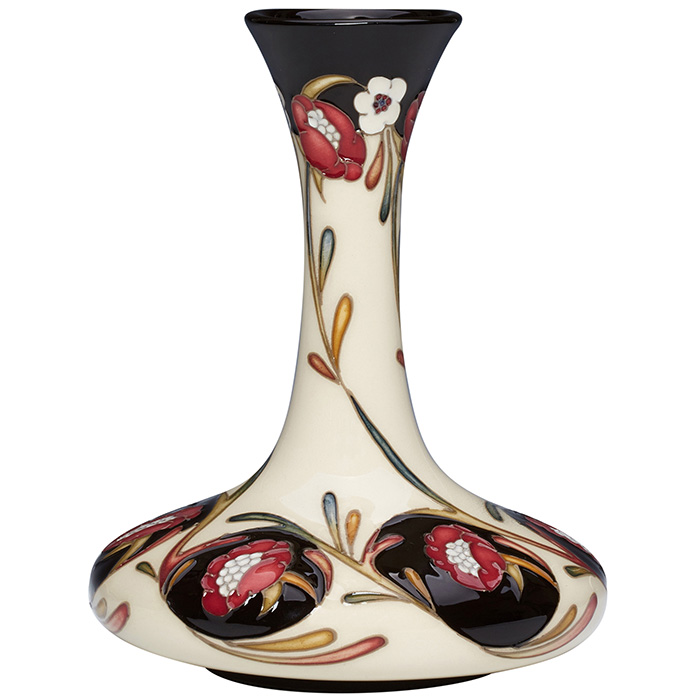 Moorcroft Club members2018 STAR AWARD DESIGNS
The Star Award Scheme rewards members for their continued Club membership. A member gains one star for every three years of membership and can earn up to five stars after fifteen years. Your member's star status is printed on your membership card, however if you are unsure of your star status please email MClub@moorcroft.com for confirmation.
Unusually, this year offers two colourways of Flower of Youth. Azaleas have been a favourite of designer Kerry Goodwin for many years. Certainly, the flowers suggest elegance and wealth, but as Kerry is quick to point out, they also suggest a passion which is still fragile and in the course of development. This reflects a fundamental truth about azaleas because petals from its blooms can fall off the shrub if brushed by a passing person or a gust of wind. In other words, fragility is a constant feature of new or young love which may yet still fail to develop into a full, undamaged flower.
Drawn on the attractive 370/6 shape, Flower of Youth, will soon have a following within the Moorcroft Club, doubly so because it comes in two colourways. The blue colourway would have been familiar to Moorcroft's founding father, William, in his early days at James Macintyre & Co. At the beginning of the last century, blue-on-blue as it was called, was not really a colour combination but rather different shades of the same colour – cobalt blue. The other colourway harnesses metallic oxide burgundy, an unusual colour available to Moorcroft designers and artists.
Club members are free to choose whichever colourway they prefer or both if the history of colour development is of interest. Importantly, 2018 presents itself as a Star Award limited edition year and each vase come as a limited edition of 50.
Flower of Youth is available on a tiered pricing stucture based on your star status.
| | | |
| --- | --- | --- |
| Flower of Youth | Member Discount | Price |
| 0 Star Member | n/a | £375.00 |
| 1 Star Member | 5% | £356.25 |
| 2 Star Member | 10% | £337.50 |
| 3 Star Member | 15% | £318.75 |
| 4 Star Member | 20% | £300.00 |
| 5 Star Member | 25% | £281.25 |
| Gold Member | 30% | £262.50 |
Please contact MClub@moorcroft.com to place your order.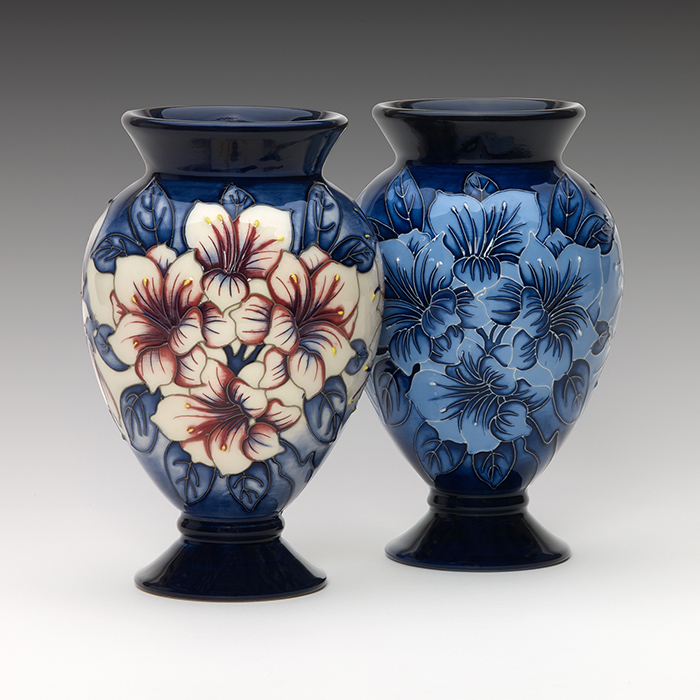 Moorcroft Club members EXCLUSIVE designS
As part of the Moorcroft Club you get access to our 'Member Exclusive' designs:
Email:
MClub@moorcroft.com
Tel: +44(0) 1782 820510 (9am-5pm Monday-Friday)
---