Consider the Gaelic legends of Oystercatchers, the United Kingdom's best loved bird charity, the RSPB, and a heritage art pottery, Moorcroft, and you have a recipe for a wedding gift wrapped in stories and #art, with part of the proceeds also helping The RSPB's charitable mission.
View the Leighton Moss Collection
Moorcroft's partner charity, the #RSPB, maintains over 200 reserves throughout the United Kingdom, covering a wide range of habitats, from estuaries and mudflats to forests and urban habitats. For 2021, a collection of designs inspired by #RSPBLeightonMoss - the largest reedbed in northwest England, home to important breeding birds and other wildlife - was released. This diverse habitat along the shores of nearby Morecambe Bay provides a home for important breeding populations, with one somewhat important bird of renown – the Oystercatcher.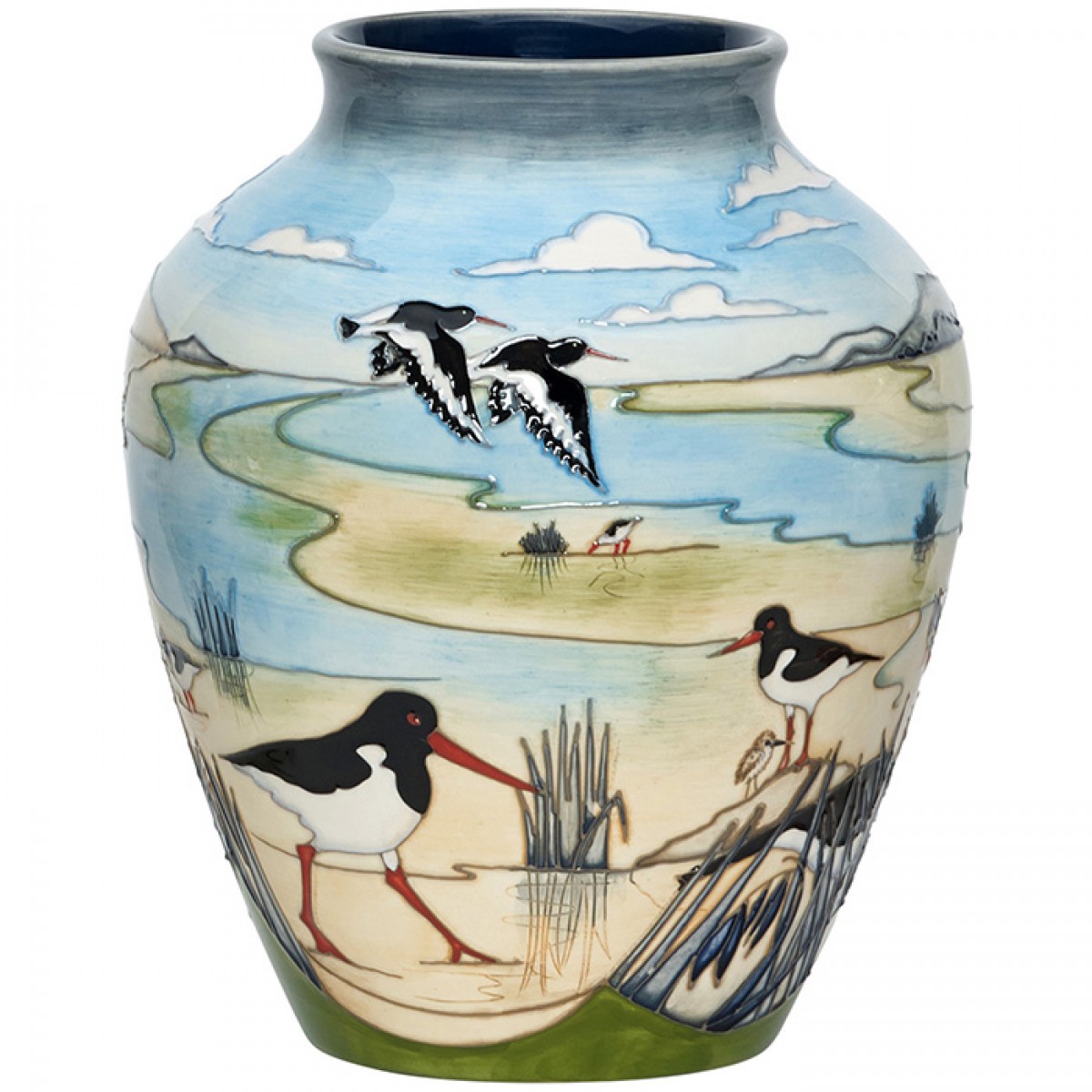 Anyone who knows Moorcroft designer, Vicky Lovatt, will know that her love of #Scotland, somehow finds its way into her designs. A little bit further North from Leighton Moss, stretching up into Scotland's Gaelic heritage, ancient stories about the Fianna 'Fingalian heroes', sìthichean 'fairies', various supernatural creatures like the each-uisge 'water-horse' and crodh-mara 'sea cattle', have delighted all for generations.
The oystercatcher is intimately connected to St Bride or Brigid, who is remembered in the many Scottish places called Kilbride (Cille Brìde or Brìghde, 'church of Bride'). This spiritual heroine, named Moire Nan Gàidheal 'Mary of the Gaels', was highly revered among the Gaelic people.
Legend has it that St Bride was running away from a band of men who had it in their heart to kill her, when God sent her help. Desperately alone and exhausted from the chase, St Bride reached a wide open beach where there was no place to hide. In faith, she said a prayer to God to thank him for her life and lay on the sand to accept her death. Her prayer was answered in a most peculiar way - before her pursuers reached the beach, the oystercatchers, usually noisy if disturbed, saw her, and covered her with seaweed, hiding her and saving her life. She blessed the species and since that day the oystercatcher has been the brìdean (Brìd-eun 'Bride's bird) or gille-brìde 'servant of Bride'.
Vicky Lovatt's limited edition (25) vase, Oystercatchers, complete with RSPB backstamp, was inspired by these mythical birds as they patrol the shoreline stretching out to Morecombe Bay, and captures the backcloth of green hills that roll gently down to golden sands, allowing salt water to meander and birds to fly in silent tranquillity. A gentle spirit, St Brigit is said to have called wild birds to her hand, and in rough weather, sending them to guide sailors to safety. Interestingly, an old folk tradition, confirmed by recent observations, says that oystercatchers always return to the river valleys from the seashore around St Valentine's Day, in order to begin pairing and nesting. A #weddinggiftideas, this design holds stories of love, allowing the supernatural to guard the marriage vows.
Why not make your wedding gift extra special?
Moorcroft can also arrange for designer, Vicky Lovatt, to sign a personalised card #personalisedgiftidea for the happy couple as part of your gift package (this offer ends December 25th 2021) simply forward your web receipt within 5 days of purchase to enquiries@moorcroft.com stating the names of the happy couple for your #personalisedgifting