Charitable Connections - RSPB
Moorcroft and The Royal Society for the Protection of Birds
Since 2010, Moorcroft have collaborated with The Royal Society for the Protection of Birds (the RSPB), the UK's biggest nature conservation charity, to create some of the finest pieces of Moorcroft art pottery you will ever find. The RSPB's nature reserves provide homes to around 16,000 species, some of which are brought back from the brink of extinction. As an Arts and Craft pottery that seeks to harness the mysteries and the beauty of the natural world, Moorcroft historically holds designs featuring multiple species, and rich in biodiversity, making the partnership with the RSPB one of mutual affection.
Moorcroft designers owe a great deal to nature and this was evident in a very special collection marking the landmark 125th anniversary of the formation of the RSPB. Designer Kerry Goodwin created a six-piece limited edition collection, A Homage To British Wildlife. The collection, which was a global success, marked a high point in Kerry's design career, now renowned for her RSPB designs.
With designers accessing RSPB imagery and, creating many designs in situ at RSPB nature reserves, Moorcroft have not only celebrated native species through ceramic art but have also raised much-needed funds and highlighted current issues. 2019 witnessed a collection launch that highlighted the plight and wonder of the British woodland – one of our richest habitats for thousands of living species including some of our most-loved animals and plants. Hedgerows, copses, woods, wood pasture and parkland all have a unique characters, biodiversity and ecosystems. Together they make up vital habitat links, connecting wildlife across the landscape and helping species to survive and thrive.
2020 was a challenging year for many, with unexpected events taking place beyond our control. Nevertheless, something that did not change was the spectacular phenomena of millions of birds taking to the skies to migrate between their summer and wintering grounds. How we all appreciated the natural world as a panacea for our worries.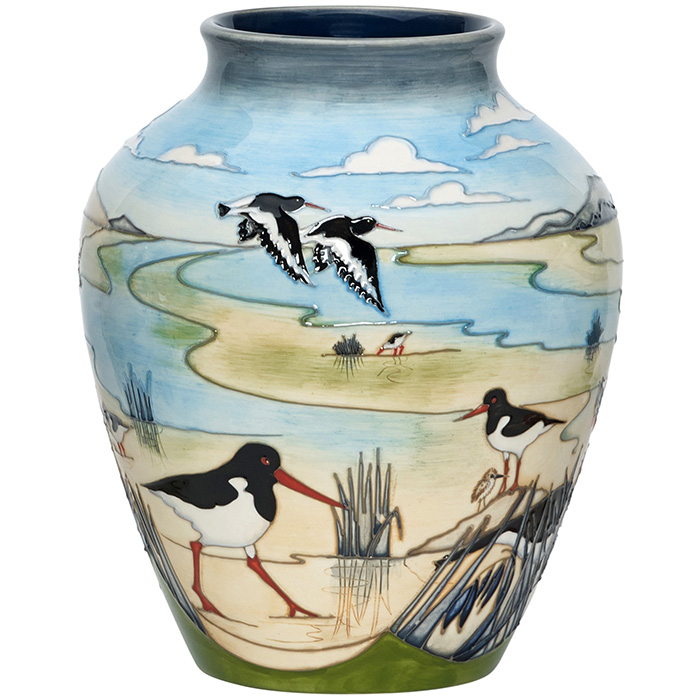 The RSPB is the UK Partner of BirdLife International, a global partnership of national conservation organisations that work together in advocating and carrying out conservation actions. By playing a leading role in BirdLife International, the RSPB can help to secure the future of nature right across the world.
Working tirelessly to save many species from extinction, Moorcroft were delighted to celebrate a number of the RSPB's success stories in 2020 as the charity continued its vision to give nature a home. RSPB reserves only cover 0.6% of the UK's land surface but they support more than 10% of the UK's breeding population of 32 bird species and a selection of these are highlighted in this new collection of designs, together with other threatened species.
On Friday 6th and Saturday 7th August 2021, Moorcroft hosted an event at the RSPB nature reserve Leighton Moss in Lancashire. Managing Director Elise Adams unveiled our 2021 RSPB collection, inspired by the birds, insects and plants found in abundance at this unique wetland reserve. Bearded tits, bitterns, oystercatchers and wigeons will be amongst the new ornithological design offerings, with common darter dragonflies and orange tip butterflies bringing the insect world to life. Designers Emma Bossons FRSA and Kerry Goodwin were both on hand demonstrating how a piece of Moorcroft is created, from the initial design idea right through to the finished piece.
View RSPB 2021 Leighton Moss Collection
In the meantime, you can learn more about the work of the RSPB at www.rspb.org.uk.