The Wildlife Pond 402/4 Vase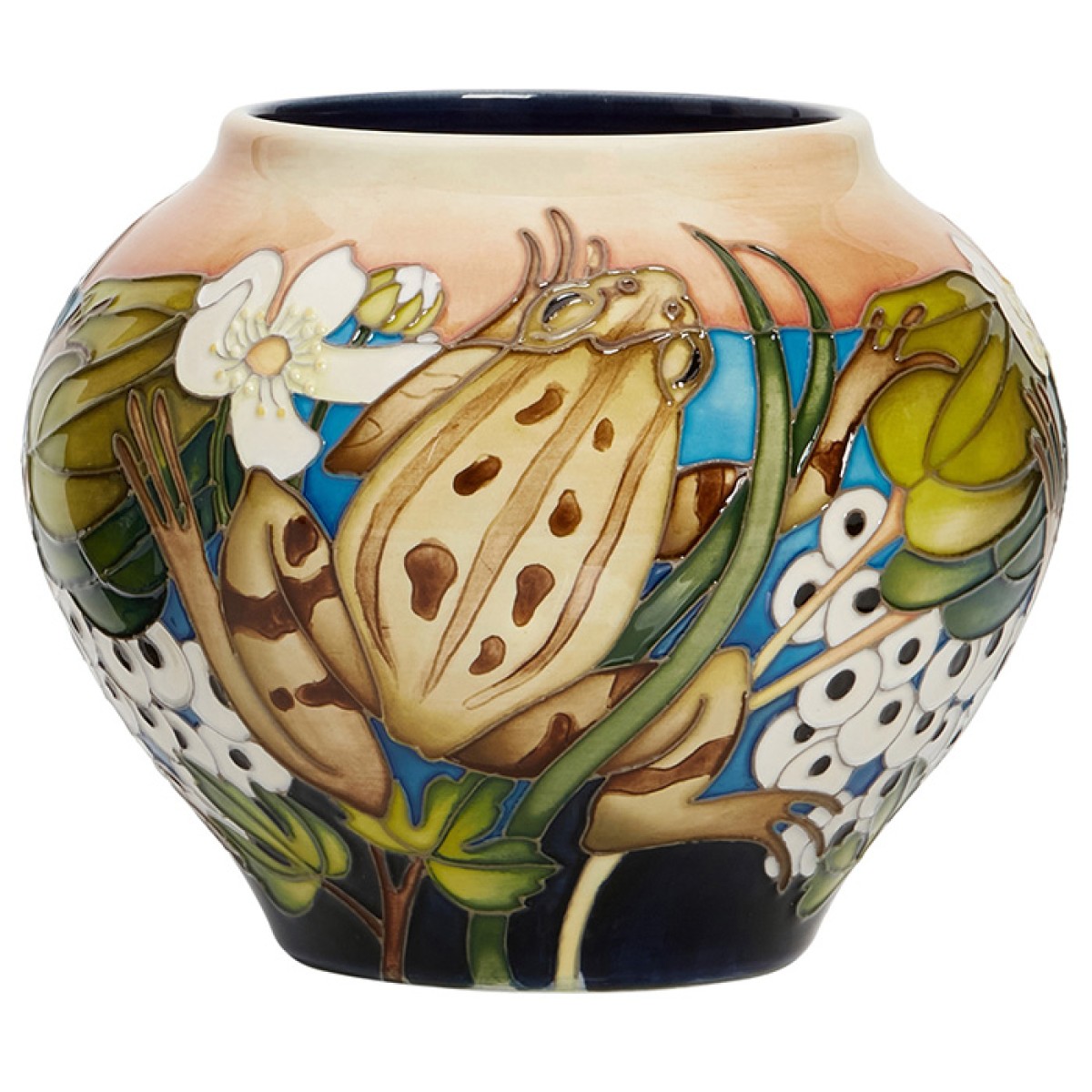 Inspired by the wildlife pond the Back Dane Trust are going to create from the money Moorcroft have already raised with our Back Dane Trust Collection – which to date is over £2,300 - The Wildlife Pond offers cheerful pristine –white lilies lighting the design above and below the murky depths.
Those familiar with pond dipping will know ponds are home to a huge variety of interesting invertebrates like Pond-Skaters, Water Snails, Leeches and worms, Water Beetles and the curious Water Boatmen and teem with life all year round - offering a wonderful opportunity to explore aquatic flora and fauna.
Yet it is always the arrival of a frog or toad that causes squeals of delight among children. And so it is with Emma's design, a common frog peeps up to the water surface, waiting for a meal to fly or swim by.
Back Dane's diverse natural habitat, which encourages a rich variety of wildlife offers a treasure trove of design inspiration. While funds for each piece sold within the Back Dane Trust Collection, including The Wildlife Pond duo, will help the Trust in its work, Moorcroft also believes that these pieces of art pottery, each as individually and beautifully created as those that enjoy Back Dane, will offer you a sanctuary through the natural world.
Find out more about how you can help the Back Dane Trust https://backdane.co.uk
The Back Dane Trust Registered Charity No. 1089834
£795.00
Ex Tax: £662.50
Designer: Emma Bossons
Dimensions: H 11.00 x W 14.00 x D 14.00 cm
Availability: In Stock
Specification
Product Width14.00cm
Product Height11.00cm
Product Depth14.00cm
Shape:402/4
Designer:Emma Bossons
Edition:Limited
Limited Edition Size:15
Design Window (Style):Animals
Have a question about this product? Make an Enquiry