While the Moorcroft factory has remained closed since late March, we have received many wonderful comments from people thanking us for helping to keep them entertained during lockdown, and sharing interesting stories and images about their connection with Moorcroft.
If you would like to send us an email for us to share with your fellow members via our news page, please email MClub@moorcroft.com
I know that this has been a very difficult time for my favourite pottery and I wanted to let you know just what an important part you have played in my life.
My first memory of seeing a piece of Moorcroft was a fabulous jardinière at a friend's wedding in a rather sumptuous location in Surrey around 25 years ago. It stood at the bottom of an impressive staircase and totally captivated me. Soon afterwards I saw a pot on The Antiques Roadshow on television and it was then that I knew that I would love to own a piece. At that time it was a pipe dream, there was no way that I could afford Moorcroft pottery and I certainly had no aspirations to own a collection of more than 60 pieces, but more of that later.
My first piece was an Anemone Blue vase on the 75/10 shape given to me as a birthday present in February 1997. I joined the Collectors' Club in December of the same year. I remember moving house and initially being given a new membership number which I asked to be changed back and I remain the proud owner of membership number UK8010. Back then, Moorcroft was nothing like the company that it has become. Even the membership cards were made of card not laminated plastic as they are today. Sadly, I destroyed all of my card versions.
When I first became a Club member I remember having to wait 6 to 8 weeks before receiving my eagerly awaited annual piece and there was nothing like the choice that there is today. There was something magical about carefully unpacking the lovely blue box and all of the tissue paper to reveal a Moorcroft masterpiece. I had to save very hard for my Moorcroft back then and I remember not being able to afford the 1998 annual piece, a beautiful jug by Rachel Bishop.
Back then, it never occurred to me that one day I would get to visit the factory, which I have done on a couple of occasions and in 2013 attended an auction hosted by Eric Knowles. I met my husband, Paul, 18 years ago and with Christmas just 6 weeks after we met, I knew he was a keeper when amongst some lovely gifts was a Moorcroft Trillium coaster. Paul was always nervous of handling my collection, knowing just how much it has always meant to me and so I found it hilarious when on a visit to a factory sale a few years back I found him juggling several pieces worth thousands of pounds unable to put any down for fear of losing them. Whilst I treasure all of my pieces, many of them bringing back great memories, we are both fans of the work of Paul Hilditch and are proud owners of a Times Gone By numbered edition pot which we acquired last year as a retirement gift to each other.
I am fortunate to have met several of the designers over the years and they have signed my pots for me however, my best moments have been meeting Hugh Edwards. I was quite nervous of speaking to the great man on the first occasion when I asked him to sign my book which he very graciously did. I have since met Hugh on a few occasions, usually at Thaxted, and have bought some pieces from his private collection which he has sold to raise money for the local church. These pieces are particularly special as they have such a great provenance.
So, 23 years on and my collection is admired by all who see it. I have oak cabinets with mirror backs and glass doors that were specially made for the collection although there has been a slight overspill onto a sideboard and some plaques on the walls not to mention the odd clock and table lamps. I have wonderful memories of visiting the factory and seeing how the pots are made, something that really made Paul appreciate the work that goes into each piece. Everyone I have met at Moorcroft has been lovely and I particularly want to single out Kim Thompson who has assisted me in so many purchasing decisions.
So, as we look to the future, I am sure that Moorcroft will come through this difficult time and continue for many years to come, creating wonderful masterpieces and making lasting memories for so many collectors.
Stay safe and very best wishes.
Susan Chamberlain (UK8010)
Dear Moorcroft,

Nicola's Pimpernel Perfection vase was indeed the perfect pot to display and arrange flowers in during lockdown, making it look even more beautiful.
I am looking forward to pots coming out of the kilns again!
Best Wishes,
Linda Weston (UK 20974)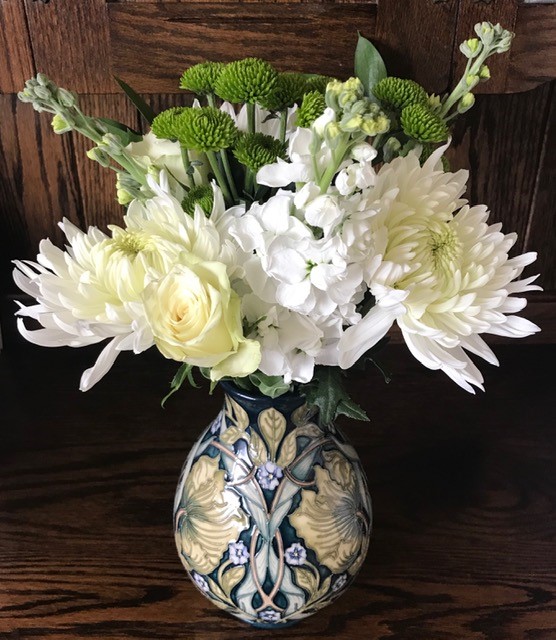 Dear All
Greetings and best wishes to all my dear friends who by rights I should have been seeing today at the factory, resplendent under its new signage. I hope that everyone is safe and well and managing to stay positive despite the boredom at home. Let's hope we can soon be swapping stories face to 2 metres away face, sharing a meal and competing with each other at auction. Meanwhile temptation continues to arrive by email to cheer us up and to reassure us of the future.
This week saw the anniversary of me moving to a new home 1987. I could never have guessed all those years ago how my then spacious house would become filled with pots. They continue to bring me joy, as do the friends I have made.
Stay safe and enjoy your weekend, albeit just like any other day.
Kind Regards
Andrew Williams (UK 6127)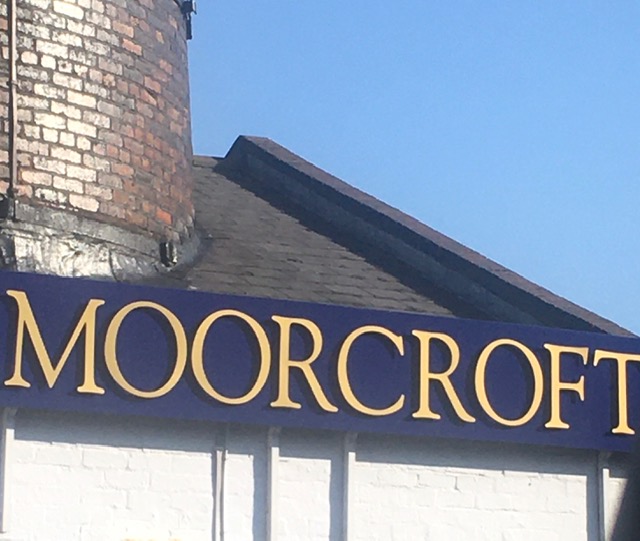 Good morning Elise
I guess you receive millions of notes like this and no doubt right now you're extremely busy with so many virus-related challenges… but I just wanted to convey, as an individual Australian customer and Club Member, how pleased my wife and I were to receive our latest Moorcroft piece today by Fed Ex, our 4th in recent months. It's a trial piece Yellow Wisteria 393/10 by Emma Bossons - below is a photo of the new vase in our cabinet (added to other earlier pieces). It's always a lovely thing awaiting the arrival of these Moorcroft pieces, but even nicer to receive them. I've always noticed that the colours and quality of finish are always even better than the photos can capture.
Could you please pass on our delight and appreciation to your dedicated staff… their skill is truly amazing, as we saw so clearly demonstrated when we visited the Heritage Centre from Australia on a guided tour with Joanne (and again later) in Aug/Sept last year… seeing the work involved in crafting these pieces makes their ownership even more special.
As I'm absolutely sure you realise, Moorcroft is a much loved institution… a reminder that England can still produce wonderful hand-crafted artwork, the equal of anything in the world.
Take care and all the best to you as the MD as you navigate these difficult times - I'm sure Moorcroft will emerge stronger… while still holding on to the traditions we all treasure.
PS. It was lovely to actually to see your face on a recent email (dated 15 April) - somehow makes Moorcroft more human.
Doug Sparkes (AS 2205)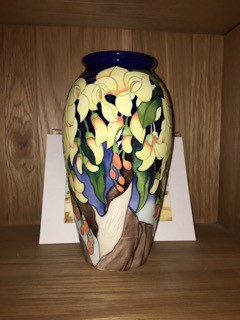 Around 20 years ago I drove to Stoke to look for and order a garage. I passed the Moorcroft Visitor Centre and decided to have a look. I came out holding a package containing the beautiful lamp. My love affair with Moorcroft started right there. It is I believe a 'second', but I still love it!
Incidentally, it cost about a quarter of the garage price, and I didn't buy one that day!
Keep up the good work
Barbara Jones (UK 30557)