Ask any design lover to describe British Interiors and the response would usually be rooms peppered with curiosities and heritage – an eclectic mix of old and new. In truth, most of us would say that we have become masters at making it all look quite appealing. A short while ago, a Nordic fever gripped the nation and we began to vigorously hide away displayed items, even, dare I say it, pieces of Moorcroft would be hidden away by all but the most passionate collectors in favour of a minimalist interior. The good news is that now interior design has come full circle and it has again become all about displaying your Moorcroft and personal oddities to the world and championing heritage design. Indeed, this has not stopped with interior designs but NEXT clothing launched a William Morris Collection last year.
This is all a new take on the old curiosity cabinet which sees us celebrate and showcase the more personal moments and landmarks of our lives, rather than tidying everything away. Holidays from far off shores can be recalled at a glance, as can Moorcroft road trips to heritage locations around the British Isles through bespoke designs for those occasions. It is said that Habitat's sales of display cabinets and sideboards have been so positive that they will be launching seven new versions in 2023 and Etsy is alive with upcycled vintage items now sporting the new colours for 2023 alive with golden tones and shimming like sunsets. These pleasantly warm colours are not a coincidence in a Coronation year marked by the Kind Edward's Crown; a solid gold frame set with rubies, amethysts, sapphires, garnet, topazes and tourmalines. Indeed, the 2023 golden colours are not unlike the flaxen hues found in one of Moorcroft's new Coronation designs as the new Carolean age awakens exciting possibilities in design, whilst celebrating the heritage of our Great Nation.
When William Moorcroft's first few pieces of Moorcroft came out of the kiln in 1897, the population was in the midst of an era that celebrated the art of displaying their very best, from jar cloches and wall plates to floral displays in colossal jardinières. William's designs were the high point of fashion, adding luxury and dopamine inducing colours that shined like precious jewels into a once sparse home. We may wonder what William Moorcroft himself would think of our generation's remarkable desire to travel the length and breadth of the country to come and view his factory, set within the Industrial landscape of Stoke-on-Trent, and admire Moorcroft's colossal Grade II listed bottle oven soaring into the Burslem skyline - seeing pieces of Moorcroft made before our very eyes would seem strange indeed to William.
When in the Moorcroft Heritage Visitor Centre, we have a wealth of new trial designs to admire, some that may never go on into production but nevertheless say something about who we are as a person – now we showcase personalised collectibles, not in locked cabinets, but on bright or natural coloured cabinets or sideboards, ones based on memories and significant events that evoke emotion.
Of course, William Moorcroft did appreciate the importance of a Coronation on our memories. Commemorative ware was made by William Moorcroft at James Macintyre and company in 1902 upon the Coronation of Edward VII prior to the Moorcroft factory being established under his own name. Moorcroft continue to celebrate the Coronation of every British Monarch to the present day with our new Coronation Collection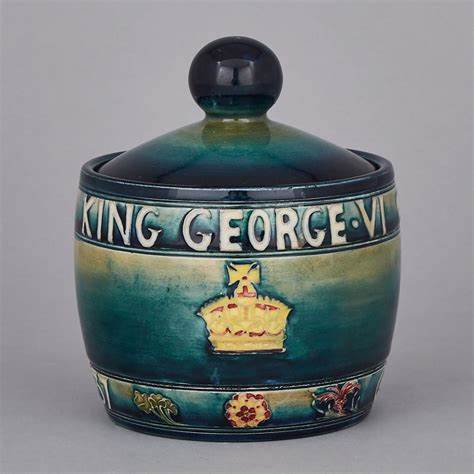 With William and his son, Walter Moorcroft, commemorative ware were either adaptions of existing patterns, with inscriptions added or were specially designed to celebrate an occasion. The biggest occasions, of course, being the Coronation of a Monarch. There most characteristic feature is a distinctive style of lettering , hand drawn in liquid clay slip, known and developed at Moorcroft from 1897 as 'tubelining' and this was what we demonstrated in the Great Pottery Throw Down, Episode 9, March 2023 and perhaps seen on a wide variety of mugs and a special lidded pot (the picture above features such a pot created for King George VI, a Moorcroft shape that has now been brought back to life in the 2023 Coronation Collection after 70 years and is pictured below) such as for the Coronations of Edward V II and Queen Alexandra, George V and Queen Mary in 1902. William Moorcroft won accolades for his pottery work early on. Among those awards was a gold medal at the St. Louis International Exhibition in 1904. After garnering more praise and furthering his own business, Moorcroft was appointed potter to Queen Mary in 1928. King Edward VIII also received William's design attention for the Coronation that never was, and George VI's Coronation marked William's final Coronation designs.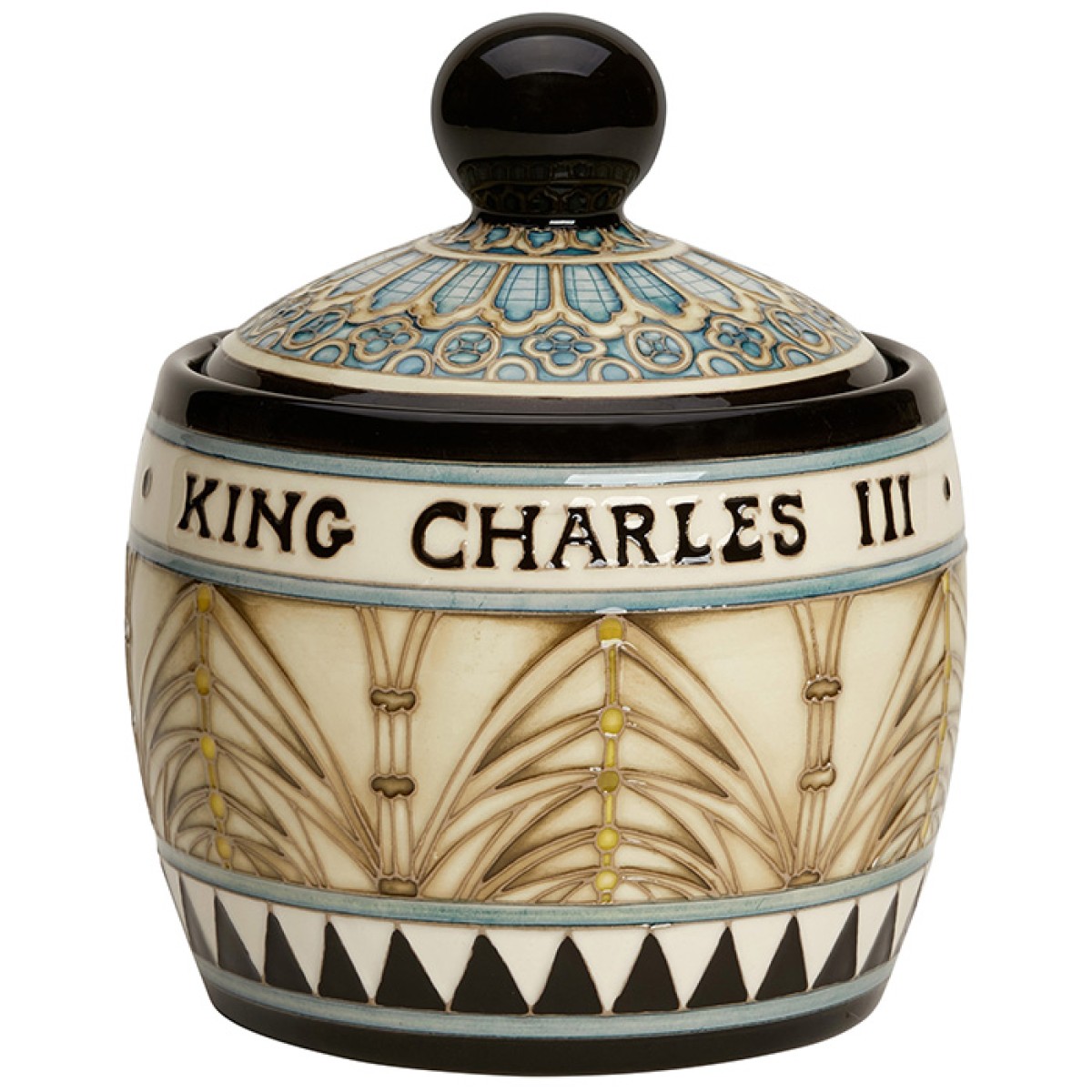 A new Moorcroft era began with Queen Elizabeth's Coronation in 1953, with pieces designed by Walter Moorcroft, William's son. This was to be Walter's first and only Coronation design following William's death in 1945. These historic pieces, as well as the unveiling of new designs featuring decadent florals and even a design based on the anointing oil that will be used in Westminster Abbey, will be on proud display in Thaxted, Essex on the 17th March for the launch our Coronation Collection. This Collection, subject to available limited editions, will be available online on Monday 20th March.