THE WEST COUNTRY COLLECTION EXPLORED
Posted on - 7th February 2018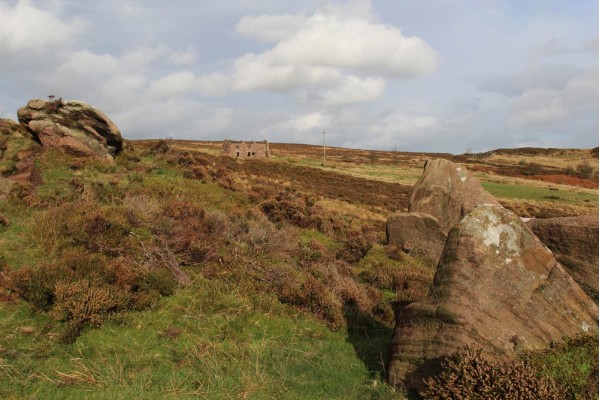 Moorcroft designer,Vicky Lovatt, grew up in the Staffordshire moorlands. Her eyes have often scanned the landscape around her as skies changed in a moment from bright blue to moody grey over the rocky ridges of the Roaches and the soft, heather-clad moors. Unsurprisingly, the remote landscape of Dartmoor, capped with granite stone and windswept moors, enabled emotive designs to rise from Vicky's imagination and her years of work as a Moorcroft painter to conjure up glazed skies to enthrall and delight.
The setting for Sherlock Holmes' The Hounds of the Baskerville, Dartmoor is a stunningly beautiful area of moorland in Southern Devon accented with wooded valleys and wind swept Tors. A wide-open expanse covering 369 square, features some of the wildest and bleakest country in England. Vicky Lovatt invites you to enter a snapshot of probably the most iconic sight on Dartmoor, a herd of ponies grazing together, with a majestic heather-clad moor as their backdrop.
Drifting upon Dartmoor's purple bell heather, bracken, stone barrows, standing stones, tumuli and cairns, wild ponies of brown, black, grey, chestnut or roan combine to create one of the most spectacular visions Moorcroft has ever created under a hauntingly emotive dusky-grey sky. The Dartmoor Wild Ponies limited edition (50) plaque is probably Moorcroft's finest one dimensional design ever, with movement across sky and moorland through sheer glaze expertise.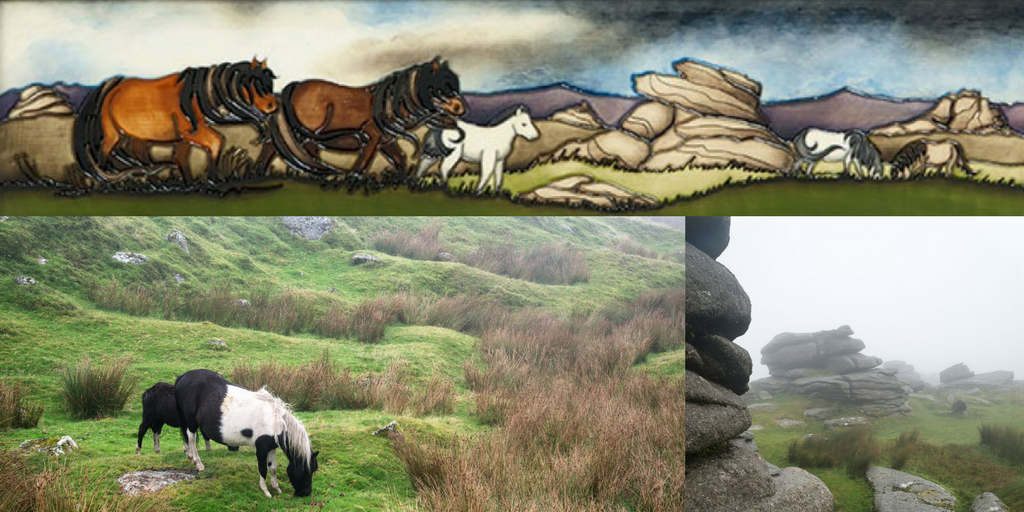 From the Goonhilley Downs and beyond, wind-swept moorlands are dotted with white-washed farmhouses complete with rough Cornish-stone walls and mile upon mile of magnificent heather blooms with huge, with branches that link each feathered flower-spikes. On her Cornish Heath design, Vicky Lovatt's rose-pink to near white blooms circle the jug with bell-shaped heads nodding gently as spikes incised into the clay, with partially shed pollen, rise to dramatic effect.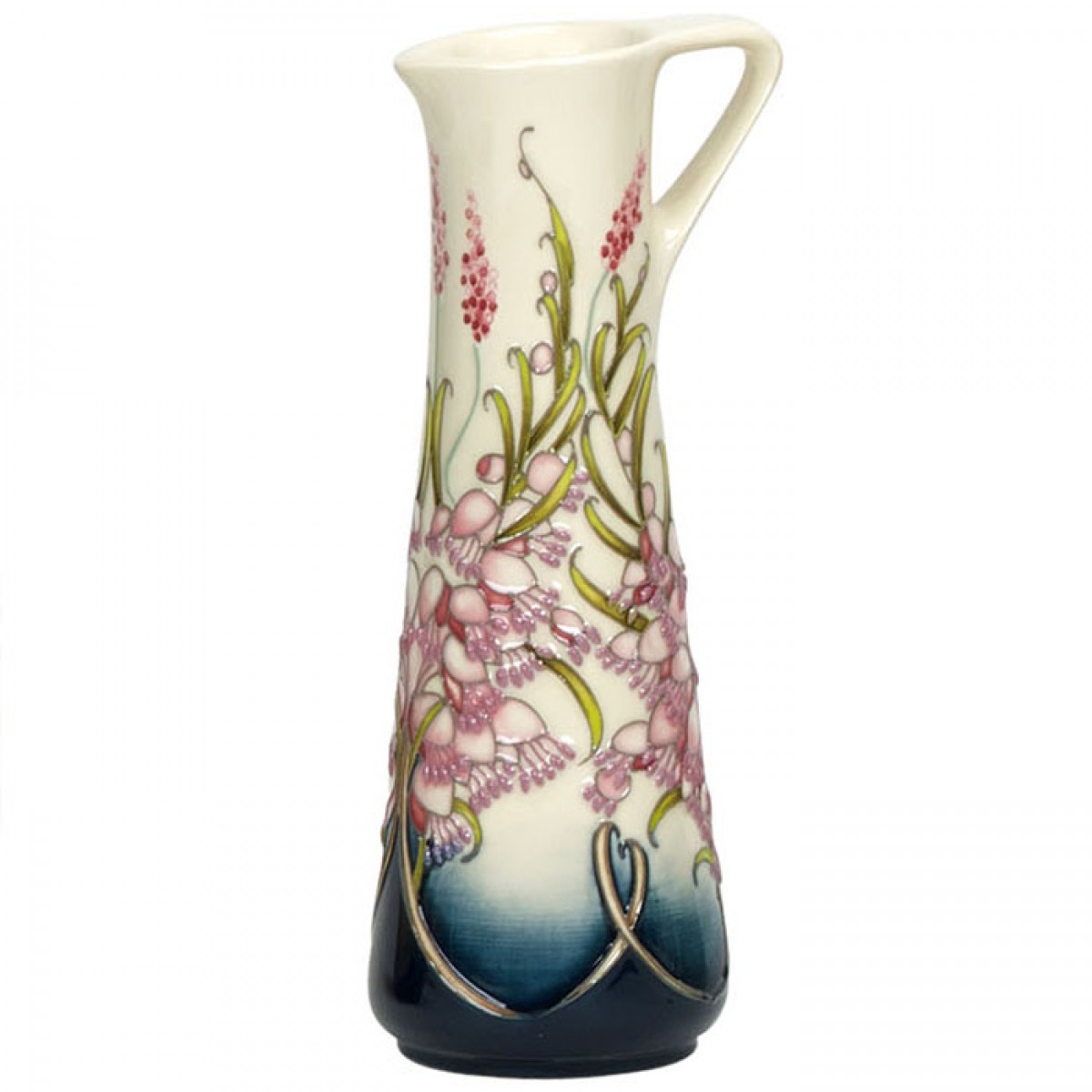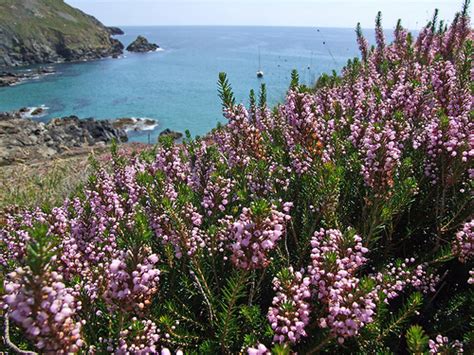 For the earnest traveller, the most supplicating haunts of Dartmoor, England's greatest expanse of wilderness, are the empty, uncrossed roads that stretch for miles over graduating terrain. Things weren't always so desolate, as testified by abandoned relics of nineteenth-century quarrying and tin-mining industries. A solitary kestrel wheeling and hovering high above a dilapidated tin mine provides a rare vision through the eyes of ceramic art encountered by all but the most challenging treks across isolated stretches of Dartmoor's rugged uplands.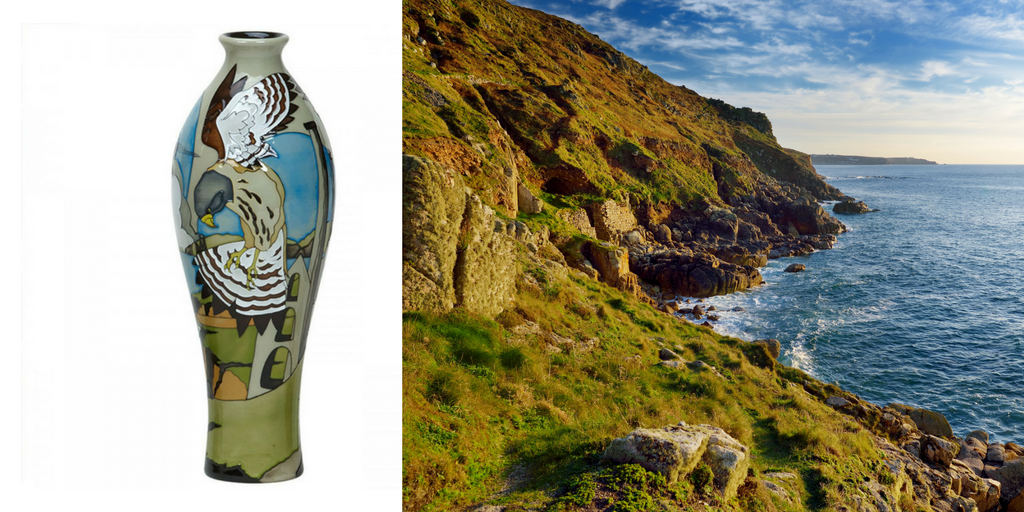 With a rich, chestnut-brown back and wing-coverts, dark flight feathers holding mottled white and hazel underparts and the granite-grey barred tail of the mine stones themselves, a rufous head curves over to scan a landscape rolling down to the Cornish coast as vast, elongated chimneys strike into an iced-blue sky. Highly collectable, The Stone Kestral is a limited edition (50) to let the mind soar into skies of wonder.
Of particular appeal to thespians and potters alike, is Vicky's portrayal of Minack. One might first think that Minack was built by some wandering Greeks, two thousand years ago, carving a theatre into the granite cliffs of Porthcurno, Cornwall. In fact, it was just under eighty years ago that there was nothing there except a sloping gully of gorse and heather and below that, the sea of the Atlantic Ocean. Rowena Cade was born on 2nd August 1893 in Spondon, Derbyshire and after World War 1 was over, she discovered the Minack headland and bought it for £100. The Minack theatre was built by her own hands with her gardener Billy Rawlings and his mate Charles Thomas Angove. They cut granite from local rock, created the terraces and in-filled them with earth. The site was precipitous, but they managed it without any injuries. Each year the theatre was improved, until 1939. World War II saw the army take over the area. Coastal defences were built, barbed wire entanglements spread around the whole site and for a while, the dream of beauty was placed on hold.

The above Cornish Rhapsody vase is limited to only 20 pieces and is a perfect mix of architectural wonder and floral enchantment.
In 1944, Minack was used as a location for "Love Story," a film containing many truths, starring Stewart Grainger and Margaret Lockwood. The unit arrived and began shooting, but storms curtailed filming, and the unit had to complete the film in the studio. The film did make the tune "Cornish Rhapsody" a wartime favourite. Now Vicky Lovatt's own rhapsody of colour featuring: 'Blitz' red King Protea's artichoke-like blooms that lick their way up towards the theatre; burnt-orange Aloe Vera bloom; and star-shaped Ghost flowers under Agapanthus flower blooms in large, round umbels of blue. On and around the granite amphitheatre, the flowers move to a tune of triumphant love as their colours fill the vase with hope for the future - a future that is bright with Vicky in our midst!