A history through tulips.
Posted on - 31st January 2018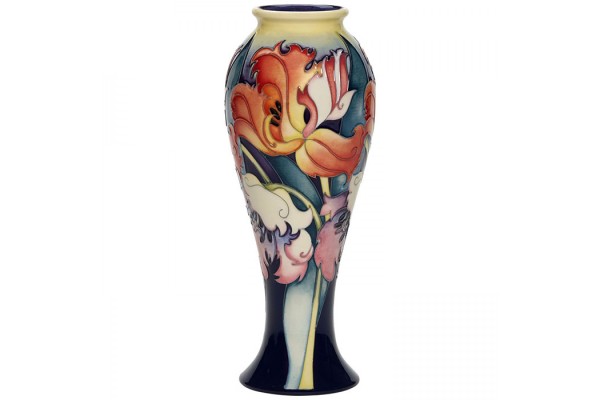 A popular design subject at Moorcroft for well over a hundred years, the tulip offers elegance in linework and an unbelievable ability to adapt to shape. Venerated for centuries in Asia, the tulip has even given its name to a period of great wealth and prosperity for the Ottoman Empire, which became known as the 'Tulip Era.' The tulip has bloomed in palace gardens from the Ottoman Empire and across Europe, featuring in textile, carpet and ceramic design. Famously seen in the parks and gardens of Holland, tulips were only actually imported into Holland in the sixteenth century. When Carolus Clusius wrote the first major book on tulips in 1592, they became so popular that his garden was raided and bulbs stolen on a regular basis! Tulip mania was a period in the Dutch Golden Age during which contract prices for some bulbs of the recently introduced and fashionable tulip reached extraordinarily high levels and then dramatically collapsed in February 1637. It is generally considered the first recorded speculative bubble! The colour attraction was obvious but it was something that William Moorcroft, Moorcroft's founding father, could not fully translate with his limited range of metallic oxide colours available – blue on blue, grey-green and yellow and blue, but over the decades, the range of those special colours increased. For the ever-popular tulip, each decade seemed to introduce an improvement on its predecessor.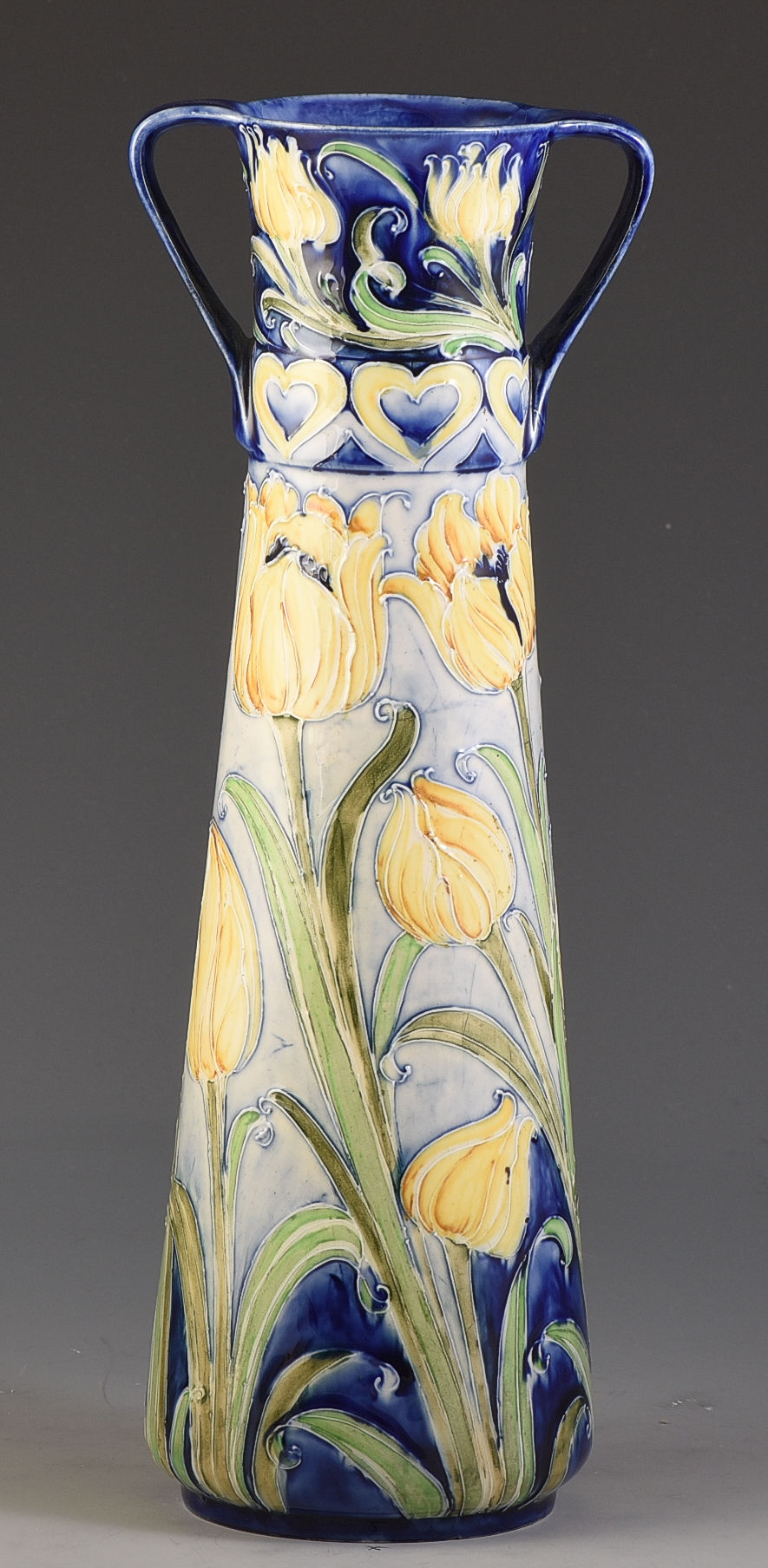 From Sally Tuffin back in the 1980s, we had Red Tulip and the more sombre Black Tulip and from William Moorcroft, founding father of Moorcroft today, a selection of Blue Tulip pieces made between 1899 and 1902.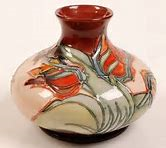 Senior Designer, Rachel Bishop, took a leaf from William's book and followed the well-trodden and familiar path to Blue Tulip on her favourite and prestigious 159/18 shape, with a hint of Florianesque line work in the framed panels that Rachel favours. At the date of this article, Moorcroft Retailer, Ashwood Nurseries, have one of these prestigious designs from 2016 in stock, as they await their own tulips to grow to full glory.
https://www.ashwoodnurseries.com/shop/moorcroft-pottery-blue-tulip-159-18.html
Due to the popularity of the 2009 House of Flowers plaque, Kerry Goodwin was invited to create a prestige version of her ground-breaking design on a 159/18. While the flowers on the vase remained the same, Kerry added three additional landscape scenes between the flowers, each with a stylised garden gate. Revived today, each scene is different. Some buildings have staircases: others have turrets or spires and all are in the Arts and Crafts style with tulips that burst into enchanting violet and burgundy hues as they soar up to the heavens. View both Town Of Flowers designs.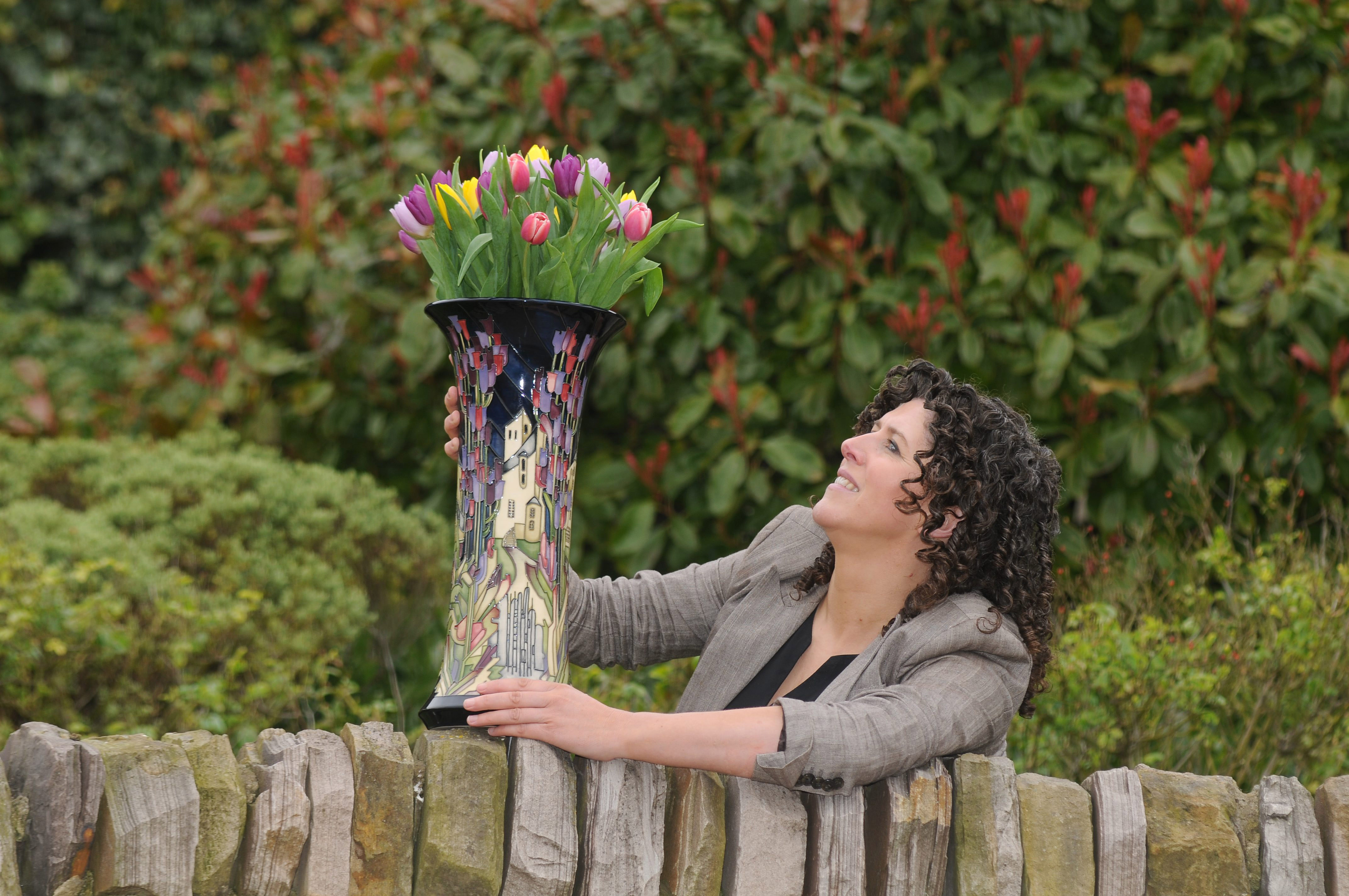 This design was adapted to feature sensitively coloured blue and violet tulips against a gothic black ground as part of the A Promise Fulfilled on the 393/10 Moorcroft shape and came as a limited edition of 20. A Promise Fulfilled was released in 2016 but a few pieces of this design are still available – why not use Coupon Code FEB80 at checkout and receive a whopping £80 off this piece.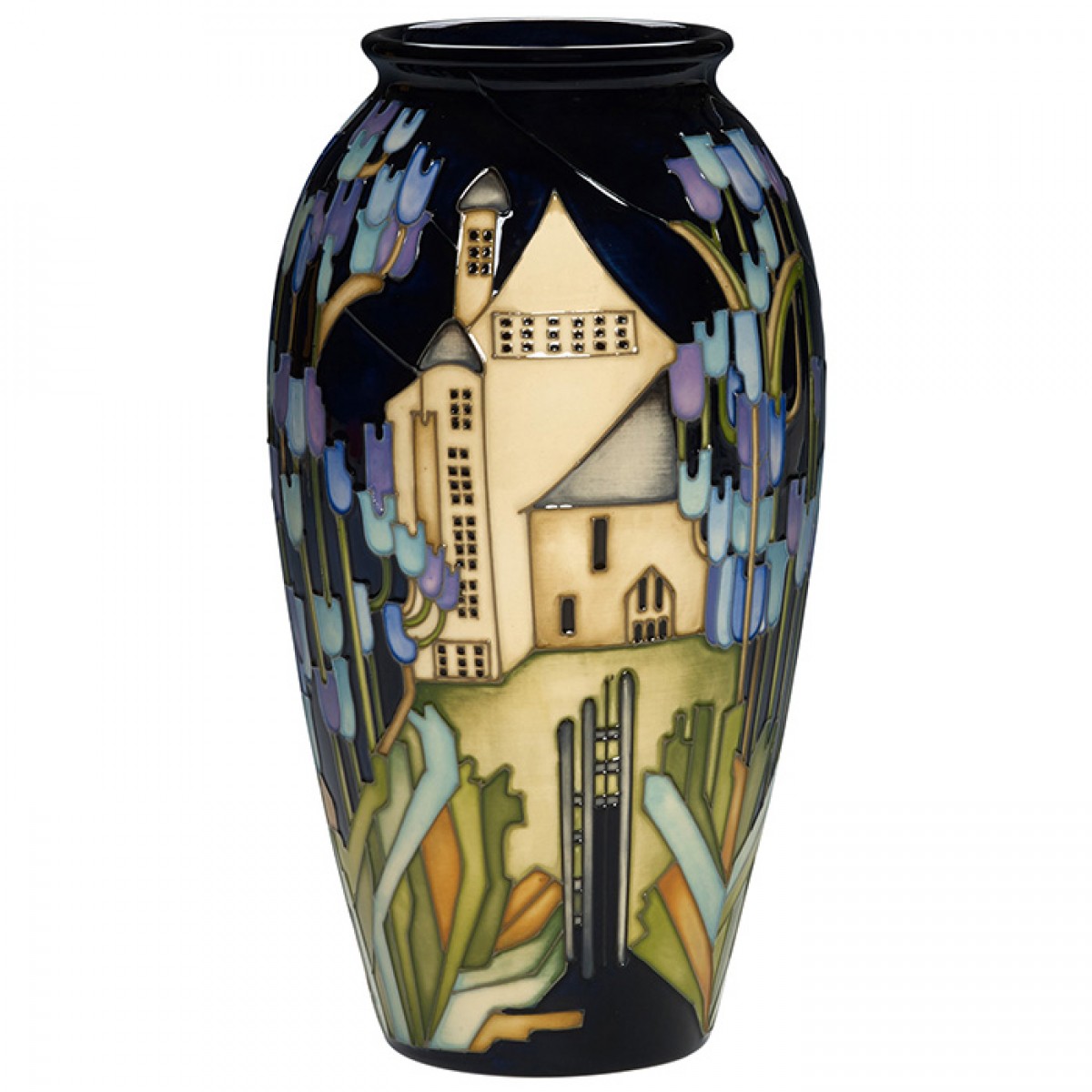 Today, with more than eighty metallic oxide colours available, the designers are spoilt for choice when you consider the small colourway options that William had available in the last century. In a display of decadent colours akin to the flutter of parrots in the Amazon ring, Emma Bossons FRSA in her Parrot Tulip design has married rich reds, orange, lavender and maroon together. This is Moorcroft at its best. Parrot Tulip combines graceful, moving linework to an almost poetical mix of vibrant and fresh colours.