To honour the legacy of Scottish architect Charles Rennie Mackintosh, Glasgow is holding a year-long celebration with events, talks and exhibits. Here are five must-see landmarks to help understand his impact.
Ask locals to pick their favourite building in the city and many will name this Spanish baroque structure in the West End. Though not designed by Mackintosh, it houses the world's largest permanent display dedicated to his work, and 2018 welcomes a new Mackintosh exhibition showcasing designs that haven't been seen in a generation.
In truth, Mackintosh's 150th anniversary year begins with a flourish courtesy of a major, new exhibition at Kelvingrove Art Gallery and Museum. Spanning the lifetime of Mackintosh, it presents his work in the context of Glasgow, his peers and contemporaries and how it contributed to creating the Glasgow Style.
Showcasing the very best of Mackintosh works held by the city, visitors will be able to view rare objects, many of which haven't been on display for more than 30 years. Around 250 objects will be on display, including stained glass, ceramics, mosaic, metalwork, furniture, stencilling, graphics, interiors and much more. Tickets are on sale now so don't miss this opportunity to see a once in a lifetime Mackintosh spectacular!
SEE THIS LINK FOR INFORMATION ON MACKINTOSH 150 glasgowlife.org.uk
Anyone with just the slightest interest in Moorcroft, will know that the work of Mackintosh has played a great role in the evolution of Moorcroft and, inevitably, has been a huge influence on Moorcroft designers. Mackintosh roses are a worldwide symbol of design excellence; his building designs have been a bedrock inspiration for modern architects. Emma's evocative design, on this brand new Moorcroft shape, is a touching vision of the building lost to a devastating fire in May 2014. Emotive shades of blues and lilac are the only colours to grace the vase, in which delicately etched window panes meet iconic iron railings. With heads bowing in respect, Mackintosh's willowy female forms wisp their way to the heavens, with heads crowned in dotted halos.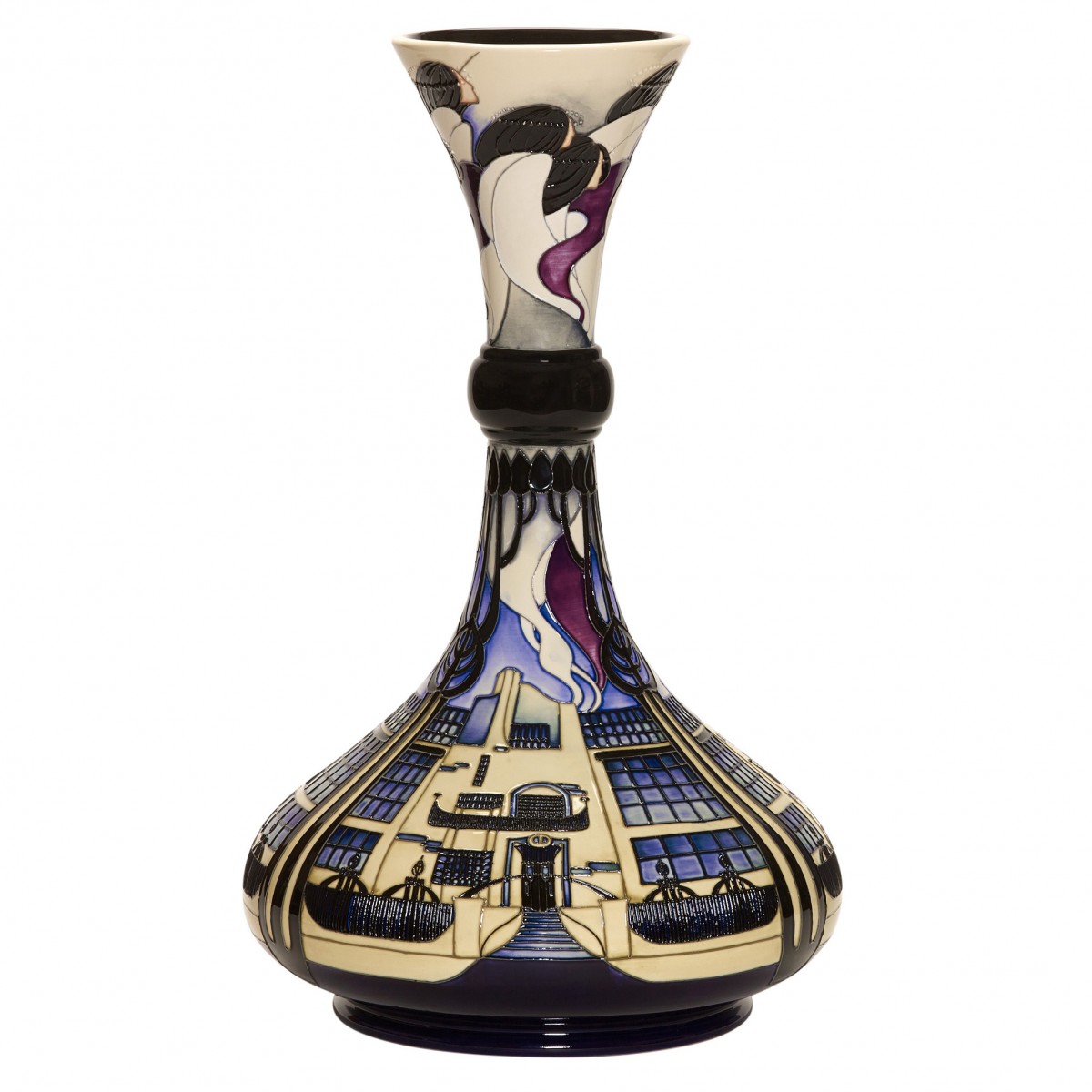 Built in two phases from 1897 to 1909, Mackintosh's masterpiece was ravaged by a fire in May 2014, but is on its way to recovery. While the interiors remain closed, you can drop by the site's Visitor Centre and Mackintosh Furniture Gallery. Spot flashes of Scottish baronial style, splashes of Japanese architectural detail and gain insight into Mackintosh's genius. The above image is a Moorcroft vase entitled, The Glasgow School of Art by Emma Bossons FRSA available to order online.