WILD IN ART
In the early 1960s and 1970s significant movements began in the art world to use art as a medium to champion endangered species. The major causes of animal decline were the loss of habitat, international trafficking, and toxic waste mismanagement. One artist in particular was pivotal in turning the tide of public opinion by using his popular 'Pop-art' to raise preservation issues. The Endangered Species series by Andy Warhol, soared on the wave of popular culture. Pop-art presented a challenge to traditions of fine art by including imagery from popular and mass culture, such as advertising, comic books and mundane mass-produced objects. Could there be any good in this concept of art? Many in the art establishment at the time may well have uttered such words rhetorically.
Decades later, Moorcroft designers would be asked for their ideas on pushing the boundaries of ceramic design. Sian Leeper's particular response to such a request made in 2001 resulted in a design completely different from anything ever produced by Moorcroft in its 100-year history. The arrival of Ranthambore changed past thinking once and for all. Ranthambore depicted three tigers relaxing by a lake in the sweltering humid heat of the midday sun. And what of Ranthambore itself? It is a National park and tiger conservation area in Rajasthan in India. The park is littered with the ruins of an 11th-century fort, part of which is depicted on this vase. Here the protected tigers roam freely often bathing in the water, to cool off from the midday sun. It was to spark an exotic romance which Moorcroft continues to this day.
After the Millennium, collectability of Moorcroft exotics surged and many still recall heated auctions at Moorcroft Open Days when a pride of lions walked centre stage. Furthermore, nearly twenty years later, and undoubtedly due to the sheer drama such animals conjure, I can still visualise in my mind's eye the Ranthambore tigers bathing, and basking, in the sun with their reflections carrying the design into the water - not unlike Andy Warhol's Pop-art repetition - at just the point in time when Moorcroft's reputation was beginning to ripple across the world.
With a loud roar, our designers bring you a collection of never before seen trials, inspired by the wilder side of nature. From a pride of African lions, to rhinos at the watering hole, from painted dogs to silently watching cheetahs (with each unique spot on their fur hand painted), the call of the wild is strong and hard to resist. Personally, a safari in Kenya – where I visited to Tree Tops safari lodge, built in 1932 on an ancient elephant migratory route through Aberdare National Park, and where the Big 5 frolicked below in a permanent waterhole - was akin to such excitement. Treetops was the lodge where Queen Elizabeth II visited as a princess and left as Queen. In much the same way, these are the trials in which great designs are crowned.
As well as lions and tigers, other big cats from jaguars, leopards, and cheetahs have all had, to coin a Warhol phrase, their 15- minutes of fame at Moorcroft. Nevertheless, like exotic animals themselves, they are not often seen and are fiercely fought over. Lions appeal to Moorcroft enthusiasts for many reasons – they are, after all, the emblems of kings and form part of our Nation's flag. Some simply acquire lions because it is their birth sign, Leo, and others, for religious reasons.
The Call of the Wild trials are something quite different for Moorcroft. Rather than pictured it situ, these lions are captured not unlike Andy Warhol's own endangered species. Andy Warhol didn't create intricate paintings that required a lot of imagination to interpret. By elevating the species to celebrity status, Warhol helped to put immense pressure on the governments of the world to step in and help protect the species. He used his own status as a celebrity for the good of the environment worldwide. That said, Call of the Wild, is more of a hybrid between a botanical colourway and the structure of Pop-art. Call of the Wild is defiant, bold and holds the very essence of what these great cats embody.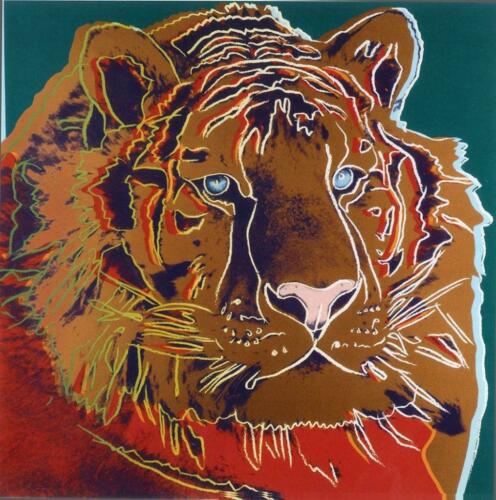 Above, Andy Warhol's Siberian Tiger from the Endangered Species series.
Of the ten animals in Andy Warhol's Endangered Species, eight remain endangered species, as two were removed in 1983 and 2007. Of the remaining ones, the Giant Panda, Grevy's Zebra, Spot Butterfly, Callippe Silver, and Siberian Butterfly, are still endangered. The African Elephant and Bighorn Ram have been moved to the territory of vulnerability on the list as they have somewhat stable numbers. For its contribution to this state, art can be profoundly proud. Andy Warhol can be said to have propelled the efforts of conservation forward. The images in the series have a double-sword effect as they created awareness that the endangered animals need protection and increased the donations towards this course. In the future, Moorcroft hope to build on his legacy further.
In truth, when you start on a journey to celebrate our world's natural wonders, collaborations with other organisations inevitably follow. With Andy Warhol, this was most notably Dr. Kurt Benirschke of the San Diego Zoo. Together, they authored a book titled Vanishing Animals. Warhol's contributions were a series of animals on the endangered list. For Moorcroft, Hidden Kings by Vicky Lovatt, led to a journey with Joanna Lumley to save the tigers from extinction and, if truth be told, more exciting partnerships lie in wait for Moorcroft today.
It should be added that Andy Warhol's impact on environmental conservation can still be witnessed to this day, even after passing in 1987. Before he died, Warhol bought 15.1 acres of beachfront property in Montauk, Long Beach, which he left in a pristine condition. He arranged the ownership of the property to be transferred after his death to the Nature Conservancy. He also donated the Andy Warhol Preserve to be part of a land conservancy. He said:
"I think having land and not ruining it is the most beautiful art that anybody could ever want to own."
Arts and Crafts pottery, Moorcroft, would give a loud and resounding cheer to that quote. Andy Warhol's repeat patterns gave us so much more than the Pop-culture he charged. His repeat pattern designs of Mick Jagger and Marilyn Monroe hold but a flicker to this truth. We must not only protect habitats but also creatures from extinction. Indeed, one of the outstanding trials in this new collection, Renoster 1 features a crash of rhinos, thundering across the African plain like small boulders. Nevertheless, their vulnerability is exposed by the arid, almost treeless Grassland and open Savannah.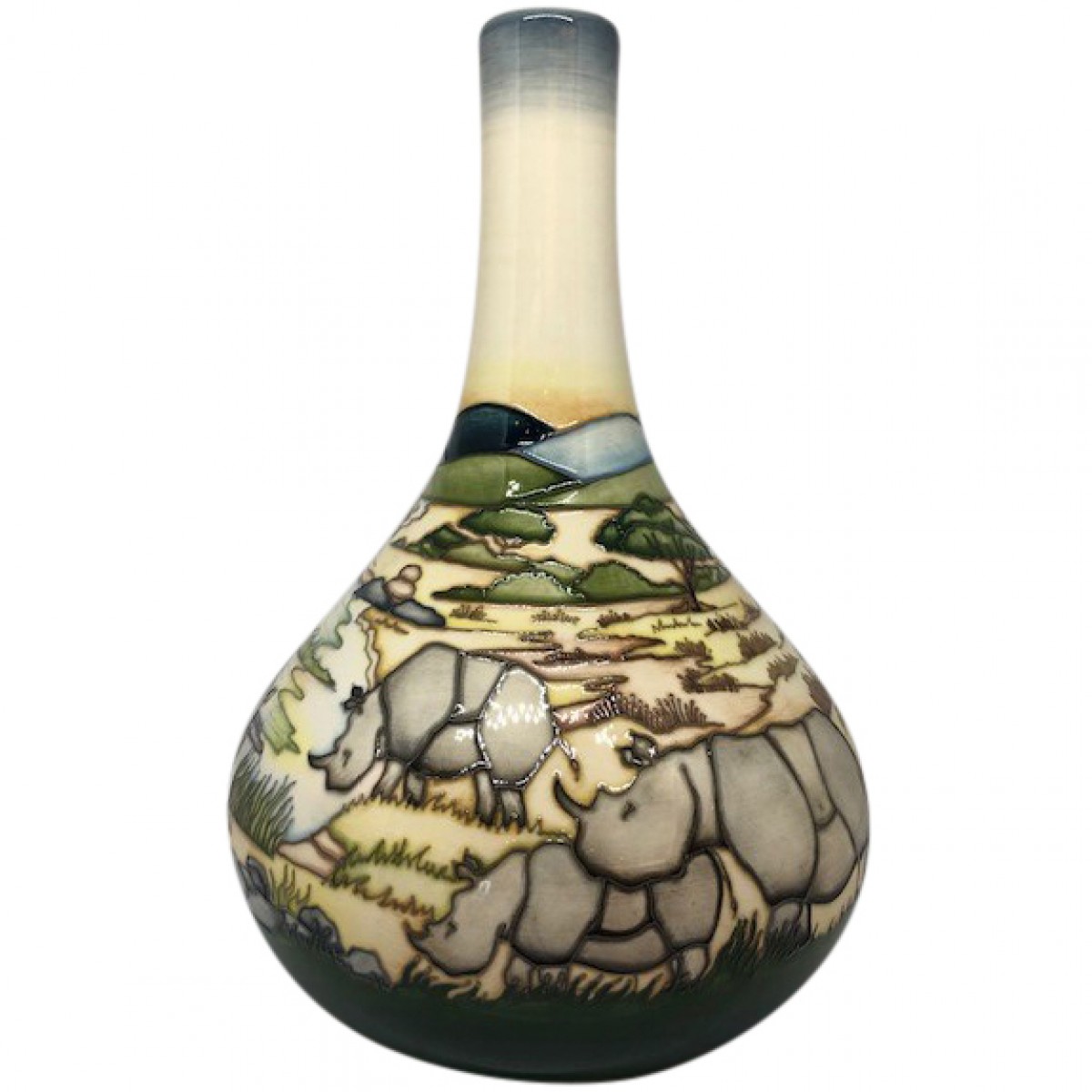 Sadly, the fate of Africa's rhino grows ever more serious. A decade of onslaught from poaching has left this iconic animal teetering on the edge of extinction. In these uncertain times, everyone is of course focusing on themselves, their families and their own welfare. Yet in South Africa, the safari industry has pretty much collapsed overnight, with many employees laid off. In these desperate times, charities are once again fearful that poaching, at least in the short term, will escalate. We hope that designs such as this, will raise the prominence of these almost mythical creatures, and help to highlight their plight and that Moorcroft designers continue to use their skills for the benefit of society and the environment.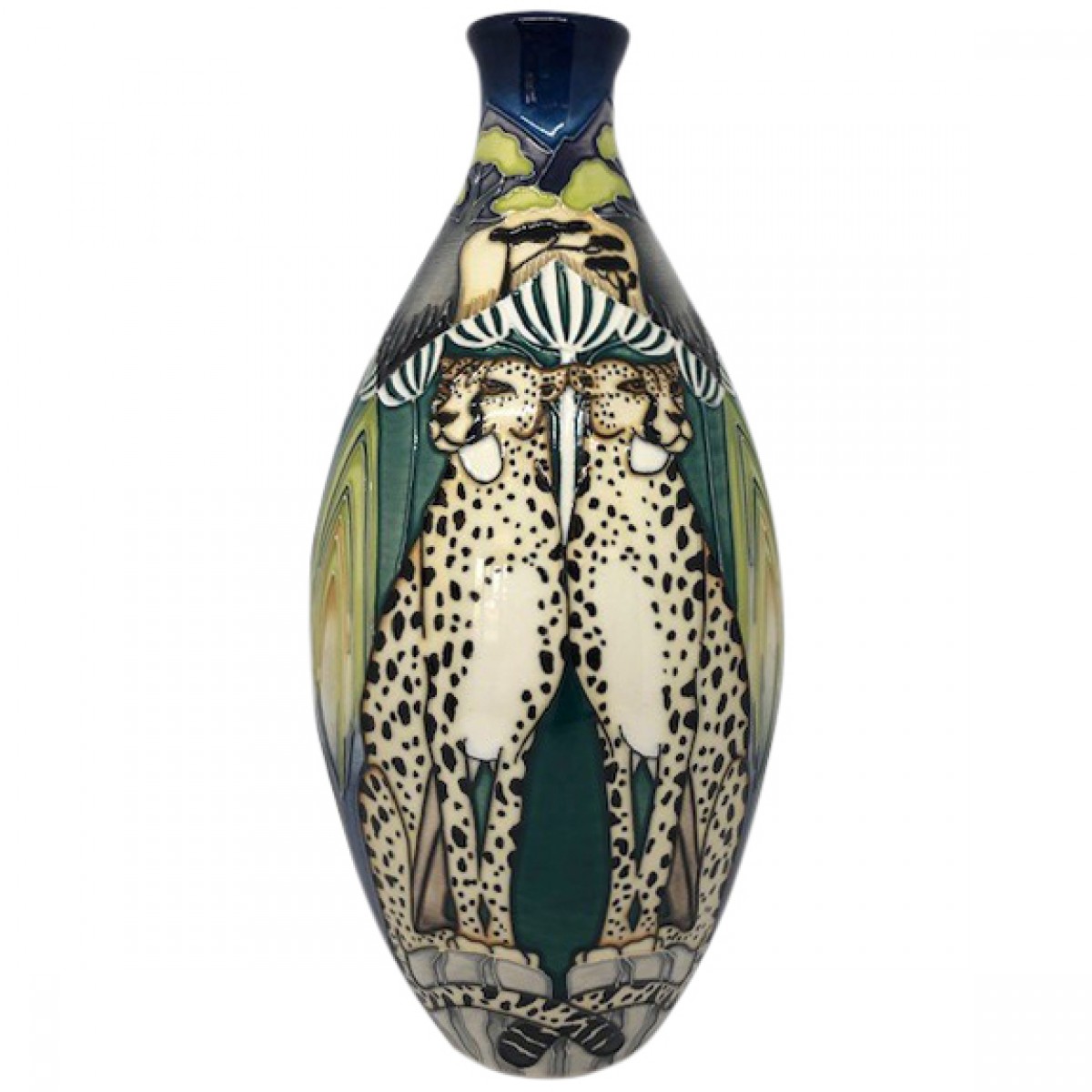 Andy Warhol's work, in spite of being Pop, and controversial at times, was mostly symmetrical. While symmetrical art is visually comforting to us, asymmetrical art is lively, and can even be discomforting, challenging us to seek balance. With every piece of Moorcroft being handpainted, nearly every design created in symmetry holds a small amount of asymmetry – in Amber Eyes by Vicky Lovatt, this asymmetry is exaggerated in the design and places you in awe of the cheetah's pensive gaze. Are they, or are they not, poised to pounce?