Silent Watchman - Lidded Treasures
Posted on - 25th June 2019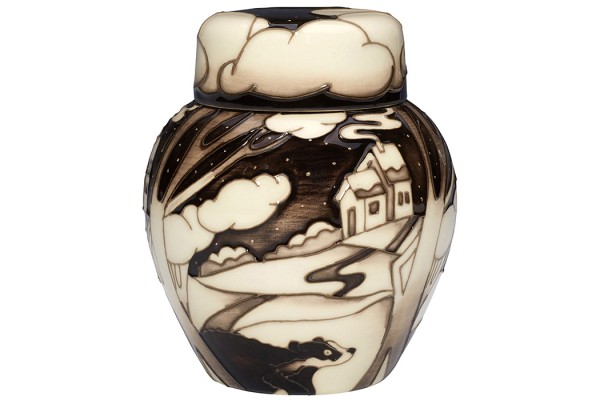 Potter's Holiday for the summer of 2019 holds some treasures to be discovered for surfers on-line - a 60% discount on some best quality pieces. This way, our staff return to barren shelves ready for them to refresh with gusto after their well-earnt break. The silent watchmen among you will be aware of the designs that hold that something extra – the hidden tenets of 'collectability.' Whilst limited editions and numbered edition pieces, like Silent Watchman designed by Nicola Slaney, do tend to be highly sort after because of their limited numbers, there is so much more to consider.
At a snip of its retail price (£285) Silent Watchman can be acquired on the Potter's Holiday Offer page for only £171 (subject to availability). In this design, a patchwork blanket of snow muffles the gentle padding paws of a lone badger snuffling in the undergrowth. Camouflaged to perfection and as quiet as can be, he is the silent watchman of a cold Christmas night. Tree branches laden with snow flank a footpath which leads to a white cottage in the distance. Its inhabitants none the wiser of his presence as he patrols the untouched layers of snow on their doorstep. Whilst the badger can be viewed patrolling his territory, it should be noted that his creator, Moorcroft designer, Nicola Slaney, widens the scope of her own design boundaries as she travels around the world – who can forget her trip the South Pacific not long before the new millennium arrived and how the first country to see in the new millennium appeared on a design by Nicola. The Moorcroft designer will, no doubt, use her holidays to discover some more hidden treasures from around the globe that can be translated into Moorcroft design – a designer never stops becoming a designer, even when she is on holiday!
Nevertheless, it is not enough to have a brilliant design idea or even commit that idea into a water coloured image – the designer must marry any surface design to shape. Pictorial images that wrap around vases work well but badgers hiding around the curves and crannies of a bulbous ginger jar take design to another level.
It has to be said that the 769/4 Ginger Jar is a highly prized shape with many collectors opting to simply collect ginger jars. This was, in part, the result of Barry Thornton's enthusiasm for the shape and his desire to create a theme on a similar shape that were particular to where his retail shop was located – in the heart of Stratford-Upon -Avon, home of William Shakespeare and holder of the theatre which carries his name – The Royal Shakespeare Theatre.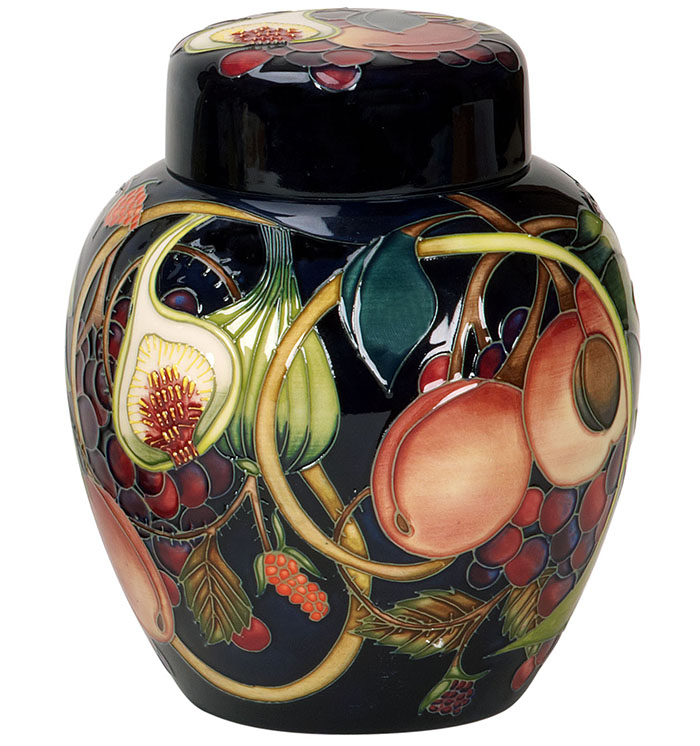 Contained within the Potter's Holiday Offerings is one very special Shakespeare-inspired ginger jar. Singled out by Retail Director, Kim Thompson, as the Moorcroft Heritage Visitor Centre's show-stopper design and used to demonstrate the key stages of our production process in a factory tour is the Queen's Choice Ginger Jar. This design, on the 769/8 ginger jar shape, is considered by Moorcroft Chairman, to be utter perfection in terms of design – perhaps in the entirety of Moorcroft's history. Queens Choice with its succulent grapes, ripe figs and peaches was inspired by Titania's words in 'A Midsummer Night's Dream'. The renowned design has arguably become one of the most admired Moorcroft designs of all time and at a best quality price of only £268 (Recommended Retail Price £670), this piece is certainly highly palatable.

The fairy mischief does not stop with this design during our Potter's period of hibernation. A Trial design named Fairy Mischief itself is also available to steal your heart - but this time the fairies come from the creative flow of Moorcroft designer, Vicky Lovatt, again, on the 769/4 Ginger Jar.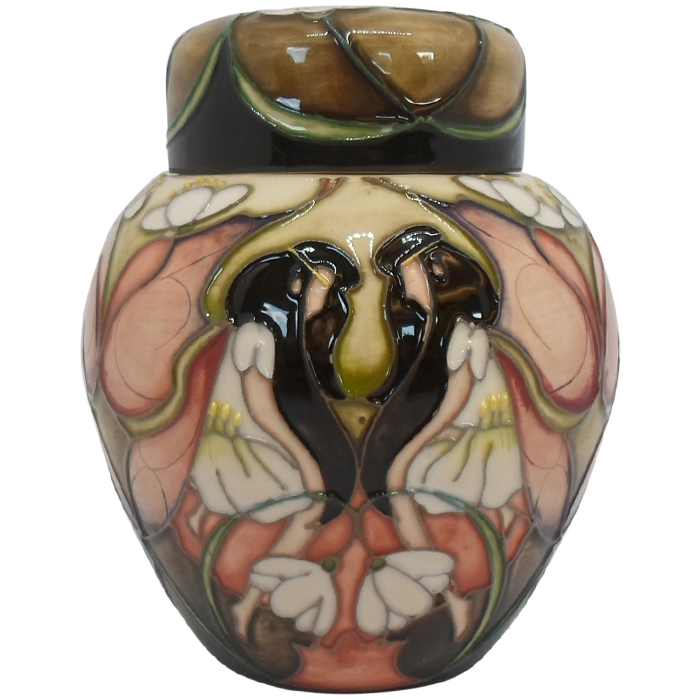 Peacefully sitting within a cluster of tiny saxifrage flowers and hidden in the depths of an alpine ecosystem, pretty little fairies while away the hours and beguile passers-by. Crowned with threads of silk over their locks of black hair, their wispy wings are so gently blushed with soft pink and purple, with sgraffito marking out very fine detail. Sprinkling their charm, they draw you into their mesmerising fairy ring and this time, none of Titania's magic is at work. From fairy-tale adaptations in musicals like Rodgers and Hammerstein's Cinderella, anthologies like Jim Henson's The Storyteller, made-for-TV movies like Snow White: A Tale of Terror, Bluebeard, and the Red Riding Trilogy, and drama serials like Grimm and Once Upon a Time, fairies provide a time honoured way of escaping some of our doldrum-days and allow you to enter a world of wonder that spans the generations – after all, fairy tales and artwork are ubiquitous and can be found from Moorcroft designs to dentists' waiting rooms. In truth, you are never too old for fairy tales even if the tooth fairy has long since departed from your residence. Some of the truly spirited amongst us, will, no doubt, enjoy the visual cacophony of Moorcroft designs as we dose off into Nether Nether land and with discounts like never before – who can resist such a flight of fancy through the world of Moorcroft design?
"The moment you doubt whether you can fly, you cease for ever to be able to do it." "So come with me, where dreams are born, and time is never planned. Just think of happy things, and your heart will fly on wings, forever, in Never Never Land!"