Designs For The Future by Catherine Gage
Posted on - 7th June 2019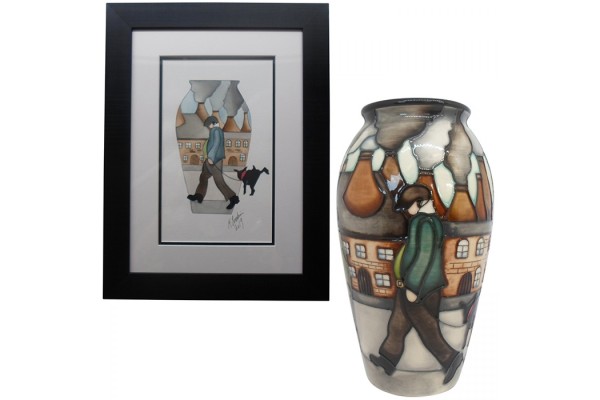 What will be the state of Moorcroft design in 5, 10, 25, 50, or 100 years? We can only guess, and ultimately it will depend as much on who are the designers, the Art Director and appointed to the Moorcroft Design Committee. Currently, our designers have the freedom to produce any design of their choosing but, as an Arts and Crafts Pottery, those who seeks to harvest the natural world into imagery to enchant and delight, often sit well in the Moorcroft genre. Indeed, there are times when an excellent, but perhaps incredibly abstract design, does not often fit with the raison d' etre of Moorcroft.
I recall a vase created by Kerry Goodwin that quite literally flew out of the Moorcroft Heritage Visitor Centre and was inspired by Gaudi - a Spanish architect known as the greatest exponent of Catalan Modernism. Gaudi's work is a highly individualized, one-of-a-kind style. Most are located in Barcelona, including his main work, the church of the Sagrada Família, but, sadly, at this juncture the Gaudi design was to always remain a trial. That said, one should never say never! This was a design way outside the Moorcroft 'norm' and incredibly interesting - I would have dearly loved the piece myself! I remember as a little girl, going to an antiques fair with my father and finding a Moorcroft design in a very pale brown colourway. If I remember correctly, it was quite unlike anything that my father had ever seen. Indeed, he even said, 'that is surely not Moorcroft.' But I had already turned the vase upside down and there was the tell-tale signature on the base. On that occasion I stood before him with a rather large grin.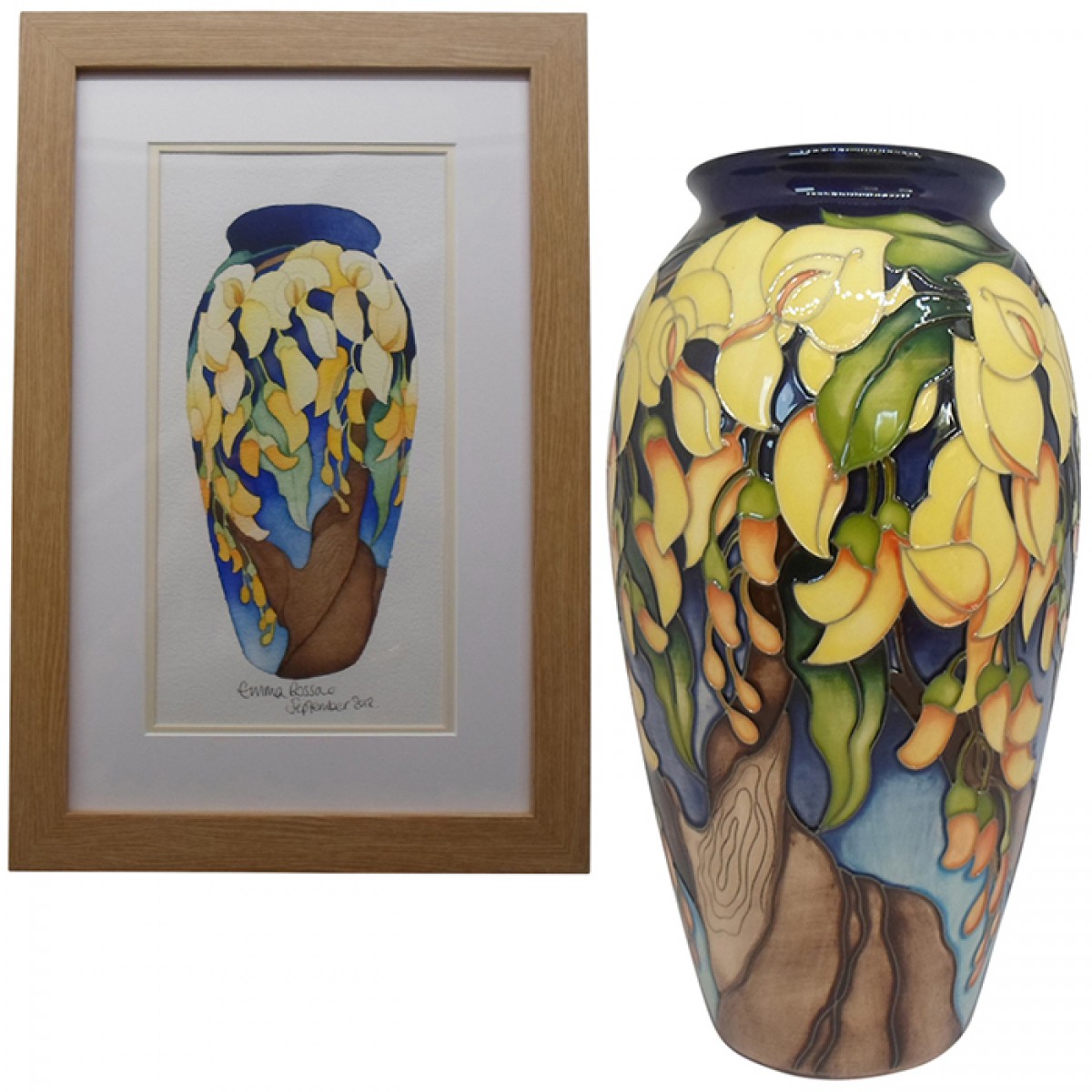 My colleague Melanie Hancock, who has a wonderful flair with words, is organising the release of something special today – a peep into Moorcroft's future. She writes of one beautiful design, Yellow Wisteria by Emma Bossons FRSA that it is "a species of flowering plant in the pea family, native to China. Unusually it boasts soft yellow petals instead of the commonly seen lilac. The flowers on each raceme open simultaneously before the foliage has expanded, and have a distinctive fragrance similar to that of grapes. Emma explores the flowers in several stages of opening, and beyond them can be seen the aging, twisting branches, designed with a gentle application of sgraffito applied to the surface of the clay."
Yellow Wisteria is accompanied by a joyful parade of other designs fresh from the Moorcroft factory kiln, as of yet unlaunched, but likely be called upon in the future. These trial designs have been paired with their matching, original watercolour and labelled with an exceptionally tempting price for the pair. Behold! This is a rare opportunity for the discerning eye to acquire a stake in the future. The designs are vibrant with deep, rich Moorcroft glazes with some, it has to be said, showing themselves to be designs of exceptional calibre.
VIEW DESIGNS NOW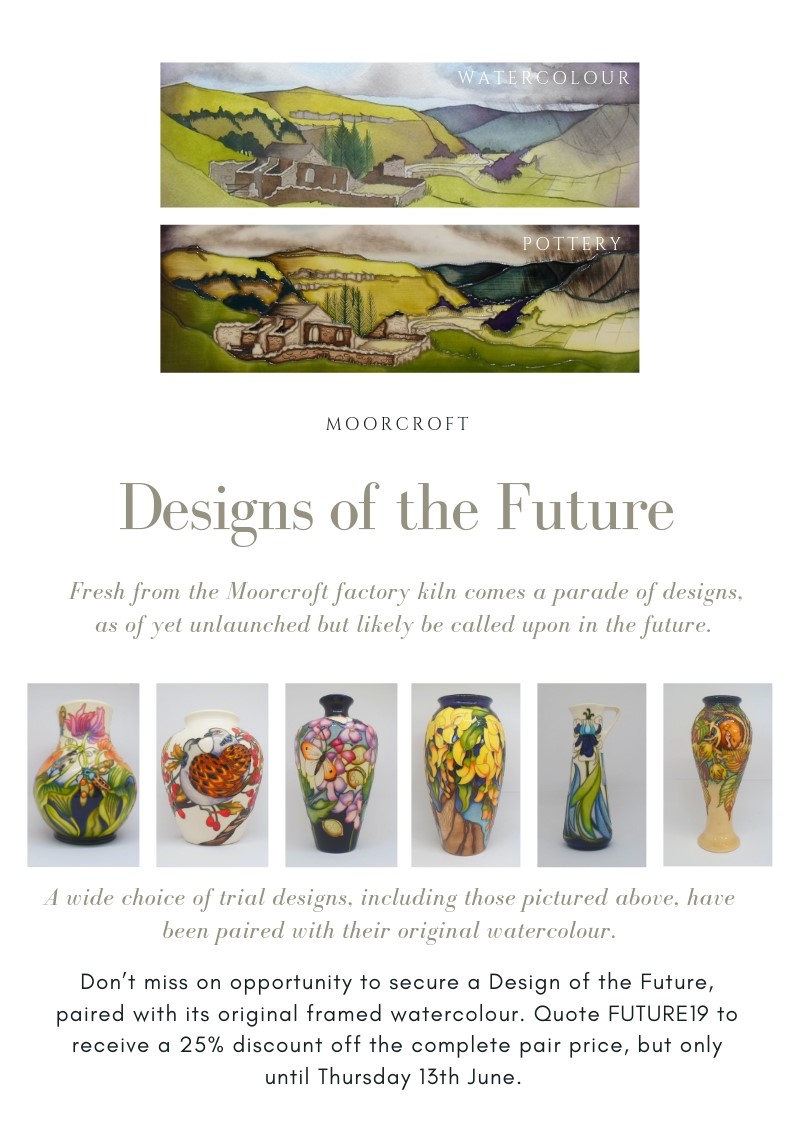 Some designs that caught my eye come came from a stroll over the old coal pits in Stoke on Trent, others are simply beautiful with one quite exceptionally haunting exception – a plaque, named Crackpot Hall by Moorcroft designer, Vicky Lovatt. Vicky would like it to be known that Crackpot Hall was created, albeit with a smile, in the genre of her popular Dartmoor Ponies design (2017) complete with a similarly emotive sky. Sadly, Crackpot Hall is not somewhere all of us 'potaholics' can organise a rather fun jolly – it is a ruin, complete, apparently, with its own ghost and appears to follow in the footsteps of Kerry Goodwin's plaque, Penistone Crag, with echoes of its own ghostly tales. Heathcliff: "If he loved with all the powers of his puny being, he couldn't love as much in eighty years as I could in a day. Catherine Earnshaw, may you not rest as long as I am living. You said I killed you--haunt me then." (Wuthering Heights by Emily Brontë). From Heathcliff to Heaven – Vicky has also created a design called Angelwings, expected to rise to the firmament in December 2019 with other Moorcroft Christmas Designs. This is the first design in which I have literally had a hand involved – Vicky asked to draw me praying!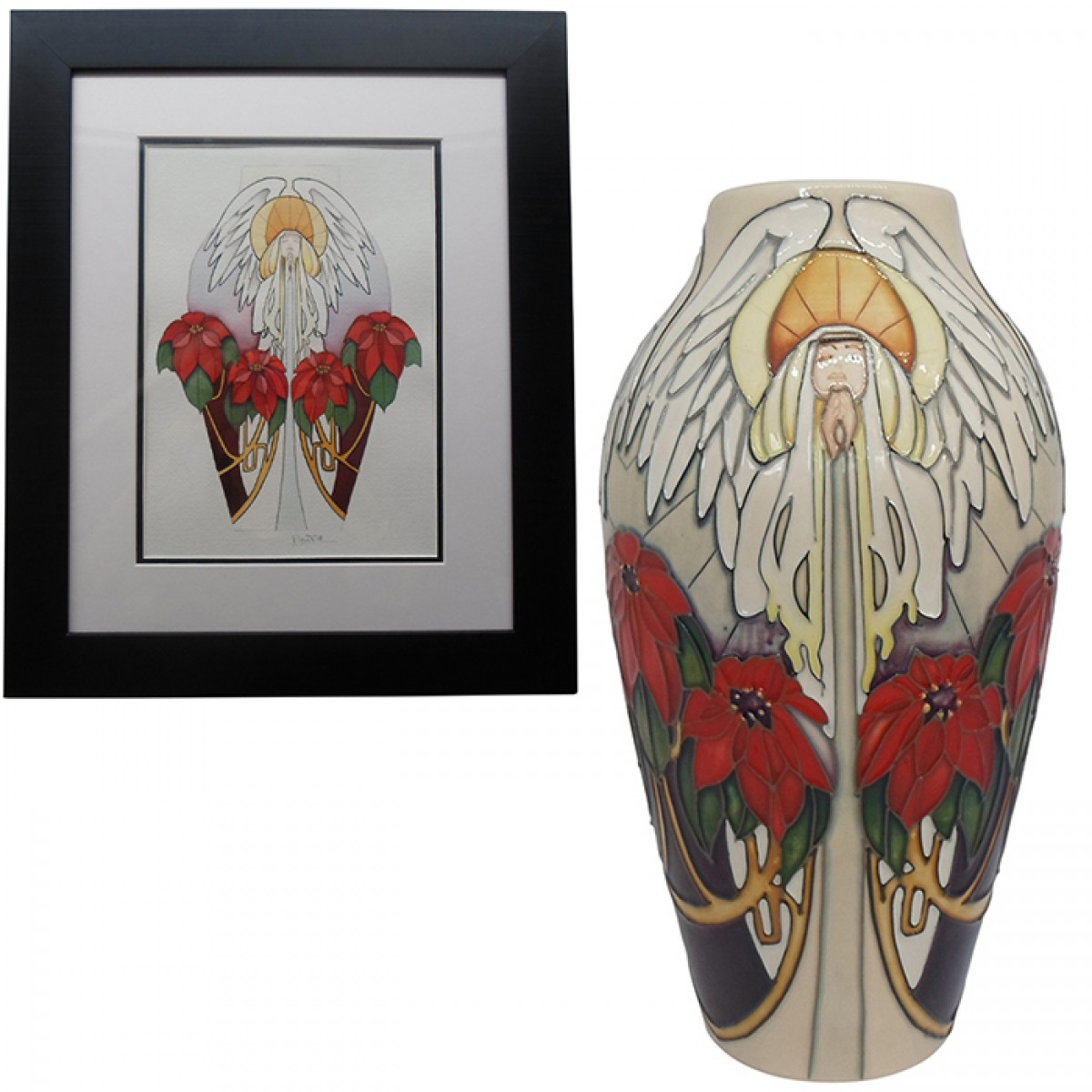 For the collectors among you, there are two designs that appear in the Moorcroft archives post the era of Walter Moorcroft. Nicola Slaney's Penguin Frieze holds a row of four Emperor penguins - the largest, boldest and well-dressed of all penguin species. This time, the design holds not merely a pictorial adaptation, but a clever use of geometry to create the impression of a stained glass window. Another popular friend arrives in the form of a beetle in Moorcroft's rare 'Creepy Crawly' design category or window in a design named Camilla, a design by Kerry Goodwin. Camilla holds a dense network of Camellia shrubs brimming with brilliant foliage. The vibrant blooms grow in abundance across a two-tone backdrop. In the undergrowth, bright and speckled beetles take shelter and add to the cheerful colour cacophony. So there we have it – from Crackpots to creepy crawlies – the future is alive with curiosity.