A Brave New World...
Posted on - 2nd July 2018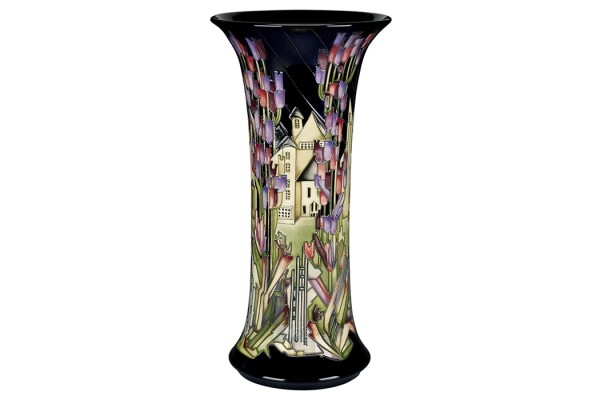 A Brave New World...
Town of Flowers by Moorcroft designer, Kerry Goodwin, is considered by many as the pinnacle of Moorcroft Arts & Craft design, where architecture and the natural world work in harmony. Synthetic, man-made, structures are viewed through a clearing in the tulips. Each scene is different, some buildings have staircases, others have turrets or spires and all are in the Arts and Crafts style with tulips that burst into enchanting violet and burgundy hues as they soar up to the heavens. In an article in the New York Times, Published on the 9th April 1987, by Michelle Vaughen, life in post-millennium homes was considered, with her opening question:
What will our lives be like in the homes of the 21st century?
She considered how writers, film makers and even animators had been offering their own answers for decades. Noting, "Aldous Huxley in his 1932 novel, ''Brave New World,'' envisioned rooftop entrances to skyscraper homes, pneumatic sofas and bathroom taps that emitted scent. Fritz Lang's futuristic city in his 1927 film, ''Metropolis,'' included underground housing and robot technology. But perhaps the most fanciful vision came from ''The Jetsons,'' William Hanna and Joseph Barbera's popular 1962 animated television series. In a world in which space was at a premium, houses were suspended on stilts, beds collapsed and disappeared into the floor, doors descended from the ceiling and chairs were moved by conveyor belt to wherever they were needed."
London, By Paul Hilditch, comes period features with modern architecture.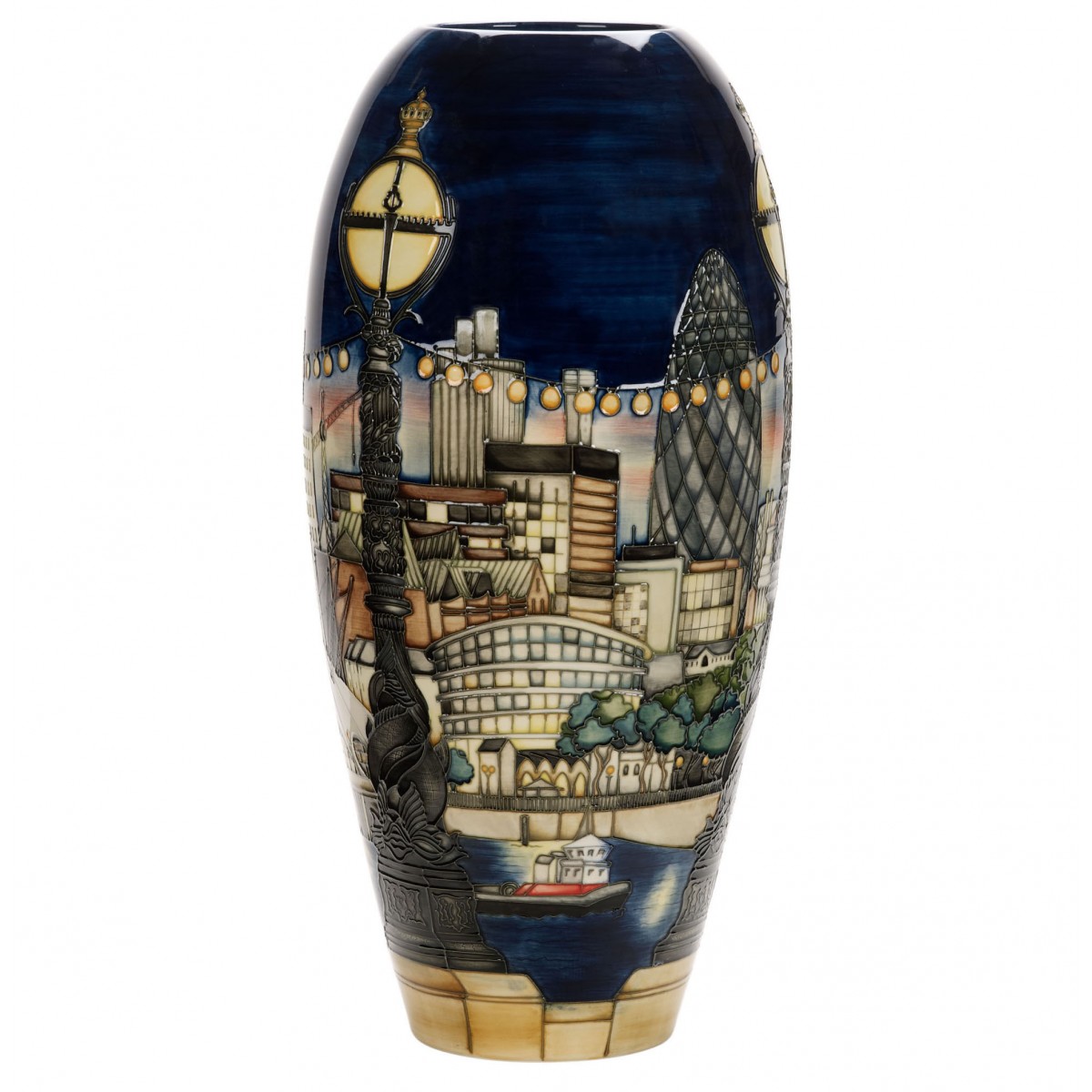 Within the New York Times feature, design leaders were asked to share their predictions of what life would be like beyond the year 2000. Advances in technology, said the New York-based interior designer Jay Spectre, will revolutionize our lives. ''I don't think we've scratched the surface of what fax machines, for instance, will do,'' he explains. He saw them becoming more prevalent in our homes and cars, the way tape decks and telephones were in the 1980's. With tomorrow's technology, he added, ''We'll be able to order groceries, pay bills, start dinner - all from wherever we are at the moment. Even if that happens to be the bathroom. When we stand at the wash basin, we'll have instant communication at the push of a button."
Echo and other Alexa devices let you instantly connect to Alexa to play music, control your smart home, get information, news, weather, and more using just your voice. This is a little sad as it prevents us from connecting through touch which is in itself a form of discovery. One need only think how infants receive revelations about the world around them through touch alone. The title of the exhibition, The Memory of your Touch, alludes to a line in D.H. Lawrence's novel Lady Chatterley's Lover (1928). When asked if she 'misses the touch' of her deceased husband, Mrs Bolton exclaims: 'That's it my Lady! The touch of him! If there's a heaven above, he'll be there, and will lie up against me so I can sleep.' The sentiment behind these words echoes the author's own awareness of the transient memories associated with a vanished physical closeness. Other things are important too, such as the ability to connect through a poem or a work of art, and of course, life visuals. Moorcroft is a fortunate art medium as its decorative techniques hold the ability to connect through touch – a design is outlined with liquid clay to create a very tactile raised ceramic outline. When I see my own children creating virtual homes on apps like Minecraft, I am thankful that they are being creative, although, in another sense, feel motherly concern that they are losing connections that children of that age would have had with the natural world in a bygone time. Long walks put colour on cheaks. Somehow being outside – the original setting of our species – seems to revive the soul. Indeed, it was Angela Davenport's childhood that gave birth to the phenomenally evocative scenery and sky in Woodside Farm and much more. Some of Emma Bossons greatest works have come from growing flowers in her own garden, feeling the delicate petals with her own fingers and then transmitting that memory to clay. Touch is part and parcel of love, and when something in clay starts life through a love of birds, animals, fish or plants and flowers, the result is always something special.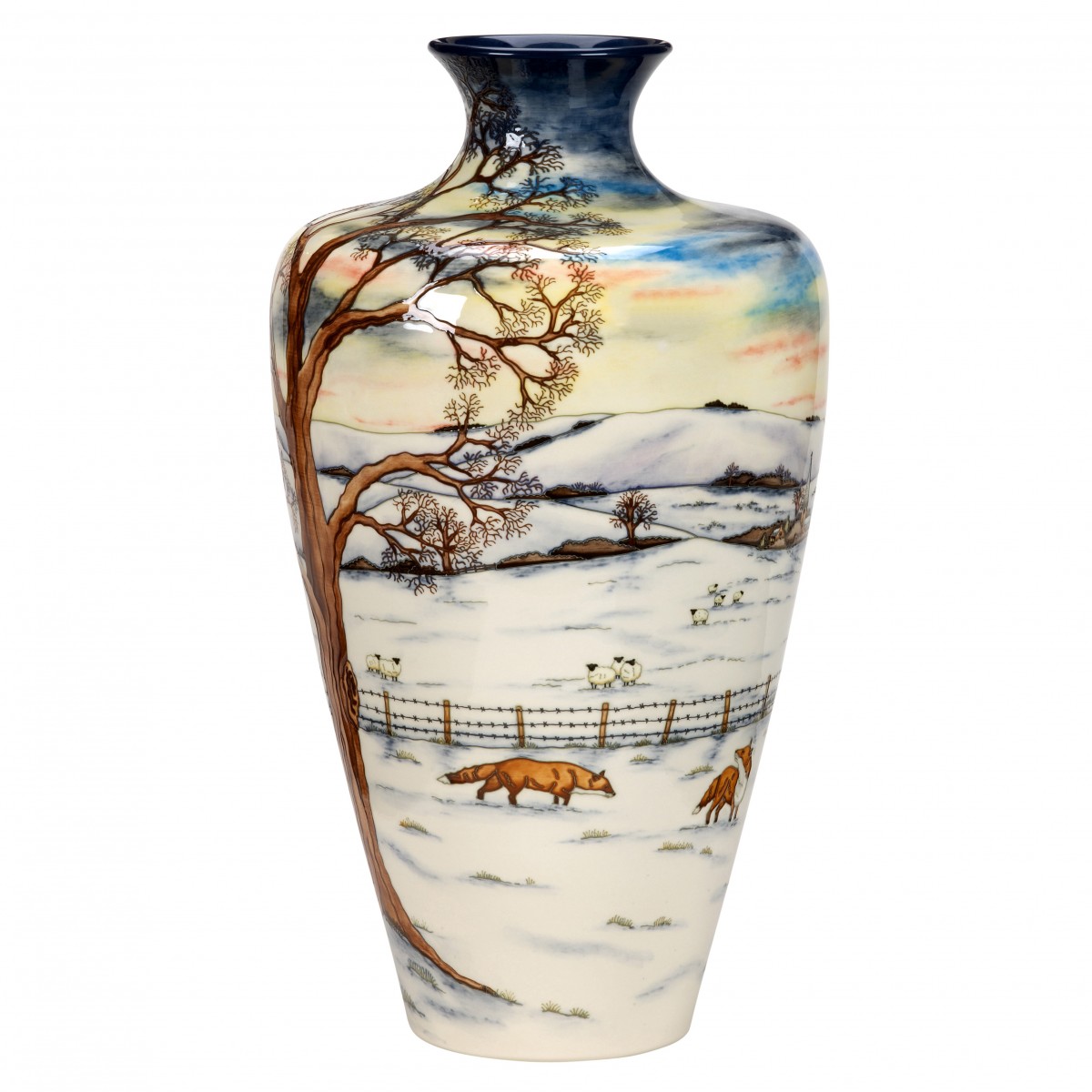 Nevertheless, it is true that with technology at the helm, the world has become much smaller. Regimes may control what we access but the visuals of the natural world can now be streamed live into our sitting rooms. Just as jet travel changed life in the 1950's for Walter Moorcroft, we can now visit anywhere in the world through a virtual reality. This allows designers great opportunities for discovery, and stimuli. Helen Dale has never been to Japan and yet her work, deeply influenced by television documentaries on Japan, and in particular, the work of Sir David Attenborough. In the admired colour palette of Japanese print works, Courtship Dance gathers the most sacred of Japanese visions, the snow-capped Mount Fuji under a sakura moon, and clothes the artwork with red-crowned cranes, as they dance and fly into the heavens, as one of the most intricate of courtship dances began. Framing Lake Kawaguchi, one of the five lakes at the foot of Mount Fuji, are the palest of pink cherry blossom, which thrive under the shadowy purple hues of the mysterious mountains.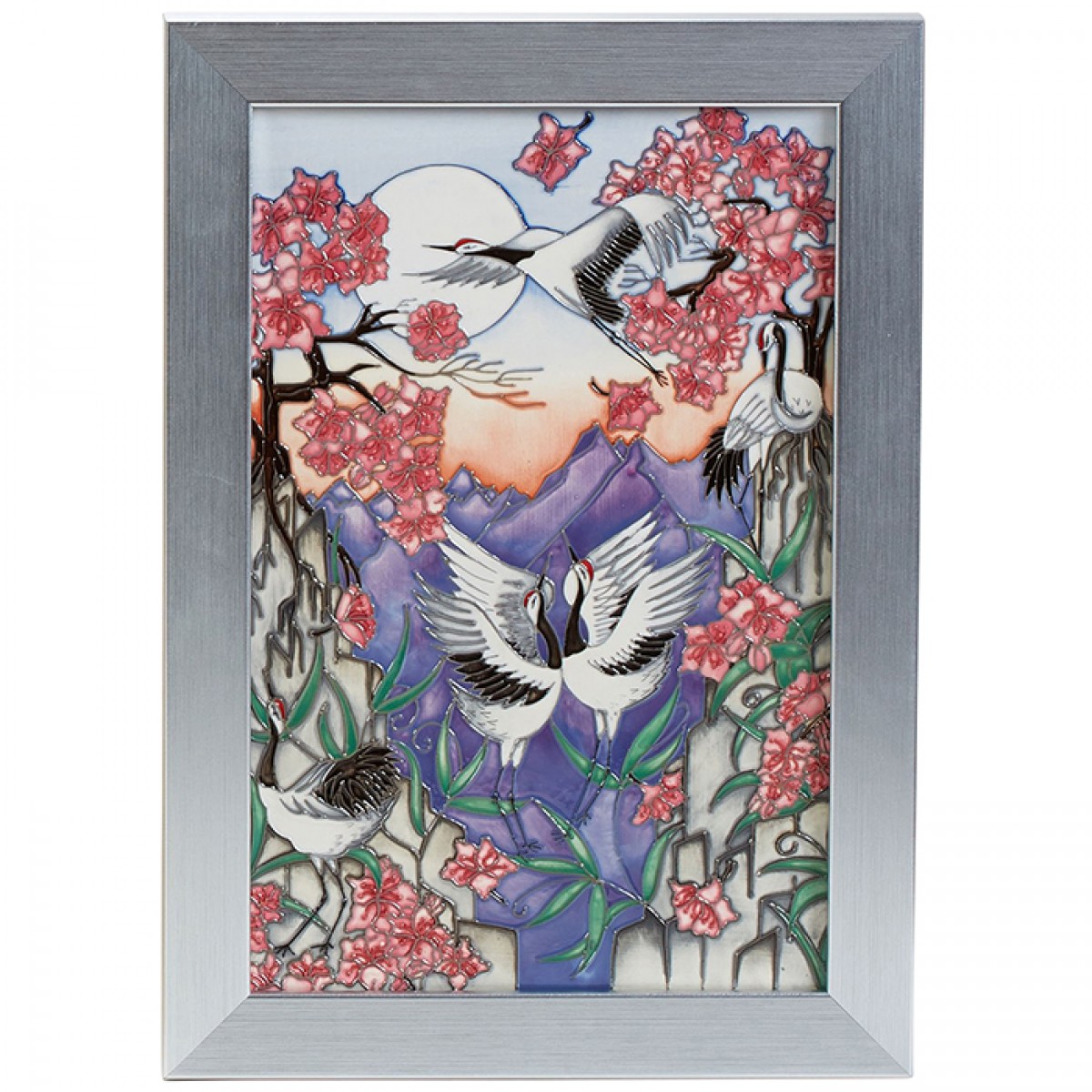 So what else can be said? Another interior designer in the New York Times feature predicted that rooms were destined to become smaller - and more highly organized. This designer felt that we would "live in our bedrooms the way we live in our automobiles -'the most perfectly designed environment. You're never more comfortable, and you have everything at hand, in a very small space.'' Certainly, there are some cities in the world where space limitations have made this a reality and the boutique hotel rooms of Hong Kong, where the highest technological gadgets and furniture are designed to create a modern mood as well as the necessity for certain items to be designed to fold away. The 1920's lead designer stated that furniture would become more commodious, more built-in, 'There will still be a world for country furniture and English antiques, but these things will be used much more sparingly, as decorative and precious investments.''
Fortunately, if this were true of all cities now, Moorcroft would adapt, and no doubt, a flurry of Moorcroft miniatures would materialise. For now, we have a small collection of delicate reflections of the natural beauty of each month in the year.
Modern houses appear to be pretty much the same as those designed a few decades before – smaller budgets necessitate smaller rooms but larger budgets can still buy more surface area. That said, what most certainly has suffered in our buying options is the size of gardens today – our ambitions for large gardens have been closed by builders wishing to cram as many houses into as small a space as possible with the allure of beautifully decorated showroom homes. So our generation has a challenge – to create amazing spaces outside the home in the smallest of corners. One of our designers, Paul Hilditch, used Moorcroft art to draw attention to what can be achieved in a rooftop garden.
View Rooftop Gardens by Paul Hilditch, Prestige Moorcroft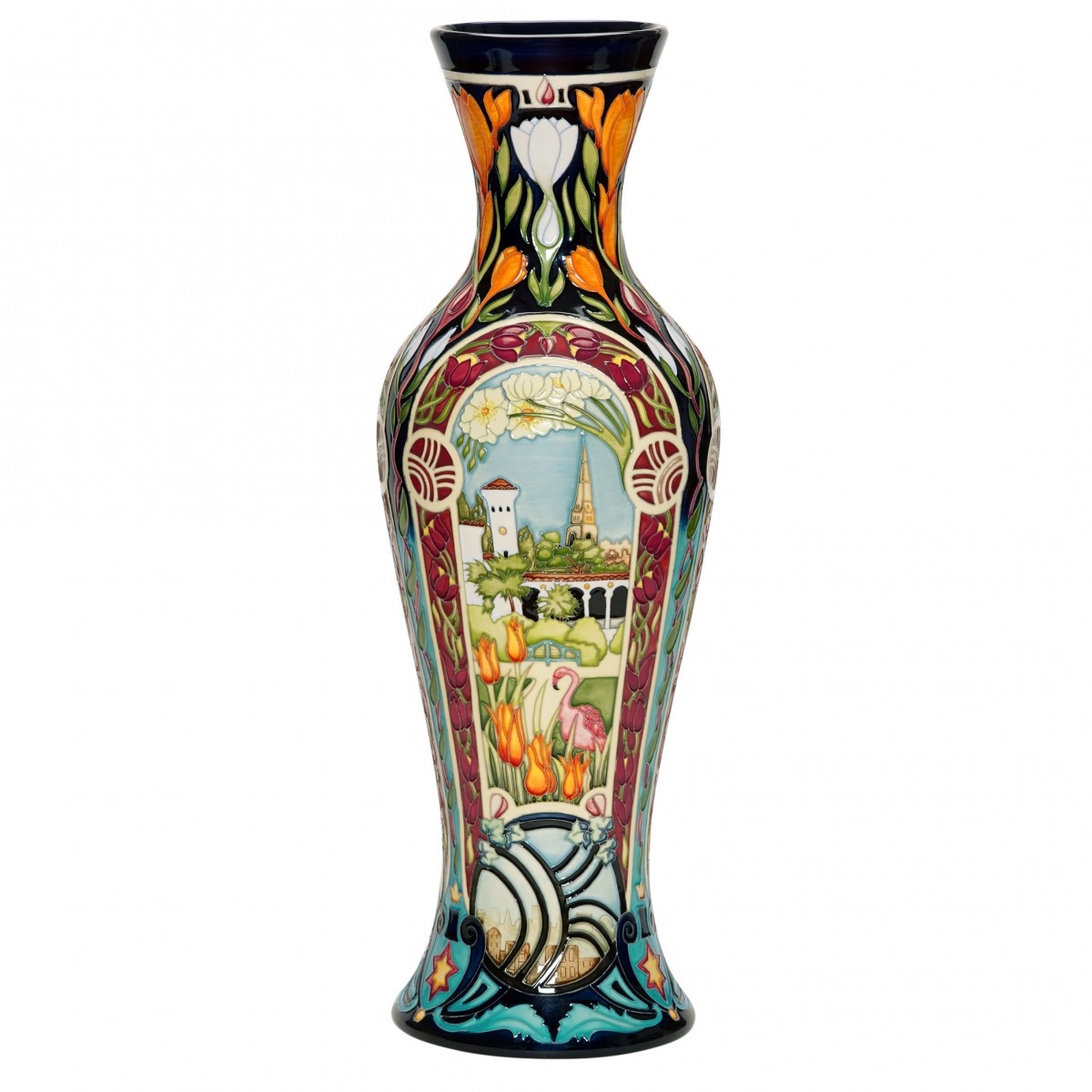 Undetectable from Kensington High Street, a hidden grade-II-listed garden steeped in sumptuous structures, luscious plants and glamourous finishing-touches overlooks the Royal Borough of Kensington and Chelsea. A Spanish Garden, a Tudor Garden and an English Woodland make the trio of themes which form this Rooftop Paradise and within these three spaces, you can lose yourself in the depths of your imagination. Nowhere else in the world will you find Mediterranean plants, old English bricks and woodland trees, crocuses, muscari, snowdrops and flamingos- all upon a roof. By expertly encapsulating this garden haven into clay, Paul has pulled an extraordinary London quirk into an artistic apparition, visible from within three ornate arches.
Perhaps the future of Moorcroft is not to 'bring the outside in' as it would have done when the heritage pottery was formed at the height of the Arts and Crafts movement but to encourage the beauty of the natural world to be born again outside through beautiful renditions of a time gone by. The Moorcroft Design Studio's access to the RHS Lindley Collection, the largest and most comprehensive gardening library in the world, is a fine example of how to create the breathtakingly beautiful by viewing historic masters. The sheer beauty of illustrations from the likes of Mary Lawrence's (1794 -1830) Selection of Roses From Nature, which was one of the first books solely dedicated to roses, and one single copy of which can reach £120,000 on the secondary market, and the work of Pierre Joseph Redoute, who painted most of the roses from Empress Josephine's garden at Malmaison from 1817 to 1824. The RHS Rose Bouquet collection may encourage some to plant to gardens of old in their little patch of green. In truth, Moorcroft art shows an appreciation of creation portrayed through many avenues, both past and present, and we hope that we will continue to do so for many years to come.

Mutabalis CL1 Clock
£230.00

Mermaid Rose JU3 Jug
£390.00

A Whiter Shade of Pale 7/7 Vase
£445.00
Scotch Rose PLQ18 Plaque
£475.00
Eglantine PLQ5 Plaque
£195.00
The Sphere 780/4 Tray
£115.00