GUESS HOW MUCH I LOVE YOU
Posted on - 21st March 2020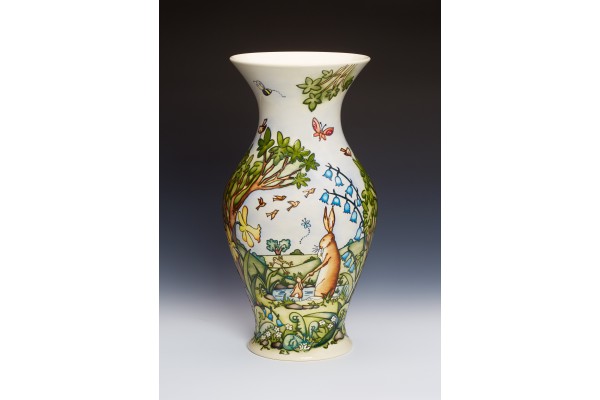 As many of you know, Moorcroft have created a small bespoke collection by the best-loved children's picture book Guess How Much I Love You in partnership with Walker Books to celebrate twenty five years of this heart-warming classic to raise money for the National Literacy Trust. Such gifts of literature and art are treasured by many for reasons that become apparent in times of crisis. Jessica Salter in an article for the Telegraph, considered the value of AA MiIne:
"In a world shaken by war, Winnie-the-Pooh offered innocence, simplicity and a happy place to escape."
The Telegraph writer continues 'After the horrors of The Great War, a devastated Britain was desperately in search of hope and happiness. So when author AA Milne and illustrator EH Shepard, who had both served as officers delivered their first collection of children's poems in 1924, When We Were Very Young, it was "an instant and huge bestseller", according to Ann Thwaite, author of Goodbye Christopher Robin: AA Milne and the Making of Winnie-the-Pooh.
As well as being a much-needed tonic for the country, the collection also introduced the first generation of children to what is now, arguably, the most famous bear in the world: Winnie-the-Pooh. Two years later the duo published their first collection of short stories about Winnie-the-Pooh and his friends, including Piglet, Tigger, Eeyore, Kanga and Rabbit. Winnie-the-Pooh himself was based on the much-loved teddy bear owned by the only human in the story, Christopher Robin, who was AA Milne's son."

In much the same way, in a world shaken by the Coronavirus, Moorcroft's design GUESS HOW MUCH I LOVE YOU, based on the book written by Sam McBratney and illustrated by Anita Jeram, offers innocence, a recollection of beautiful encounters with our tiny little ones and a happy place to escape for children and adults alike. Guess How Much I Love You follows the story of two Nutbrown Hares, Big Nutbrown Hare and Little Nutbrown Hare. The two are never stated to be father and son in the original storybooks, but the connection is revealed as such by each word on the page. Little Nutbrown Hare asks Big Nutbrown Hare the title question, "Guess how much I love you?", and the book continues as the two use larger and larger measures to quantify how much they love each other in answer to the question. The story is simple, but effectively shows the love the two share for each other. It encapsulates the simple joys of family life.

For 25 years Guess How Much I Love You has captured the deep and tender bond between parent and child. Sam McBratney's timeless, endearing story of Big and Little Nutbrown Hare, beautifully rendered in Anita Jeram's watercolours, still shares its universal message of love with readers around the globe. It has become one of the world's best-loved, most successful picture books of all time enjoyed by, generations of readers.

The prestige vase in this post uses illustrations by Anita Jeram from Guess How Much I Love You in the Spring and Summer (two picture books within a four-part series featuring the seasons by Sam McBratney – Walker Books). Springtime sees little nut brown hare question how things grow and change whilst Summer allows the delightful little leveret to discover the glory of summer colours. Through the cacophony of Moorcroft glazes, a whole new depth of colour now makes these classic books a remarkable work of art.

As we all plan for the season of confinement, we can choose what we do with our time. We can live in hope and plan calmly for the future, choosing to focus on the lovely - escape with our loved ones into places of beauty, be that in Wordsworth's poetry, beautiful art, lovely stories to each other; the praise of people online who act with a joyful, rallying spirit, like the children's entertainers with their U-TUBE channels dancing in their living rooms or playing their guitars in online singing groups; a kind hand when something falls out of your supermarket trolley; the Italians singing on their balcony; the health visitor and doctors who work in dangerous environments; the long hours worked by civil servants, retail staff, teachers and politicians as they try to ensure that the best plans are put in place for our safety and future; a parent putting a child to bed with a smile on their face and a story up their sleeve; a grandmother dispatching a casserole to her working daughter when she is no longer able to help with child care, a daughter or son shopping for his or her elderly parent; neighbourhoods helping and caring for each other – our list, thank God, is endless.

Fortunately, we are unlike the AA Milne generation, as, for the most part, all of us are facing this virus together – in a sense we are all on the front line even if we are seeking to protect the vulnerable and the elderly. Families can unify and heal each other – we may be separated by 'social distancing measures' to stop the dissipation of the virus but we can be as chicks in a nest by the words we choose to say to each other. Words are immortal. Kindness remembered. Consider the value of praise. This is the spirit of our country, the goofy stories of a father as he juggles his child's toys, the crazy singing of a mother as she recreates 90's classics for a new generations, and grandmas moving in together to support each other through this crisis. As this old art pottery struggles for its survival, this post contains just the simple visual of GUESS HOW MUCH I LOVE YOU.