La Vague by Nicola Slaney

Undoubtedly, one of the finest Art Nouveau stained glass windows in the world today was created by craftsman Raphael Evaldre in c.1900, and is located at the Hotel Saintenoy, Brussels - the former home of Paul Saintenoy, a renowned architect of the 19th century. Based on an image by painter Henri Privat-Livemont (1861 - 1936), the window showcases a woman emerging from the centre of a swell of Japanese inspired waves. Called 'La Vague' (The Wave), the stained-glass window refers to the print The Great Wave off Kanagawa by Hokusai, in which a huge wave bears down on three boats.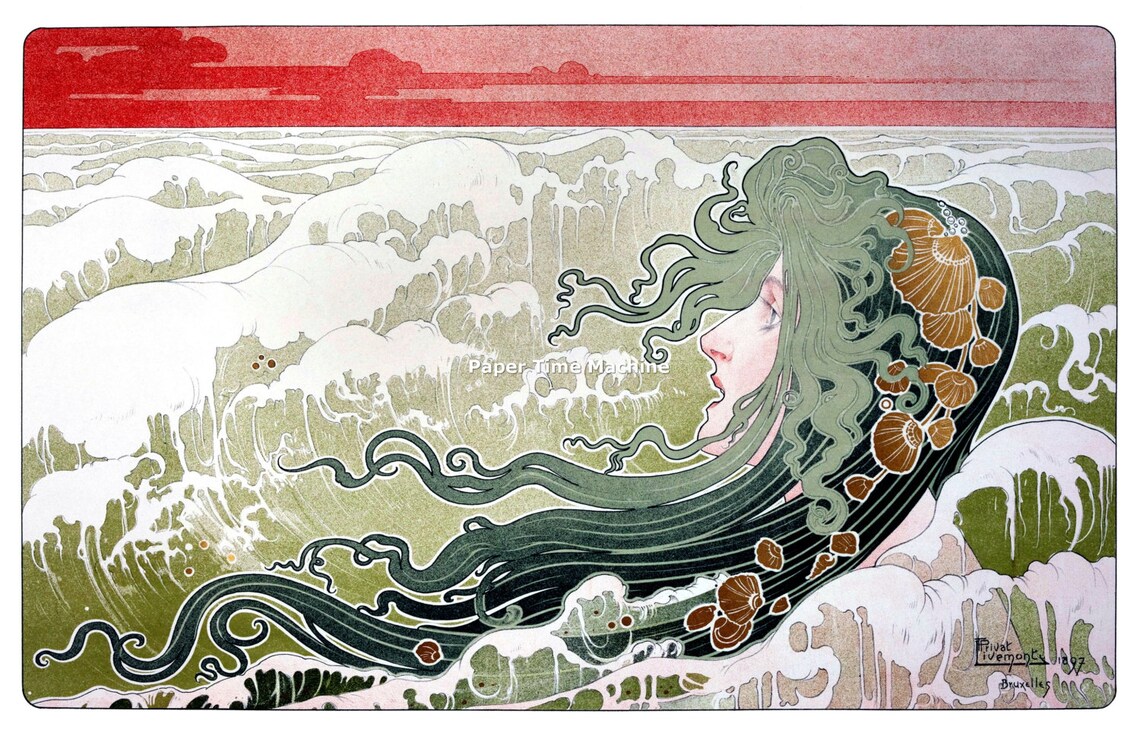 Henri Privat-Livemont's La Vague
The Belle Époque (the Beautiful Period) in France straddles the period between the end of the Franco-Prussian War in 1871 to the outbreak of World War I (1914). It was time of great optimism, regional peace and prosperity. As such, cultural innovation thrived. In a brisk new wave, artists began to present their work to the masses through advertising art appearing as billboards and posters – plastering the walls of Paris and Brussels. "Affiche Artistique" was the term that the French used to describe a poster that contained artistic expression. The art was so impressive to the public, people began to collect the posters as soon as they went up, with few copies surviving today. Along with Henri Privat-Livemont, artists such as Henri de Toulouse-Lautrec, Jules Chéret, and Alfons Maria Mucha contributed to this creative body of work. In truth, these men were perhaps the fire behind the entire Art Nouveau movement. Indeed, even the 1897 International Exhibition Brussels poster by Henri Privat- Livemont not only marketed the event that attracted the likes of Moorcroft forefather, William Moorcroft (who received a gold medal), but also become part of the Art itself. What a triumph of design!

The allegorical figure in La Vague, could be any of the ladies depicted in these Art Nouveau posters. Not only were they perceived as beautiful temptresses, but they also represented this colossal new wave of art – like the tidal wave depicted in Hokusai's The Great Wave off Kanagawa, they swept conventional design off the radar.
Designer, Nicola Slaney, wanted to create a prestigious piece inspired by La Vague for her Art Nouveau Collection for a very special reason. Only a monumental ceramic vision, both in size and drama, could ever begin to capture the tidal wave of this movement and no better place to start was Raphael Evaldre's epic stained glass window. Nicola's ethereal woman emerges from the sea with hair, beautified with seashells, falling in wave upon wave. Seaweed intermingled with her own flowing locks takes inspiration from the unruly aspects of the natural world - a common theme of Art Nouveau design. Indeed, sinuous lines and "whiplash" curves were derived, in part, from botanical studies and illustrations of deep-sea organisms such as those by German biologist Ernst Heinrich Haeckel (1834–1919) in Kunstformen der Natur (Art Forms in Nature, 1899) and these stylised lines are captured by the Moorcroft designer in the drama of the sea itself, where the clever use of small fan shaped blue arcs draw the eyes to the sky. Infused with a soft, golden glow from the setting sun and with gulls of blossom-pink, and a sky of blue and butterscotch, Nicola is able to achieve a vision of prosperity – a calm awakening. Furthermore, the unfolding of Art Nouveau's flowing lines, most effectively captured by the imagery of waves, may be understood as a metaphor for the freedom and release sought by its practitioners and admirers from the weight of artistic tradition and critical expectations.
Enchantingly, it is said of the stained glass masterpiece of Hotel Saintenoy, that in the evening, when lit from the interior, the glass window reveals all of its beauty, in the same way that Nicola's prestige vase does in her shimmering hues of golden glazed skies and flaxen locks of hair. Over a century after Evaldre's original creation, a new dawn of Art Nouveau excellence has arrived. In truth, the successful unification of the fine and applied arts was achieved in many such complete designed environments as Victor Horta and Henry van de Velde's Hôtel Tassel and Hôtel Van Eetvelde (Brussels, 1893–95), Charles Rennie Mackintosh and Margaret Macdonald's design of the Glasgow Tearooms, which Moorcroft shall visit in 2022. If only, Moorcroft's La Vague, could be displayed in Hotel Saintenoy itself, Moorcroft's triumph of ceramic art could be placed in her rightful setting.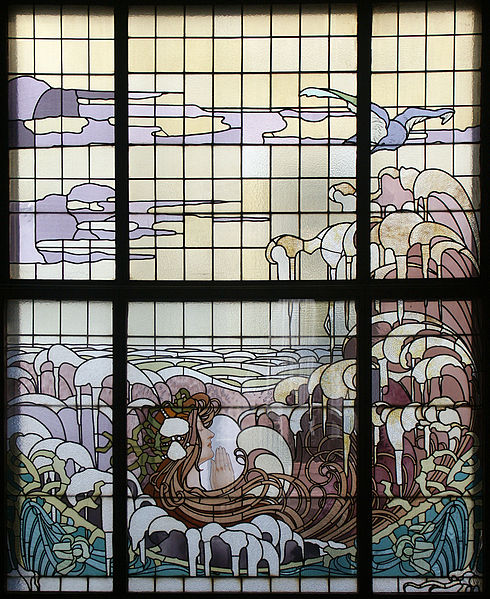 Raphael Evaldre's La Vague stained glass window at Hotel Saintenoy, Brussels.