The Greatest Moorcroft Design of All Time
Posted on - 23rd September 2019
We were somewhat apprehensive about naming the Moorcroft Queens Choice ginger jar as 'Design of the Week' in accordance with the usual format as many believe this is the Moorcroft piece of all time. Without doubt, Queen's Choice, designed by Emma Bossons FRSA is Moorcroft's most fruitful design in the art pottery's history. Inspired by Shakespeare's play A Mid-Summer Night's Dream, every fruit mentioned by Shakespeare features in Emma's design, 'Be kind and courteous to this gentleman; Hop in his walks and gambol in his eyes; Feed him with apricots and dewberries; with purple grapes, green figs and mulberries...'
Decades ago, a Moorcroft retailer located in Shakespeare's own town of Stratford Upon Avon, Barry Thornton, began to sell some Moorcroft ginger jars inspired by Shakespeare's play. They were an instant success. Now, as the sun streaks across a midsummer eve each year, and mischevious fairies dart their eyes from side to side, Moorcroft designer, Emma Bossons, can be said to have placed the magic back into Moorcroft fruit design. Queen's Choice is nearly 20 years old. Each year, Moorcroft consider whether sales warrant Queens Choice's catalogue inclusion for another year, and each year the returns prove that it is a worthy contender. This is truly remarkable. It is almost as if the design must stand in perpetuity for some reason. It was the chosen piece by Antiques expert, Eric Knowles, to follow through the Moorcroft making process, for the Heritage Museum video. Again, it was chosen by Discovery Channel in their episode on Moorcroft in the series HOW IT IS MADE.
Never before, have colours appeared so luscious, a feast fit for a Queen. Whilst Moorcroft were made Potter to HRH The Queen almost a century ago, the Queen that holds the name of this design is Titania, Queen of the Fairies. In her bower she feeds her guest the fruit of her desires: dewberries, grapes, figs, mulberries and apricots. The colour contrast and sectional fruit depicted by Emma is alive with richness and texture. Figs are an ancient fruit, cultivated for centuries and regarded as a sacred symbol by many, holding delicate, abundant, and edible seeds, signifying universal understanding, unity, and truth. The tiny, jewel-toned specks, unified in their purpose of creating more life, a mass of purpose. For a Moorcroft tubeliner, the fig becomes a means of demonstrating excellence in the heritage skills of applying liquid clay slip by hand before being infiled with reddish-pink metallic oxides. Lime green and yellow tubelined colours are also used to add a three dimensional vibrancy. The shape of the fruit itself, the tear-drop silhouette that fills your hand with softness, works like the pomegranates feautured in William Moorcroft's famous fruit design a century ago. He also used sectional fruit to add another dimension to the design and colouration.
In essence, Emma is holding on to the invisible chord of the Moorcroft forefather by dissecting her figs. It should be noted that figs are plentiful, their trees sprouting bi-yearly crop, so it seems only natural that the fig should connote just that: abundance. This rich design is complete with the intense burgundy hues of mulberries and grapes, adding an opulent dimension to the design against the contrasting pale amber-red hues of the ripe apricots which orbits the jar like the setting sun.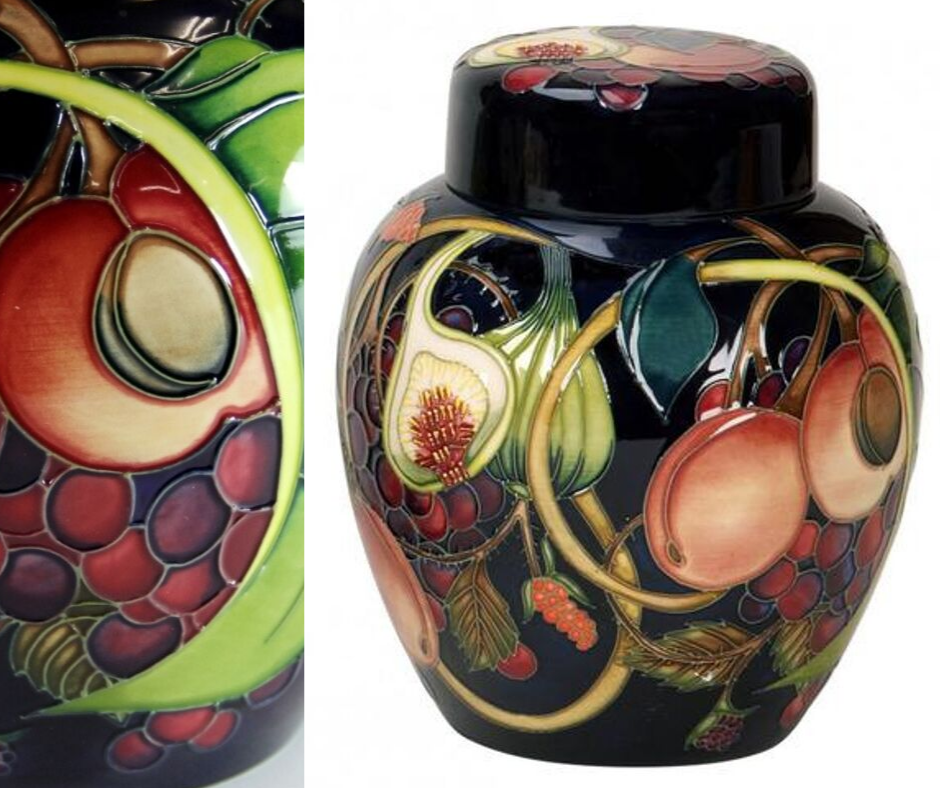 Is the fruit in Emma's design a mirage? Temping mortals to act strangely? Does the design epitomise the fruit of our labours or indeed, loves labour lost? It may be that the work of Emma Bossons is not unlike that of the late Renaissance artist, Giuseppe Arcimboldo, where fruit design can literally be turned on its head to give another image. There is so much more to the Queens Choice design than can readily be explained. Queens Choice is not simply a still life watercolour of fruit wrapped around the shape of the ginger jar. It holds the movement of any great Art Nouveau design as fruit tumble and turn, one into another. Within the design, it can perhaps be said that Emma has conjured fruit shapes, colours and raised-tubelined forms to beguile and entice in much the same way as those fairies play with the passions of mortals.