Pictured above, Treetops by Emma Bossons FRSA, from The Succession Collection for the Platinum Jubilee
On that fateful day, February 5th 1952, Princess Elizabeth, then 25, spent the afternoon with her cine-camera capturing a herd of rhinos from her elevated vantage point above the Treetops. That night, as she slept cradled in a fig tree, she actually ascended to her throne. Generations to come would tell of a young woman who climbed up at tree as a Princess and came down a Queen.
Twenty-years ago, I visited Treetops waterhole in Aberdare National Park and recall climbing up a rickety ladder to access the giant wooden structure – a climb that her Majesty would have taken decades before. I was in awe. At 3am a red buzzer went off, to tell all guests that one of the 'Big Five' wild animals were below - causing me to land in a heap on the floor. Watching elephants frolicking in the waterhole beneath was breath-taking. The excitement is with me still, I recall pulling open the shutters to take a peek, before clambering upstairs to the top balcony, which overlooked the waterhole, to view these giant beasts through my binoculars. In truth, when I first saw the image of Treetops on the Moorcroft design to celebrate Her Majesty's Platinum Jubilee, I was quite surprised. A lone rhino calf sits as two others sup at the waterhole, while fig trees rise like cumulonimbus clouds lifting Treetops towards the distant outline of Mount Kenya, known across the world as the mountain of brightness, in a palette from the African plains. Whilst capturing the essence of Treetops, which is breath-taking, the Treetops structure in the Moorcroft design was minuscule compared to the vast treetop building, resembling a fort, which I recollect. The simple reason is that Treetops in 1952 was more of a tree house than a treetop lodge.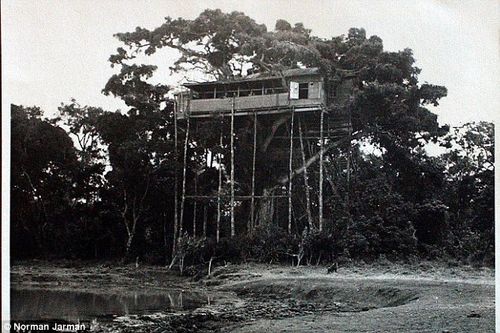 At that time, Treetops was the only place of its kind in the world. It was the brainchild of Eric Walker, owner of the Outspan hotel in Nyeri, and his wife, Lady Bettie, daughter of the Earl of Denbigh. Walker was an interesting character, Private Secretary to Baden-Powell before the First World War. Indeed, he had been shot down while in the Royal Flying Corps, but had escaped from prison camp with a pair of wirecutters that Baden-Powell had hidden inside a gift of ham, before walking across Germany to the Dutch border. In short, her host was a man who had the gift of resilience.
Walker laid down strict ground rules for Her Majesty's Treetops visit. No journalists were allowed, as it was believed the scent of the additional bodies would frighten wildlife. Cameras were also banned. Walker wanted, it is said, for the Princess to be fully immersed in the natural world and rested. In truth, this was not a place one would ordinarily find a 'glass slipper and crown princess'. This was not Princess Elizabeth. Indeed, it is said that leopards prowled Treetops after dark during that time and that an a close friend of Walker, the naturalist, Jim Corbett, after whom the Corbett National Park in India is named, sat up all night with a rifle at the top of the ladder! It is profoundly interesting that HRH Queen Elizabeth's own legacy does have a distinctly naturalistic quality- both her son, Prince Charles, and Grandson, Prince William, have both used their own platforms to champion, like Moorcroft, the natural world with William, royal patron of the wildlife charity The Tusk Trust – fighting against poaching, habitat loss and human-wildlife conflict, not to mention his recent 'Earthshot Prize' launched with Sir David Attenborough, to help the entire planet.
So it seems that there were signs of things to come on the eve of the 6th February 1952 at Treetops. The Queen, completely unaware of her sovereign title, was up at dawn testing the light with her meter as two rhinos squabbled over the waterhole. This Queen would one-day oversee countless Prime Ministers and Heads of State, turbulent matters on the domestic front, and learn to reign from a different perspective. After all, observing rhinos is a good place to start - they say that rhinos are the most dangerous animals of them all. Inevitably, our Sovereign Queen would utilise a wisdom acquired over decades of observation.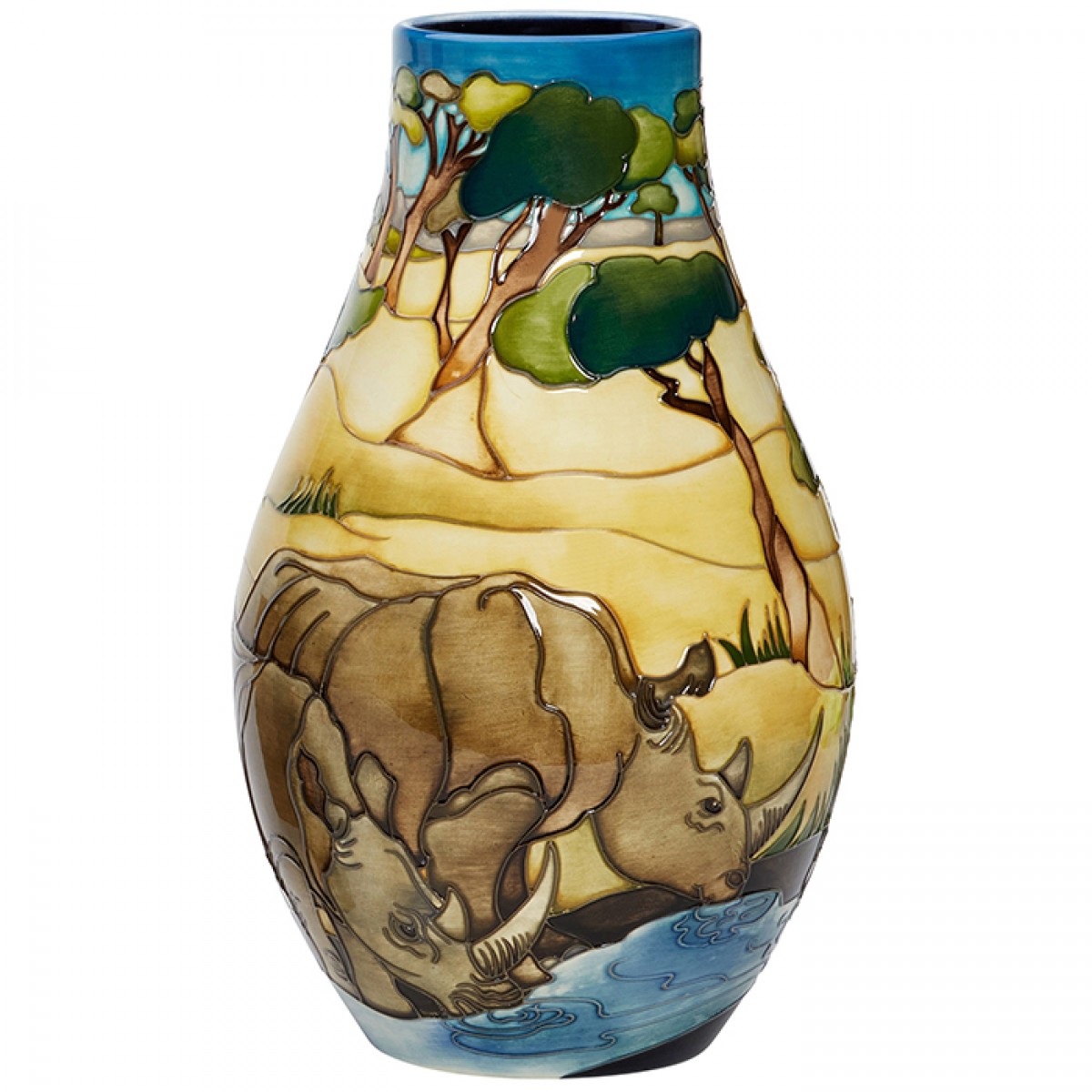 After breakfast, the Royal party descended from Treetops to journey to Sagana Lodge. It is said that the Queen's last words at Treetops were "I will come again." It would be the following afternoon, at Sagana Lodge, beside a trout stream in the foothills of Mount Kenya, that the late Duke of Edinborough, would break the news of the Queen's father's death.
Let us hope that HRH the Queen can come again, perhaps even through the eyes of this Moorcroft design, to visit the humble, yet steadfast, fig tree, from where she would take her very first steps towards a Platinum reign, ruling longer than any other monarch in British history.