Champagne Anemones PLQ11 Plaque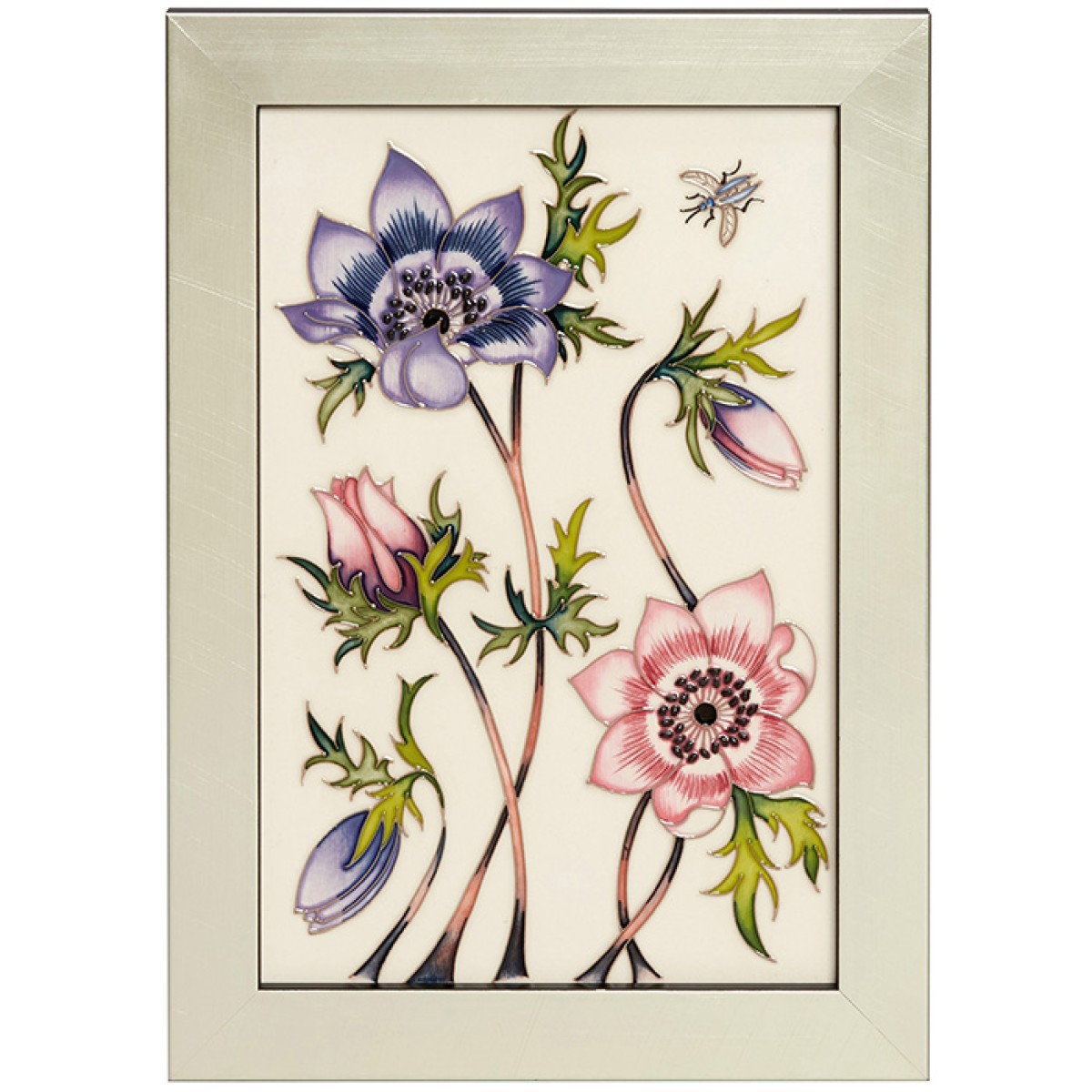 Winter anemone watercolour on paper (22.3 x 18.9 cm. 1818) from artist, Caroline Maria Applebee (c. 1787–16 September 1854) holds the most delicately painted, saucer-shaped pink flowers on tall, slender, branched stems with a blush-pink colour fusion. It is tragedy that artwork of such sheer brilliance did not receive publication during her lifetime, as Applebee kept her water colours in albums until after her death. Nicola raises a glass to Applebee's champagne-pink winter anemones with a design combining their form and colour with contrasting blue anemones.
The sintering of cobalt oxide with aluminium to create just the right blue pigment is not always streamlined and to accurately recreate Nicola's soft lilac-blue hues, careful mixing of oxides and colour trials were required. Anyone witnessing Moorcroft artists applying colour to unfired clay, will know that there are multiple hidden layers of metallic oxides in these 'blue' anemones. Indeed, Moorcroft's artists were keen to ensure that these flowers are more violet than blue in accordance with Nicola's directions. The Moorcroft designer likes to think that Caroline Maria Applebee would have been proud to see her anemones flourish with another colour variant to create such a feast for the eyes in fired earth.
£295.00
Ex Tax: £245.83
Designer: Nicola Slaney
Dimensions: H 29.00 x W 21.50 x D 2.00 cm
Availability: In Stock
Specification
Product Width21.50cm
Product Height29.00cm
Product Depth2.00cm
Shape:PLQ11
Designer:Nicola Slaney
Edition:Numbered
Design Window (Style):Broad Florals
Have a question about this product? Make an Enquiry