In October 2019, exactly a year ago, I attended an auction viewing in Lincolnshire. On display there were the most magnificent vases I had ever seen. They were Moorcroft pieces and were being sold by a lady whose husband had sadly passed away and was a collector in the early 2000s.
Like many people, I had seen early Moorcroft on the TV, but I had no idea that they were now designing such beautifully detailed and vibrant vases and I was mesmerised by them.
My husband and I decided that we would like to make a bid for some of the pieces and have a small collection of our own. We decided to attend the auction in person, rather than rely on internet bidding, to make sure that we stood the best chance of winning the pieces. It was so lucky that we did, because on the day, there was a problem with the power supply in the auction room and both internet sale rooms went down! I managed to secure all the pieces I wanted, including the 20" Prairie Summer by Rachel Bishop, the 16" Queen's Choice by Emma Bossons FRSA and Euphorbia by Kerry Goodwin.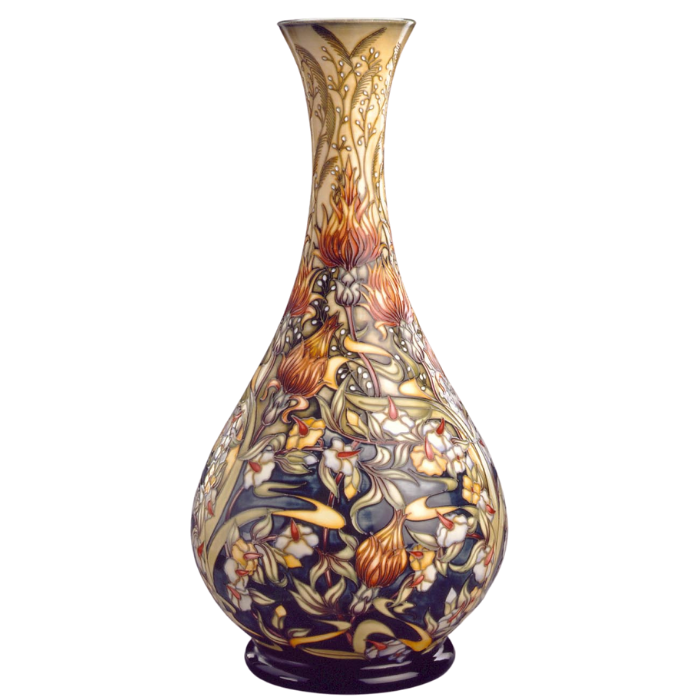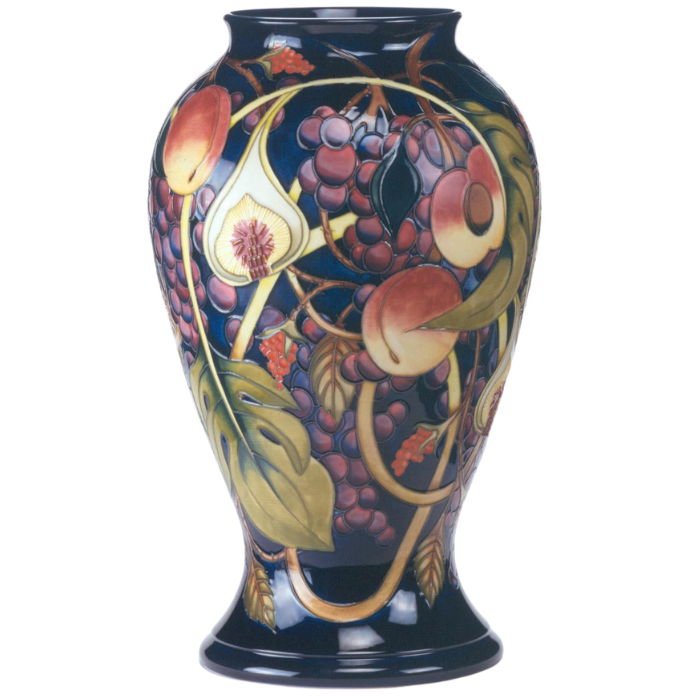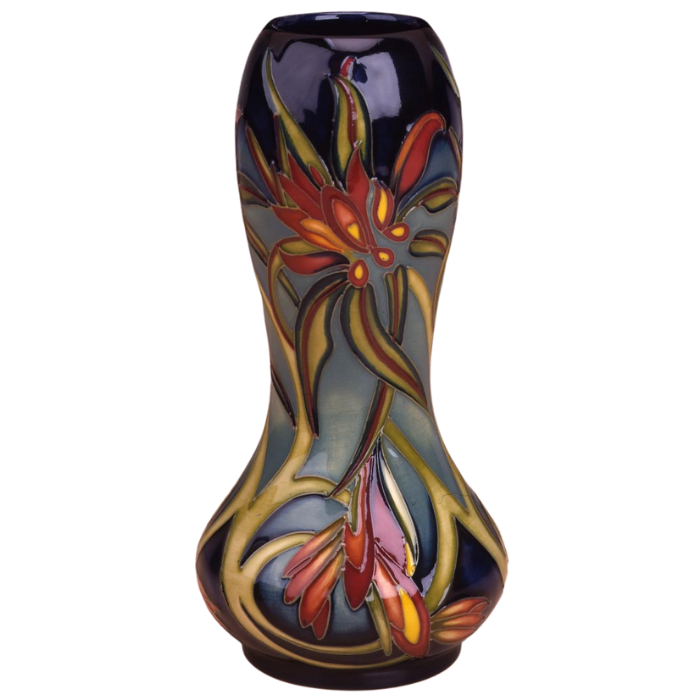 When we collected our purchases, we asked the auctioneer to assure the seller that her husband's treasured vases were going to a good home and that they would be on display to be enjoyed by us, our friends and our family.
That Christmas, we bought all three of Fraser Street's books. I scoured the books and was able to identify the designs we had bought and learn a bit more about them. From that point, I was hooked and in January 2020 I became a member of the Moorcroft Club.
Well, what a first year it has been! I have not been able to attend any of the events that would normally have been offered to Club members, nor have I met any of the wonderful designers. However, we did go on a factory tour in early February and we have returned to the Moorcroft Heritage Visitor Centre three times since, where we have met the lovely Corrie, Dawn and Kim. As soon as I walk into the MHVC and am immersed in the Moorcroft world, I feel happy. Everyone I have met at Moorcroft has made me feel welcome and special, and, as they always say, part of the "Moorcroft family."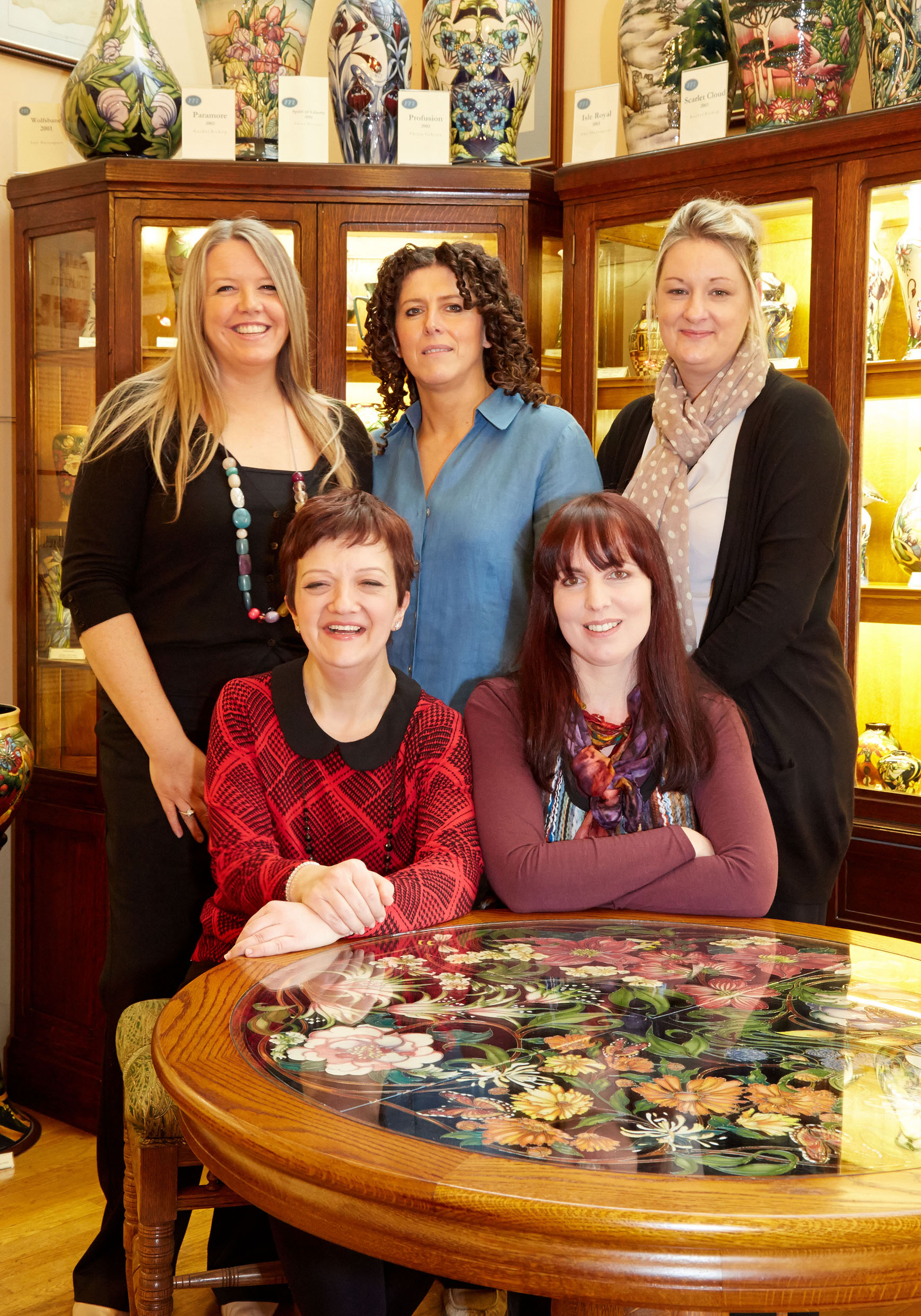 During the lockdown, I have studied Fraser Street's books and also managed to acquire some old Club journals, which I have read avidly. I have added to my collection of Moorcroft vases by buying from the Moorcroft website, through which I have had support from the extremely kind and helpful Dave Johnson, who has always been available on email to answer any questions.
It is hard for me to say what are my favourite designs, but I find that I am particularly drawn to vases that have a lot of colourful detail. I have pieces from all members of the design studio, plus some guest designers and I love all the pieces I have. I look forward to a time when I can meet other collectors and perhaps be lucky enough to meet the designers.
My Moorcroft collection has brought me so much pleasure this year and I can't imagine life without it.
Sue Eales, UK36110