Dearle's Creatures PLQ23 Plaque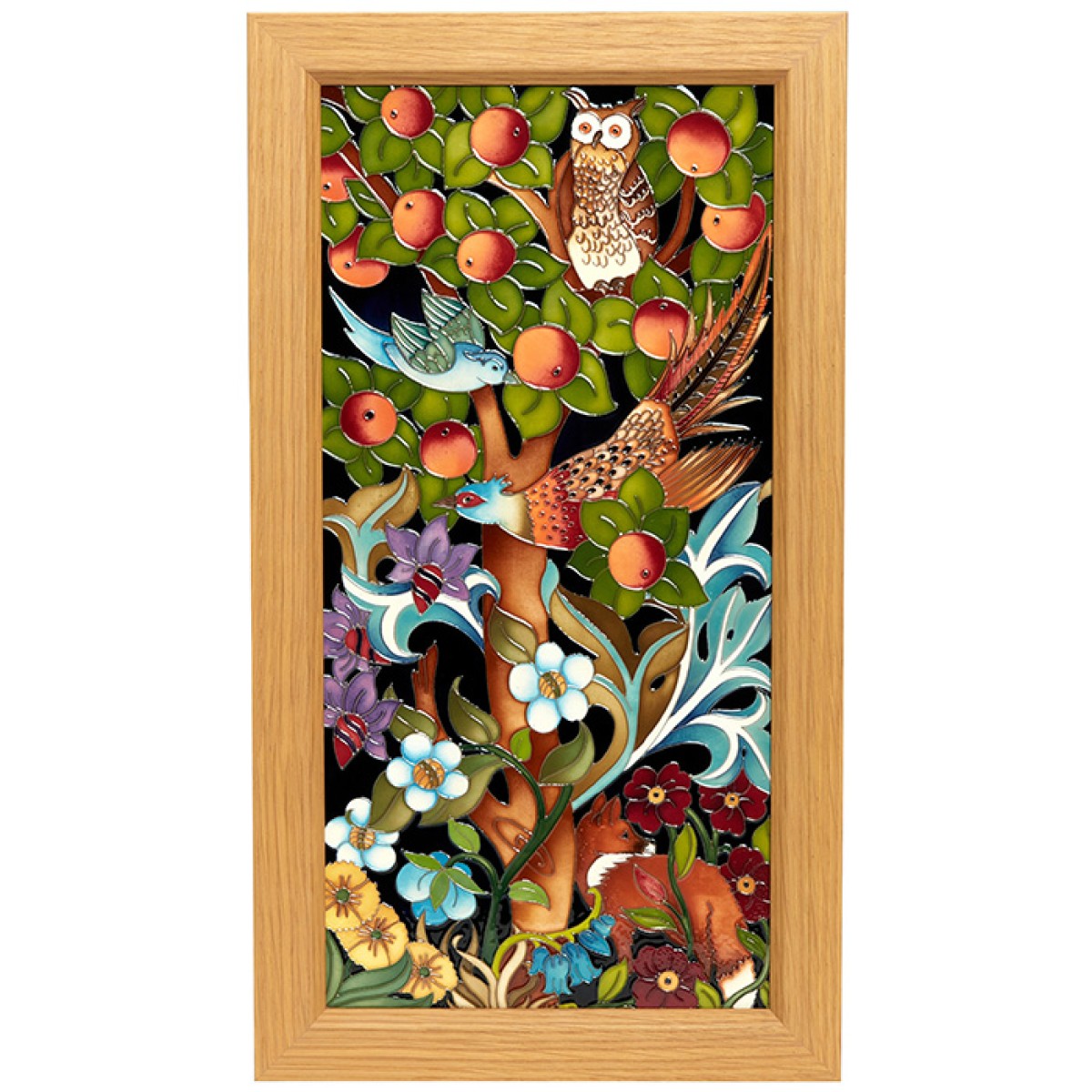 Inspired by the tapestry created by John Henry Dearle, chief textile designer for Morris & Co for over 50 years, Rachel has created what is said to be one of the finest Arts and Crafts designs in Moorcroft history. Miraculously, the design is so tightly woven with colour and form that it transcends the mute colours of a jacquard loom. Camouflaged by trees, a tawny owl perches, with eyes of flaming ambers, to observe life within his sphere.
As you enter this hallowed design terrain, you may almost hear a wood pheasants cackle as he flushes out duck-egg blue song birds. Its barred bright gold, fiery copper-red and chestnut-brown plumage swoop downwards until his iridescent-blue neck markings are aligned with sky-blue and deeply-lobed acanthus leaves. And then you may see it – the secret tapestries of Dearle's Orchard wallpaper, with large blue and green acanthus leaves and small orange trees with over-sized oranges. Hidden amid flowers clothed in purple, chalky-yellow and scarlet, a fox cocks his head backwards as if admiring his surroundings. This is Moorcroft's Senior Designer at her finest, a design holding the fruition of years of labour; a moment of epiphany.
£1,735.00
Ex Tax: £1,445.83
Designer: Rachel Bishop
Dimensions: H 45.00 x W 22.50 x D 2.00 cm
Availability: In Stock
Specification
Product Width22.50cm
Product Height45.00cm
Product Depth2.00cm
Shape:PLQ23
Designer:Rachel Bishop
Edition:Limited
Limited Edition Size:15
Design Window (Style):Animals/Birds & Feathers/Broad Florals
Have a question about this product? Make an Enquiry