The Hôtel Tassel is a townhouse in Brussels, Belgium, designed by Victor Horta for the Belgian scientist and professor Emile Tassel and built from 1892–93. For those who have even a slight interest in Art Nouveau style architecture, this house is a hallowed place. It is generally acknowledged to be the first faultless example of its type in the world and its architect, as we have noted in previous Moorcroft news articles, Victor Horta, is hailed as one of the founding fathers of the genre. It has been said that some of Gaudi's ingenious creations in Barcelona found inspiration from Hotel Tassel. Sadly, the Hôtel Tassel is currently a private office and inaccessible to the public, so you can only admire it from the outside. The building is a UNESCO listed site along with Hôtel Solvay, and Hôtel van Eetvelde. Fortunately, for Moorcroft collectors, people can view the spectre in the form of ceramic art.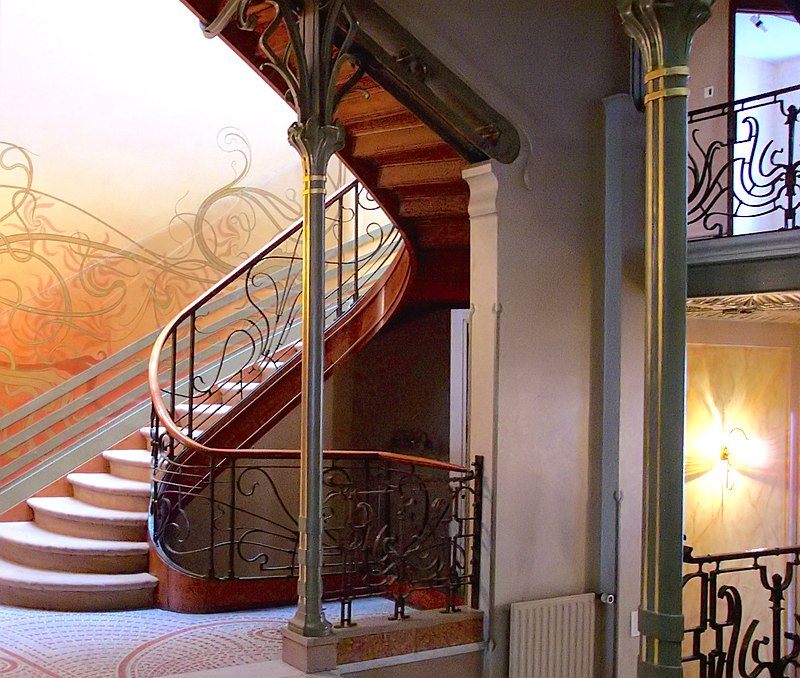 The main staircase was the inspiration for Nicola's circular framed Hotel Tassel plaque. Everywhere you look curves and swirls invite nature to grow with the architecture. Indeed, the interior ls decorated with ochre twists that climb most of the walls like plants. Elegantly, in Nicola's design, the staircase's sinuous curves simply spin under the observant eye into a trio of white flowers, flushed with soft pink shading, which twist, and swirl around the plaque. Intermingled between these flowers, are smaller flower buds, while the small golden squares that the flowers cascade over, represent the stairs in Hotel Tassel. It is said that Horta's buildings disclose an honest handling of their materials' properties, particularly the ability of iron to be twisted and bent into hairpin forms that extend seamlessly into the accompanying décor, inside and out, making the buildings "total works of art." Nicola has achieved the impossible, and made this architectural wrought iron spiral staircase into an organic vision of beauty. This is art that whirls silently in grace…
Round like a circle in a spiral, like a wheel within a wheel
Never ending or beginning on an ever spinning reel
Like a snowball down a mountain, or a carnival balloon
Like a carousel that's turning running rings around the moon
Like a clock whose hands are sweeping past the minutes of its face
And the world is like an apple whirling silently in space
Like the circles that you find in the windmills of your mind!
C Gage