Symbol of Faithfulness 226/18 Vase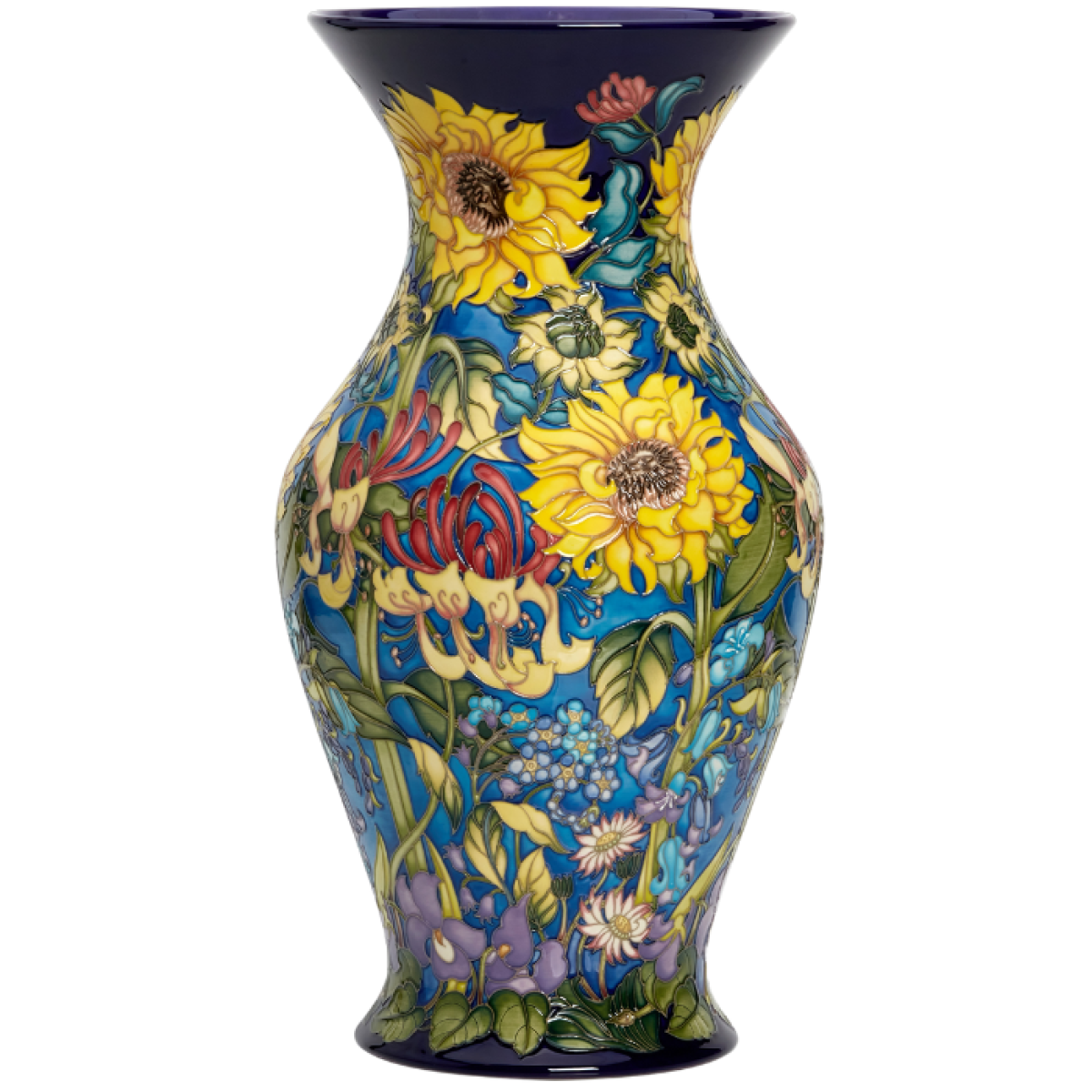 The 14th February 2023, a day so closely associated with love, marks the 50th birthday of Dougie Mac. Last year, Moorcroft designer Emma Bossons created a collection, The Floriography Collection, inspired by the meaning of flowers, to encapsulate some of the attributes given to the charity in floral design. Now all of the pieces in this landmark 50th anniversary collection have been transformed into a flagship, prestige design, aptly named Symbol of Faithfulness to mark the charity's landmark birthday.
From the Floriography Collection's Symbol of Adoration design, comes vibrant coral and scarlet honeysuckle and sunflowers for devoted affection – an affection that will not leave you when you need it most. The sheer height and breadth of Symbol of Faithfulness makes a way for cluster of colossal, uplifting sunflowers, the trademark flower of the charity, to soar up to the ridge of the vase in cheery blooms. Interestingly, the sunflower is the only flower which moves with the sun throughout the day. Always facing the sun, it opens at sunrise and closes at sunset marking the long hours of Dougie Mac staff. Indeed, it is surely the face of love that follows with unwavering warmth and faithfulness.
If that was not enough, daisy moons from Emma's original Symbol of Love design, sway and turn their golden face gently around the circumference of this mammoth vase, symbolising loyal love and innocence, as pristine white petals, fanned with goodness and light, disappear like ethereal angels into the floral dance. In surge of colour, forget-me-knots twist in a multitude of azure-blues as symbols of true love and enduring memory and violets, for faithfulness and peace, flutter their amber eyes like jewels in gently lapping violet waters over the base of the vase. With this floral orchestra of colour, it is easy to miss the gently nodding bluebells for kindness and humility aroused from Emma's delicate Symbol of Kindness design. In truth, there are so many gifts Dougie Mac bring to those who are in great need, that their effect on the lives of others is incalculable. So, there it is. Symbol of Faithfulness, one of Moorcroft's most visually powerful designs of all time, dedicated to and supporting the precious staff at Dougie Mac.
When you acquire Symbol of Faithfulness, 15% from your purchase will go to Dougie Mac, once VAT has been deducted.
£4,975.00
Ex Tax: £4,145.83
Designer: Emma Bossons
Dimensions: H 48.00 x W 24.00 x D 24.00 cm
Availability: In Stock
Specification
Product Width24.00cm
Product Height48.00cm
Product Depth24.00cm
Shape:226/18
Designer:Emma Bossons
Edition:Limited
Limited Edition Size:5
Design Window (Style):Broad Florals
Have a question about this product? Make an Enquiry