Victorian Periwinkle 530/6 Planter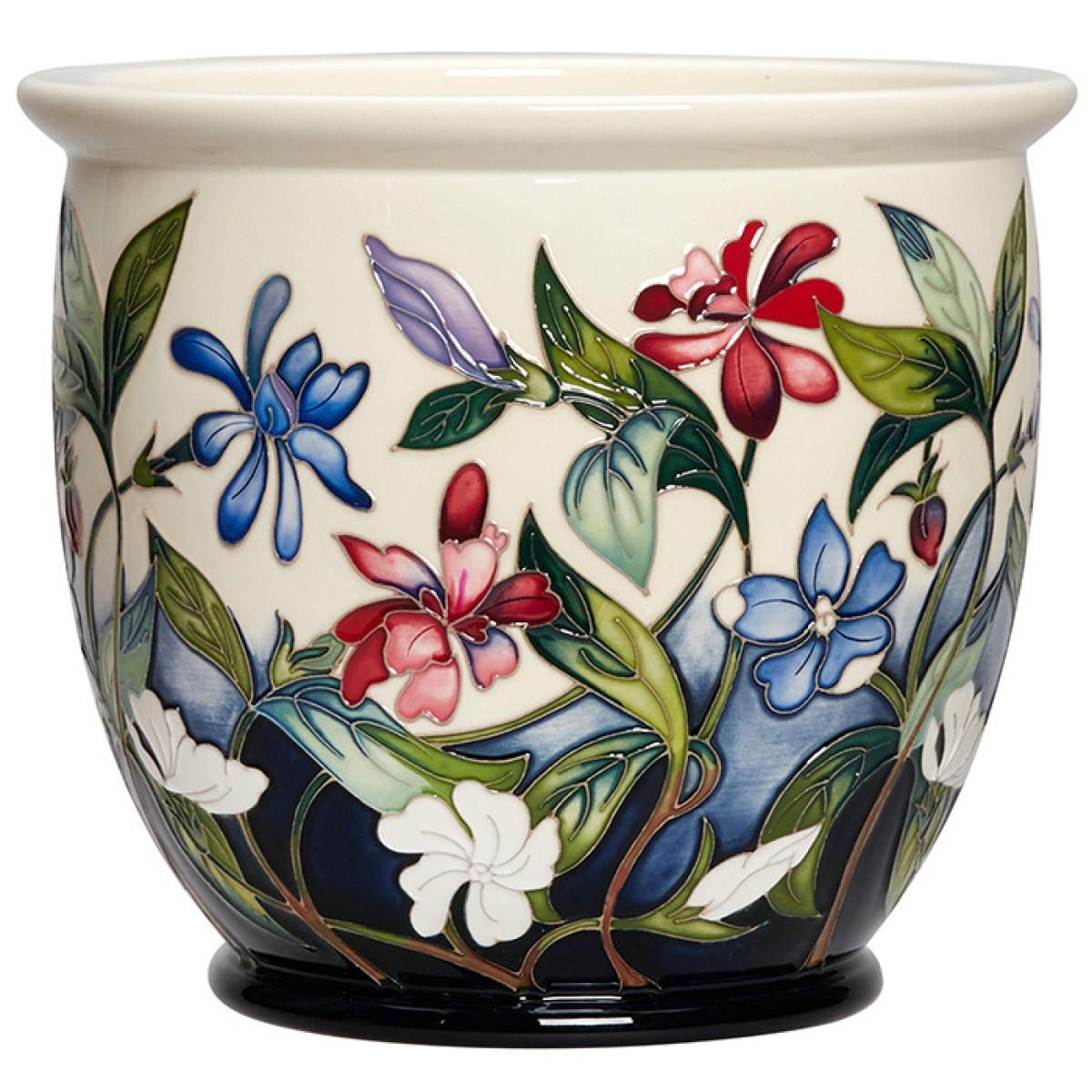 Caroline Maria Applebee (c.1787-1854) was a talented amateur artist whose works were unpublished until recently. Inspired by varieties of periwinkle by Applebee (watercolour on paper. 18.8 cm x 16.4 cm. 1842) featuring blooms of blue, mauve and white varieties with a flushed cotton-pink bud, Moorcroft designer, Nicola Slaney, sought to harness these staggeringly beautiful Victorian colour complexities.
As it is a trailing plant, periwinkle is certainly perfect subject matter for a Moorcroft planter. Yellow-green, glossy evergreen foliage rambles in a fanfare of tints and shades of colourful starry blooms and lipped buds: lavender-blue to dark periwinkle; maroon hues of chestnut, fire-brick red to calamine-pink, all contrast against a flurry of the purest-white periwinkle stars nestled between the foliage. The result is a planter defined by the rich colours of the Victorian age that came from new painting, printing and dying techniques, including the new, jewel-like qualities of William Moorcroft's ceramics. Previously, colours were created from vegetable-based dyes, resulting in more earthy hues or more muted ceramic glazes for all but the most-wealthy people.
£995.00
Ex Tax: £829.17
Designer: Nicola Slaney
Dimensions: H 17.00 x W 18.50 x D 18.50 cm
Availability: In Stock
Specification
Product Width18.50cm
Product Height17.00cm
Product Depth18.50cm
Shape:530/6
Designer:Nicola Slaney
Edition:Limited
Limited Edition Size:25
Design Window (Style):Broad Florals
Have a question about this product? Make an Enquiry