Tips on Value
TIPS ON VALUE
A Collector's Window on Designs with a Valuable Future
With almost fifty years of experience as a collector already behind him, Moorcroft author, devotee and admirer, Fraser Street, highlights pieces, old and new, which he believes will serve their new owners well. If pieces 'go up in value/price', there will usually be something special about them, not unlike houses. Certainly, over more than a hundred years, Moorcroft can show that its pottery has had an ability to ride out inflation, preserving for future generations, the value originally invested in it decades earlier by knowledgeable and wise owners.
Pieces posted on this page will remain there for variable periods of time. If only one piece happens to be available, that 'time' may turn out to be very short indeed. None of the pieces shown are Designs of Rarity, but they are pots which Fraser Street believes have longevity and special future value qualities. However, in the final analysis, they are a personal selection based on almost half a century of Fraser Street's experience as collector. Everyone has to accept that the passing of time can be a fickle friend. Some Moorcroft will adopt an upward price trajectory, both pleasing and rewarding for its owners. Sometimes an uplift in price can be quick whilst at others, very slow indeed., However, as decades pass, the trend has been both visible and provable. Pieces shown here are seldom the most expensive to have been made by Moorcroft: some may have already started on their upward price journey into the future, but in all cases they will have been made as objects of great beauty by skilled men and women working at Moorcroft in the heart of England's Staffordshire Potteries. These remarkable craftsmen and craftswomen are truly the Masters of their Ceramic Art.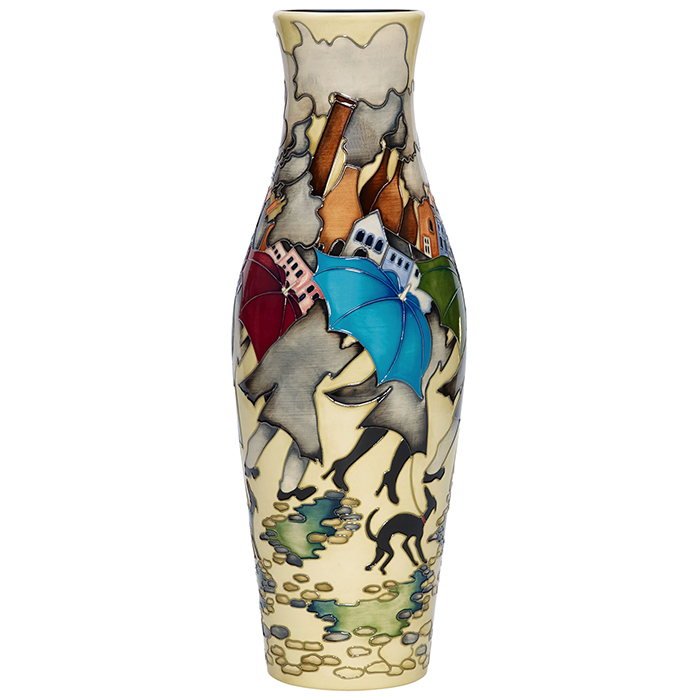 Design: Potteries in Recession
Designer: Kerry Goodwin
Shape: 120/16 (Height 16")
Artist L.S. Lowry might have blinked twice had he seen Kerry Goodwin's prestige vase become the epicentre of a buying storm from virtually the moment it first appeared. A cold recessionary gale almost sweeps Lowryesque people off their feet and their umbrellas provide flimsy protection against lashing rain. The moment of the recessionary crash had already blasted Royal Worcester, Spode, Doulton and Wedgwood into administration and Moorcroft was virtually on its own in The Potteries - or so it seemed. A born survivor with more than a hundred years already behind it, Moorcroft is still alive and kicking, struggling at times, admittedly, but very much alive. Potteries in Recession (No. 54/150) is a slice of history as well as one of the finest and most fascinating vases Moorcroft has ever introduced. As the dust settles, Potteries in Recession will become a token of survival and a beacon of courage for Moorcroft admirers.
BUY NOW
£1830
---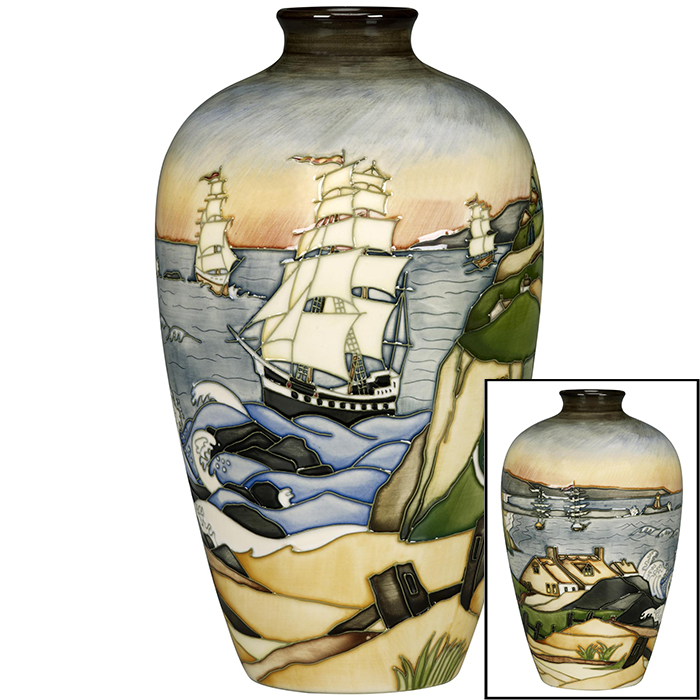 Design: Smugglers Cove
Designer: Paul Hilditch
Shape: 25/9 (Height 9")
Travelling entirely and justifiably on his own momentum, any piece designed by Paul Hilditch is always worthy of a second look. Smuggler's Cove is no exception, except that this piece was also painted by the designer. Better still, it is the final trial dated 25/5/2010 and the piece on which Paul signed off his work. Maritime scenes are a favoured subject matter for Paul. Anchored in a secluded bay, handsome sailing ships bob at anchor. Small seaside cottages cling to the shoreline and a lighthouse sits quietly at the end of a rocky peninsula. In an instant, Paul lends you into his very own Smuggler's Cove. Only a handful of his best designs ever come onto the secondary market. Owners are too canny to let them go, but the final Smuggler's Cove trial is still at The Works looking for a home. As a design, it has everything and an immediate post-sale uplift has already taken place. Smuggler's Cove is what I call 'a Climber'. It already holds a secondary market price above the original retail tag. The piece on offer will be the last from Moorcroft and almost certainly the best of its kind.
BUY NOW
£1635
---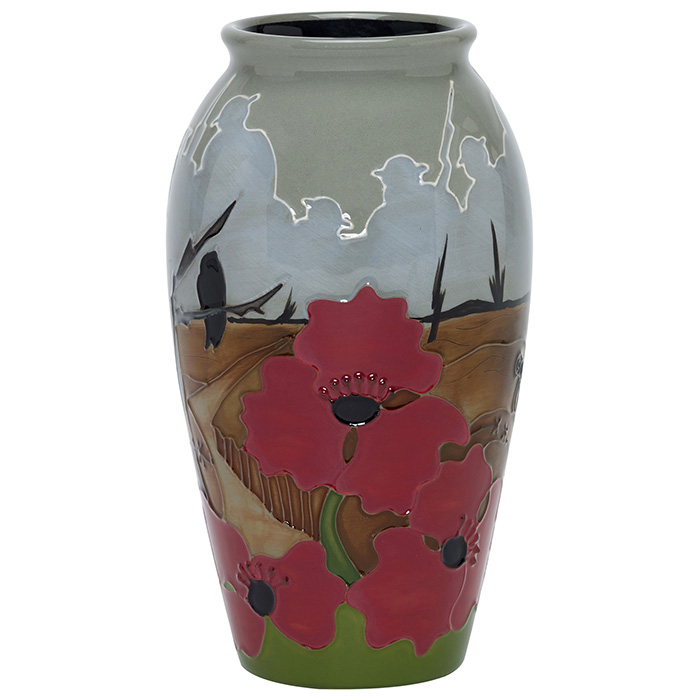 Design: Lest We Forget
Designer: Kerry Goodwin
Shape: 393/7 (Height 7")
Designed to celebrate Armistice Day on the 11th November 2018 and showing an early tank said to have been partly instrumental in bringing World War I to an end. It ties in with the Lest We Forget issued at the outbreak of War in 1913 showing a field gun and not a tank. Armistice Day will continue to be important, year on year, and it represents history in the making. A fine piece for your home with future interest likely to be stirred on each anniversary. History can make value, particularly if it is good. Club discount available.
BUY NOW
£395
---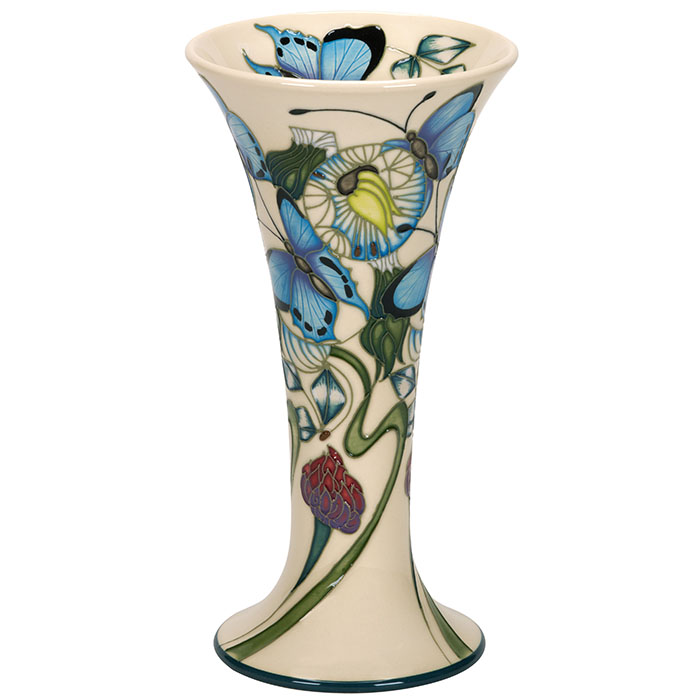 Design: The Common Blue
Designer: Emma Bossons FRSA
Shape: 85/8 (Height 8")
One of six designs from the 2013 Butterfly Collection which revolutionised the design of butterflies at Moorcroft. The Common Blue, with its delicate linework and soft colours, represents contemporary butterflies in the new and massively-improved idiom now used by all designers in the Moorcroft Design Studio. Club discount available.
Marked 'Trial' and dated 21.10.11. Tubelined by Alison Benson and painted by Vicky Ford. Only 1 available.
BUY NOW
£560 -

This piece has now SOLD, so is no longer available
---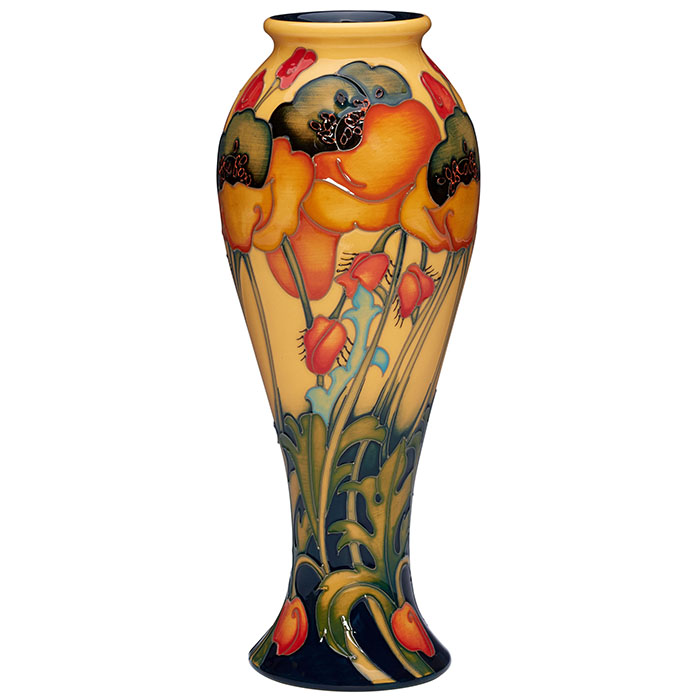 Design: The Neighbour's Garden
Designer: Emma Bossons FRSA
Shape: 75/10 (Height 10")
Unveiled in the Armistice Collection 2018
Popular colours in 1902, The Neighbour's Garden was designed on the same shape as William Moorcroft's Dura design of that year. A replica of the 1902 Dura vase was made at Moorcroft in 2014 as a limited edition of 60 and sold out for £570 in less than a month. The Neighbour's Garden is not a replica, but a new and original 2018 design of superb quality for the World War I Armistice Collection which uses the original 1902 shape and the Dura colours. Full of proven promise, with Club discount available.
BUY NOW
£465
---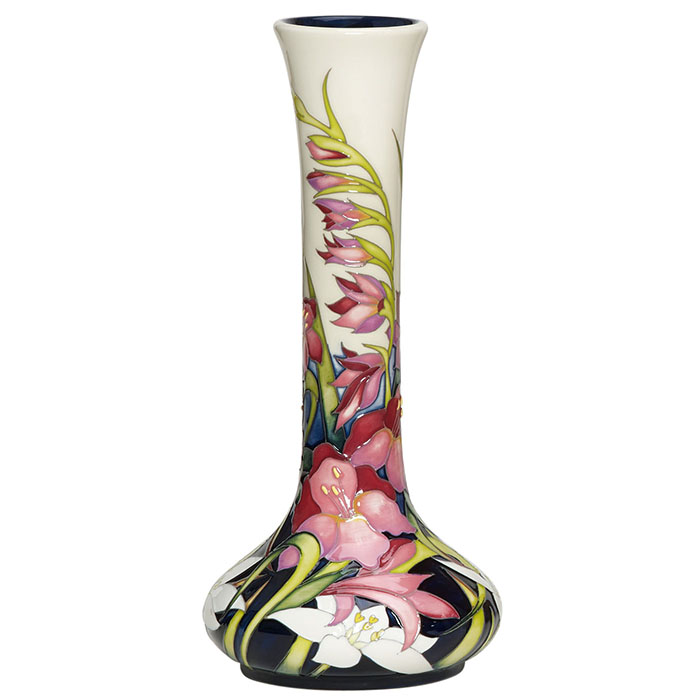 Design: Wild Gladioli
Designer: Nicola Slaney
Shape: 99/11 (Height 11")
Unveiled in the A Designer's Score Collection 2017
A favourite within Moorcroft and sought out far and wide by collectors, there is something about the name 'Wild Gladioli' which stirs interest. It comes with a design structure and subject matter which are both as near perfect as they could be for Moorcroft and indeed, contrasts more than favourably with some of William Moorcroft's work pre-1914. Restful colours on a design already justifiably placed in the highest echelons of Moorcroft art. Club discount available.
BUY NOW
£560
---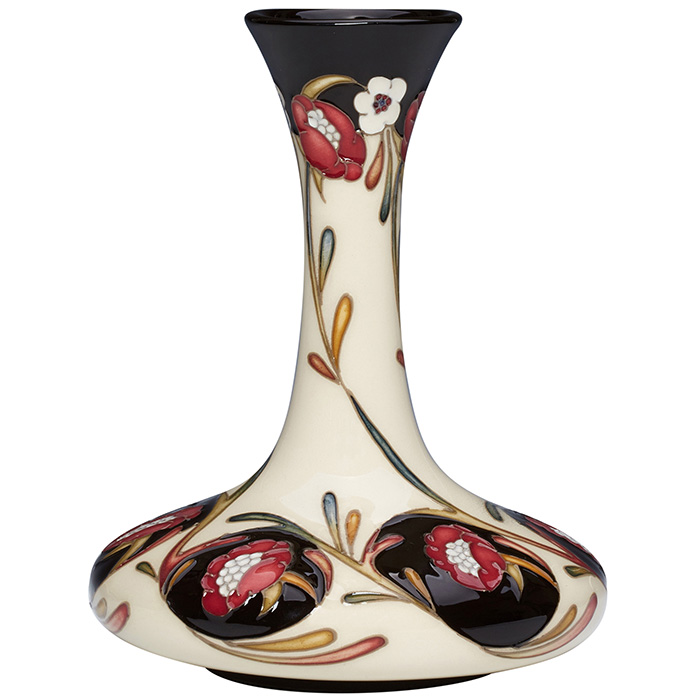 Design: Memoire
Designer: Nicola Slaney
Shape: 104/6 (Height 6")
Has all the hallmarks of a very special Moorcroft vase. To be only 4 months in production from September to December 2018 with availability limited to Moorcroft Club members will make it very special. Designed by Nicola Slaney as an Armistice celebratory piece on one of the most respected shapes ever used at Moorcroft. A real 'must' for Moorcroft Club members.
BUY NOW
£285
---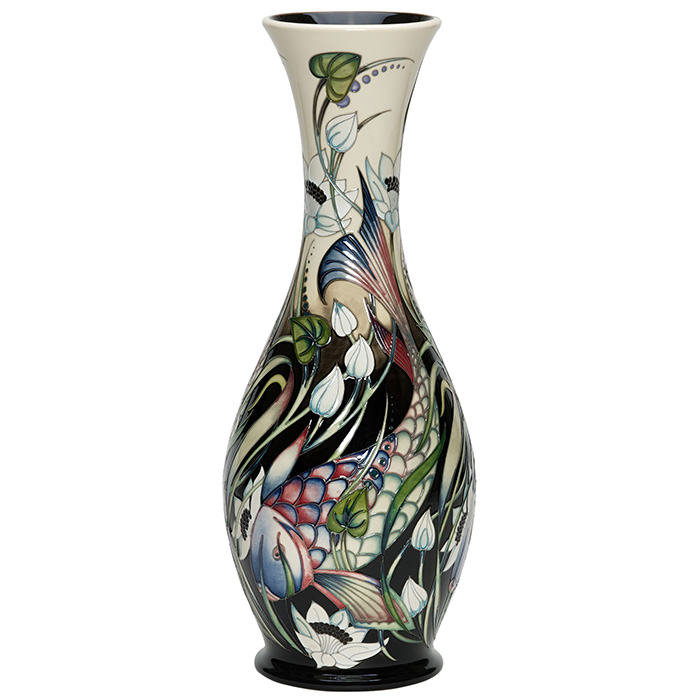 Design: Another World
Designer: Nicola Slaney
Shape: 81/18 (Height 18")
Limited Edition: 50
A design which sits comfortably alongside William Moorcroft's carp pieces with colours as deep and rich as the watery home of Nicola's fish. It delivers a brilliance which is inevitably rare and remaining numbers are very limited. Allow 6 weeks for delivery. Club discount available.
BUY NOW
£1960
---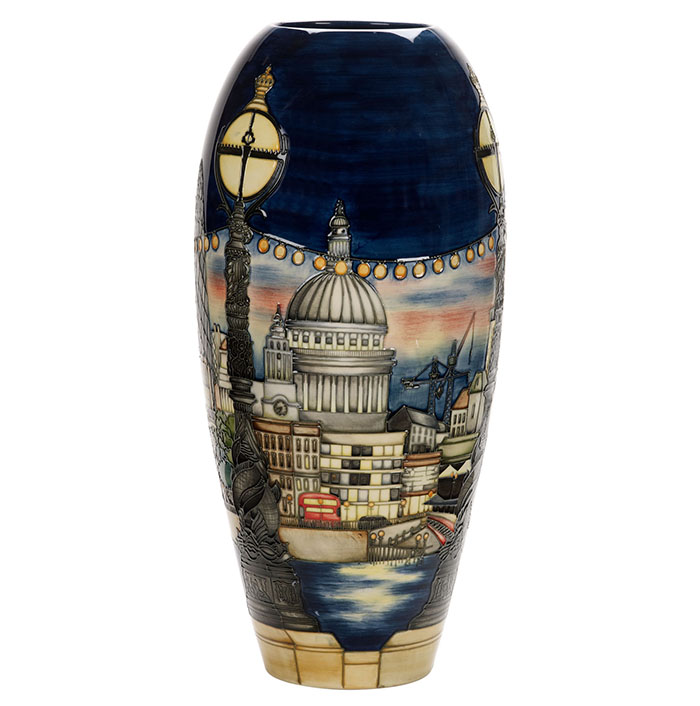 Design: London
Designer: Paul Hilditch
Shape: 101/18 (Height 18")
London had to be there, up in the value limelight. It has the mood of London; familiar sights in London and is recognisable as London the whole world over. Introduced in 2012, London had an initial retail price of £3950. Today it is £4875 and demand is as strong as ever it was with sales as far apart as Stockholm to Tokyo. For one month only, and with only 2 pieces available at this price, orders can be placed at the original launch price of £3950. Club discount available. Allow up to 8 weeks for delivery.
BUY NOW
£3950
---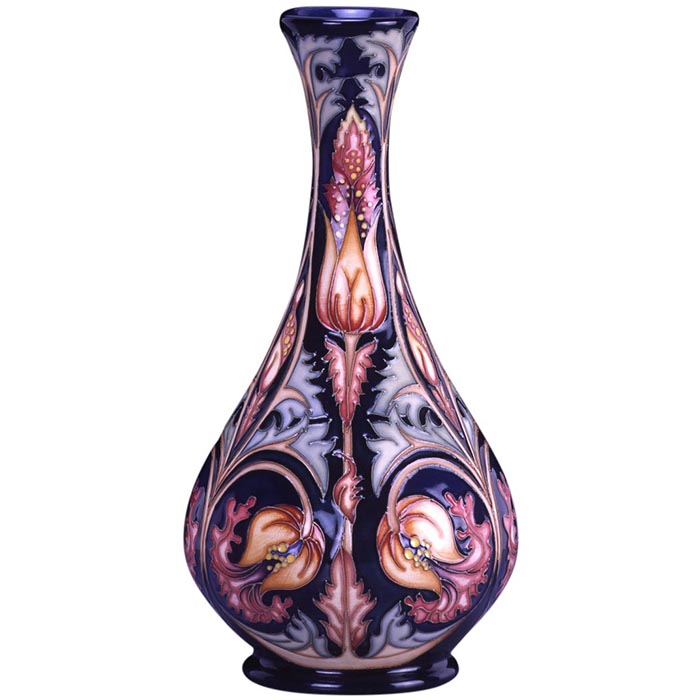 Design: Solomon
Designer: Rachel Bishop (Senior Designer)
Shape: 80/9 (Height 9")
A design which ties itself forever to Liberty & Co. London, who substantially funded William Moorcroft's fledgling company more than 100 years ago. Made for and launched at Liberty in 2004, Solomon sold out within four weeks. Superb artwork in the Florian style on a shape which is timeless. Already on an upward value trend and with only one piece available, Solomon has earned its place on the inaugural Tips on Value Page. Club discount available.
BUY NOW
£540

This piece is now SOLD so no longer available
---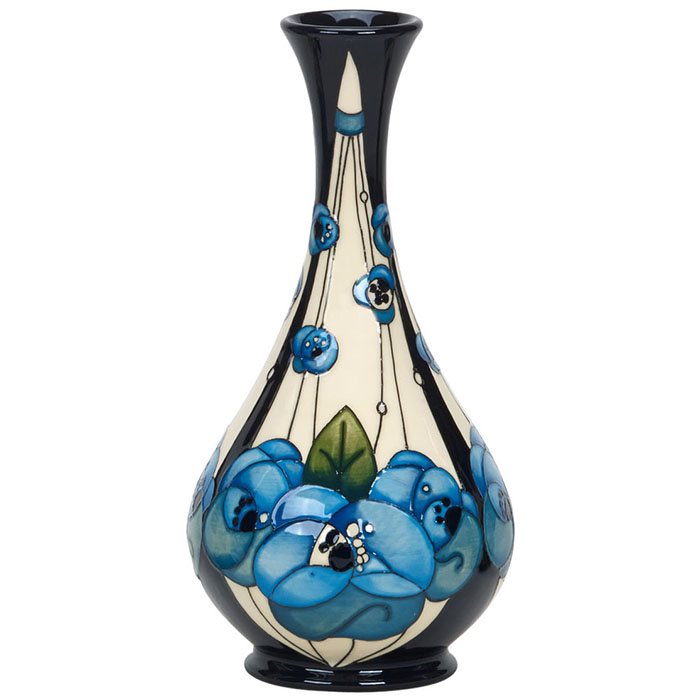 Design: Rennie Rose
Designer: Rachel Bishop (Senior Designer)
Shape: 80/9 (Height 9")
Burned to the ground not once but twice, The Glasgow School of Art has delivered a Phoenix from the ashes. In September 2018, a decision was made to rebuild this superb and iconic building, "millimetre by millimetre" from the original drawings of Charles Rennie Mackintosh. Wonderful, wonderful news. Over the reconstruction years, the Mackintosh name will become even more familiar and Moorcroft plans to help in any way that it can. A great design from the Senior Moorcroft designer which coincides with an historic decision. Club discount available.
BUY NOW
£395
---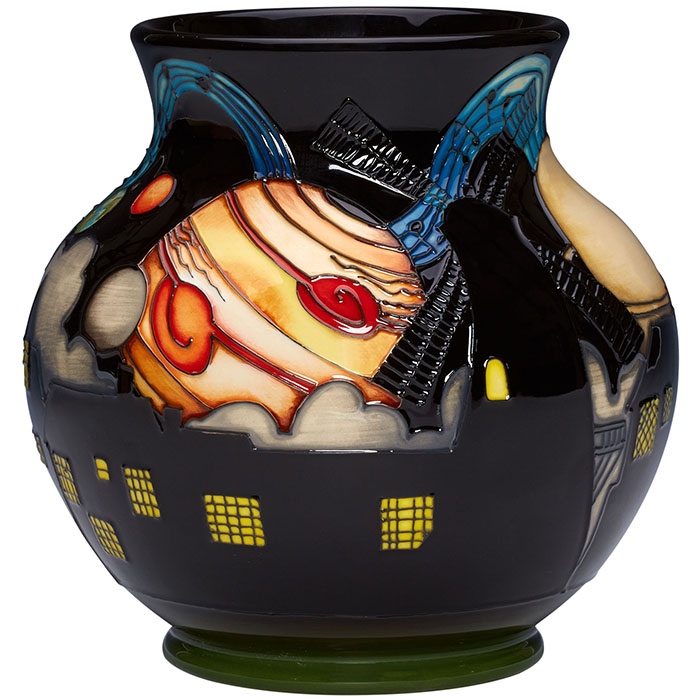 Design: The Planets Over Thaxted
Designer: Vicky Lovatt
Shape: 914/6 (Height 6")
It had to happen. The mediaeval town of Thaxted is celebrating a centenary all of its own. Composed in the war years 1914-1918 by Gustav Holst, the famous musical masterpiece "The Planets", is known the whole world over. In particular, the central theme of the Jupiter suite evolved into the great English hymn, "I Vow to thee my Country" sung at Princess Diana's funeral and on countless occasions both before and after. Holst was organist at Thaxted Church from 1916 to 1925 and today, the hymn is called simply 'Thaxted'.
A hundred years after the first performance of The Planets, Moorcroft has launched " The Planets over Thaxted" to celebrate the centenary. The design embraces surreal planets, lines of music and the dark outline of Thaxted's famous buildings including John Webb's windmill and the 600-year old Guildhall. "The Planets over Thaxted" is Moorcroft's Design of the Month, it comes in a limited edition of 30 worldwide and on Saturday, the 24th November, remaining pieces will be sold during" the biannual Thaxted event in Thaxted Church itself. The town has been described as the second home of Moorcroft and this remarkable combination of facts give the strongest possible suggestion that, like the planets themselves, the design will fly.
BUY NOW
£495
---