Seconds The Pollinators
365/12 Vase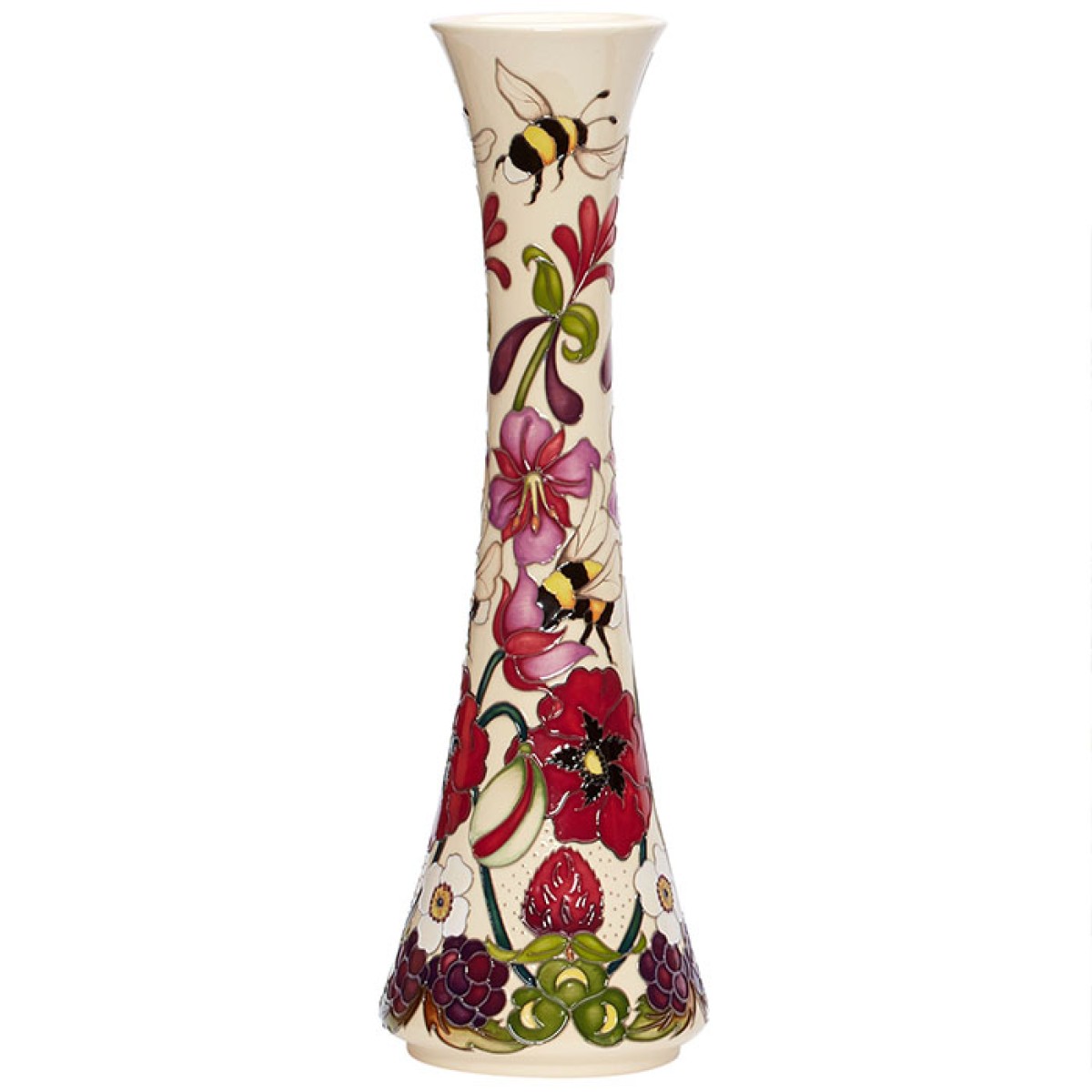 'My "Pollinators" collection focuses on a variety of flowers that attract bees. We can all perhaps plant a little more sympathetically and encourage bees, as well as having beautiful, colourful gardens. The honey bee thrives on holly during the winter, as seen on the ginger jar lid. So, my aim was to show that bees are not just for summer but that they are present all year round and need flowers from all seasons.' -Rachel Bishop
Poppy, rosebay willowherb, clover and bramble are the colourful garden favourites that Rachel chose to adorn The Pollinators Collection, which looks at bees in different seasons. 
What is a Moorcroft second?
All our art pottery is closely inspected before it leaves the Moorcroft factory and the selection process is as rigorous as any in the world. As a result, not all pieces emerge unblemished in their quality assessment. The fault or faults may be in the finish of a piece, whether it be a tiny tubeline miss, an incorrectly painted petal, or a small glaze run. Seconds are not 'red-dotted', all of them are far too good for that, and each seconds piece has a charm and individuality of its own. Any fault is not structural and the piece can still be used for the purpose it was made.
Was: £695.00
£208.50
Ex Tax: £173.75
Dimensions: H 30.00 x W 10.00 x D 10.00 cm
Availability: In Stock
Specification
Product Width

10.00cm

Product Height

30.00cm

Product Depth

10.00cm

Shape:

365/12
Designer:

Rachel Bishop BA (Hons)

Edition:

Numbered

Collection:

2019 Catalogue - The Plight of the Bumblebee Collection

Design Window (Style):

Bees, Bugs & Creepy Crawlies/Broad Florals
Have a question about this product?

Make an Enquiry