Icons of Australia
Icons of Australia
The diversity of flora and fauna across Australia is almost without parallel anywhere in the world, and Australians know it. So too, does Moorcroft, just as father William did back in the1930s. In August this year, our Chairman and his wife, Hugh & Maureen Edwards both set off on a whistle stop tour of Australia to promote a new collection made exclusively for Australian retailers, Icons of Australia.
Retailers act as hosts and, as always, the bush telegraph will operate. The result can be manic in store, even in these internet-driven times, and hospitality can be guaranteed. A list of events can be found at the bottom of this page.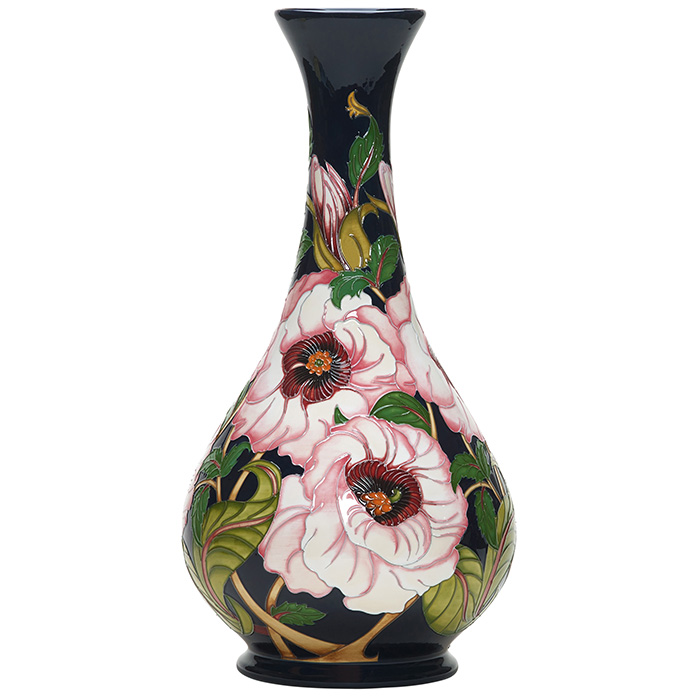 Shape: 80/16 (Height 40cm)
Limited Edition: 40
RRP: $1995

Adeniums are commonly known as Desert Roses. The 'desert' part is correct as they come from Africa and the Middle East, but they are certainly not roses and are in fact, more related to frangipanis. A striking plant with swollen succulent stems and pink, or sometimes red, flowers, Adeniums can often be found basking in the full Australian sun. On a brand-new size of a familiar Moorcroft vase, the unfurling pink flowers look as if they have just opened for the first time- revealing fresh, soft petals, dancing as they unfold.
---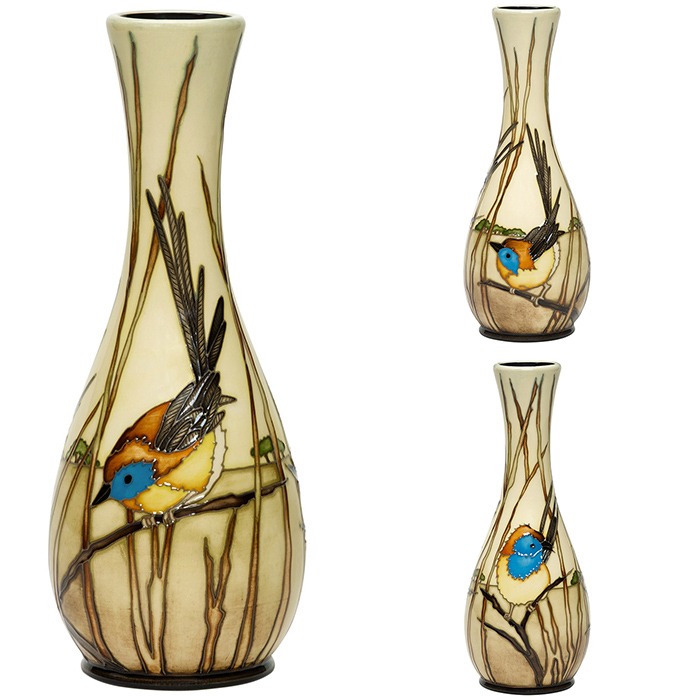 Designer: Kerry Goodwinsouthern emu wren
Shape: 82/8 (Height 20cm)
Limited Edition: 40
RRP: $580

Found only in Australia, tiny emu-wrens have six feathers in their tails which they are happy to display as they flit and dart among scrub and heathland. The males have brownish plumage with rufous crowns of varying intensity, and a sky-blue throat and upper chest whilst the females lack the blue coloration and are predominantly reddish brown above and paler below. Kerry is adept at capturing the mischievous expressions and twitching movement of tiny birds such as these having already created many designs for one of the UK's leading charities, Royal Society for the Protection of Birds. Her design captures three Southern emu-wrens in varying positions, all interacting with each other as they cling carefully to blades of grass.
---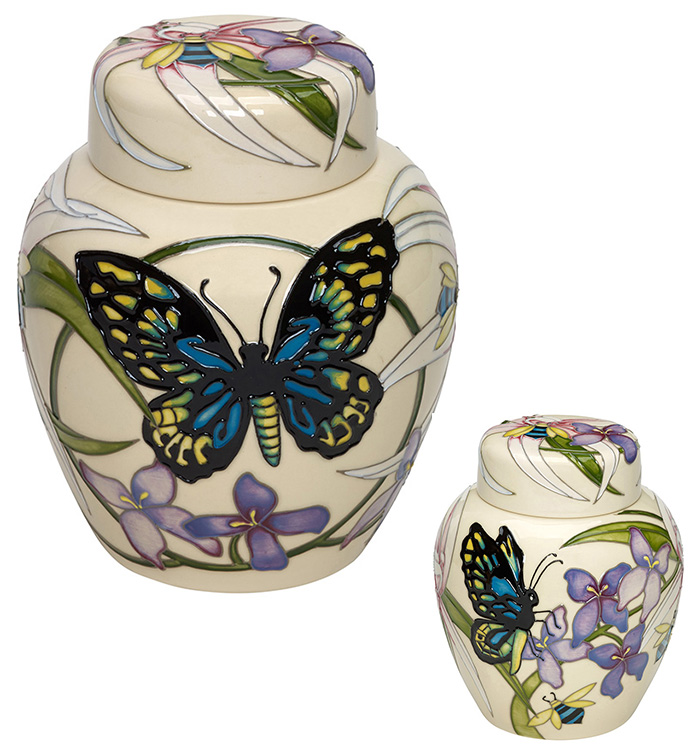 Designer: Vicky Lovattcairns butterfly
Shape: 769/6 (Height 15cm)
Limited Edition: 40
RRP: $595

Clusters of purple glycine clandestina commonly known as twining glycine or love creeper make an appearance along with caladenia catenata, or 'white fingers,' which can be seen stretching their palms across this ginger jar design, slightly blushed with burgundy. Australia's biggest butterfly, the Cairns birdwing, sits motionless with its yellow and turquoise colouration in-between jet black webbing. The Cairns Butterfly has a companion, a blue-banded bee which busily gathers nectar in a world all of its own.
---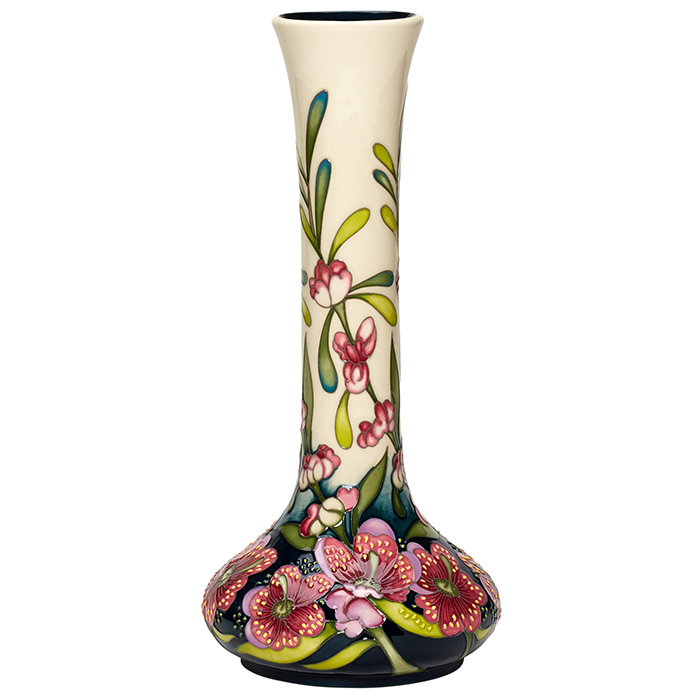 Designer: Nicola Slaneyswan river myrtle
Shape: 99/11 (Height 27.5cm)
Limited Edition: 40
RRP: $845

Endemic to Western Australia, Swan River myrtle is often nicknamed 'Coconut Ice'. The petals change from pink to white with extended stamens which almost explode from the centre of the cup, like tiny floral fireworks. True to nature, Nicola captures these delicate little clusters which burst in to life around the base of her chosen Moorcroft shape. The delicate buds then clamber up a narrow neck to dissipate in the clay.
---
Shape: 7/15 (Height 37.5cm)
Limited Edition: 30
RRP: $2990

The lyrebird, a ground-dwelling Australian bird, is most notable for its superb ability to mimic natural and artificial sounds from its environment, and the striking beauty of the male bird's huge tail when it is fanned out in courtship display. Rachel brings the lyrebird into her Arts and Crafts world which harks back to Victorian fabrics and patterns. Dusty-blue feathers fan out in all directions, with each detail carefully scgraffitoed onto the clay. The lyrebirds proudly sit in symmetrical pairs as if passing along a song which they have picked up from the wind.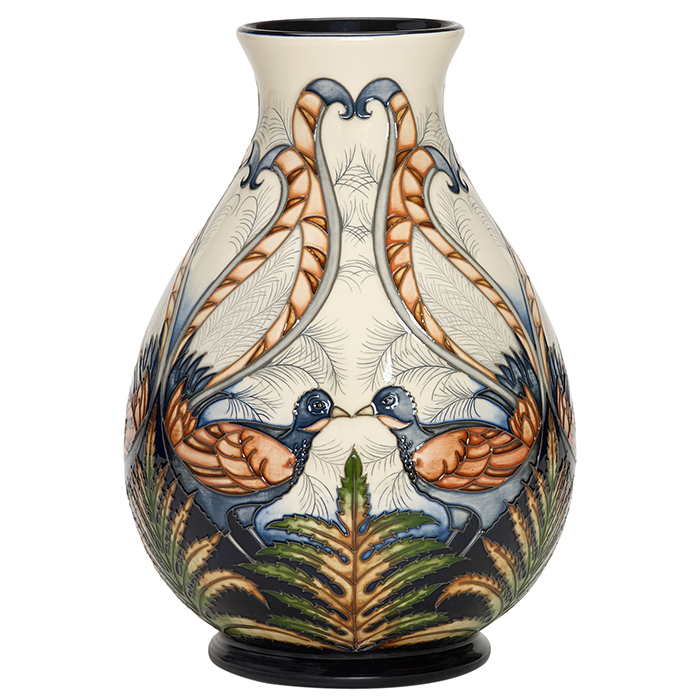 ---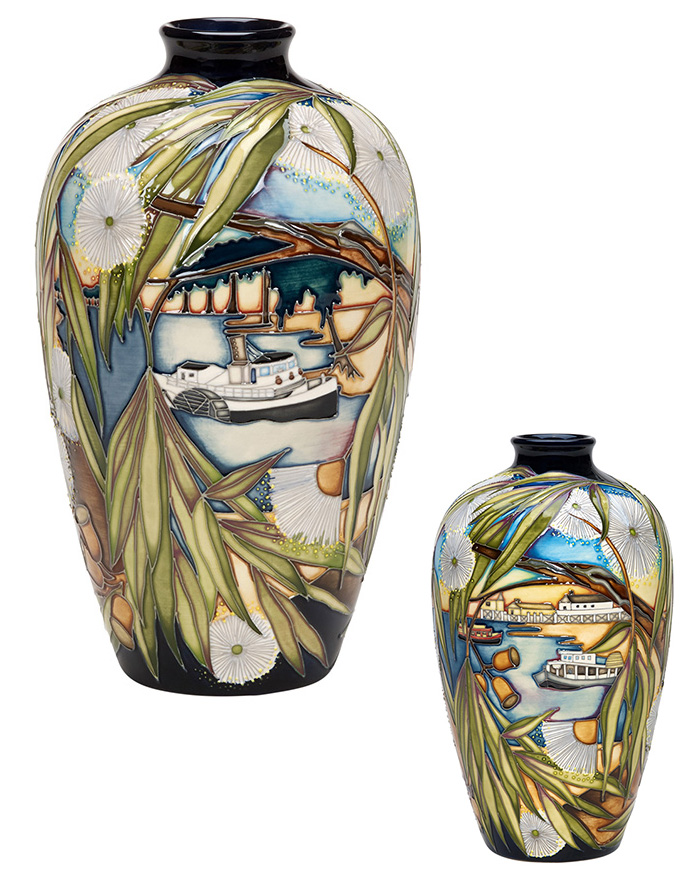 Shape: 25/9 (Height 23cm)
Limited Edition: 50
RRP: $1790

The serpentine banks of the Murray River mark the border of Victoria and New South Wales. Winter snow falls heavily up in the Australian Alps, followed by a big melt in spring. Icy water flushes down its veins and the Murray River swells its billabongs and swamps in the lowlands between Mannum and Wellington. When the summer comes along and its moisture starts to dwindle, it idles along like a great green snake between steep cliffs, watched by the massive eucalyptus trees all waiting patiently for another flood. Its habits are appreciated by those who live off its rich bounty of callop, perch, mulloway and cod. Pleasantly untouched by industrialisation, bar the odd paddle steamer carrying wool or wheat decades ago, the Murray River has remained abundant with lifeforms. In her design, Kerry captures this tranquillity of it all by painting deep aquamarine blues and greens in the gentle water which can be seen through a border of flowering eucalyptus, all sheathed by a mellow evening sky.
---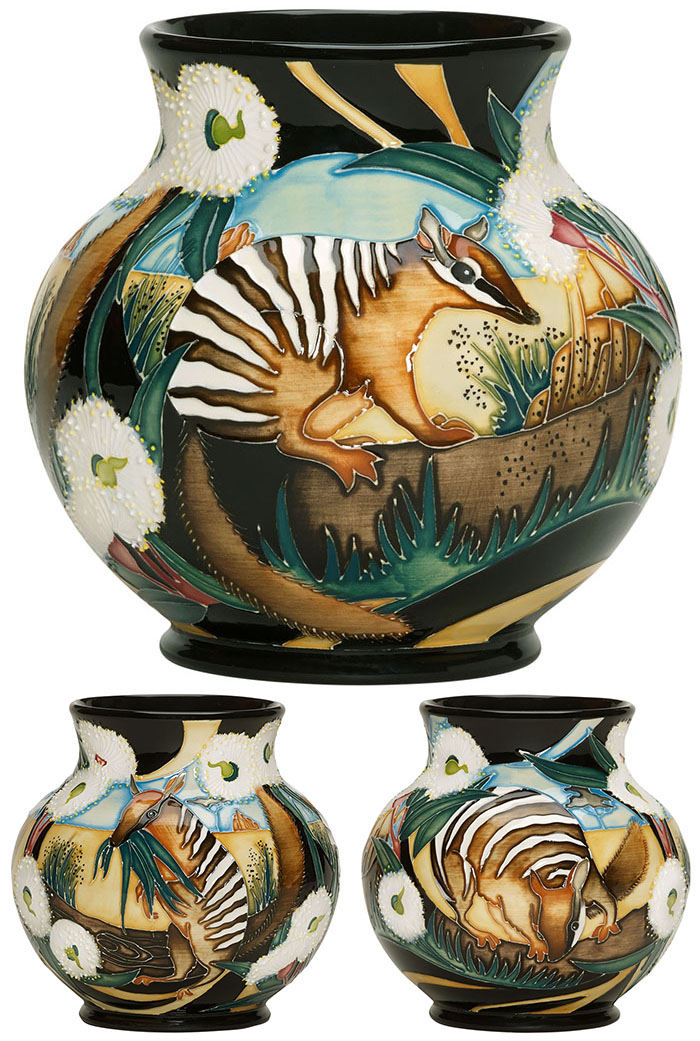 Shape: 914/6 (Height 15cm)
Limited Edition: 40
RRP: $1295
It has probably not escaped the attention of collectors that Vicky has a very soft spot for small furry creatures. When her head is down, busily buried in her latest creation, that empathy with the animal kingdom never leaves her. The numbat, or 'banded anteater' stole her heart when researching Australian animals and this inevitably led her to a design. The numbat's diet consists mainly of termites which often inhabit the shady shelter of luscious eucalyptus trees. The numbats follow. Vicky has included wads of eucalyptus surrounding the trio of numbats all of whom have distinctive stripes draped over their furry backs.
---
Shape: PLQ3
Numbered Edition
RRP: $395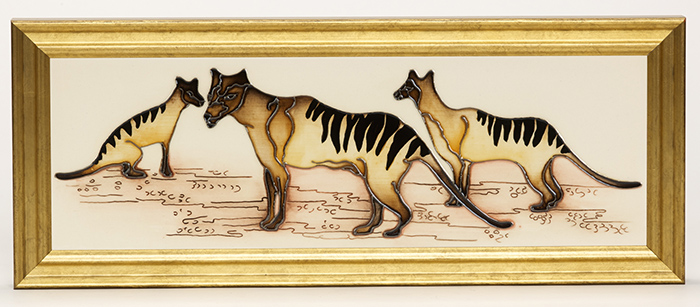 Kerry Goodwin was drawn to black and white photographs taken at Hobart Zoo of the thylacine. Commonly known as the Tasmanian tiger because of its striped lower back or the Tasmanian wolf, it was the largest known carnivorous marsupial of modern times. Whilst the creatures were said to be extremely rare even before British settlement in Australia, sadly, humankind failed its fellow earth-dwellers, and the thylacine is believed to have become extinct at some point in the 20th century.


Surviving evidence suggests that it was a relatively shy, nocturnal creature with the general appearance of a medium sized dog, except for its stiff tail and abdominal pouch (reminiscent of a kangaroo) and dark transverse stripes that radiated from the top of its back, similar to those of a tiger. Kerry's design wonderfully replicates the species that we can only ever dream of seeing once more.
---
Retailers will be hosting special events (detailed below) to promote the Collection, and we recommend pre-ordering your pieces with your favoured retailer to avoid disappointment. Please note the rsvp dates.

Day & Date

Event Retailer

Event Times

Saturday 12th August

RSVP by 7th August

Claremont Tableware

51 Bayview Terrace, Claremont WA, 6010

Phone: 08 9384 9371

Contact: Mike & Petula Friesner

11am – 4pm

Sunday 13th August

RSVP by 11th August

Drakesbrook Antiques

85 South Western Highway, Waroona WA, 6215

Phone: 08 9733 1240

Contact: Malar & Bill Fraser

11am – 4pm

Tuesday 15th August

RSVP by 14th August

Gallery Gifts

32 Main Street, Hahndorf, SA, 5245

Phone: 08 8388 1363

Contact: Peter & Jayne Bartsch

12pm – 3pm

Wednesday 16th August

RSVP by 9th August

Joyce Jewellers

40 Wilson Street, Burnie, TAS, 7320

Phone: (03) 6431 2477

Contact: Jennifer Macartney

4pm – 7pm

Thursday 17th August

Hardy Brothers Jewellers Melbourne

338 Collins Street, Melbourne, VIC, 3000

Phone: (03) 9624 5300 Contact: Julianne Karavitis

5.30pm – 8.30pm

Friday 18th August

RSVP by 4th August

Fyans Cottage

170 Moorabool Street, Geelong, VIC, 3220

Phone: 03 5229 7006 Contact: Yvonne Little

4pm – 7pm

Saturday 19th August

RSVP by 5th August

Roundabout Antiques

Woodlands of Marburg, 174 Seminary Road, Marburg, QLD, 4306

Phone: 0417 714 105

Contact: Robert Neilsen

1pm - 4pm

Sunday 20th August

RSVP by 16th August

Faulconbridge Antiques

448A Great Western Highway, Faulconbridge, NSW, 2776

Phone: (02) 4751 7627 Contact: Kevin Austin

12pm – 5pm