Whitby Competition
Posted on - 19th June 2017
WINNER OF THE WHITBY EVENT WEB COMPETITION
The winner of the Whitby Event Web competition was Susan Flude – a member of the Moorcroft Club and a Whitby resident. Congratulations to Susan and we hope she will enjoy her Marine Magic Vase for many years to come. The answer to the competition question was of course, Captain James Cook (1728-1779), born in the village of Marton near Middlesbrough and later apprenticed to a draper in the small fishing harbour of Staithes (11 miles north of Whitby). There he fell in love with the sea and his time in Staithes is remembered in the Captain Cook and Staithes Heritage Centre. Later he moved to Whitby and became a trainee with a local shipping firm. The house where he lodged with his master is still in Whitby's Grape Lane and is now open to the public as the Captain Cook Memorial Museum. We hope our collectors had time to discover Whitby, walking up the famous Steps and visiting local Museums and heritage coastline.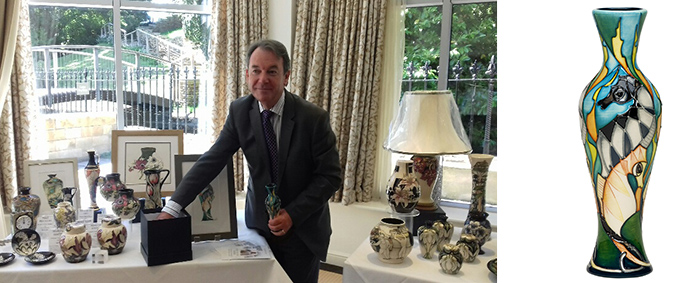 As Moorcroft prepares for our 2017 Icons of Australia Tour it is worth reminding all that is was Captain Cook that charted the coast of New Zealand and the eastern coast of Australia and who was one of the greatest surveyors as well as one of the finest sailors and explorers of all time. He learned his craft in Whitby vessels trading to the Baltic and two of the vessels he used on his long and perilous voyages – 'Resolution' and 'Endeavour' were built in Whitby.
A few Whitby Collection designs remain at the Moorcroft Heritage Visitor Centre. Contact our friendly retail staff at the Moorcroft Heritage Visitor Centre tel +44 (0)1782 820515 email MHVC@moorcroft.com to find out more.