RAINBOW DAYS
Posted on - 13th April 2018
RAINBOW DAYS
Catherine Gage looks through the lens of Moorcroft's Colour.
"Colour is a power which directly influences the soul." ~Wassily Kandinsky.
Moorcroft is all about colour, which meant our inaugral Rainbow Day actually turned itself into five Rainbow Days. We selected five days because Moorcroft's favoured colours are white/ivory, red, yellow, green and blue.
With the exception of each colour's Rainbow Day, throughout the entire week, a limited selection of best quality pieces actually in stock at the time of purchase and taken from the 2018 Giftware and Lamp Catalogues, were be discounted. FRIDAY 13th April is the FINAL Rainbow Day featuring designs containing blue hues and they are discounted by 60% for today alone, provided that there still remain pieces in stock to buy.
"The purest and most thoughtful minds are those which love colour the most." ~John Ruskin. Ruskin was a master potter, known for his abilities to create fireworks of colour in his kilns by glaze genius. Whilst glaze wonders have their place at Moorcroft, we also recognize the great value of Moorcroft's heritage. Starting with just a limited palette of glaze colours William Moorcroft was simply not able to express his art in a wide spectrum.
Of historical importance is William Moorcroft's perseverance in glaze, methods and firings, which enabled Moorcroft to build a colour heritage that would pass through the generations. In our peaceful decorating rooms, artists pass their skills from one generation to the next and within each generation there are those who master the craft of painting with ceramic glaze application to new levels of delight.
This morning the heavens opened and decided to put up a grand spectacle of colours. It had rained heavily for a few hours and at last, the sun appeared for a moment in all its splendour. The sweet smell of wet earth pervaded the countryside. The greenery glistened, the birds chirped and the Spring daffodils opened with cheery yellow rays. I was pleased to see that Kim Thompson, Moorcroft's Retail Director, had decided to list the Swallows plaque by Senior Designer, Rachel Bishop, who celebrates 25-years as a Moorcroft designer this year, among the 'Blue' themed designs.
The wings of Swallows allow great maneuverability and endurance, as well as frequent periods of gliding. All of us know how wonderful it is to watch swallows, mid-air aerobics catching their food, but it is just as special to see them at rest. They often seek out the most convenient pylon cable to sit along, swinging and balancing precariously above our living world. Rachel watched these daring little birds, totally oblivious to the world and has recalled their blushing colours, amusing positions and lively character to absolute perfection.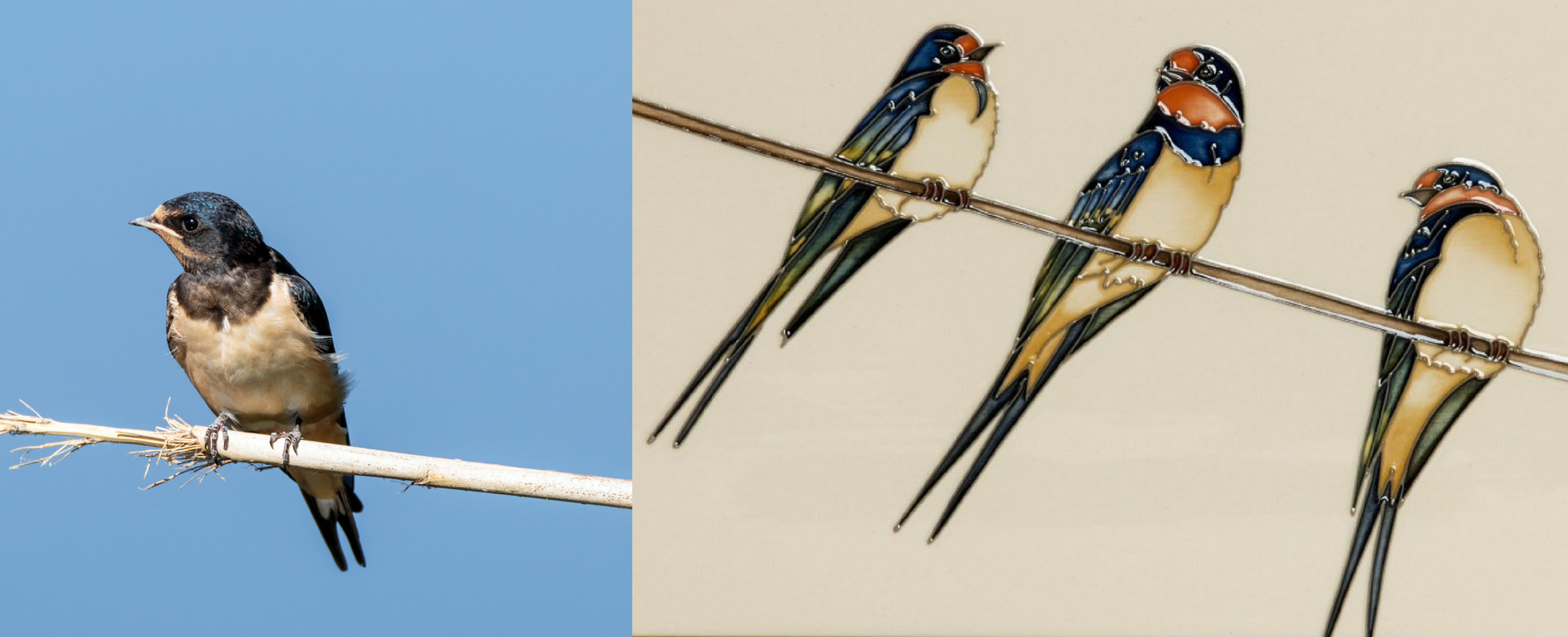 Produced under license from RSPB Sales Ltd to raise awareness of the RSPB (charity registration England and Wales no 207076 and Scotland no SC037654), Moorcroft is pleased to partner with a charity that seeks to protect the colours above from the harsh realities of this world. Look up, look down, colour adds joy to our existence, and enables us to flourish and live to our full potential.
The exquisite delicacy of the glaze artistry in Swallows combined with the finest of tubelining abilities, where thin lines of liquid clay are applied by hand, allow the grace of this gentle birds to be translated to clay. Often perceived as a clumsy medium, pottery has more often than not, played second fiddle to artists of oil and water based paints and canvases. This design and its execution dispels that myth. Once a spark of creativity lands in a place and is nurtured through the generations, the result is remarkable. Today, hues of blue found in skies dance with flowers of the earth with Monet-like vibrancy.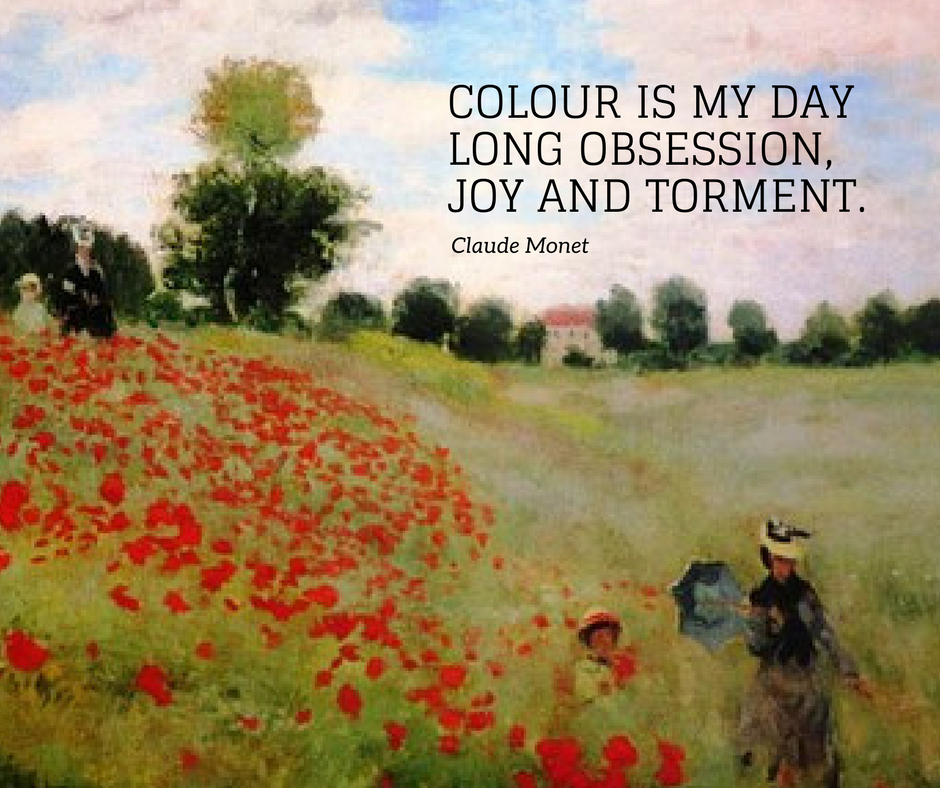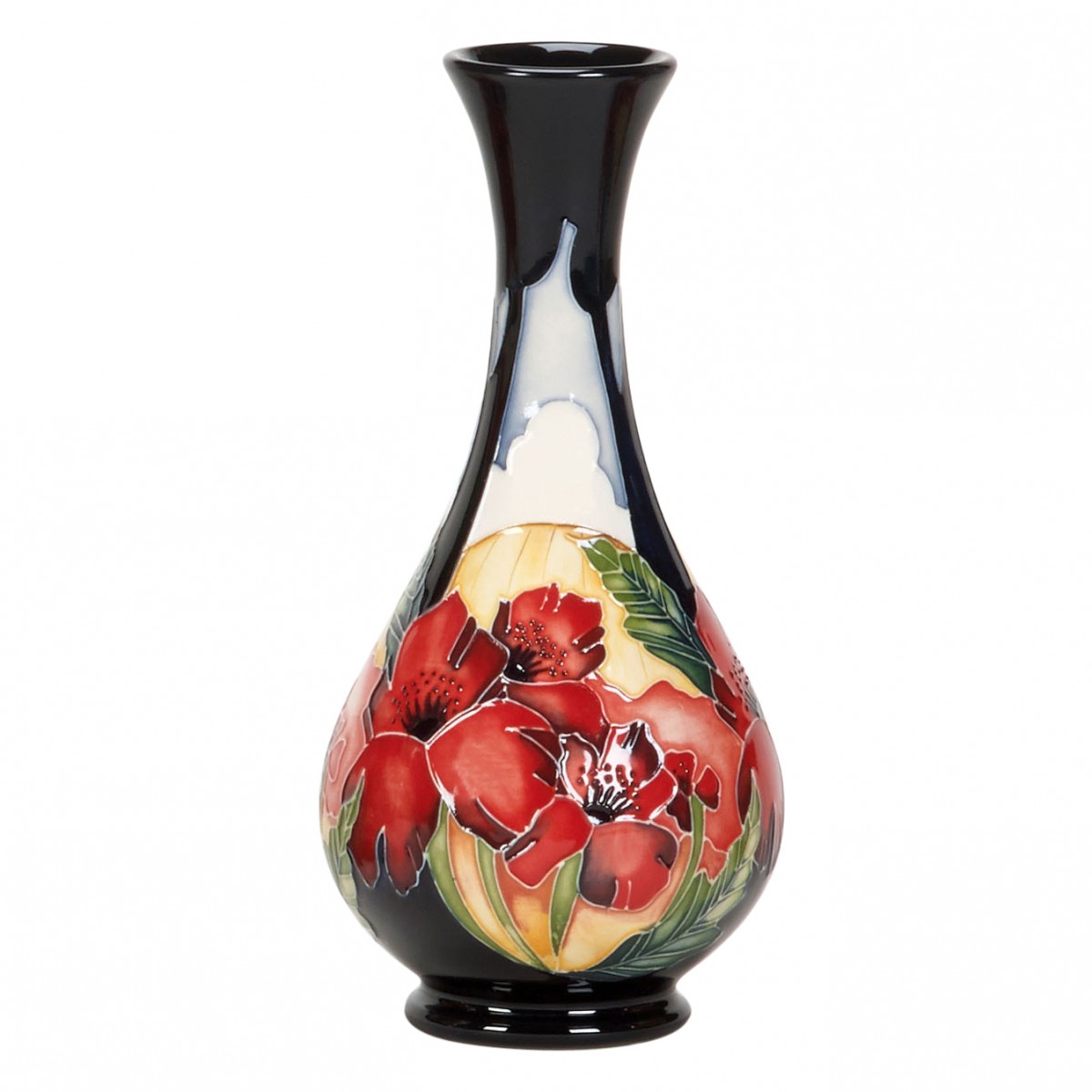 This stunning Collection Forever England is designed by Vicky Lovatt. With golden cornfields forming a backdrop for crimson poppies, this stunning collection represents the perfect evocation of remembrance. It was £279 and for Friday 13th April it is only £171!
Look for the rainbow. In day to day life everyone is living with these colours, different colours have different meaning. The rainbow is the symbol of hope and rejuvenation. A bridge which joins aspirations and dreams to reality. Its seven colours hold the different aspects of the mysteries of life. Moorcroft does not hold all of lifes mysteries, but we can offer you a glimpse through five colours. GREEN: The colour of life-It soothes, it heals, it lasts; YELLOW: The colour of energy-The colour of sun, the colour of fire; BLUE: The colour of existence-infinite sky, vast ocean. RED: The colour of love and passion; WHITE/IVORY: The colour of peace-colour of a dove; always in background; present everywhere but rarely found. We look forward to more Rainbow Days in the future!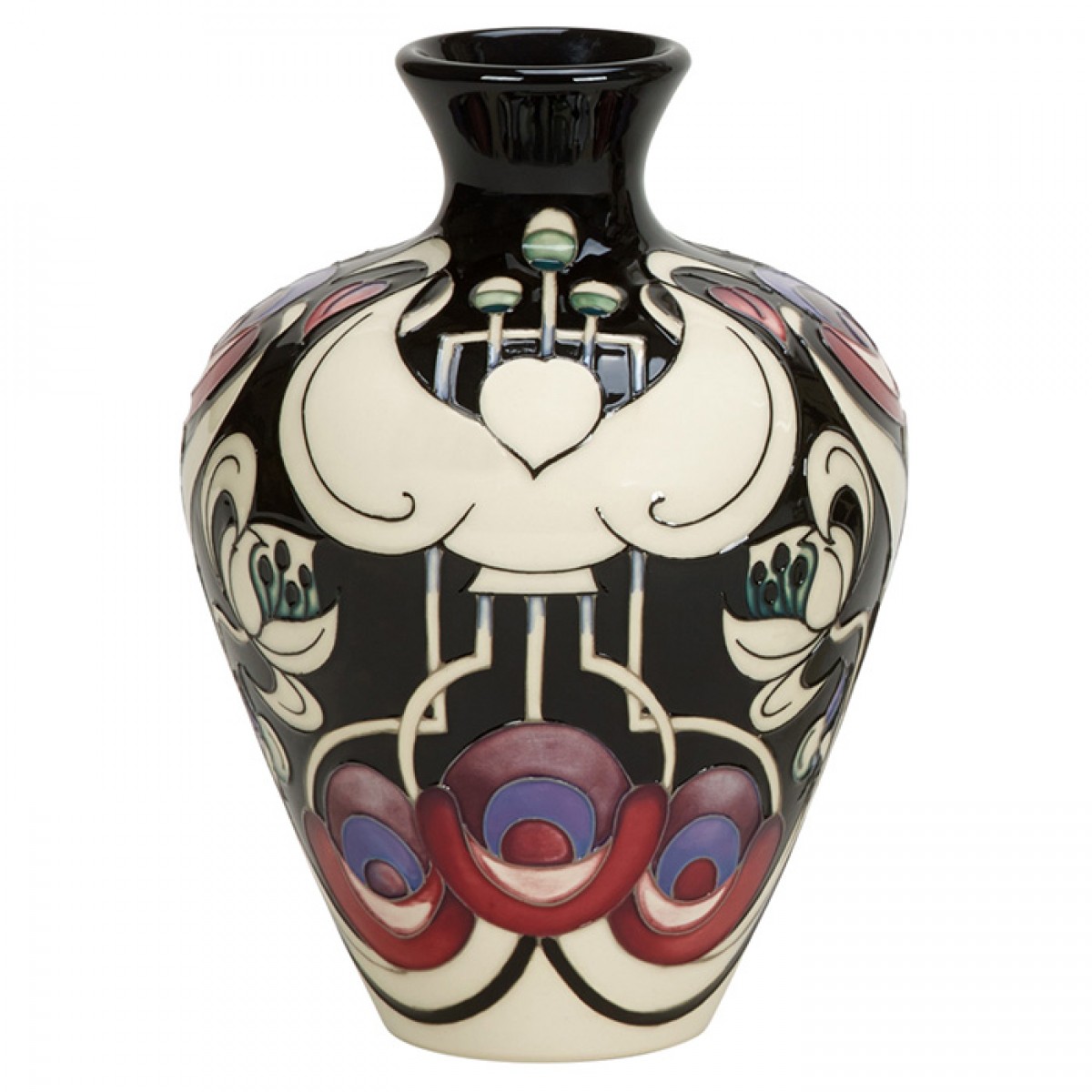 Victorian graphic artist, Talwin Morris, was Nicola's inspiration for this brilliant range of Moorcroft pieces, but as ever with Moorcroft designers, in all their work, bring their own individual flair. In Talwin we see very delicate greens and blues mixed subtly with, purples, reds and black. Nicola gladly shares this magnificent design said by Moorcroft to be one of the greatest collaborations between past and present in Moorcroft history. Moorcroft connoisseurs would wholeheartedly agree.
Was: £445.00

For Friday 13th April Only - £267.00