Moorcroft host Celebrity Antiques Roadtrip
Posted on - 11th November 2019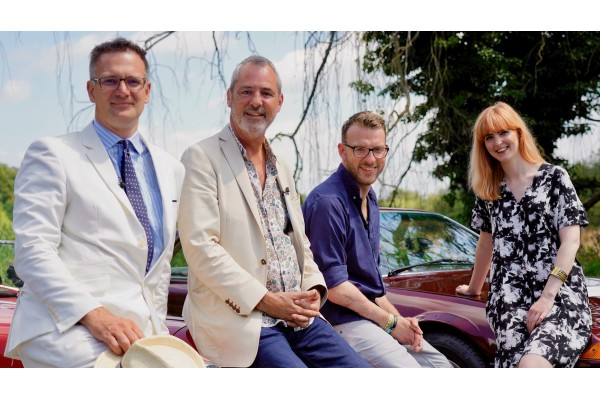 Moorcroft were delighted to be invited to host an episode of Celebrity Antiques Road Trip with guest stars Neil Morrissey and Charles Hanson. The episode is set to be released on Thursday 14th November on BBC Two at 7pm, then repeated on Sunday 17th at 1.30pm. See programme detail link https://www.bbc.co.uk/programmes/b01mnrhk/broadcasts/upcoming
In each episode, two competing celebrities put their knowledge and bartering skills to the test as they set out with £400 and a classic car to find antique bargains and make the biggest profit by selling them at auction, with all final profits donated to BBC's Children in Need. To help the budding celebrities are the show's regular antiques experts, on hand to provide guidance about the world of antiques. The Moorcroft episode sees actor, Neil Morrissey, take to the B roads of Cheshire and Staffordshire with his good pal, TV presenter JJ Chalmers. Accompanied by antiques experts Izzie Balmer and Charles Hanson – all on their best behaviour.
JJ detours from the shops to dress as a crow and join a troupe of dancing villagers, much to the annoyance of an irate farmer who takes aim with a shotgun.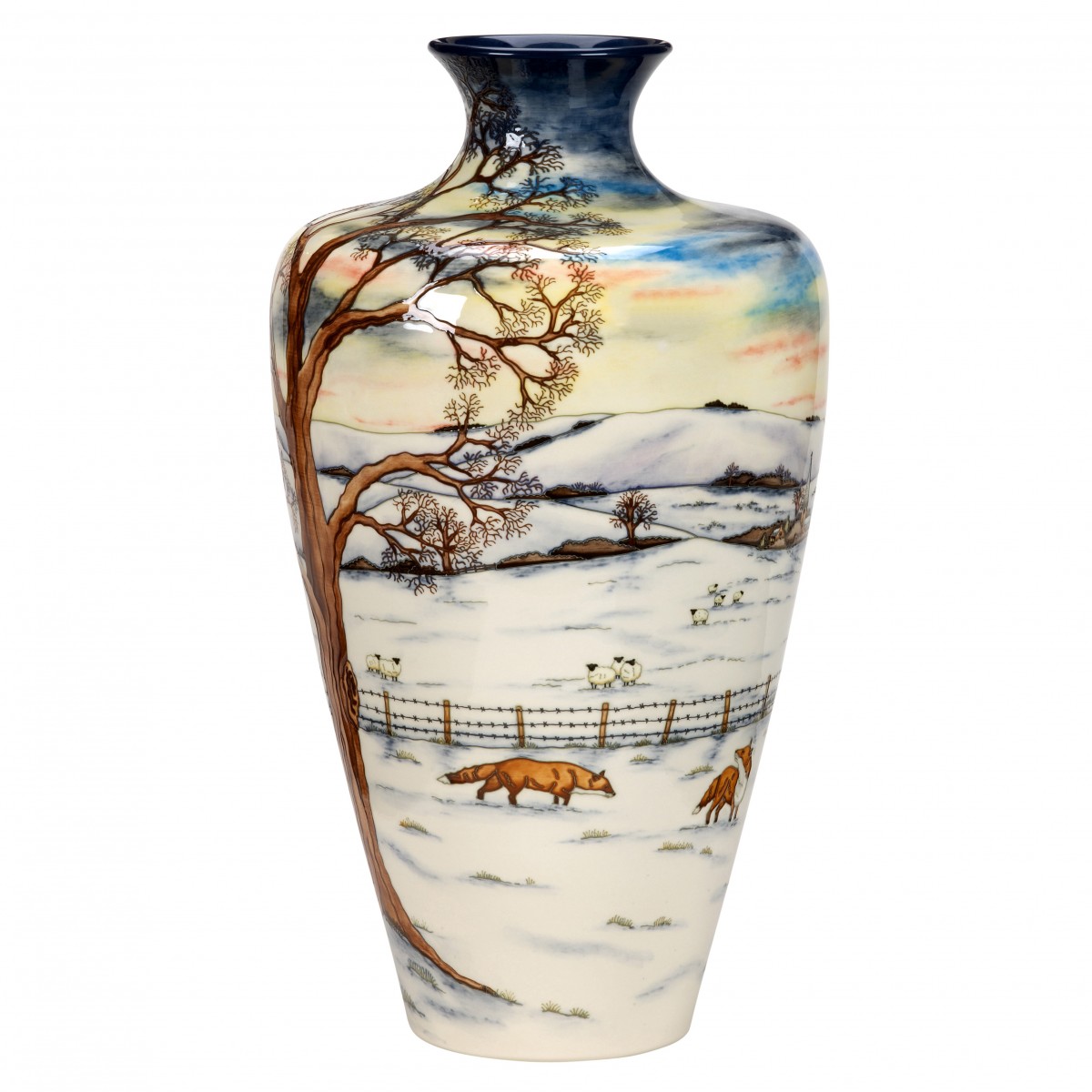 Safe from a farmer's gun, foxes scurry across snow-clad Staffordshire field and a barn owl oversees the quiet rumblings of a Massey Ferguson tractor. View Now : Woodside Farm (Prestige Moorcroft).
Meanwhile, after a potter around the Potteries, Neil has a go at some quite elaborate ceramic decoration at Moorcroft. Neil seems to know a bit about the antique world but former Royal Marine Commando JJ says he'd rather be back in a war zone than having to haggle. Who will emerge victorious from the unarmed combat of the Staffordshire auction?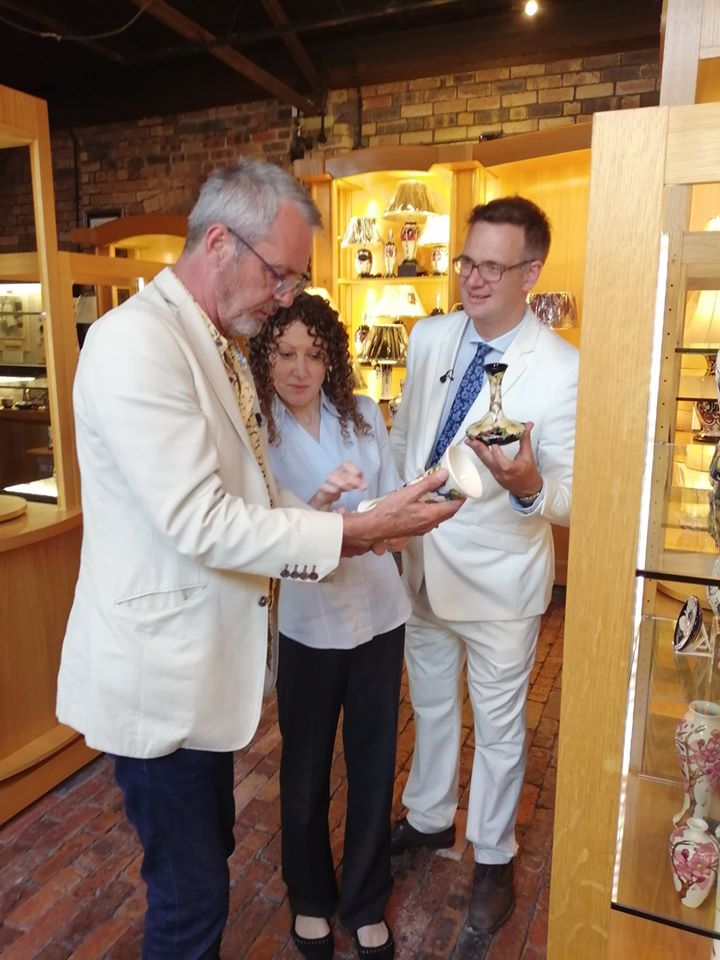 Corries Brookes shows Neil and Charles some Moorcroft treasure.
Neil and Charles were our very own celebrity guests that accompanied the BBC film crew to the Moorcroft Heritage Visitor Centre. To our sheer delight, they were an absolutely hilarious double-act with both men having Staffordshire connections. Born in Stafford, Neil Morrissey is an English actor, voice actor, comedian, singer and businessman. He is known for his role as Tony in Men Behaving Badly, Eddie Lawson in Waterloo Road; Nigel Morton in Line of Duty, and Rocky in Boon. Neil also provides the voice of many cartoon characters, including Bob The Builder. With an honorary degree from Staffordshire University, the much-loved actor also wears the cap of publican – he owns a chain of pubs in Staffordshire, including The Plume of Feathers in Barlaston, and more recently The Old Bramshall Inn in Bramshall. Auctioneer, and television personality, Charles Hanson, was the in situ expert. Charles started his career in 1999 at Christie's as a valuer in the European Ceramics and Glass Department. Subsequently, he worked for antique houses in Cheshire and Staffordshire before founding Hansons Auctioneers and Valuers in Derbyshire in August 2005.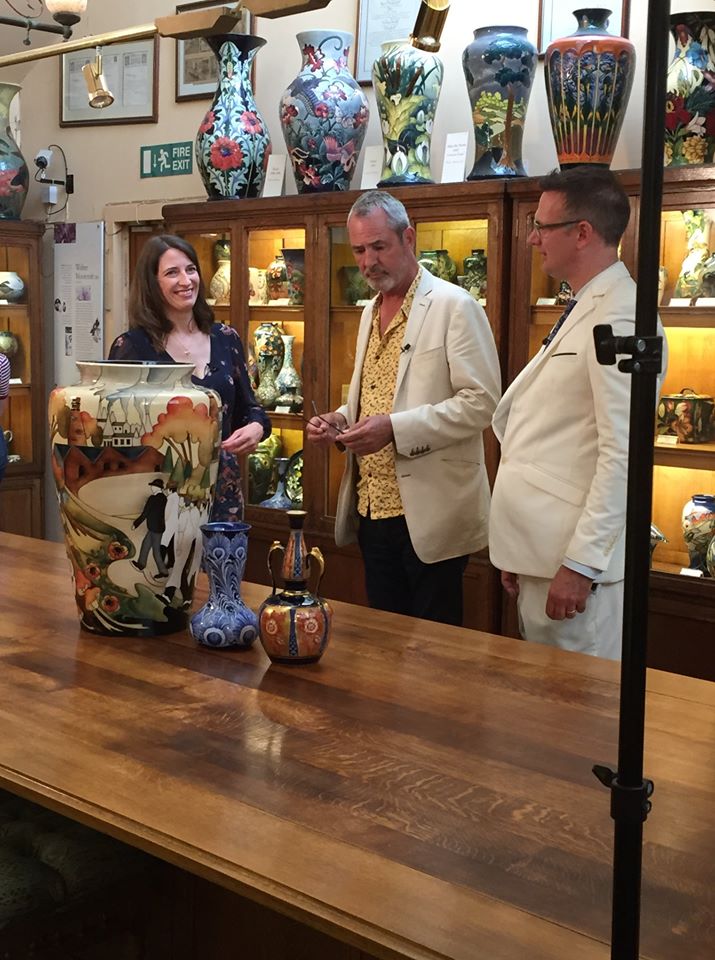 The filming of the Heritage discussion in the Moorcroft Museum with Melanie Hancock, Neil Morrissey and Charles Hanson.
This episode also included appearances from our very own television stars - Melanie Hancock, Moorcroft Club Co-Ordinator, who went on a canal-side walk with Neil and discussed historic matters in the Moorcroft Museum; Senior Designer, Rachel Bishop; and Moorcroft decorators, Hayley Moore and Gill Johnson.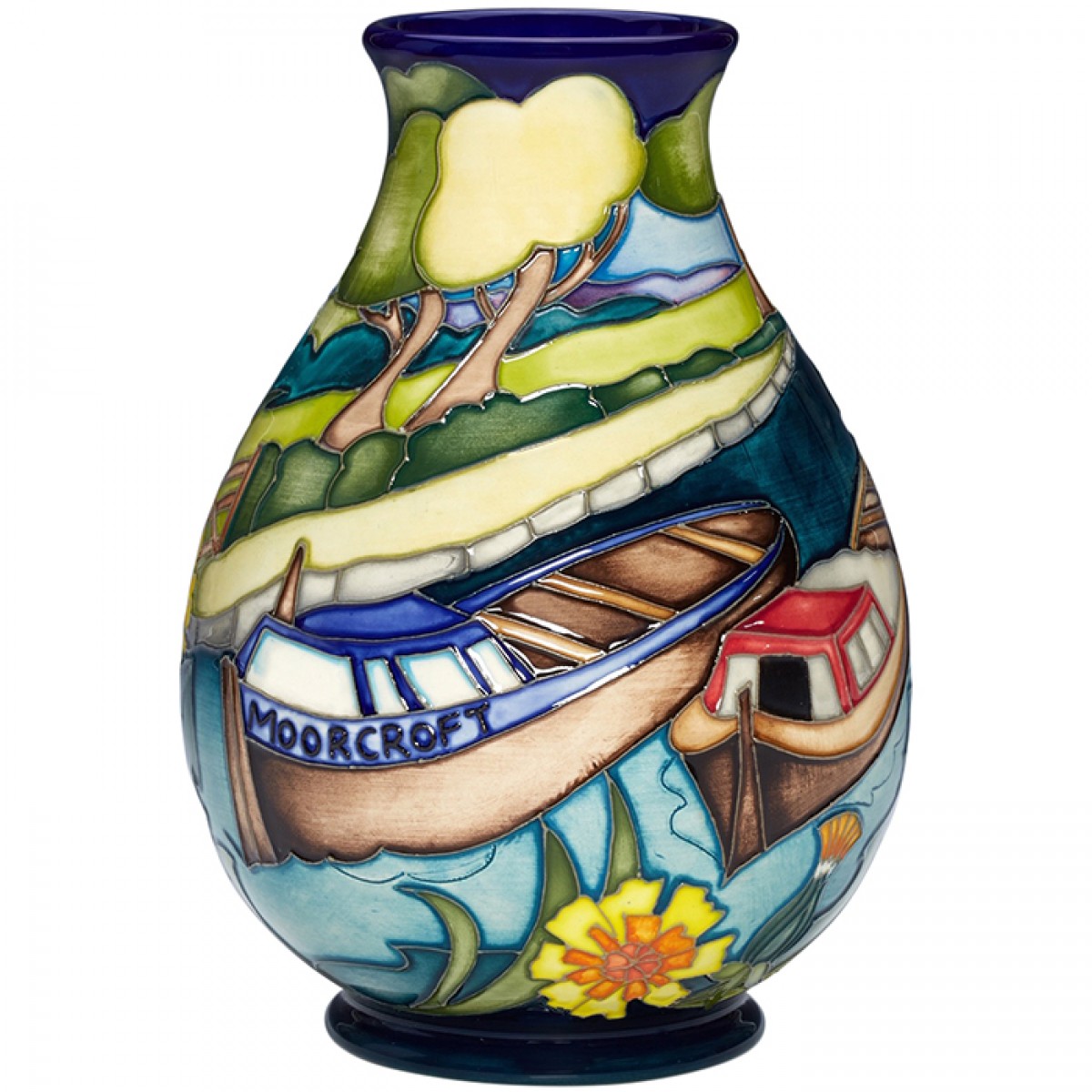 BUY NOW Waterways by Emma Bossons FRSA
Stoke-on-Trent is home to not one but two canals – the Trent and Mersey and the Caldon. The former takes you through some of the best scenes that Britain's waterways have to offer, through to the heritage-rich industrial city of Stoke-on-Trent. The Trent and Mersey Canal, engineered by James Brindley, was the country's first long-distance canal, covering 93 miles and consisting of 76 locks. Its towpath created a green corridor through Stoke-on-Trent, as well as offering a route through rural Cheshire, Staffordshire and Derbyshire. The waterways of Stoke-on-Trent also include the smaller Burslem Branch Canal which was once one of the cornerstones on which the growth of The Potteries was built. Sadly, today, parts of the half mile stretch are now filled in, and many of its buildings are unused and run down.
When the canal was authorised by an Act of Parliament in 1797, it paved the way for Burslem to become the Mother Town of The Potteries. Construction work was completed in 1805, 30 years after James Brindley completed the adjoining Trent and Mersey Canal. Large quantities of china clay, stone and other raw materials were shipped in for use at the Burslem potbanks.
It was against this backdrop that barges made their silent way through The Potteries a hundred years ago. In Waterways (pictured above) by Emma Bossons, a vision of a bygone age unfolds before your very eyes as a the trio of bottle ovens at the Moorcroft factory is woven among into the Waterways. As an added homage to the historic art pottery, Emma has even named one of her barges 'Moorcroft'. This design joins others as part of the astounding History In The Making Collection.
Moorcroft Club Co-Ordinator, Melanie Hancock's own canal-side walk was interrupted by a Staffordshire man who made colloquial comments on the celebrity's attire. Unperturbed, Charles and Neil (dubbed by a few as 'the angels in white" for their matching white suits) unleashed humour when back at the Moorcroft Heritage Visitor Centre that was quick and fast with Charles taking more than a cursory interest in William Moorcroft's walk to his new factory over a century ago. In this historic walk, streams of craftspeople from William's former employer, James Macintyre and Co, carrying their tools of the trade, left their own jobs at the Macintyre Works and quite literally followed the charismatic William Moorcroft to the new Moorcroft factory in Sandbach Road.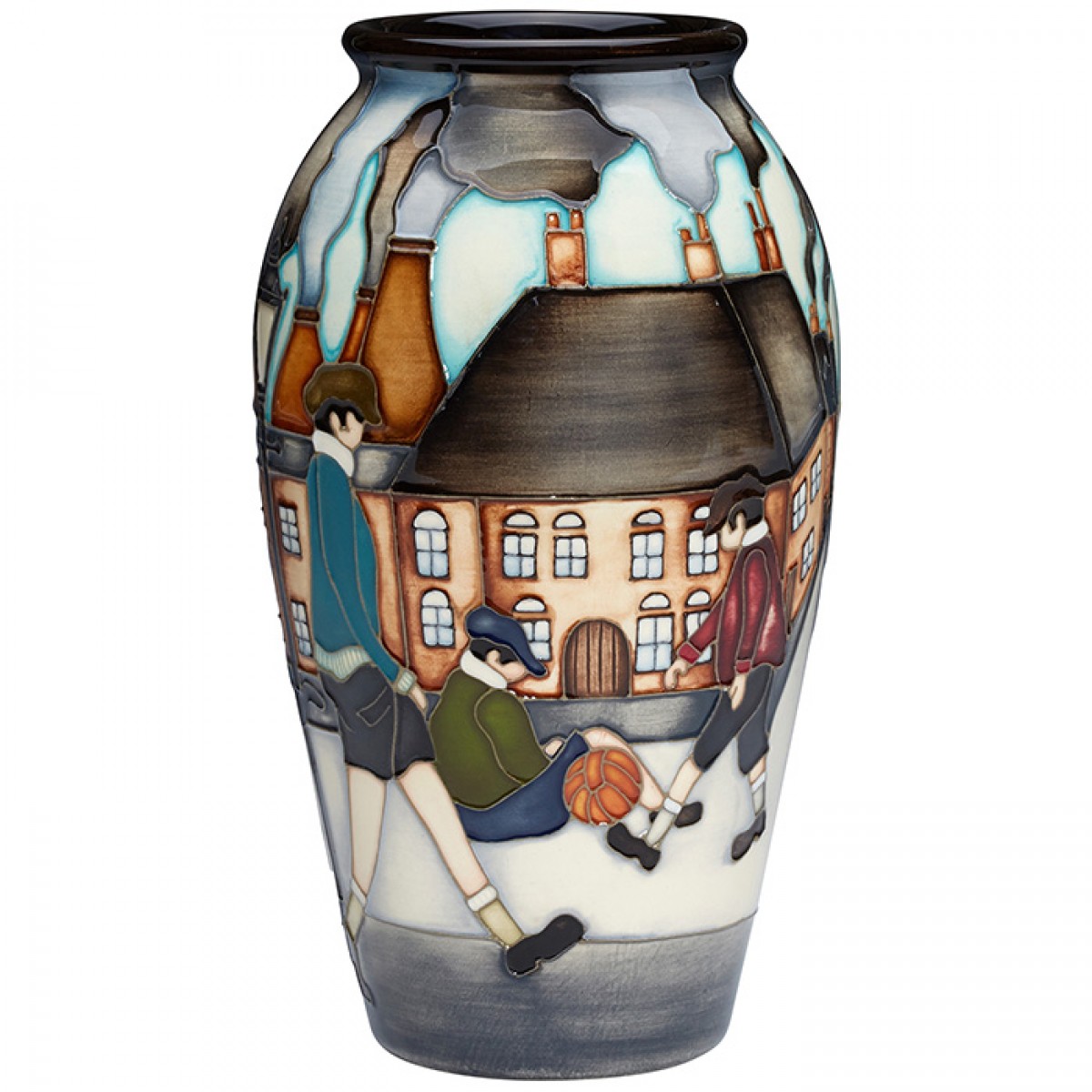 From 'Men Behaving Badly' star Neil Morrissey to Moorcroft designer, Kerry Goodwin's Burslem Boys, The Celebrity Antiques Road trip gives viewers a true taste of the Potteries.
Charles said of his own visit to Moorcroft: "It was a thrill to visit Moorcroft and learn and see how Moorcroft iconic pottery is still handmade. Local lad Neil with wide eyes had a huge affinity for Moorcroft and even had a go at tube lining. With a steady hand, he was on best behaviour and I was impressed with his pottery credentials. He could not decide what piece of pottery to buy from the shop at the end of the day. A priceless visit with a priceless mate and we were made to feel most welcome."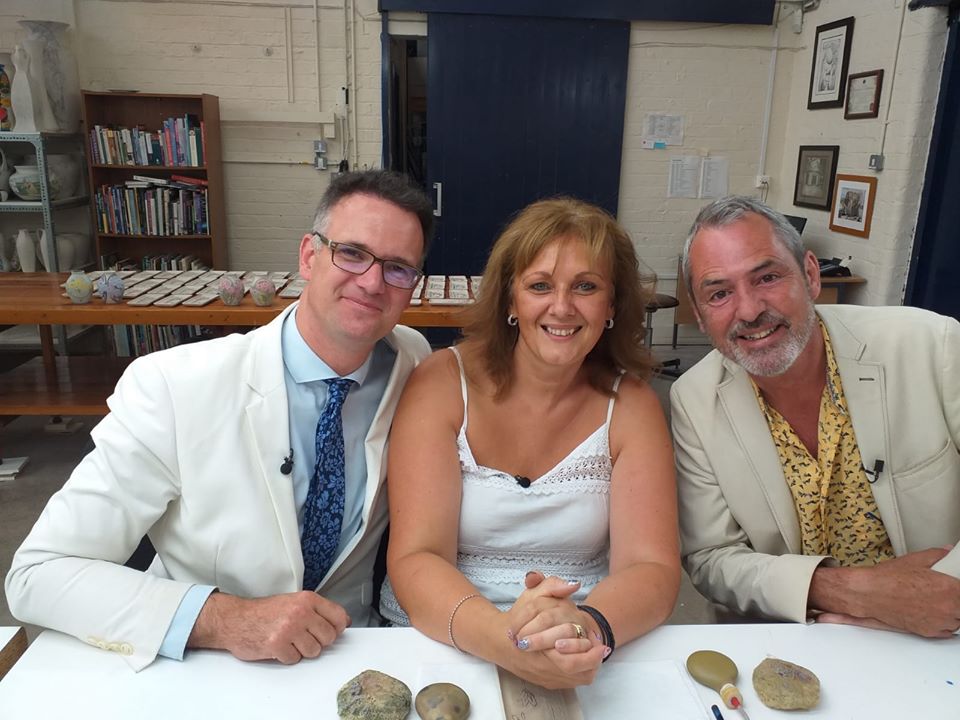 Tubeliner, Gill Johnson, pictured with Neil and Charles.
Whilst Neil's steady hand is debateable, both men were a treat to have at our factory. Neil decorated a tray with a Freesia design and notwithstanding the watchful eye of master tubeliner, Gill Johnson, he managed to 'wiggle' a few lines he applied with liquid clay slip. Whilst Gill did keep a perfect poker-face, Neil was heard exclaiming, 'It looks like a triffid' on one of the Director's many screen-cuts. Senior designer, Rachel Bishop, discussed her design skills and the Centenary Boarder design was used to show how a piece of clay is transformed into a work of art using the consummate heritage craft skills of many.
Centenary Boarder by Rachel Bishop available online – click to purchase.
Centenary Border was the lead piece in the Sir Harold Hillier Collection, on the 15in (37.5cm) tall, elegant 365/15 shape. The design is truly one of Rachel's outstanding pieces of art pottery and held centre attraction at our event at the world famous Gardens near Romsey. The Hypericum sits comfortably at the base of the vase complete with golden yellow flowers and reddish stamens which merge into Anemone 'Wild Swan' with irregular shaped pure white petals, fully open set against neat green foliage. The reverse of the petals have a soft lilac tone and rounded flower buds unfold to deliver a long flowering period. A white autumn flowering Shasta daisy, Leucanthemella serotina continues to rise above in tune with the shape of the vase to complete the picture against a background of Moorcroft blue. It was a good choice for the television show as it cuts quite a stately figure on film and displays the culmination of over a centenary of decorated floral designs. Decorators are taught the heritage skills from generation to generation during a 2-year training programme and this design is certainly one that would need the touch of a skilled decorator.
By the time Moorcroft artist, Hayley Moore, was called upon to demonstrate the rudiments of painting on camera she did well to keep a straight face. Whilst Neil and Charles certainly left Moorcroft with a new insight into the history of one of Staffordshire's oldest potteries, we cannot guarantee that they did not arrive home a little dusted with clay on their pristine- white suits!