Seconds Rose Teardrops 849/8 Candlestick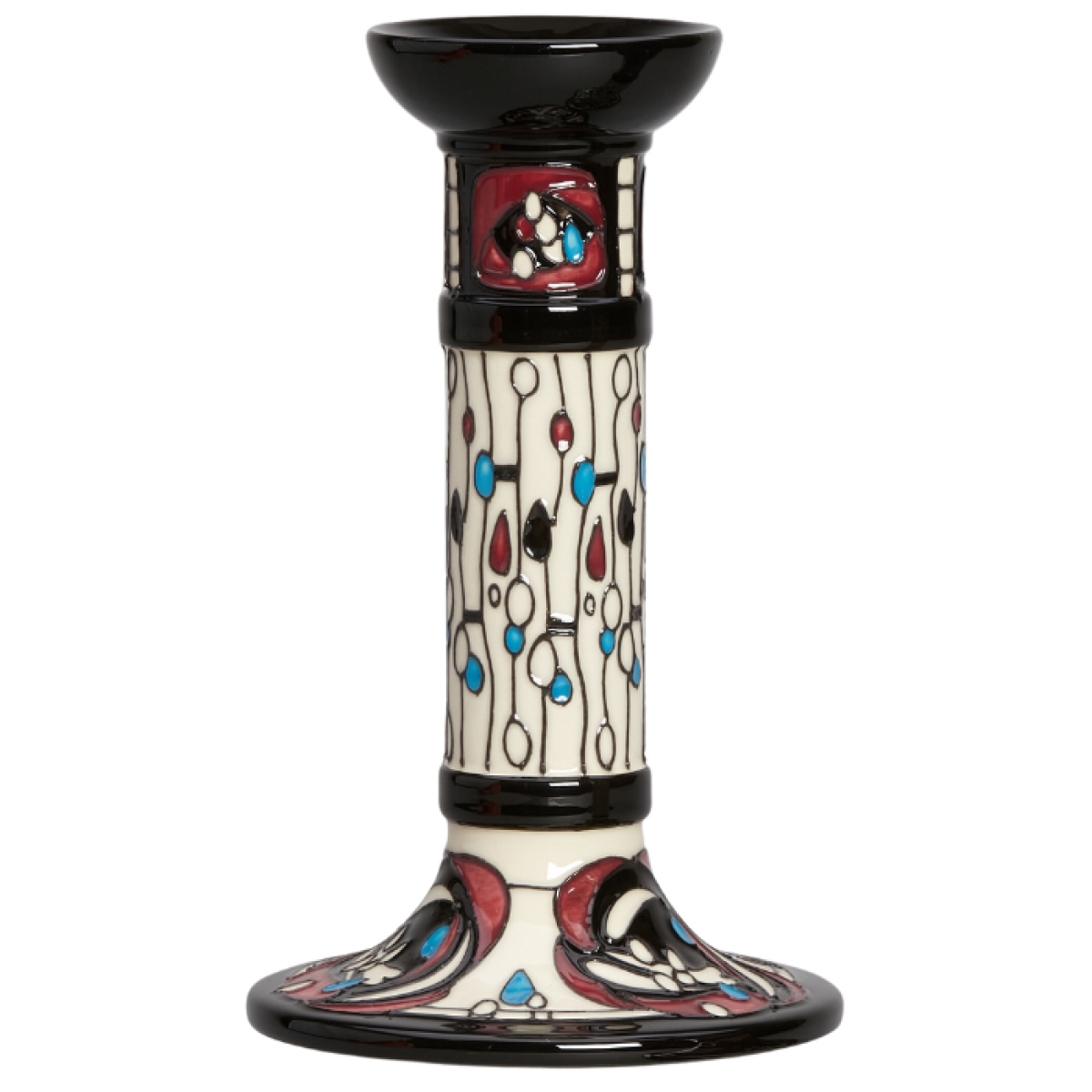 In 1923, Scottish designer, Charles Rennie Mackintosh relocated with his wife, Margaret MacDonald, to Port-Vendres in southern France where he decided to focus on his watercolour paintings. Within their rose gardens, Margaret's passion for decorative floral motifs and Mackintosh's strong right angles merged to perfection with the birth of his Rose and Teardrop watercolour in 1915. An intimacy of their masculine and feminine attributes combined through the form of a rose.
Rachel has taken their art to a new and exciting level by partitioning clusters of roses at the base and upper ridge of each candlestick as rose petals fall like teardrops down the stem in Mackintosh's blue, maroon and black colourway. With the design tubelined in black, a fruitful male/female polarity is established throughout the design. The Mackintosh's were artist-lovers within a high spiritual plane, and the story of their love is recounted in what ebbed and flowed between them. Rachel has proved that this can be true of all of us. Undoubtedly, this design pushes the frontiers of the gates opened by the Mackintosh's and is an outstanding example of intelligent design.
What is a Moorcroft second?
All our art pottery is closely inspected before it leaves the Moorcroft factory and the selection process is as rigorous as any in the world. As a result, not all pieces emerge unblemished in their quality assessment. The fault or faults may be in the finish of a piece, whether it be a tiny tubeline miss, an incorrectly painted petal, or a small glaze run. Seconds are not 'red-dotted', all of them are far too good for that, and each seconds piece has a charm and individuality of its own. Any fault is not structural and the piece can still be used for the purpose it was made. 
The 'Was' price shown is the Best Quality RRP of this design and shape.
A Gift Box is not supplied with this product
Was: £460.00
£161.00
Ex Tax: £134.17
Designer: Rachel Bishop
Dimensions: H 20.00 x W 12.00 x D 4.00 cm
Availability: In Stock
Specification
Product Width12.00cm
Product Height20.00cm
Product Depth4.00cm
Shape:849/8
Designer:Rachel Bishop
Edition:Open
Design Window (Style):Geometric & Stylised
Have a question about this product? Make an Enquiry