Announcing Alicia Amison
Posted on - 23rd March 2020
Alicia is very much a lover of the natural world and likes nothing more than placing on her wellies and taking her little family for a walk - indeed there is even a design featuring her woodland walks so that we can all take such a wonderful journey with our designer. It is through our artistic walks that we are able to escape the tide of concerns relating to the Coronavirus - and escape we must. Though we cannot now host our 'Announcing Alicia Amison' event, we are delighted to release a variety of Alicia's Trials on line. Every piece featured here has been Designed and Tubelined by Alicia herself.Even if you do not have the funds to buys these now, go and have a look and lose yourself for a while in peaceful imagery.

There are several examples of a few of the designs and each one has been photographed individually and available for purchase now at Announcing Alicia.

Alicia is one of the most accomplished tubeliners at Moorcroft, and from there, design was only a short step away. Since her arrival in 1998, Alicia has regularly produced pieces for the Open Weekend auction each year at the Moorcroft Heritage Visitor Centre. Her first catalogue design Meadow Cranesbill was launched in 2002 and for since then more designs have followed, perhaps the most famous of all being Bramble Revisited. This best-selling design, offers deepest berry-wine colours within a wild and unkempt bramble garland of fruit and flowers, and each year Alicia refreshes the collection with additional new shapes. Having recently become a mother to her young daughter, Alicia does not have as much time available to herself as she would like to design, but whilst her plethora of design offerings may have been reduced, those that come forth from her creative mind, remain of the highest quality, with great worldwide appeal.
Design featured above - Skiddaw. Skiddaw Mountain is the backdrop for this Lake District inspired landscape design. In the foreground a herd of Herdwick sheep can be seen with a young lamb and its mother together with a male ram with his magnificent horns at the front of the vase. The mountains reflect the colours of a mid-March morning, in tones of browns and greens. Brighter colours come in the forms of the golden yellow gorse and the purple heather which together with the little elderberries bring the vase to life.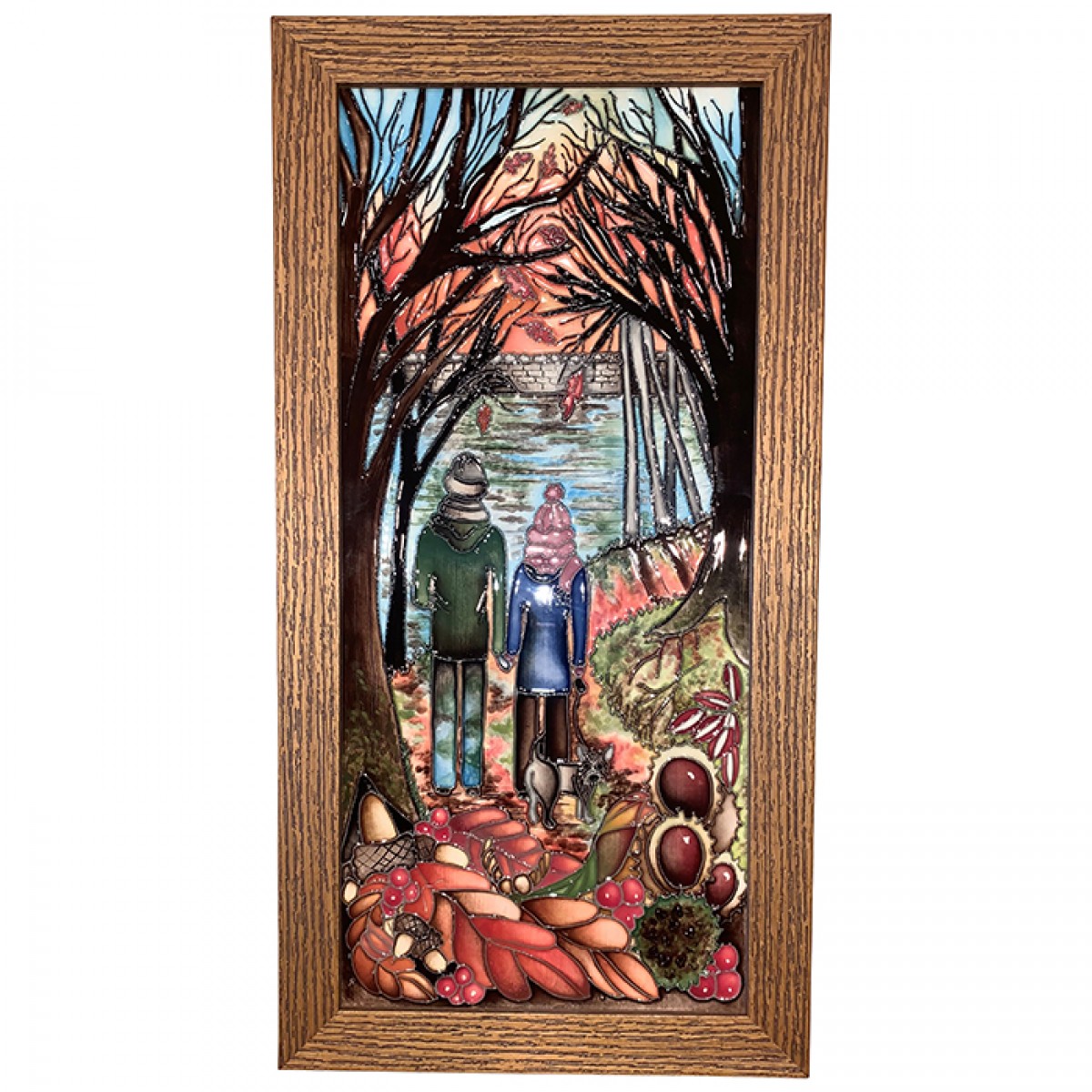 An autumn day is brought to life before your very eyes, as a young couple indulge their small grey dog in a winter walk. The ground is scattered with acorns, conkers, oak leaves and sycamore leaves. Alicia leads your eye along the path, by her clever use of light and shade to create a sense of depth and perspective. Autumn is one of Alicia's favoured times of the year, her current range Bramble Revisited

is a quintessentially English countryside collection and holds the delight of blackberry collecting with her young daughter. Alicia's new design, Brambling, is the highlight of this new collection but we only have a few in stock so collectors are advised to check with speed for availability on this one. 10 years ago in March 2010, Alicia brought in a new design for Elise Adams, Director of Art to see for the first time. This design was Bramble and it has been in our catalogue ever since 2011. To celebrate 10 years of her Bramble design Alicia has created Brambling, featuring a trio of Brambling birds, a small mouse, a bright Peacock butterfly and a busy bee, in addition to her famous blackberries and pink and white flowers. This vase holds the essence of our lovely Alicia and her gentle and kind ways.