William Morris Gallery Sheer Pleasure Exhibition
Posted on - 10th February 2017
SHEER PLEASURE IN THE ART OF JAPAN
Catherine Gage
With a piece of Courtship Dance in hand, I journey down to The William Morris Gallery in the London Borough of Waltham Forest to witness the unveiling of Sheer Pleasure – Frank Brangwyn and the Art of Japan.
2017 marks the 150th anniversary of the artist Frank Brangwyn RA (1867-1956). The Sheer Pleasure Exhibition examines Brangwyn's love of Japanese art and his collaborative relationships with Japanese artists and patrons. Brangwyn donated his collection of Japanese prints and paintings to the Gallery. William Morris Gallery proudly declare that "They have rarely been displayed and the exhibition includes highlights such as woodblock prints by Utagawa Hiroshige and Katsushika Hokusai and a carefully restored decorative screen."
Frank Brangwyn was born in 1867 in Bruges where he grew up and acquired a feel for the people and culture before his parents moved back to England in 1874. He had no formal training as an artist though his father, an architect, encouraged his artistic leanings. When he was still in his teens he was 'discovered' by the artist Arthur Heygate Mackmurdo who recommended him to the William Morris workshops where he was a keen student and absorbed Morris's gospel that an artist should seek to beautify all aspects of life with inspiration from the natural world. Moorcroft designer, Helen Dale, is well aware of Moorcroft's century long Arts and Crafts tradition and sought her opportunity to reflect the Japanese art that inspired Brangwyn and Morris in a distinctly Japanese palette after watching dramatic natural world imagery on Discovery Channel's Winged Planet. The result was Courtship Dance, a design which gathers the most sacred of Japanese visions, the snow-capped Mount Fuji under a sakura moon, and clothes the artwork with red-crowned cranes, as they dance and fly into the heavens. Discovery channel's Winged Planet, beautifully portrayed the most intricate of courtship dances of Japanese cranes. It is said that as these cranes can live for up to sixty years, and that their courtship dances keep partnerships strong. This inspired limited edition sees Moorcroft glazes transformed into the surrounding area of Lake Kawaguchi, one of the five lakes at the foot of Mount Fuji, as the palest of pink cherry blossoms fuse with the white and red crowns of the cranes under the shadowy purple hues of a mysterious mountain. A spectacular beauty unfolds around each angle of the vase. Japanese film producer, Shigeki Akiyama, is acclaimed for her cinematography where cherry blossoms whispers in all its translucent and romantic glory. Just as her films are a celebration of Japanese life-in-nature, Moorcroft captures the holy grail of these Japanese icons in a breathtakingly lucid form. It is a wonderful thing, to see the creative process of the Applied Arts flow like a stream from one distinct area to another, whether it be an awesome film of the natural world, Moorcroft art or one artist from one side of the world inspiring another – like Brangwyn and Yoshijiro.
Acquire Helen Dale's Courting Cranes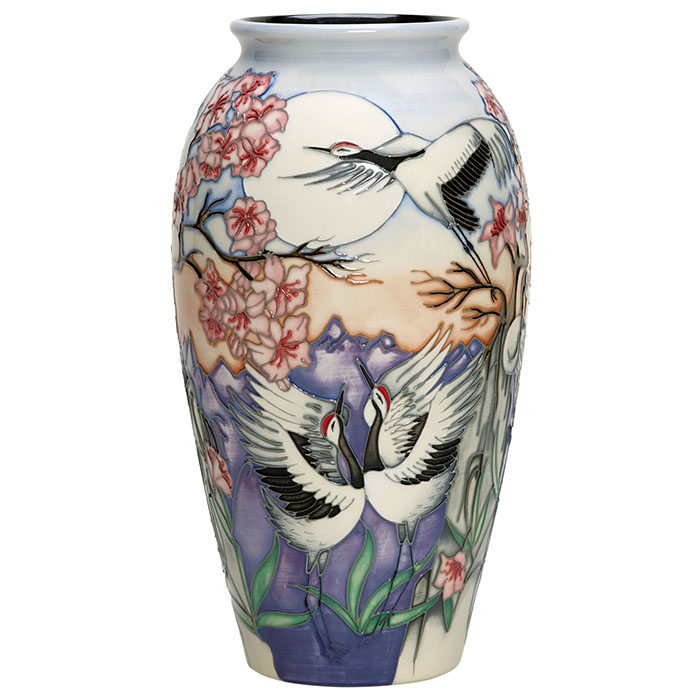 It was during the 1910s, Brangwyn met the Japanese artist Yoshijiro Urushibara (1888-1953) in London. Their meeting led to a remarkable example of collaborative printmaking, combining the exuberant bravado of Brangwyn's designs with the subtle and distinctive techniques of Japanese printmaking. The exhibition explores the collaborative process with sketches, notes and key block prints, as well as displaying some of their most successful works, such as The Devil's Bridge and the ambitious Bruges series. It also tells the story of Brangwyn's relationship with his patron Kojiro Mutsakata, and their ill-fated plans to create an art gallery in Tokyo.
Many of prints displayed at the William Morris Gallery are alive in eerie gothic colour tones, ghostly hues of greens and midnight blues, yet the exhibition does not only display rare Brangwyn and Urushibara wood block prints – that would be a feast enough. There is still ample opportunity to see superb examples of William Morris fabric block and prints and so much more.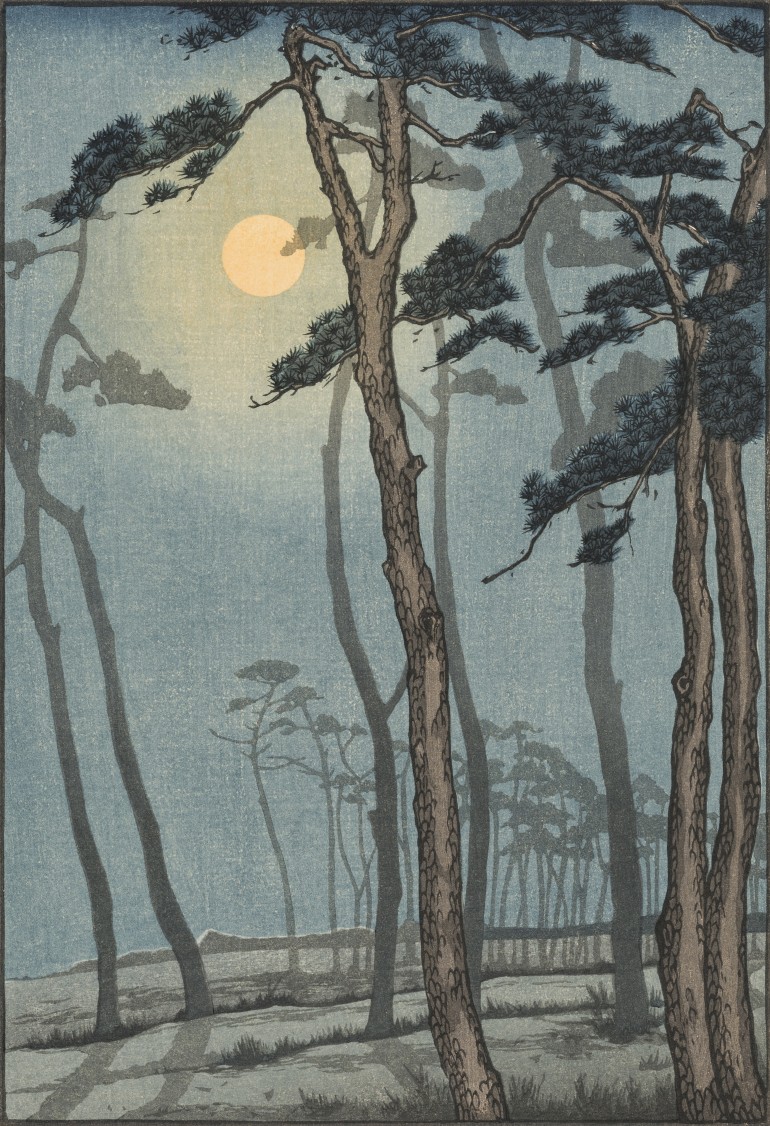 One can just imagine Morris thinking how such Urishibara works of art, such as The Pines, would fit into the gothic buildings of his fancy like Kelmscott Manor – Morris is recorded as having said:
'A true architectural work rather is a building duly provided with all necessary furniture, decorated with all due ornament, according to the use, quality, and dignity of the building, from mere mouldings or abstract lines, to the great epical works of sculpture and painting, which, except as decorations of the nobler form of such buildings, cannot be produced at all. So looked on, a work of architecture is a harmonious co-operative work of art, inclusive of all the serious arts, all those which are not engaged in the production of mere toys, or of ephemeral prettinesses.'
In truth it was Morris who championed the Gothic Revival first opened by Pugin at the Great Exhibition in1851. In the exhibition in 1862, the exhibits of, Morris, Marshall and Faulkner & Co, were included but were not particularly welcomed, according to Building News:
Their works are almost perfect, their hangings, their music stand, their sofa, their chests would all suit a family which might suddenly be awakened after a sleep of four centuries, and which was content to pay enormous prices suitably to furnish a barn...but they are no more adapted to the wants of living men than medieval armour would be to modern warfare...
Oh how wrong the critics were when over a century along the rival that gave birth to the Arts and Crafts movement is still alive and kicking, with great exhibitions in the name of Morris and his friends as well as adorning our homes in other names through the work of Moorcroft Pottery and the contemporary traditional fabric weave companies of today. In truth people are still more interested in the craft techniques that made medieval knights armour than they are in modern warfare and all its grotesque realities. To complement the William Morris Sheer Pleasure exhibition the gallery has invited painter and printmaker Rebecca Salter RA to display her work in one of their first floor galleries. Having studied at Kyoto City University of the Arts, and having lived in Japan for six years, Salter studied the art of Japanese woodblock printing extensively. She creates prints in collaboration with the Sato Woodblock Workshop in Kyoto, one of just a few surviving in an industry in slow decline. Salter's work offers scope to compare the complexities of collaboration between designer and maker, artist and patron, Britain and Japan. A fascinating short film takes you right into the heart of the world of wood block print which, sadly, is a declining craft in Japan today.
It is interesting to reflect that when the William Morris Gallery was built, and part funded by the likes of Brangwyn, Waltham Forest, alive with all of its wildlife, would have surrounded the gallery as opposed to the busy high streets of today. Much like coming to the Moorcroft Heritage Visitor Centre, you journey through the back streets of London, and the sombre grey paving stones and buildings therein, a far cry from Gothic architectural wonders, into the heart of something beautiful. A man's dream to bring the natural world alive through traditional crafts, rich in colour and artistry.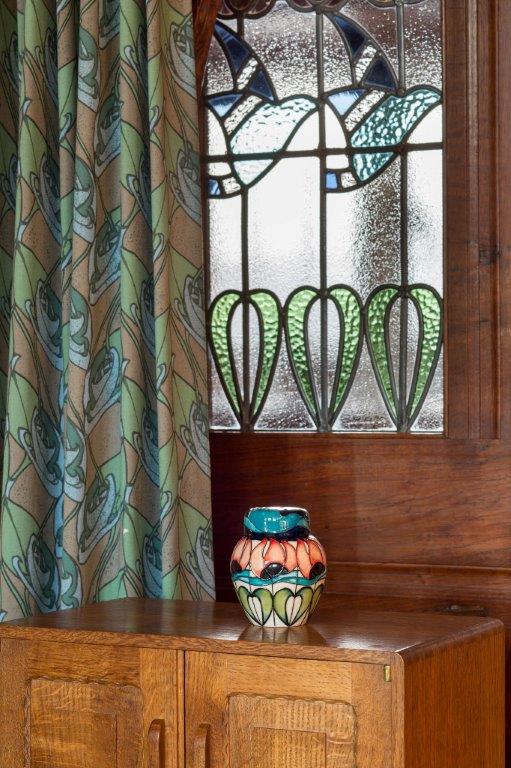 New release coming soon! Photographed at Blackwell The Arts & Crafts House
Image credit: Yoshijiro Urushibara, The Pines, c. 1928, © William Morris Gallery, London Borough of Waltham Forest
Supported by the Decorative Arts Society Collection Access Grant 2016, Sheer Pleasure is there to be enjoyed, for more details:
http://www.wmgallery.org.uk/collection/frank-brangwyn-an-introduction
http://www.telegraph.co.uk/art/reviews/sheer-pleasure-frank-brangwyn-art-japan-review/?WT.mc_id=tmg_share_emcc