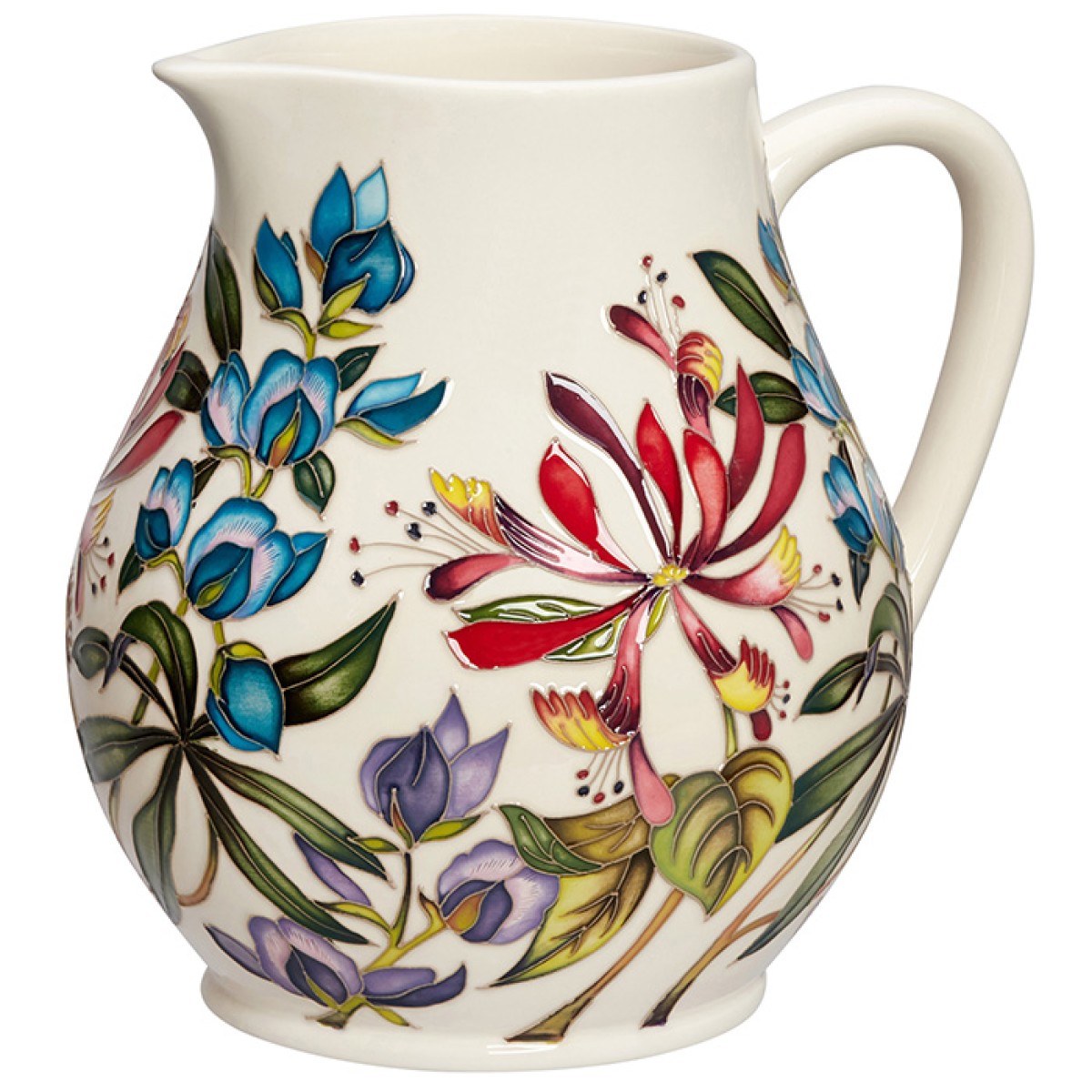 In every sense, this design, inspired by a watercolour unseen on the world stage for hundreds of years from botanical artist, Caroline Maria Applebee's blue lupin and honeysuckle (watercolour on paper. 21.5 x 18.4 cm. 1815, RHS Lindley Collections) was a masterpiece of botanical artistry. Nicola's rendition of her twining, almost visually-scented honeysuckle watercolour, allows this sprawling, fiery-hued flower to breathe against a pure-white glaze. In truth, the flower's shades of white, cream, lemon-yellow, pink, orange and raspberry red involved a complex application of metallic oxides by Moorcroft artists. With intrigue, the honeysuckle circles the jug with spikes of pea-like blue lupin flowers for a horticultural avalanche of colour. Not unlike Applebee, Nicola airs her honeysuckle against a pale ground, adding drama as the lupin's soft green leaves divide into palmate (finger-like) leaflets.
Fair flower, that dost so comely grow,
Hid in this silent, dull retreat,
Untouch'd thy honey'd blossoms blow,
Unseen thy little branches greet.
From The Wild Honeysuckle by Philip Freneau - 1752-1832.
Was: £1,140.00
£570.00
Ex Tax: £475.00
Designer: Nicola Slaney
Dimensions: H 20.00 x W 21.00 x D 17.00 cm
Availability: In Stock
Specification
Product Width21.00cm
Product Height20.00cm
Product Depth17.00cm
Shape:JU4
Designer:Nicola Slaney
Edition:Limited
Limited Edition Size:15
Design Window (Style):Broad Florals
Have a question about this product? Make an Enquiry